GORE-TEX brand partner Dachstein has returned from Iran's Mount Damavand, a formidable 5,671 m high summit, with amazing images and compelling stories. Andy Holzer, Dachstein brand ambassador, and Christoph Döttelmayer, the company's head of design, climbed Iran's highest peak in illustrious company to mark a noteworthy anniversary.
At 5,671 m, Mount Damavand is not only Iran's highest peak, it is geographically also the highest point in the entire Middle East. Located some 70 km north-east of Tehran and with a prominence of 4,660 m, this impressively solitary mountain towers above all the surrounding mountains. It is considered one of the most majestic free-standing mountains on the planet. As one of the sponsors of a climb to mark the anniversary of the mountain's first ascent, GORE-TEX brand partner DACHSTEIN has returned with stunning images of a spectacular trip and lots of fascinating stories.
DACHSTEIN brand ambassador Andy Holzer from Austria's East Tyrol has been blind since birth. When he was asked early this year by Naturfreunde Niederösterreich, the Lower Austria Naturefriends organisation, and the Austrian Cultural Forum in Tehran whether he might be interested in taking part in an expedition to mark the anniversary of the first ascent of Damavand, he didn't hesitate for a moment before accepting the offer. The prospect of standing at the top of Iran's highest peak on July 31, 2018, exactly 175 years to the day since Austrian botanist and climber Theodor Kotschy (1813-1866) first made the ascent, appealed to the 52 year old climber immediately. At the end of July 2018, Andy Holzer and Christoph Döttelmayer, head of design at DACHSTEIN, set off for Tehran. On their arrival they met up with a decidedly mixed bunch of people from both countries, including a number of prominent figures in the international climbing scene.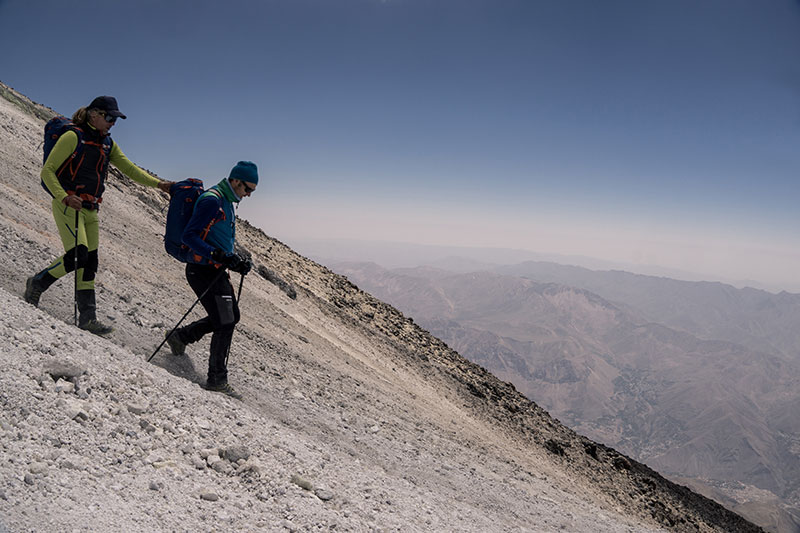 Not only did the guest list include the likes of superstar climbers Gerlinde Kaltenbrunner and Peter Habeler, but also German high-altitude climber Billi Bierling from Garmisch-Partenkirchen, who now manages the Himalayan Database archives. The expedition kicked off with an official ceremony in Tehran. Prominent politicians and figures from the mountaineering scene in both countries gathered at the Niavaran Palace Complex where they listened to talks focussing on the alpine achievements of Iran and Austria. Needless to say, Holzer, who has made it to the top of all Seven Summits, was a much sought-after speaker.
Andy Holzer – the blind climber
After acclimatising by climbing the 4,850 m high Alam-Kuh, they reached the top of the 5,671 m high Damavand on July 31, 2018. As always, Andy Holzer was accompanied by two friends. Funnily enough, they're both called "Andreas"! As a blind climber, Holzer literally has to have blind trust in his climbing partners. They have been at his side for several years, helping him move through all sorts of terrain up to the summits of the highest mountains on the planet.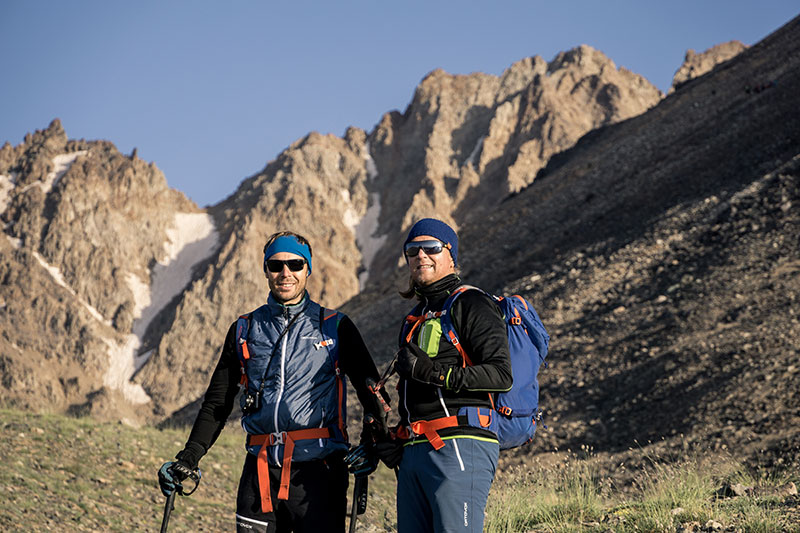 Perhaps now is the time to explain why, of all places, Holzer feels so comfortable on a mountain. When he was a little boy, his parents took him on a hike in the East Tyrolean Dolomites. The mountain environment turned out to be a veritable adventure playground for all his senses: the scent of wild flowers, rough rocks, soft grass, bubbling streams. He also liked the stillness up in the mountains: "I discovered that I could find my way around much more easily than down in the valley where there's so much happening and so much noise." Since then, he has summited ever higher mountains, using steeper paths and more challenging routes. Today, the blind athlete climbs grade seven routes in roped teams with partners who can see. On terrain that he knows particularly well and has memorized all the details, he sometimes even leads the team. In May 2017 he reached the top of Mount Everest.
Anyone who, like our author at the International Mountain Summit in Brixen, has met Andy Holzer in person, can't believe their eyes when he shows them photos of himself on the Spigolo Giallo of the Cima Piccola, otherwise known as the little peak of the three peaks of Lavaredo, on the south face of the Torre Preuss, and at the top of Aconcagua, Elbrus, Kilimandscharo and Mount McKinley. It's only when he starts to explain that you start to understand the logic behind what he does: "The world I live in is all about feel. My horizon is where my finger tips are. I'm in my element up in the mountains." He says that he actually feels most at ease when it gets really steep, when he starts having to use all fours, in other words, when he starts climbing. He calls it the "ideal position for a blind person".
Andy Holzer has been a brand ambassador for DACHSTEIN since 2012 when the Austrian brand, that has a history of tradition going back to 1925, shifted its focus to the production of high quality mountaineering, hiking, sports and casual footwear. Christoph Döttelmayer has been a footwear designer at DACHSTEIN since July 2013. The mountaineering enthusiast was also a member of the Iran expedition: "Although I've spent a lot of time in the mountains with Andy, the Iran trip topped it all. It meant that we were together for 14 days. It wasn't all work, so we had plenty of time to get to know each other better.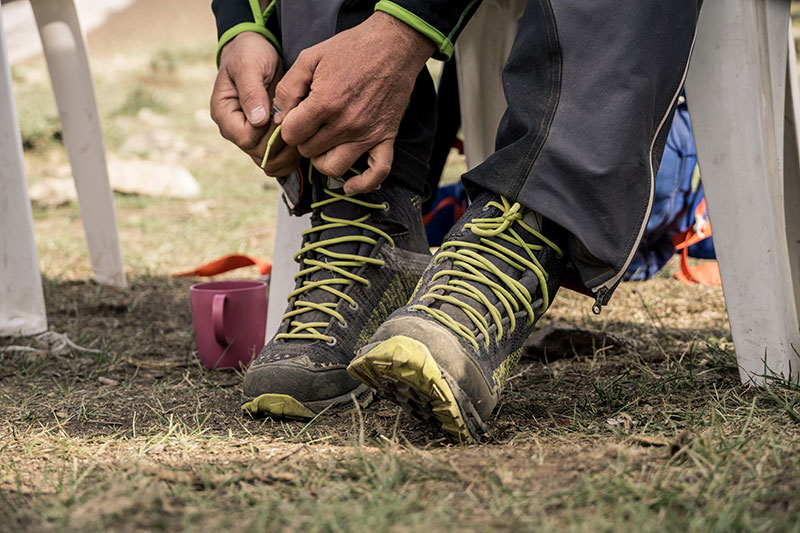 Nevertheless, the trip still gave us lots of opportunities to test new products and make fine adjustments. The collection that DACHSTEIN brought to market in the spring of 2018 was a first: all of the company's high performance products now feature the GORE-TEX membrane], ensuring that these hiking and mountaineering boots are durably waterproof and breathable. "For more than 40 years leading outdoor brands have featured GORE-TEX technology," Döttelmayer says." This is an important step for DACHSTEIN. Now responsible for the development of new footwear styles at DACHSTEIN, Döttelmayer, who was born in Styria in the southeast of Austria, has already wowed everyone with his imaginative and innovative designs. Before joining DACHSTEIN he did a student work placement at Mammut and his final-year thesis involved developing a new type of shoe with David Lama, a professional mountaineer based in Innsbruck. When talking about what it is like working with the GORE-TEX brand he says: "As a company, you're not just buying the GORE-TEX membrane, you also get an incredible amount of support. From the development of your prototypes, through all the testing to the final style approval, a GORE partner is at your side round the clock."
Tried, tested and proven: Super Leggera GTX
For their ascent of Davamand, Andy Holzer and Christoph Döttelmayer wore the Super Leggera GTX. They were thrilled with the boots that are probably best described as being almost like a knitted sock that is both waterproof and breathable. The DACHSTEIN Knit upper is extremely robust and offers multiple benefits: by using different textures and stitch shapes, the knit upper provides support exactly where you need it, thus guaranteeing excellent stability. At the same time, the material is flexible, particularly around the midfoot area, thus ensuring an ergonomic walking motion. There are no weak spots, such as bonded areas that could come apart. The upper is made using a single piece of material and has only one seam. The Vibram® Motionflex sole was designed with the natural walking principle in mind and has its own flexible zones. Dachstein has positioned the GORE-TEX membrane under the water repellent and abrasion resistant Knit upper. This membrane makes the sporty footwear durably waterproof and breathable at the same time, which are essential features in alpine environments where conditions and temperatures are constantly changing. Another bonus is that the area just above the sole, which always gets a lot of hard wear in scree and scrub, is protected by a layer of TPU thermoplastic that has been sprayed all round the boot.
In their backpacks: Delta Pace GTX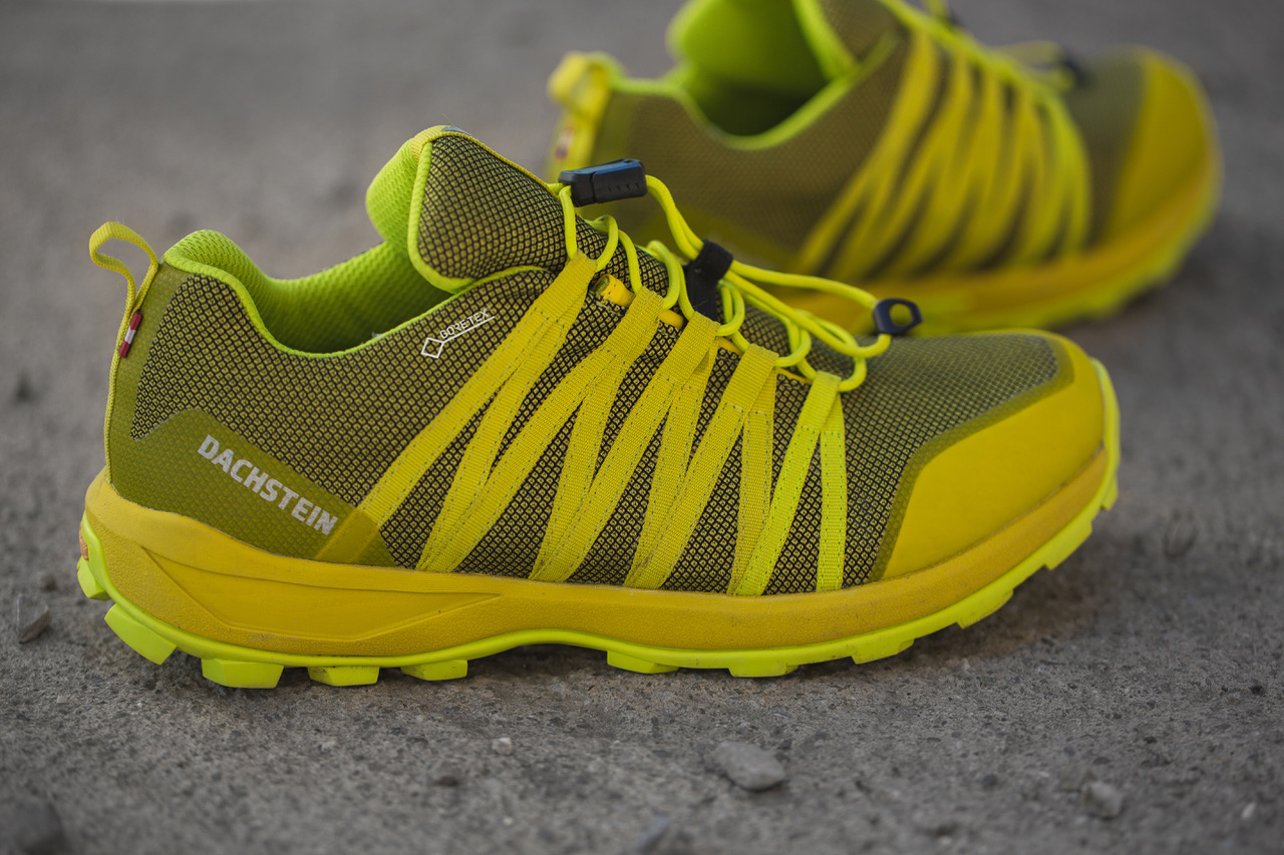 The two climbers also carried the lightweight Dachstein Delta Pace GTX in their backpacks. Great for speed hiking or trekking and equally easy to wear around town, this is an outstanding all-rounder of a shoe. A thin TPU film protects the airy and flexible 3D mesh material underneath it from wear and tear when athletes are climbing on steep terrain and over rough rock. So that the sole is also all set for any adventure, DACHSTEIN has worked with Vibram® to develop an exclusive and radically new MultiTrek sole. The durably waterproof and breathable GORE-TEX membrane means that your feet stay dry, even in heavy rain. It also ensures that the shoes are comfortable to wear because any water vapour formed on the inside can easily escape to the outside through the billions of pores in the GORE-TEX membrane. The band of the speed-lacing system is firmly secured along the length of the upper, providing even better support and a firmer footing.
Tested for the future: Super Leggera Flow GTX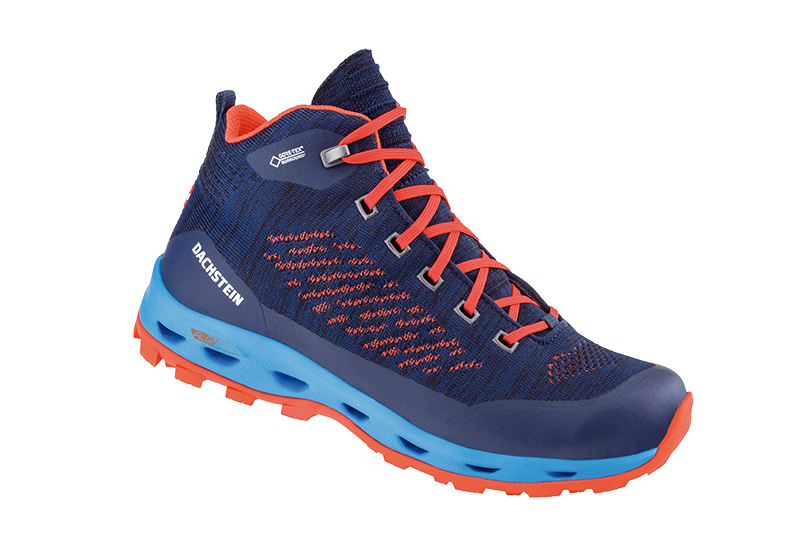 The DACHSTEIN shoe style Super Leggera Flow GTX features GORE-TEX SURROUND® technology, offering even higher levels of comfort. The incredibly breathable and durably waterproof shoe allows feet to breathe in all directions, even through the sole, and will be appearing in stores in the summer of 2019. Come heat or cold – wear comfort and complete protection are guaranteed.