Alex Megos? Isn't that the guy who did the 9a? Onsight. A milestone in the history of climbing. Redpoint ratings go up to 9b+. Robert Jasper? The guy who's always climbing the north face of the Eiger and when he's not doing that, he's all by himself in Greenland looking for new climbing routes. These two guys are for real! And both put in a guest appearance at IMS in Brixen in mid-October. A lucky few even spent a day scaling warm South Tyrolean rock faces with Megos and Jasper.
The international climbing scene came together for the tenth time in Brixen in mid-October. With the GORE-TEX brand as one of its partners, this year's IMS - International Mountain Summit sported the motto: Meet. mountain. people. soul. Philosophers, entrepreneurs and explorers plus world-class athletes like Alex Megos, Tamara Lunger and Daniel Jung from the GORE-TEX athletes team could be seen live – on stage, on walks and at the legendary GORE-TEX climbing event. Robert Jasper, extreme alpinist and a special friend of the GORE-TEX brand, was also a guests at the event in South Tyrol – hardly surprising seeing as IMS likes to see itself as the driving force behind developments in the mountain sports sector. And Jasper, a pioneer in the climbing scene, certainly likes setting the pace.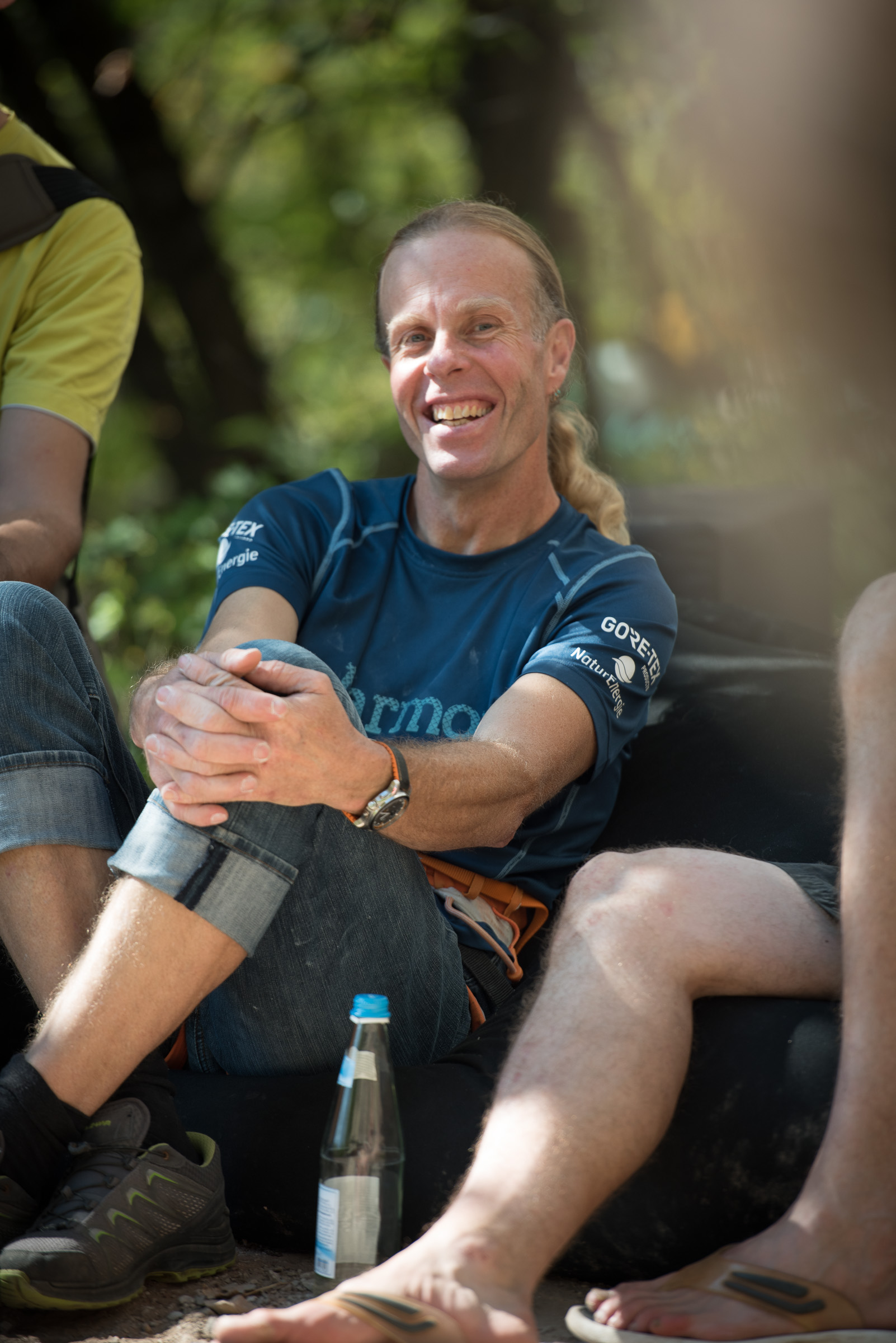 However, it wasn't only sports personalities who got to speak on stage. IMS also has a reputation for being a kind of "climbing academy" and a forum for the exchange of ideas, experiences and opinions that in some way relate to mountain sports. For example, Andreas Marmsoler, PR manager at GORE-TEX, talked at the KIKU Sports Academy about modern sponsoring concepts and gave potential sponsees some practical tips on combining successful ascents with a descent income. Whereas the long-distance faction including people like ultra trail runner Daniel Jung tended to talk about training plans, lactate thresholds and VO2max, Lunger, Megos and Jasper gave the evening audiences more of an insight into what they spend their time doing. "Alex on the Road" was all about unadorned, good-humoured, hard-core sport climbing. This talk will have brought a smile to the face of almost everyone in the audience who started climbing in their adolescence. They will certainly have been able to relate to Megos' stories of no money, broken-down cars, constant improvisation and plenty of passion. Now 25 years old, he did a great job, telling his story in an easy-going and relaxed manner. Megos wrote climbing history in 2013 when he became the first person to onsight a 9a (UIAA 11) route*. His experience of sponsorship wasn't quite the same as the perspective of Andreas Marmsoler, who could be described as the professional in this field. In the experience of Megos, it simply boils down to: "If you want to become a professional climber, just go ahead and do it." Well, probably only a few exceptionally talented individuals can afford to be as calm and relaxed as that.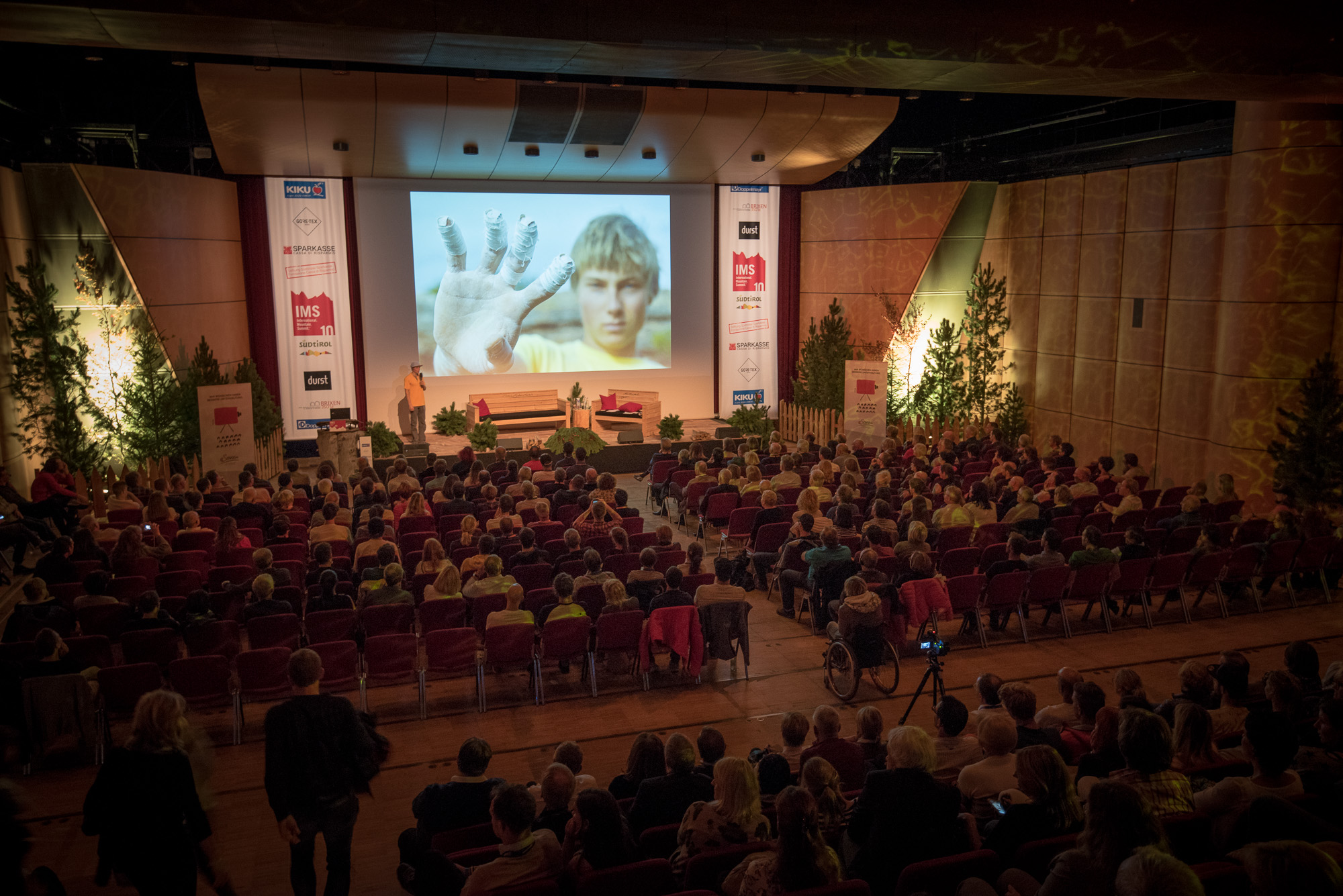 The GORE-TEX Climbing Day gave a very select lucky few the opportunity to spend a day scaling rock faces with Megos, Jasper and Hanspeter Eisendle, one of the climbing's legendary figures. Golden October weather and bright sun made it a truly magnificent day. It was almost too warm for the tough moves and the popular "Morderplotta" climbing wall in Kurtatsch in South Tyrol isn't exactly renowned for its rough rock.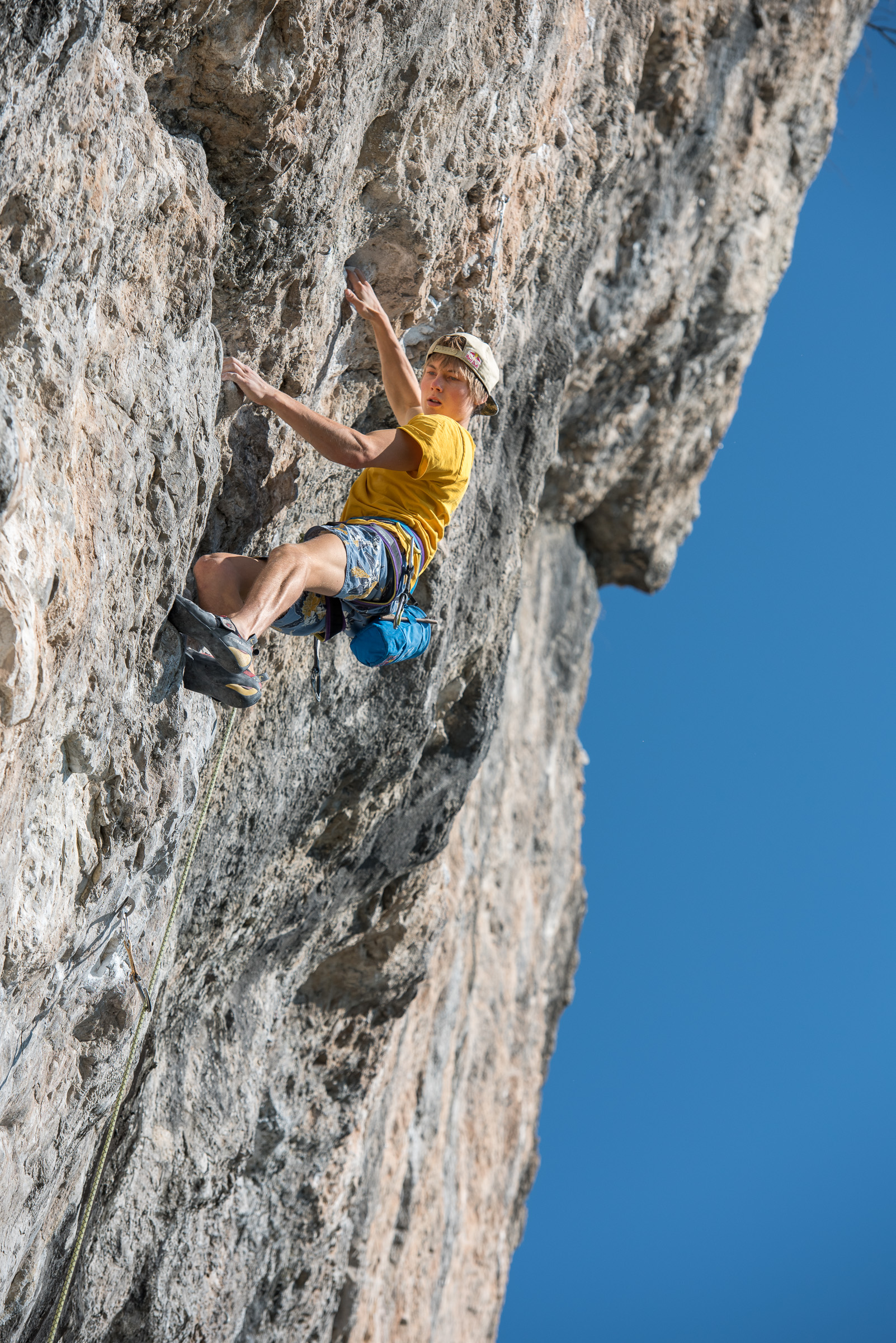 In other words: the holds here are soft to the touch and kind on the skin. Nevertheless, on the routes graded 6a and higher the going did get tougher, just the sort of challenge the better participants were looking for! They particularly enjoyed attempting a 7a, which Megos used as a quick warm-up, despite having had an operation on his leg three weeks ago. Mister "9b+" Alex Megos was only looking for some gentle exercise and didn't climb anything more difficult than a 7b. Jasper also took things easy.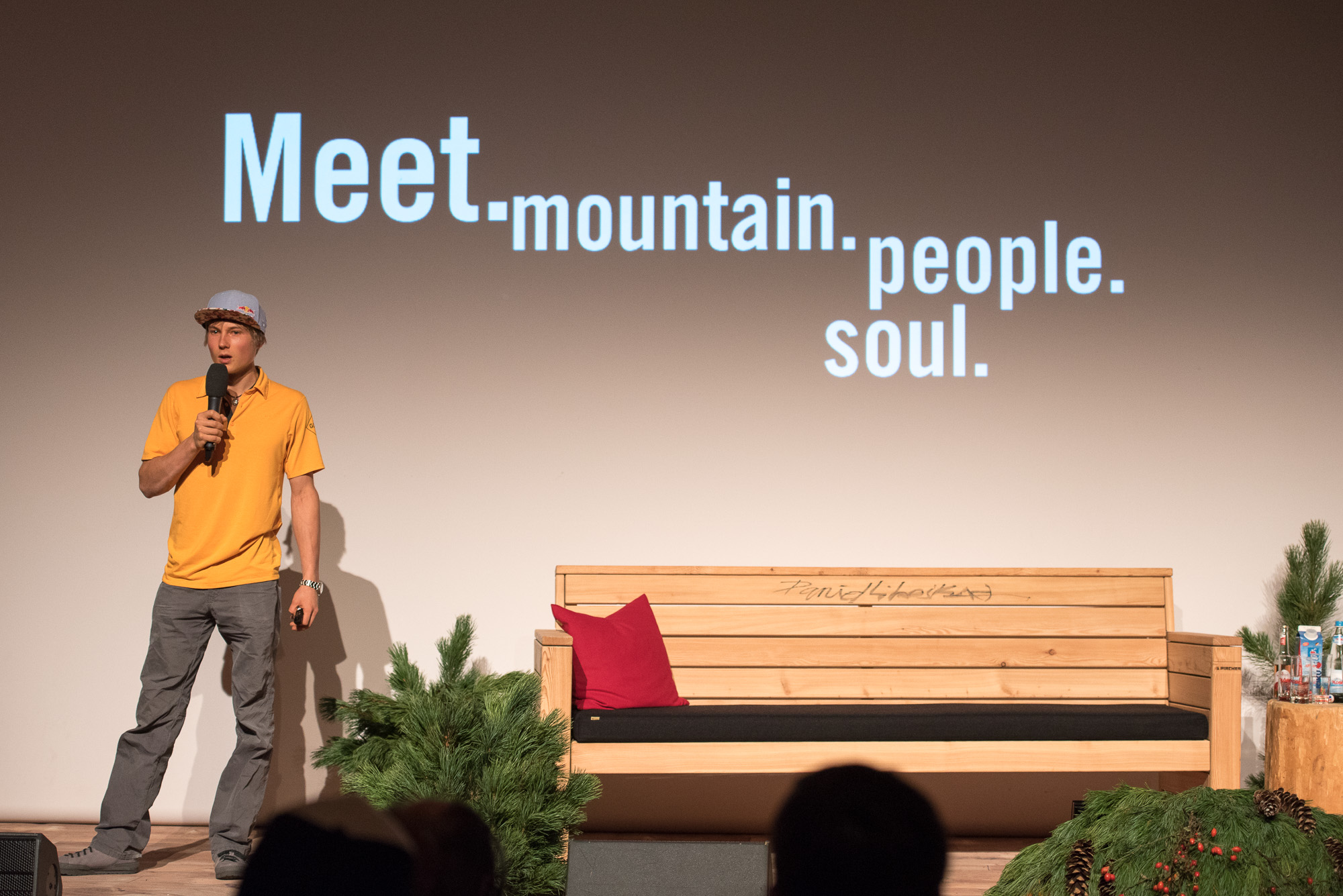 Meet. Mountain. People. Soul. Plus: climbing and talking. What better words to describe a relaxing day spent climbing. Of course, they could have used the German words: Treffen. Berge. Leute. Seele. Klettern. Reden. And because we happened to be in South Tyrol, perhaps the following words should also be added: Relax and unwind. Wine. Apple juice. Dumplings. Strudel. In the evening "alpine delicacies" could be had in the "IMS Alm", or IMS alpine hut, (nowadays a popular way to describe somewhere serving food at simple wooden tables in a farmhouse-style environment). Impossible to resist! My Google tip: Red Moon apple juice.
The idea behind the "IMS Walks" was that they should have broad appeal, so perhaps it was hardly surprising that the guided walk up to the Latzfonser Kreuz mountain lodge with Tamara Lunger was almost immediately sold out. At an altitude of 2,300 m, the lodge is basically where Lunger grew up. Her parents run the lodge which is situated next to a small church to which pilgrimages are regularly made. In fact, it is the highest pilgrimage site in the whole of Europe. When she's not off on an expedition, Lunger is often to be found here, helping out at the lodge. There's always something to do. As there was when the IMS Walk participants turned up. Everything always tastes better after the effort of the climb: the beer as well as the Kaiserschmarrn, a popular pancake belly-filler. Not even the IMS Alm can compete.
In short: the IMS makes all the different pieces fit, bringing so much together: climbing and climbers, while South Tyrol provides the mountains, the dumplings and the apple juice. All of which is supported by GORE-TEX. Not just because Andreas Marmsoler himself comes from this beautiful part of the world, but because it is so worthwhile bringing people, dreams, expertise, passion and mountains together. All of which can lead to: inspiration.
* The Spanish route of Estado Critico at Siurana. "Onsight" means lead climbing a route on the first attempt with no prior practice or advice on how to complete it. Many consider onsighting to be the purest, most technically challenging sport climbing style.