Tamara has just returned from an expedition to Nepal, a country that she knows her way around better than the highest peaks in the Alps. This meant that it was a kind of "world first" for her when she attended the Alpine Academy in Chamonix at the end of June, an event hosted on a yearly basis by GORE-TEX partner Arc'teryx. We were lucky enough to spend a few hours talking to her while striding across glaciers.
Tamara, you haven't yet climbed Europe's highest peak, but you have climbed many of the world's highest mountains. How come?
Tamara Lunger: Quite simply, because what I'm looking for is inner peace and freedom and I have always believed that these feelings can only be found at the top of the world's highest peaks. However, my most recent expedition proved to me that this isn't true any more. That's why I see my future on solitary mountains and in base camps where there are no other people.
During the Alpine Academy we kept finding ourselves in "traffic jams" along the ridge of the Aiguille du Midi. Did you find that all rather annoying?
Tamara Lunger: To tell you the truth: YES! (laughs). But then, on the other hand, it was wonderful to see how content and happy everyone was on their way back from their clinics.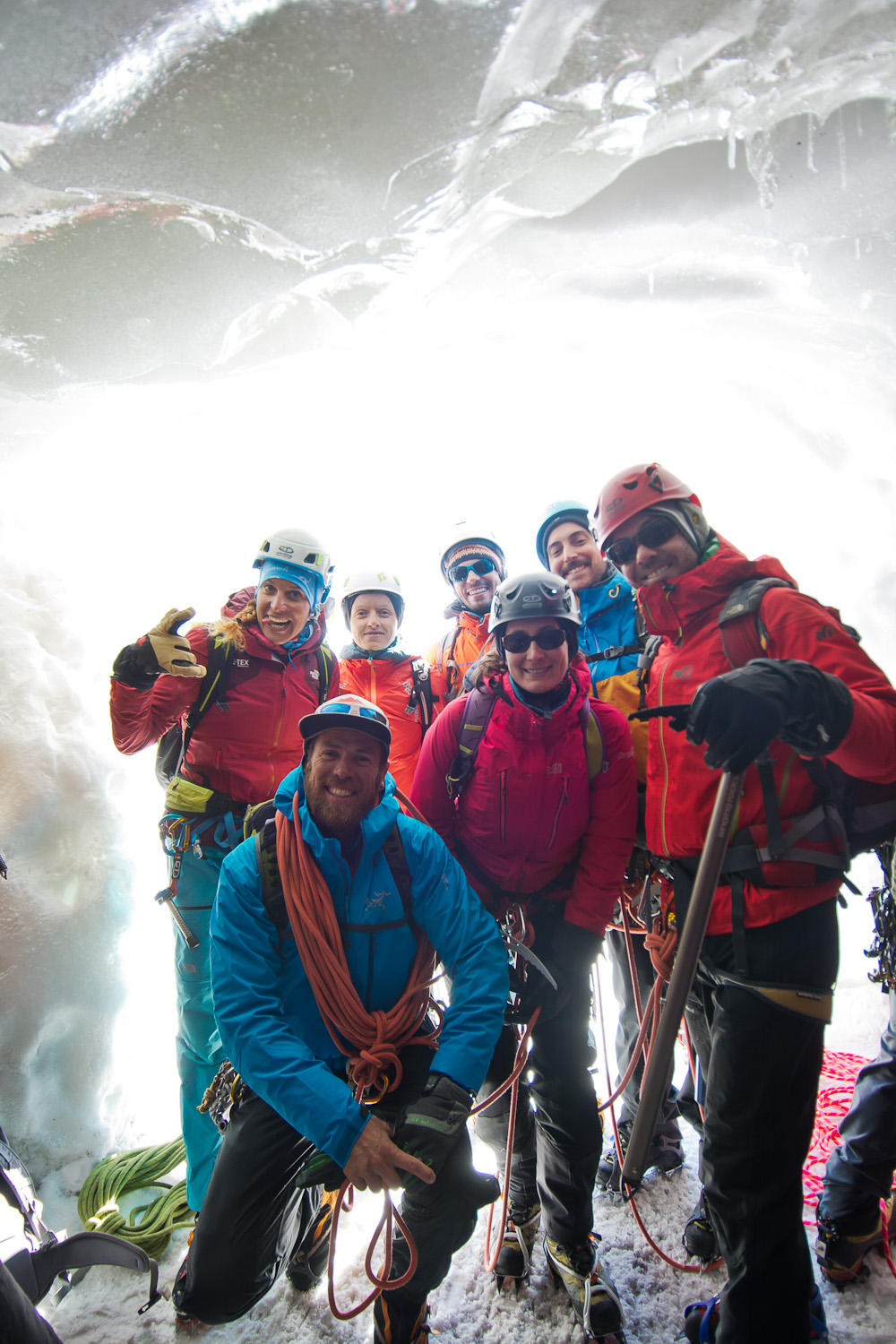 Tamra (left) has a lot of fun at the Arc'teryx Alpine Academy
From Nepal to Chamonix, via your home in South Tyrol (near the Latzfons Cross which is also often seen seething with tourists): does all that come as a bit of a culture shock or is it something you've got used to?
Tamara Lunger: I've got used to it. As soon as I get off the plane, I'm home again and then I know that my everyday life and its fast pace will soon be dictating my schedule.
What did you think of the Academy, overall?
Tamara Lunger: I really liked it. It's a great event and has so much to offer. The thing I liked best about it was that everyone was so motivated, even when the weather wasn't that good, even when it was blowing a gale, snowing or just cold. Everyone was so keen to learn, to get out and do something they can use in the future, something that will help them improve their alpine skills.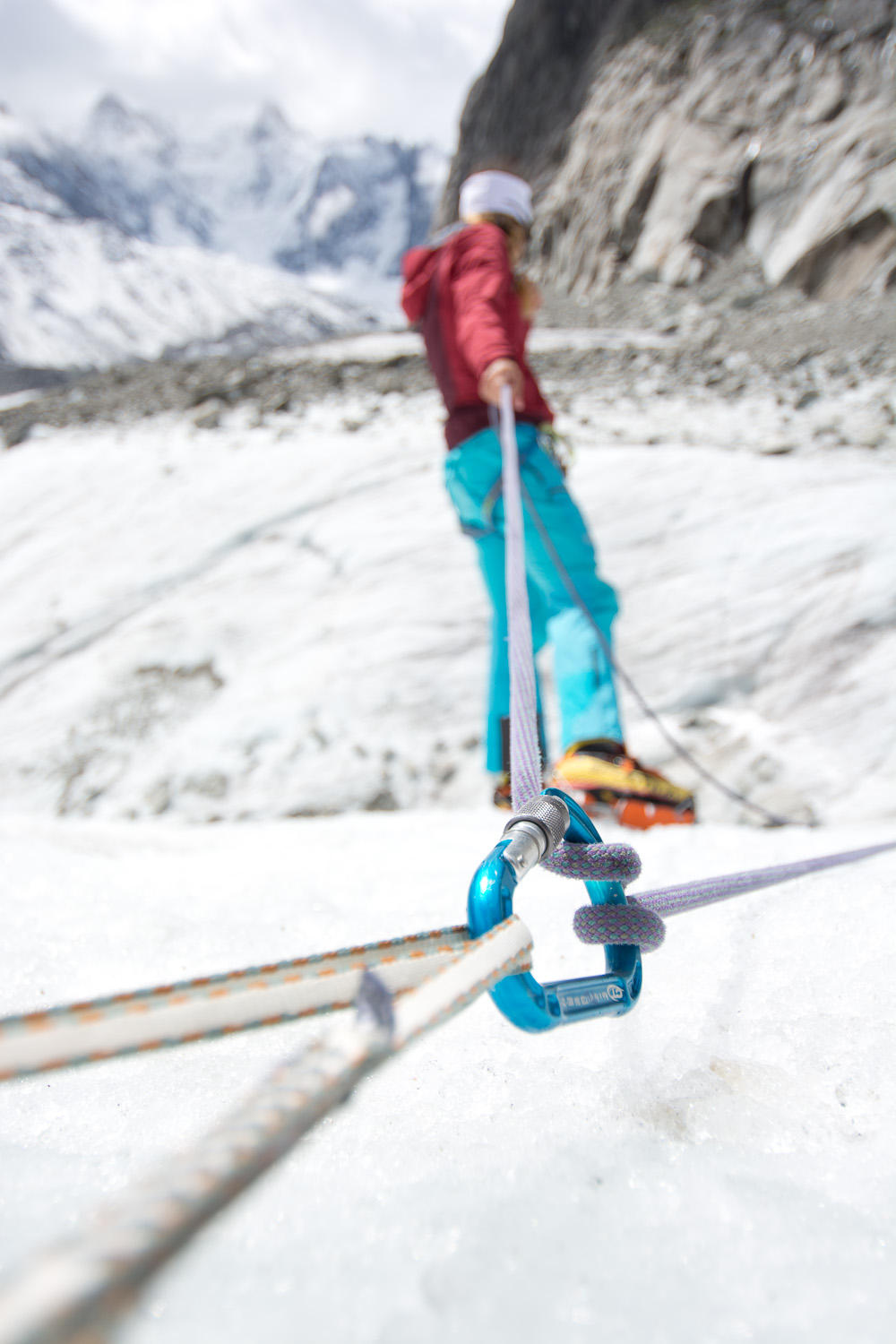 You helped teach several of the clinics. Were you able to learn anything?
Tamara Lunger: Yes. Definitely. The rope manoeuvres change all the time. This year I learnt something new: the guide had said that what he was demonstrating was completely new. I kind of felt like I was being given a quick update. At times you learn something from the guides just by watching what they're doing.
What's the difference between climbing in the Chamonix region of the Alps to climbing in the Himalayas?
Tamara Lunger: Phew. I don't think the differences are that big any longer. Unfortunately the Himalayas are soon going to be just as busy. I suppose the main difference is that in the Himalayas oxygen and Sherpas are used. Fortunately that doesn't happen here, yet (laughs). But the routes are much more crowded. Although I'm not quite sure which I prefer: Mount Everest with about a thousand people at base camp or the Aiguille du Midi with I don't know how many hundred climbers and queues building up all along the ridge where you can spend as much as an hour waiting before you get anywhere near the glacier.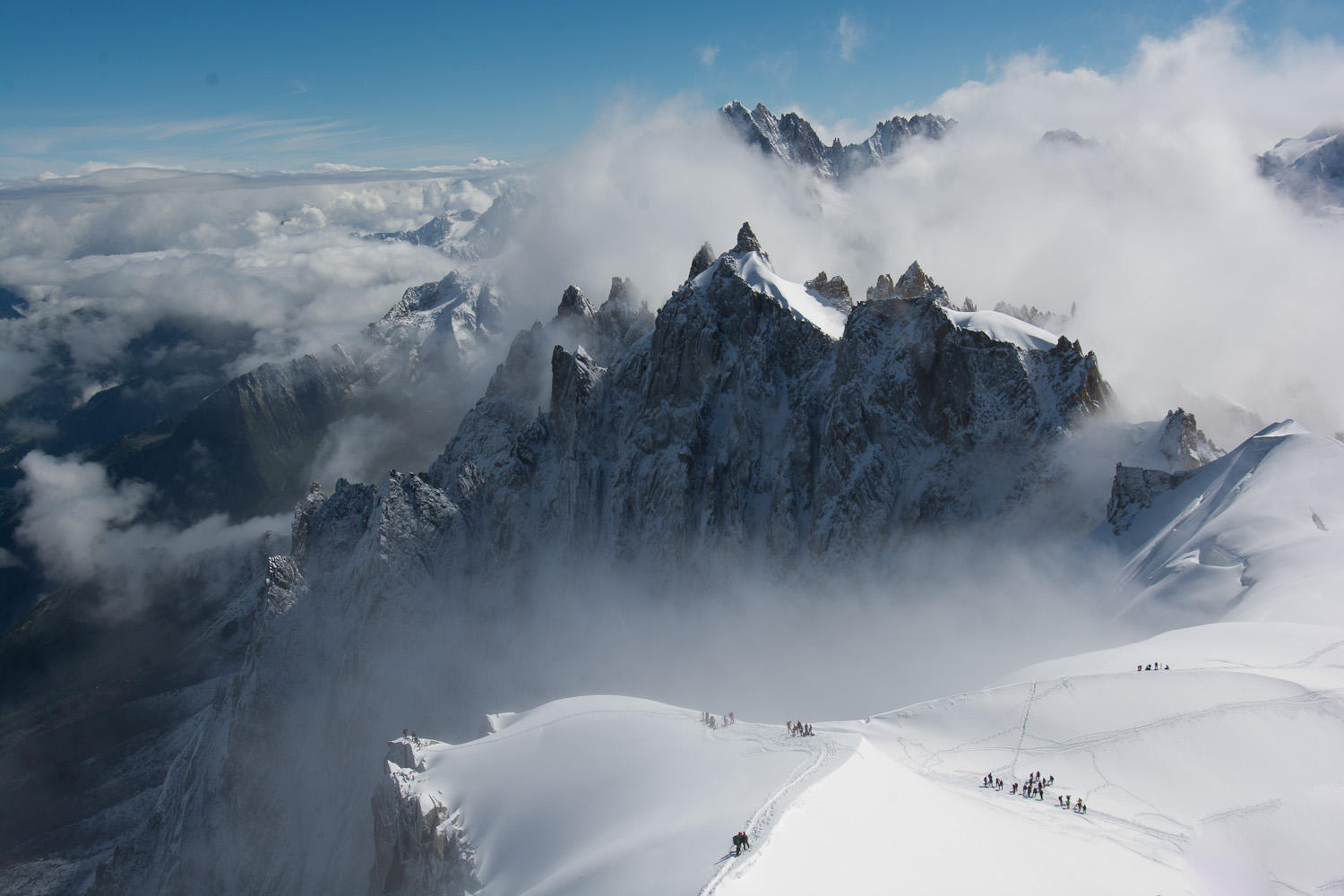 In Chamonix people pay over €60 for a single journey to the top of the Aiguille du Midi. How much does it cost to charter a helicopter in Nepal?
Tamara Lunger: Phew, I suppose the same amount of money would buy you a one minute flight in a helicopter. It costs about $5,000 for an hour.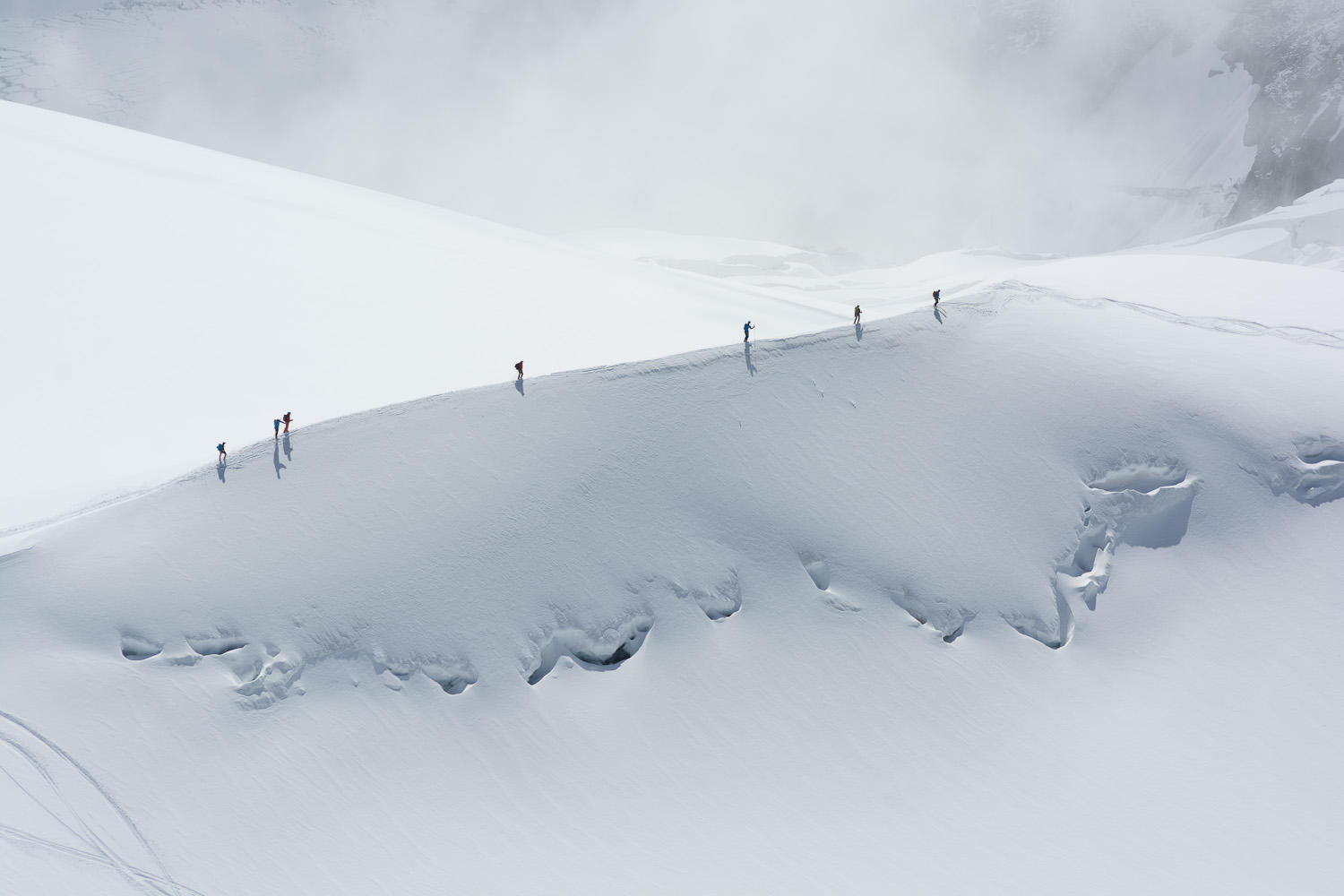 You support a charity called Friends of Nepal (FoN) that helps finance helicopter transport in Nepal. What's your connection to FoN?
Tamara Lunger: I trust FoN completely. They're the same people as the ones who run the agency (Cho Oyu Trekking) that organises all our expeditions. We have a long-standing working relationship that has led to a high level of trust. That's why I know that all the money that is donated makes it to those in need. And it's not that only they decide what is done with the money, we also have a say in the matter. Simone Moro has his own helicopter company in Nepal, so a lot of know-how has been acquired over the years. Administration expenses are also kept as low as possible. Decisions about destinations, where help is needed and what form the help should take can be made and acted on quickly. The money that is donated is sent directly to FoN. It is then used to pay for helicopter flights, for example for a delivery of aid to a remote village or for a woman with birth-related complications who otherwise couldn't afford to pay for transport. We hope that as many people as possible donate to this charity project so that we can raise as much money as possible and really make a difference.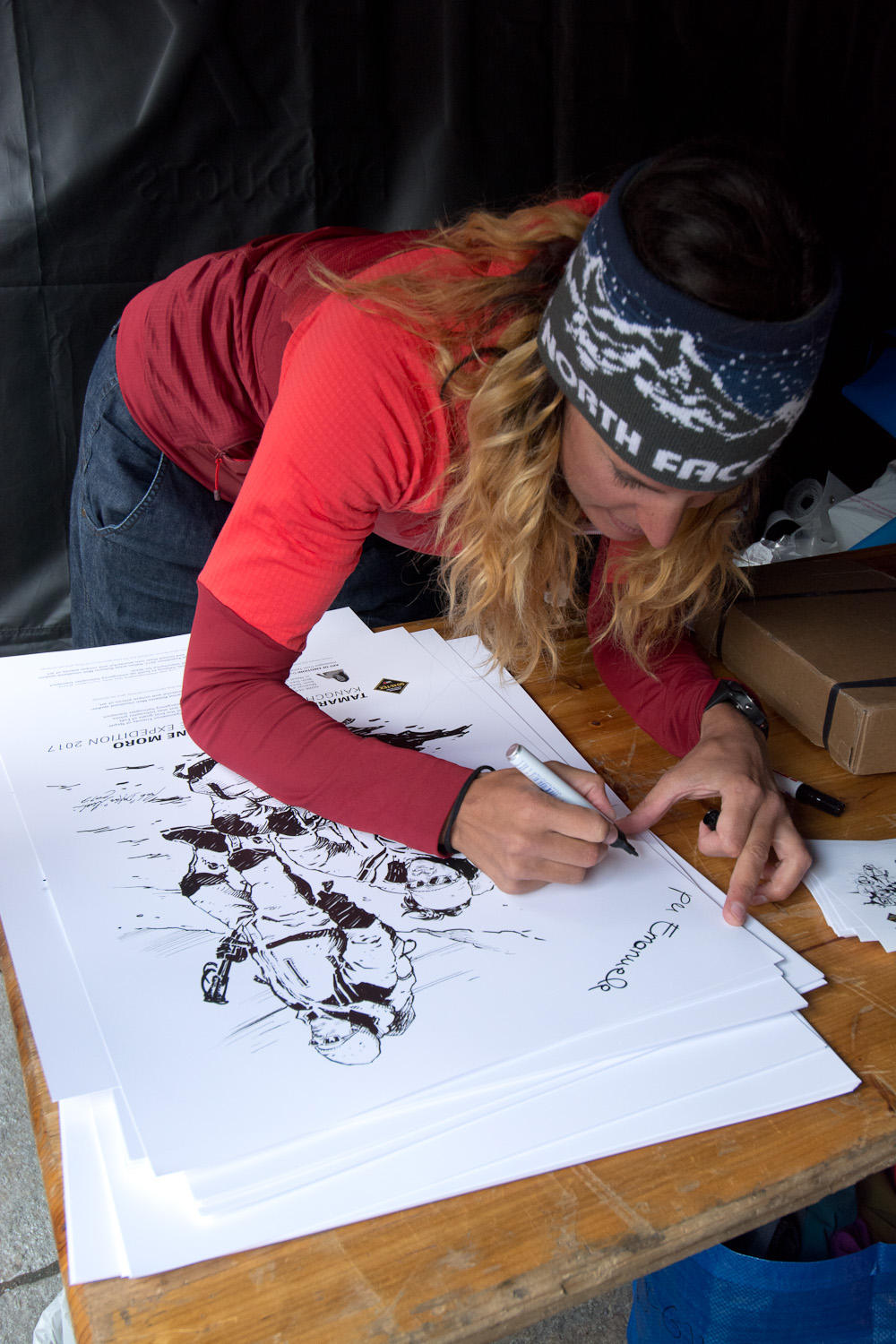 Tamara is signing a illustration which was made during her Kangchenjunga expedition
Can you tell us something about your next projects?
Tamara Lunger: My next projects will be lower and more solitary. But perhaps there'll be the odd exception, who knows. We'll see.
Learn more about:
Tamaras Kangchenjunga Expedition. Arc'teryx Alpine Academy 2017. Tamara Lunger.