Weekend warriors on seriously steep slopes
Skiing on steep ground calls for perfect conditions and careful preparation. After a long wait, author Sebastian Huber was able to tick off a long-time wish that was high on his list of things to do.
Our regular jobs mean that we weekend warriors have to learn to be patient. At our desks from Monday to Friday, it's difficult for us to plan our epic adventures for any one specific day (like it or not, it has to be Saturday or Sunday). To go ahead, everything has to be just right on the day: the weather, the avalanche hazard level, the snow quality, your family commitments (or ability to get out of them), your equipment, and the people you plan to go with. So, it's not that easy to achieve your goals - even though you're the one who sets them.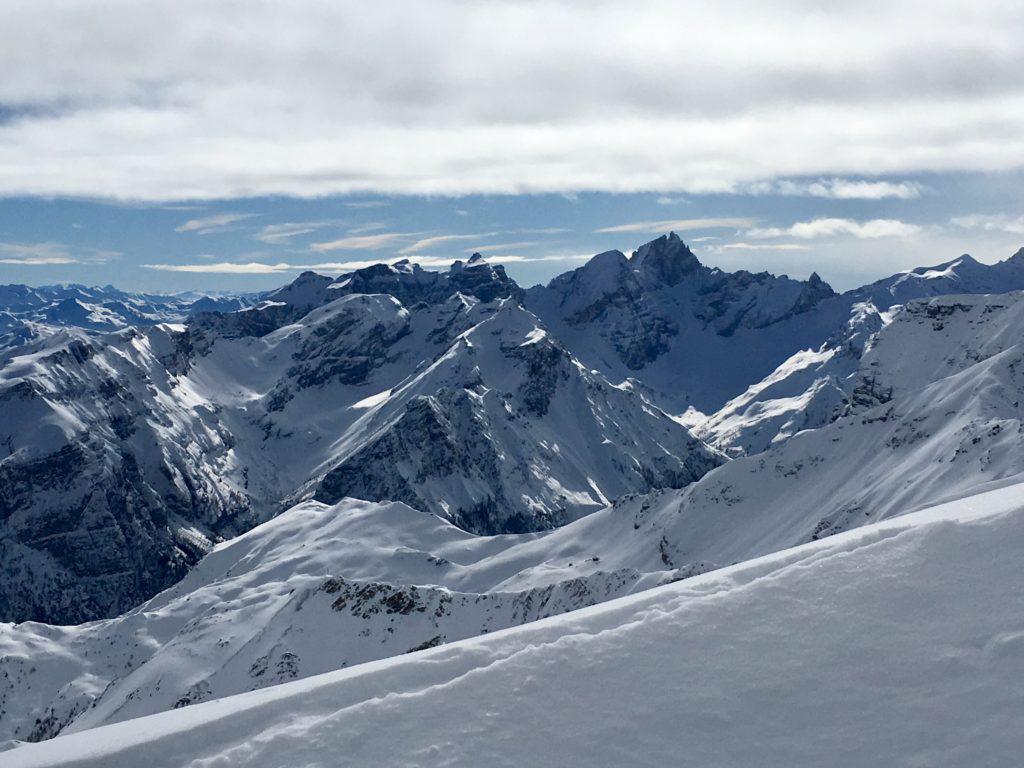 Mid February everything suddenly fell into place. It was a Sunday and at last we had the chance to live out a long-held dream. For some time I'd been toying with the idea of skiing down the north facing gully of the Kesselspitze (2,728 m) in the Stubai Alpen, but things hadn't yet worked out. In fact, last year I had even stood at the entry point. Alone and without a rope, there was little point in even contemplating the descent. The couloir remained a project. What we're talking about here is not a first descent, nor an expedition into the unknown, not even a "superlative", but it's still an awesome descent, first done by David Lama in 2009 - and only half an hour's drive from home.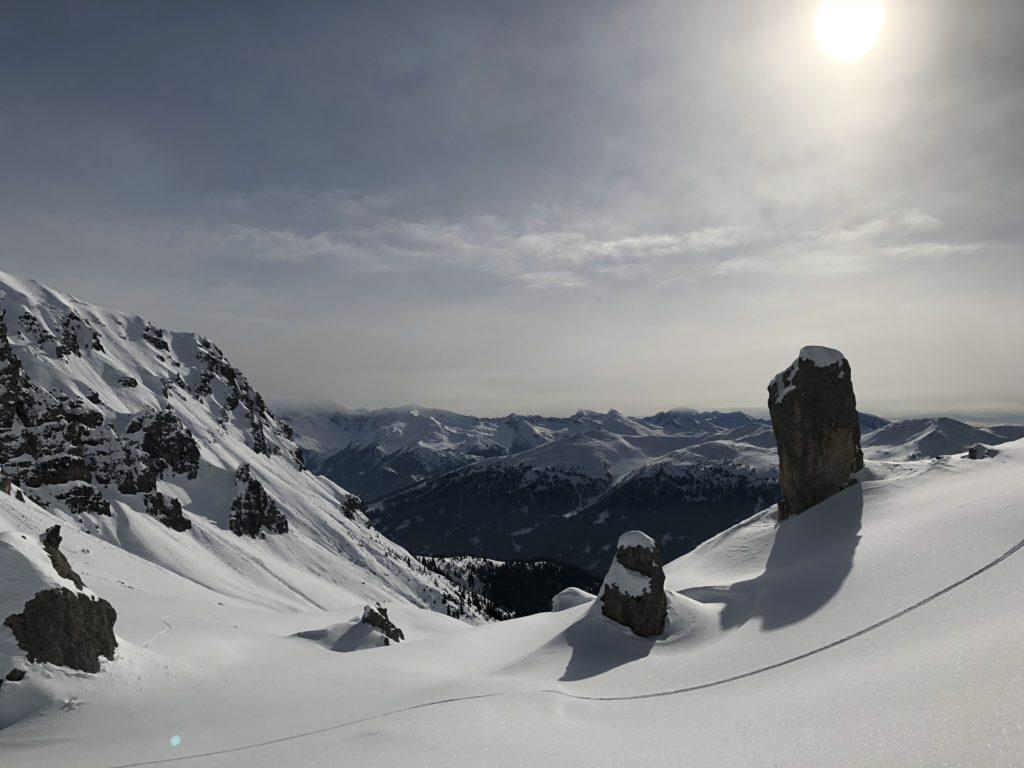 Getting back to family commitments: that Sunday I hadn't actually been able to completely wriggle out of them. I had packed everything: my skis, rope, helmet, carabiners, backpack, skins, food, drink, sun cream and an avalanche transceiver, but I still had to take the family to the station and put them on a train to visit their grandmother. As soon as I had seen them off, I dashed back to the car and headed for Maria Waldrast, near Matrei am Brenner. Having no children to take care of, my companions were already on their way up the mountain, so I had the "privilege" of spending 45 minutes catching them up. On the other hand, I had the advantage of being able to stay in their tracks.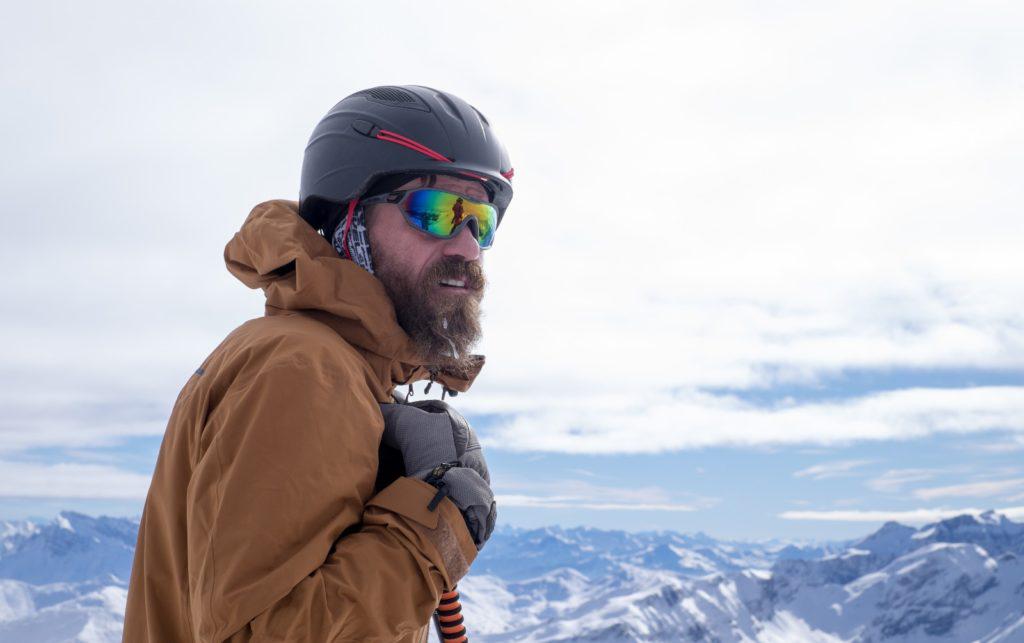 The exertion of the 1,200 m ascent from the Ochsenalm to the summit meant that we were all feeling rather hot and sweaty. But that was about to change. Not only was a biting wind blowing straight at our GORE-TEX jackets], we were also inwardly shuddering at the daunting prospect of skiing down the couloir that we had just caught sight of. Ahead of us lay a 1,700 m descent, maximum degrees of steepness exceeding 40°, two definite, and one possible, abseil sections and a final run through steep pine forests.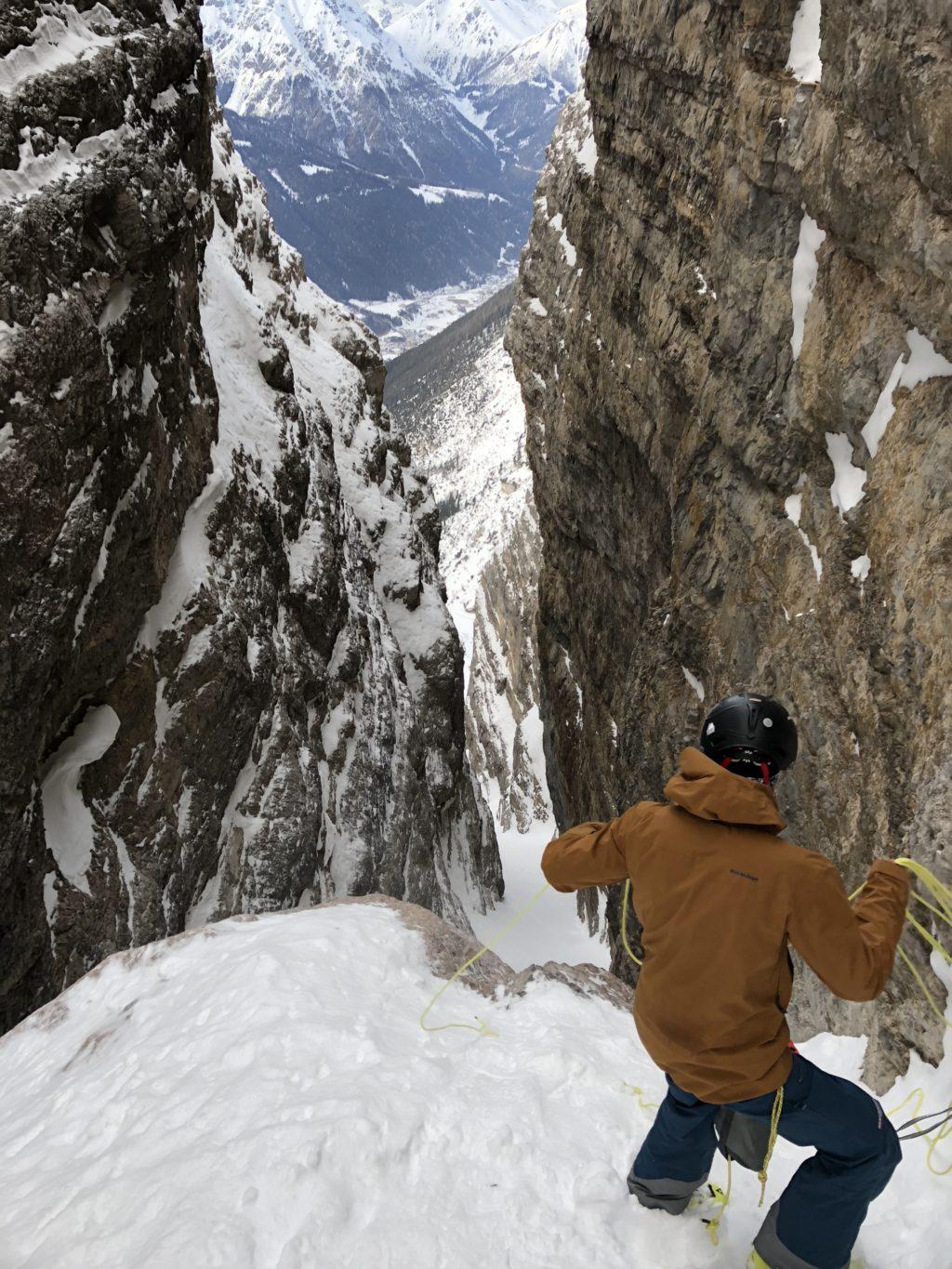 Although we had known the "hard facts" all along, the first turn of the north facing descent was still intimidating. We were all much quieter and more concentrated than we had been on the summit and during the ascent. Because the whole thing was my idea, I was given the dubious honour of making the first turns and finding the abseil sections. The snow was firm and grippy for the full length of the couloir, there was no ice, the hooks were all still in place in the abseil sections and the landscape, the insane views down the gully all the way to the valley floor, unbeatable. That Dolomites feeling right on my doorstep! Skiing down towards the valley between steep rock walls towering above you is an awesome experience and certainly not to be compared with that "normal" freeride feel. Still, in such steep and narrow couloirs, it's better if you don't fall.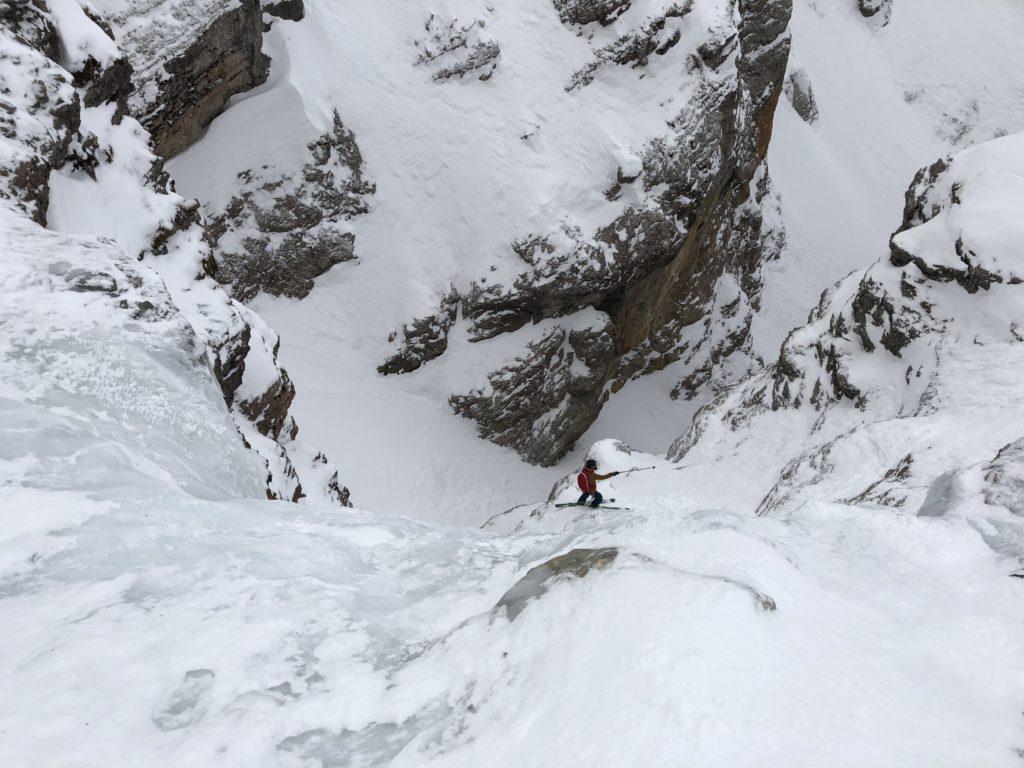 The only thing that didn't work out was our clever idea of finishing the day by taking the ski bus and then the cable car from Mieders back up the mountain and climbing the 150 m ascent to cross back over the saddle and ski down to where we'd parked our cars at the Ochsenalm. Nobody was to blame but ourselves: we only had one rope with us so everything had taken that bit longer - this meant that when we came out of the forest, the cable car had long since stopped running. A few WhatsApp messages later and a friend had taken pity on us, given us a beer for our efforts and driven us back to our cars. There's so much truth in the saying: why roam so far afield when there's so much close to home? As long as you are prepared to wait!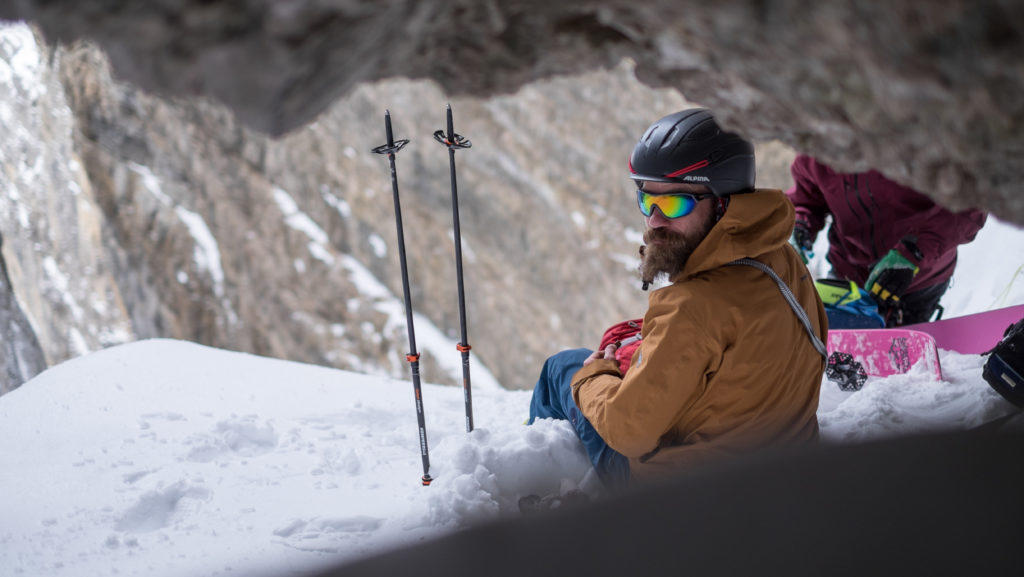 Photos:
Lukas Krista Tom Süsskoch Sebastian Huber