Mountains are the key to his life, vertical challenges paving the way. Steep and intimidating, alpine rock walls still hold an irresistible attraction for him. Stefan Glowacz has been a prominent figure in the international climbing scene for over 30 years, almost dominating it in the 1980s when he acted as the frontman of a new movement.
On July 5, at the age of 53, 2018 GORE-TEX athlete Stefan Glowacz will be setting off on his longest ever expedition. On his way to Scotland, the outdoor adventurer will be making a brief stop in Cologne to visit Jannik Fröhlich in his living room in Kottenheim, Germany. A keen sport and alpine climber himself, Jannik won an exclusive evening with Stefan Glowacz in his own flat as part of the GORE-TEX Athlete's Couch series which is taking place for the third time in cooperation with mountain sports magazine ALPIN and Marmot Mountain Europe. By the way: if you're interested in watching a live feed of the first 15 minutes of Stefan's visit, you can join the two of them on July 5, 2018 from 19:30h via the GORE-TEX Facebook channel. For anyone interested, there's also plenty of extra information here: Where is the current expedition heading for? What is it that keeps Glowacz going? How did he get into climbing? What is his attitude to safety?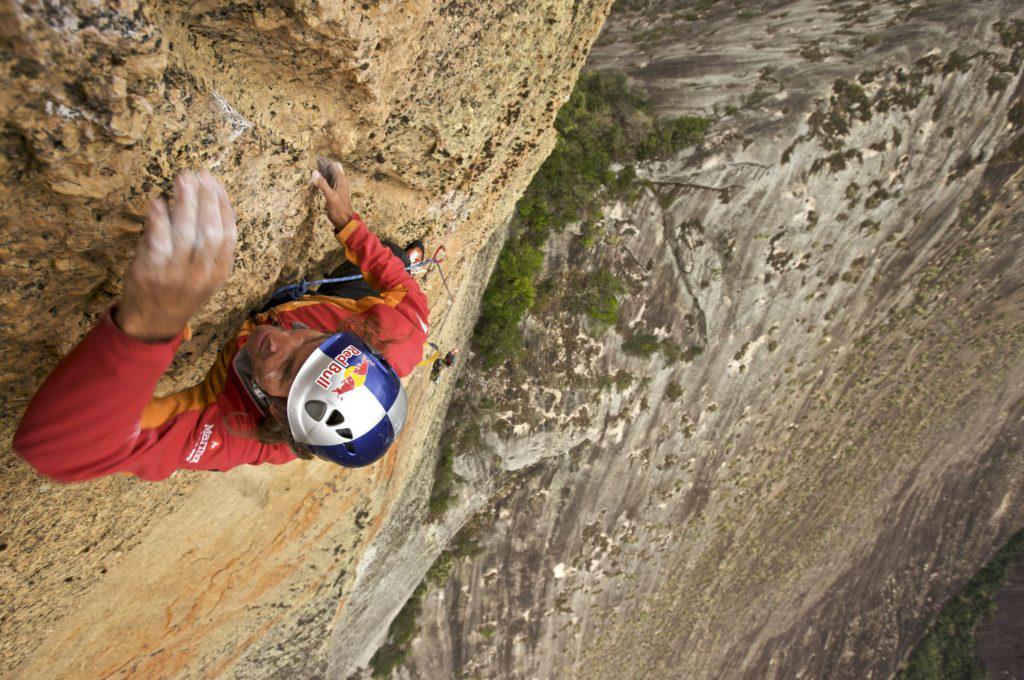 But let's get back to Glowacz: Stefan Glowacz has been a prominent figure in the international climbing scene for over 30 years, almost dominating it in the 1980s when he acted as the frontman of a new movement. At home in Garmisch-Partenkirchen in Bavaria and now aged 53, the GORE-TEX athlete is so much more than just a daredevil vertical acrobat: he's a true explorer. His way of thinking is probably closer to the likes of Humboldt, Scott or Shackleton than to many leading climbers whose aim it is to climb all of the world's 8,000-metre peaks. He'll be off again soon. On July 5, 2018 GORE-TEX athlete Stefan Glowacz will be setting off with the other members of the team: Thomas Ulrich, Philipp Hans and skipper Wolf Kloss. It will be the longest expedition he has ever embarked on. They're planning 100 days for a project they're calling "Coast to Coast 2018". The ultimate destination of the expedition, which involves different types of sports, including sailing, big wall climbing and ski touring over mountain passes, is Greenland, the world's largest island. Delivering on the "by fair means" motto, one of the aims of this slow travel adventure is to minimise its environmental impact as far as possible. No fast methods of transport such as planes or helicopters are to be used. They'll be using an electric car to get from Starnberg in Bavaria to Scotland where they'll board the "Santa Maria". The 14-metre long steel yacht will set sail for Iceland, continuing on to the west coast of Greenland. From there, the team will cross the Greenland ice sheet to the east coast where they will climb a few big walls, before returning to Bavaria the same way as they came: by sailing boat and electric car.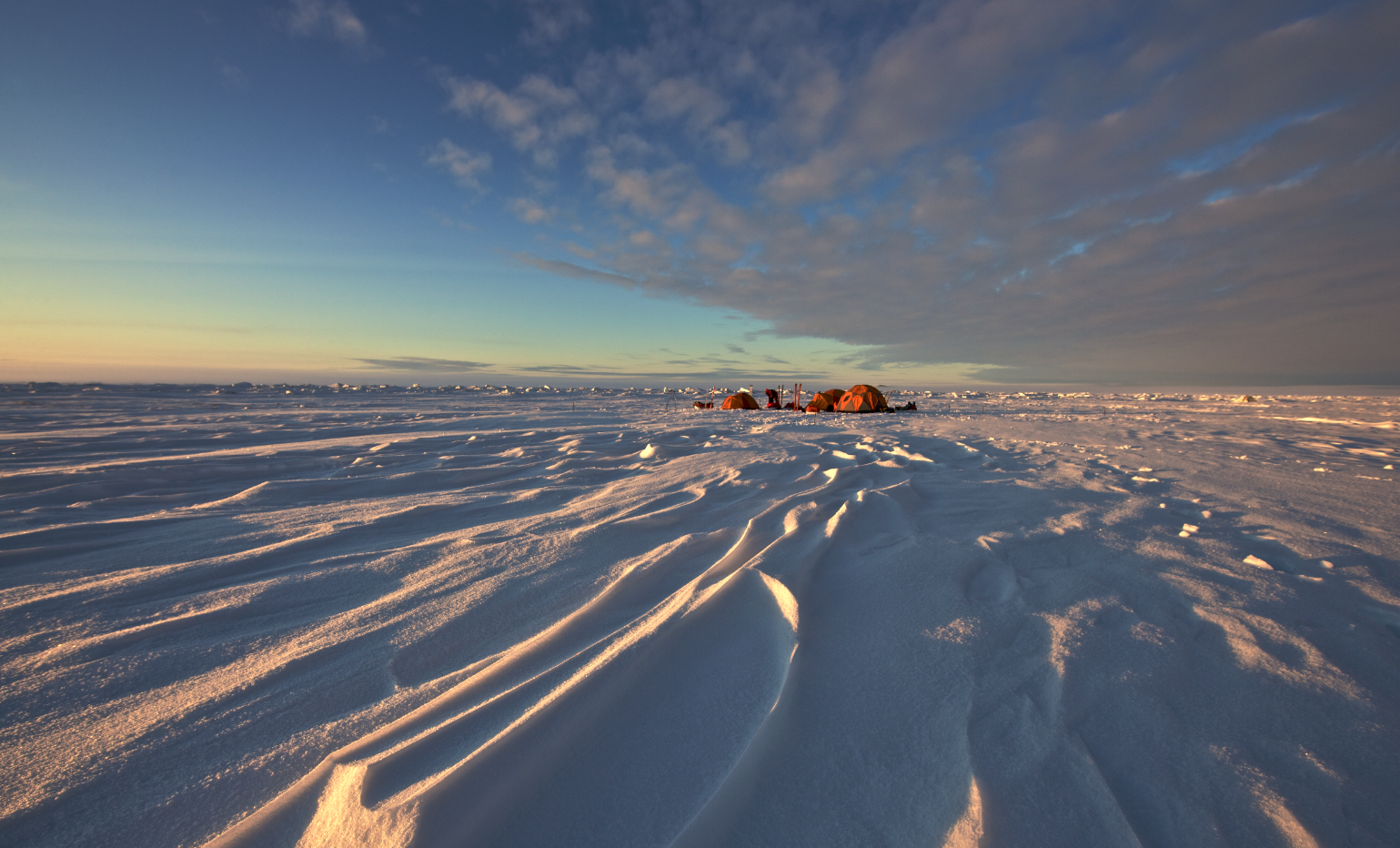 The expeditions of professional climber Stefan Glowacz are to many of the same places as other climbers of his format: to Patagonia, Mexico, Greenland, the Antarctic, Oman, Canada, Venezuela and Baffin Island . The only difference is that he keeps well clear of the popular destinations. Glowacz prefers to look for the few remaining unexplored corners of the earth. It requires a lot of creativity to find them. Getting there under his own steam is a considerable challenge - and usually a long grind. The challenge of climbing a wall is central to the planning stage of any expedition. That's what defines the goal. For someone like Glowacz for whom doing things "by fair means" is important, just getting to the summit isn't enough. It's all about getting there. You don't just get flown in to the bottom of the wall: you leave civilization carrying your own equipment and continue carrying it until you get to the object of your desire. With no help from others. And it's the same on the way back, only you're carrying your rubbish, as well. It might be a bit of a cliché, but for Glowacz the saying rings true: "The journey itself is the reward." For example, before making the first ascent of "The Bastions", a 700-metre high granite wall on Baffin Island, Glowacz and his team walked across pack ice for weeks. They pulled 750 kg of equipment on sledges across the white desert. With no help from others. Cut off from the world, exposed to the elements and left to their own devices. Later, Glowacz was to call the route: "Take the long way home." His Antarctic expedition was a totally different story: a limited budget had ruled out the possibility of getting there by plane. Obsessed with the idea of doing some climbing on the 7th continent, Glowacz opted for a gruelling alternative. However, sailing from Tierra del Fuego through the Drake Passage turned out to be sheer hell. Once, he even almost starved to death: it was in Canada, on his way to the "Cirque of the Unclimbables" . Getting there in an inflatable Canadian canoe was extremely hard work and took far longer than expected. So, they ran out of food. Added to that, a plague of mosquitoes nearly drove him mad and there was a real danger of being attacked by polar bears. At times, Glowacz has felt as though he might die of cold, at other times the problem has been the heat. Or, he's been stranded in a bivouac for days, waiting for the weather to improve. His climbing expeditions have always been about pushing back boundaries.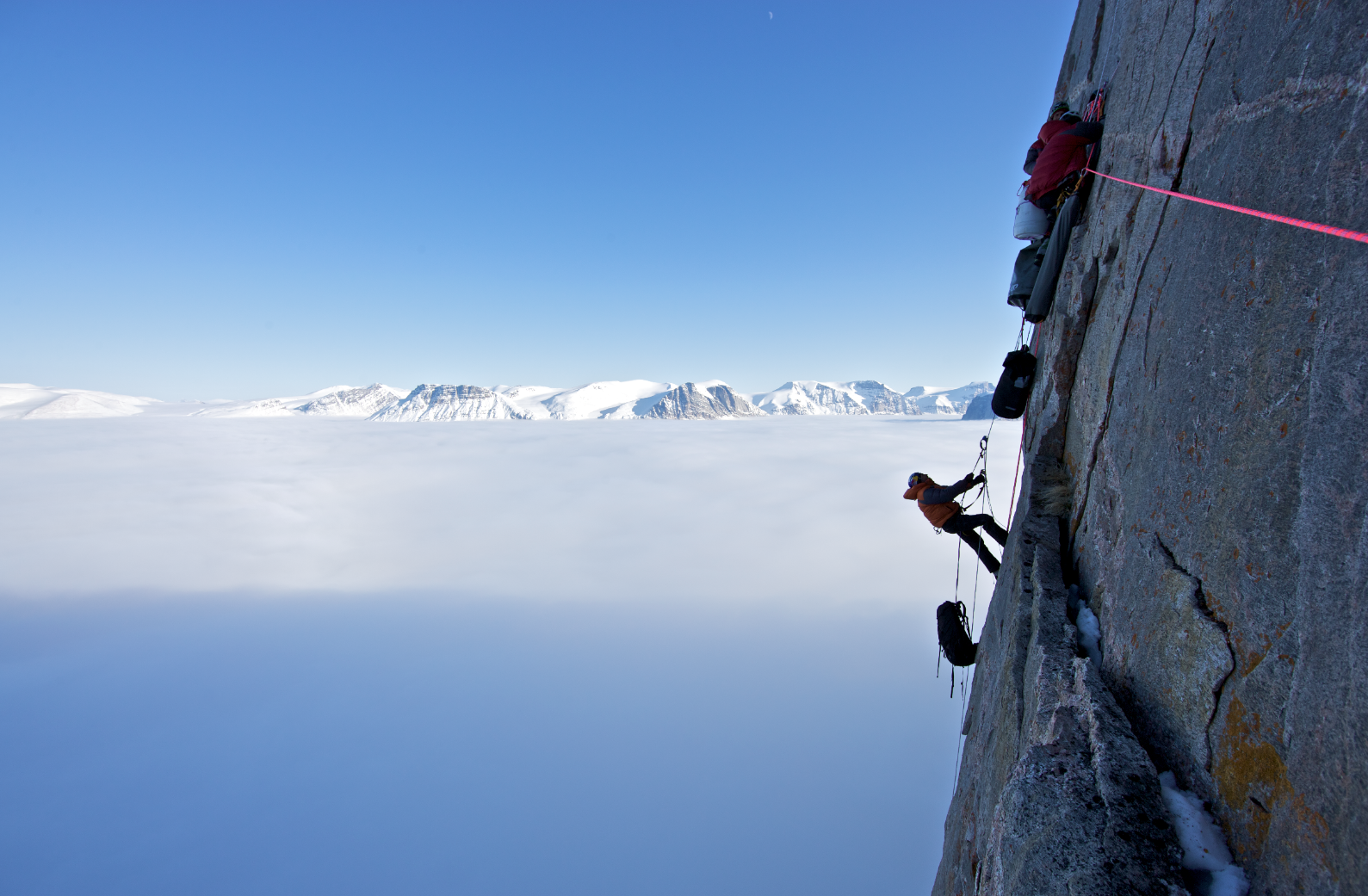 Picking an extremely remote wall appears to be a compulsory part of his projects, so that on the way there he can overcome challenges, take on the dangers awaiting him and push himself to the limits of mental and physical endurance. When you think about Glowacz and his expeditions, the word "arduous" immediately comes to mind. Enduring agony appears to make him feel all the more elated when it's all over. Nevertheless, he still seems to start thinking about the next expedition before he's even finished the one he's on. He's a free spirit and if he spends too much time at home, he starts feeling restless. On the other hand, in distant places, when it can't get more gruelling, he longs for home. Home for Stefan Glowacz, a father of triplets, is Berg on Starnberger See in Bavaria, where lives with his second wife Tanja Valérien-Glowacz. No risk, no fun? These days, safety is of utmost importance to Glowacz. At the age of 53, free solo climbing is no longer included in his repertoire. He owes that to his family. Also to himself. After all, there's still life before death. However, it was only after two nasty scares that he really accepted that those days were over. He had a bad fall when he was climbing without safety gear in Kochel in Bavaria and was lucky not to be wiped out by an avalanche in Engadine in the Swiss Alps. Less risk, more fun!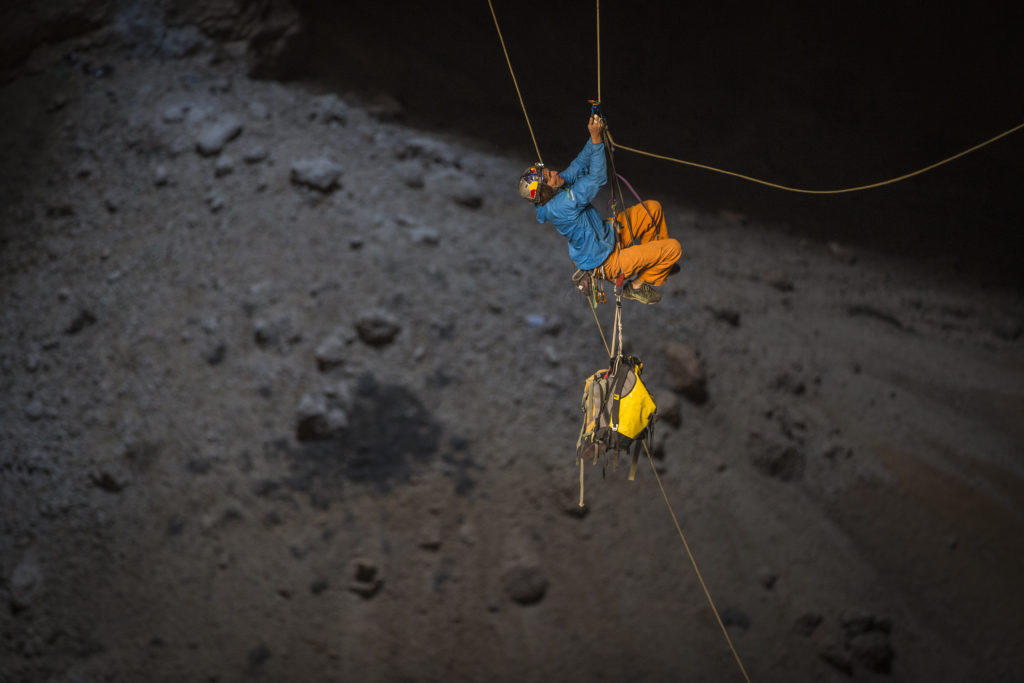 In the 1990s the top 10 climbing route grades were almost like a sound barrier. Only the very best attempted these climbs. In 1994 three heroes of the climbing scene were able to make successful ascents. Beat Kammerlander in the Rätikon massif in the Austrian Central Alps, Thomas Huber in the Berchtesgaden Alps in southeastern Bavaria and Stefan Glowacz in the Wilder Kaiser mountains in Tyrol. The 250 metre route known as "The Emperor's New Clothes" on the Fleischbank pinnacle became a question of all or nothing for Glowacz. For months, he focused all his efforts on this route, it had become the most important thing in his life. Week after week, he made his way to the Kaiser Mountains. In his dreams he tackled the most difficult section of the climb over and over again. It had taken over his life. He even built a replica of it at home to practise on. Never before and never again has he had to fight so hard and suffer so much to be able to do something, Glowacz says. When he finally successfully climbed the route he felt as though he had been set free. He felt liberated, both as a climber and from a personal point of view. More recently, Glowacz once again demonstrated his single-minded determination when he got involved in an almost equally laborious project much closer to home. 15 years ago, a climbing route in a steep wall of the Wetterstein Mountains had caught the eye of Glowacz and Markus Dorfleitner (46), a local friend from Garmisch. They fixed some anchors and have had their eye on it ever since. In 2017 the two friends turned this long-term goal into a priority. They trained like mad and made numerous attempts. Despite trying again and again they haven't yet managed to redpoint the route. Again and again they were defeated by the same sections . But failure is not an option. Glowacz and Dorfleitner are not going to stop trying.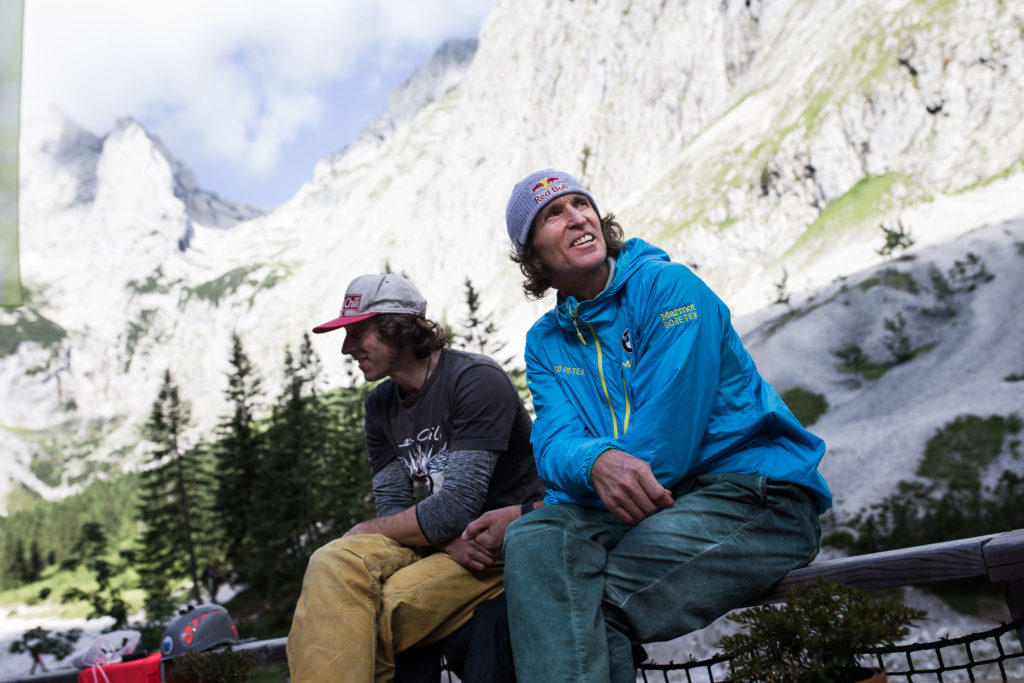 In his early years, Glowacz was used to success. He went from one climbing event to the next. He matched himself against his rivals on artificially constructed walls. The popularity of climbing competitions was booming. Glowacz was one of the heroes of the day, clinching the Rock Masters title in Arco in Italy a total of three times (1987, 1988 and 1992). He's not only been a guest on "Aktuelle Sportstudio", the Saturday night sports programme on German TV, he has also starred in the film "Scream of Stone" directed by Werner Herzog and has been seen in various Willi Bogner film productions. His face has even adorned the front cover of magazines. As Glowacz describes in his book "On the Rocks", it all very nearly went to his head. He badly needed to come back down to earth. He had strayed a long way away from his roots, from climbing natural walls. In 1993 he took the logical step: he entered his last climbing competition, the Innsbruck World Championships where he was runner up. Once and for all turned his back on competitive climbing which, incidentally, is to become an Olympic sport in Tokyo in 2020. Since then his main focus has been on expeditions to far-flung corners of the world and on his business interests: in 1996 he founded the "Red Chili" brand which produces climbing footwear. For further information on Stefan Glowacz, please consult his website or his accounts on Facebook and Instagram