Spitsbergen Arctic winter adventure
To experience the fascination of the Arctic at close quarters you don't have to join an expedition or go on a cruise. Longyearbyen, the largest settlement on the island of Spitsbergen with a population of about 2,500 people, is easy to get to. Five days a week there are flights from Oslo, even in the winter. What can you expect to see? Breathtaking wilderness, spectacular mountain and fjord landscapes, a wealth of history, dazzling displays of the Aurora Borealis, better known as the Northern Lights, polar bears, Arctic foxes and a very international community. When our author Johanna Stöckl recently set off for a winter trip to Longyearbyen, she was making a dream come true.
Most people have dreams about the places they've always longed to go to. While some people's dream destination is a tropical island, I tend to want to go north. Having just got back from Spitzbergen, I'm keen to share my enthusiasm and experiences with you. But beware! They say you can get bitten by the Arctic bug. And once you've been bitten, all you'll ever want to do is go back there!
1 Location
Situated between the 74th and 81st parallel north in the middle of the Arctic Ocean, the Svalbard archipelago comprises more than 400 islands. People often talk about Spitsbergen when they actually mean the whole archipelago. Spitsbergen is actually just the largest island of the Svalbard archipelago and the location of Longyearbyen, the world's northernmost permanently inhabited settlement which lies on the Isfjorden. Although Svalbard is administered by the Norwegian government, since the signing of the Svalbard Treaty in 1920 this Arctic archipelago has been a kind of no man's land, not belonging to any particular country. Gore Tip Currency: Norwegian krone; in Longyearbyen you can withdraw local currency from cash machines as and when you need it, or pay by credit card; you don't need a visa. Getting there: Flights from Munich via Oslo to Longyearbyen (with Norwegian or SAS). If you book early, you can get a return ticket for about €400.00.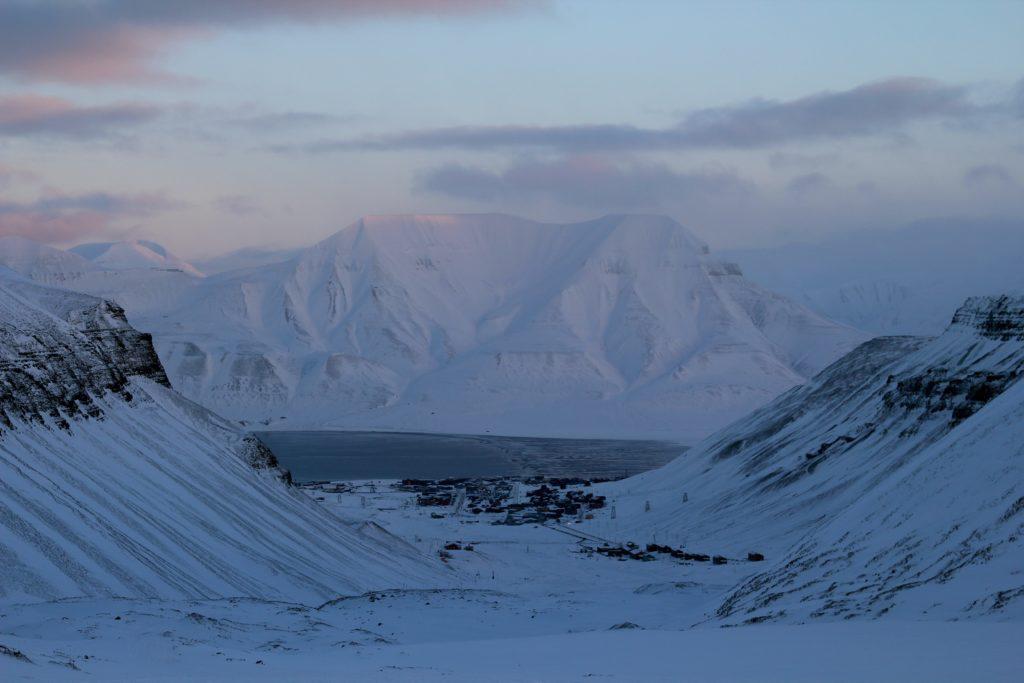 2 Longyearbyen
Longyearbyen is steeped in history. Originally founded by American industrialist John Longyear in 1906 to provide housing for his labourers, Longyearbyen remained the site of the coal mining operations of Norwegian mining company Store Norske until the late 1980s. Only one of the original 7 mines is still in operation. Today Longyearbyen's main sources of income is tourism and research (including the Norwegian Polar Institute and the University Centre in Svalbard (UNIS), the northernmost university in the world). Spitsbergen was discovered in 1596 by Dutch navigator Willem Barents. Gore Tip Visit the Svalbard Museum and immerse yourself in the history of Svalbard, taking you as far back as the 15th century to the times of whalers, hunters and miners, and back again to the present day.
3 Climate
You always have to dress warm. The climate is Arctic and therefore cold all year round. There is little precipitation, so it's usually dry. In the winter, temperatures can be as low as -30°C, while in the summer temperatures never go above +15°C. Over the year the temperature averages out at about -7°C. The comparatively mild temperatures are the result of the Gulf Stream that carries relatively warm water northwards along the west coast. Gore Tip Windchill: Even on a day when there is no wind at all, a ride on a snowmobile at 30 km/h, an outside temperature of -20°C can quickly feel like -35°C! In the winter you won't be able to do without a balaclava, thick gloves and extra-warm base layer garments! For your trips your tour organiser will kit you out with a pair of thermal overalls and extra warm footwear. If you're just sauntering around town a thick quilted jacket, a pair of warm skiing trousers and well insulated outdoor shoes will do the trick.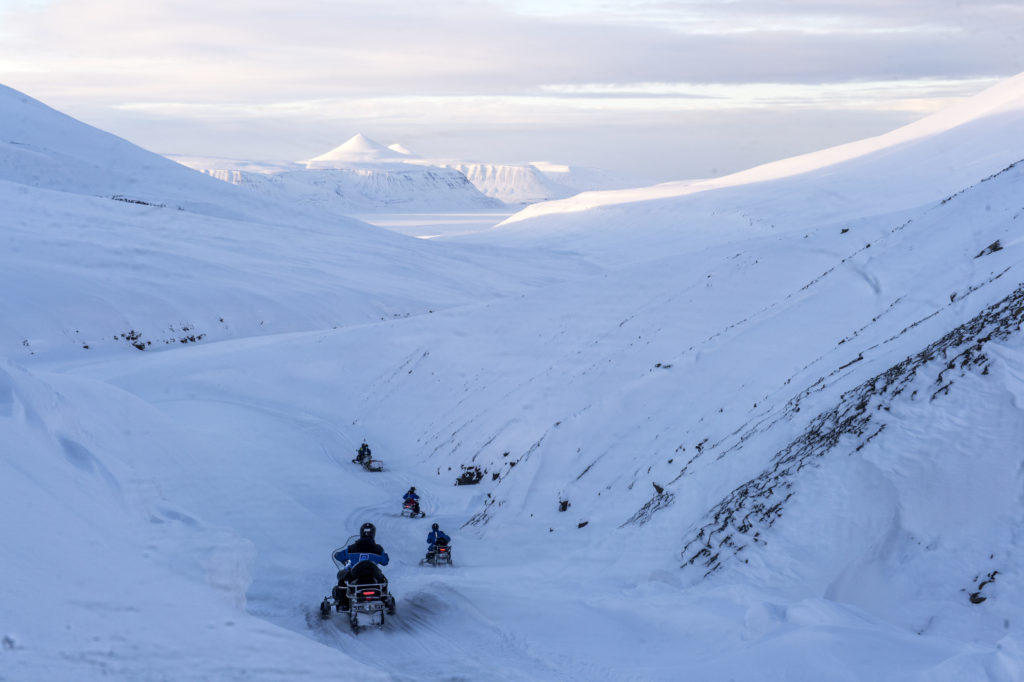 4 Polar nights & the Northern Lights
Strictly speaking, a polar night occurs when the sun is at least 6 degrees below the horizon. As Longyearbyen is situated only 1,000 km from the North Pole, this phenomenon can be seen there between November 11, and January 30. This means that it's either dark all day, or there's a polar twilight. After February 15, the sun rises above the horizon again, but is still not visible because of the approx. 1,000 m high mountains surrounding Longyearbyen. Nevertheless, the faint glow of light shrouds the wintry mountain landscapes in delicate, mystical tones. It's worth the journey north just to see this mesmerising display of colourful lights in the endless expanse of landscape and sky. Gore Tip At darker and quieter times of the year , tourists are more likely to get special deals. And your twice as likely to see the Northern Lights because they are also visible during the day! You can't go wrong if you go between mid February and mid March. When the sun appears again for the first time around 8 March, Longyearbyen celebrates with a week-long sun festival, known as the Solfestuke.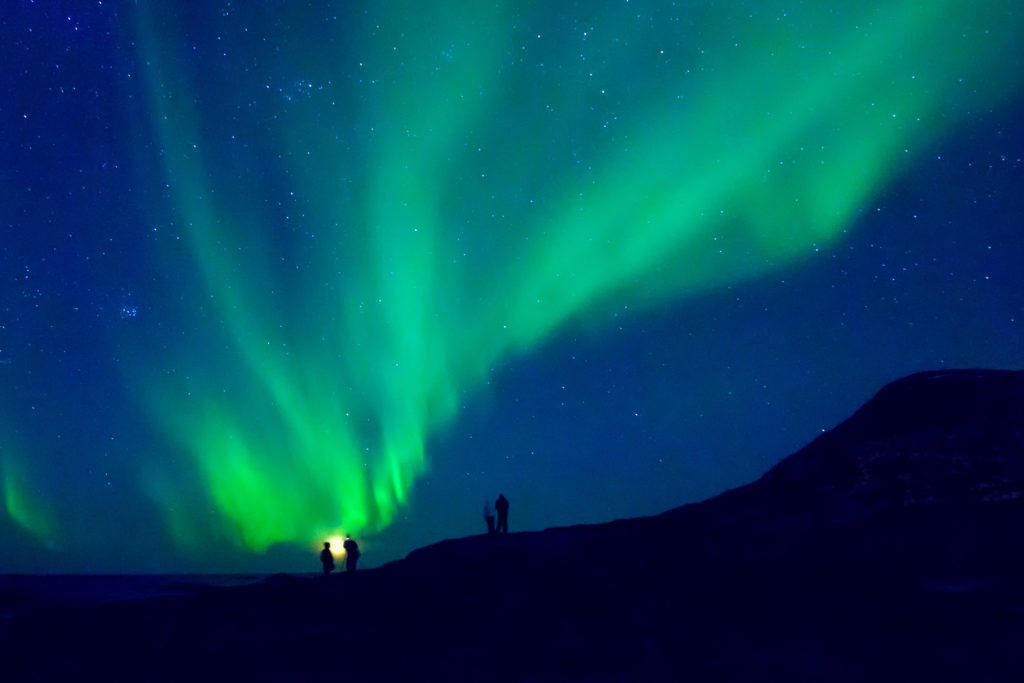 5 Tours
If you want to go anywhere, you'll have to use your legs. Apart from a 45 km network in and around Longyearbyen, there aren't any roads. In other words: to make your way through the glacial landscape, you'll have to use snowshoes or tour skis. As soon as you leave the outskirts of the town, you find yourself surrounded by infinite wilderness, an area in which the conditions are so hostile that only very few species can survive. These include reindeer, the Arctic fox and, needless to say, polar bears. Svalbard has a population of some 3,000 polar bears, more than people! Gore Tip Anyone setting off into the wilderness alone is advised to carry a firearm, although this should be left to the professionals. Firearms and expedition equipment can be hired from "Longyear78" (on the main shopping street) without a firearms license.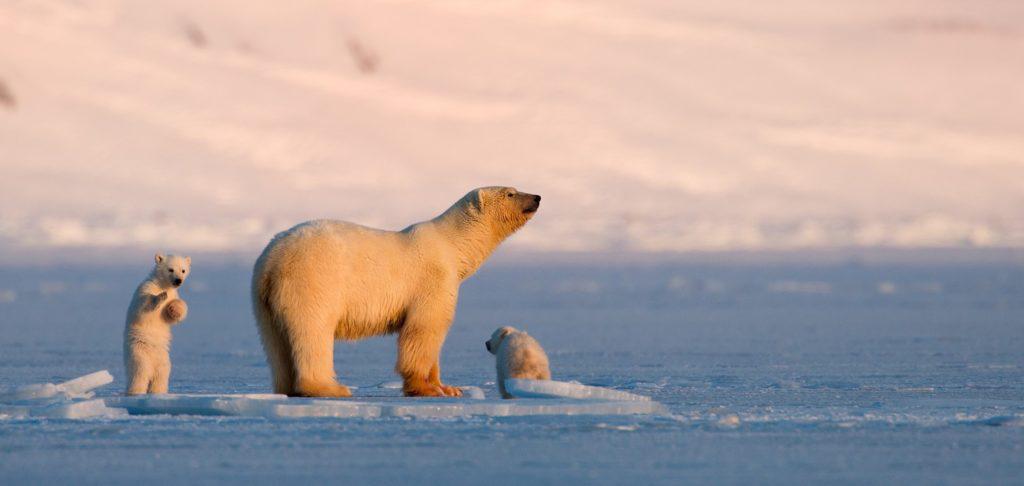 6 Dog-sled safari
The best thing to do is to book your own guide or join a guided tour. To be recommended: a long and leisurely dog-sled safari. Lasting several hours or several days – anyone who gets as far as Longyearbyen simply has to try their hand at being a musher. After all, until the advent of the snowmobile, dog sleds were the fastest mode of transport. The biggest tour operator in town is "Green Dog". The company has 20 experienced guides and over 250 of their own sled dogs. Gore Tip On a two-day guided dog-sled safari, for instance from Longyearbyen to the enchanting Spitsbergen Expedition Lodge in Foxdalen (where you spend the night in a cosy little cabin), you won't only learn how to lead a team of dogs but also how to harness the dogs, tie them to the sledge and feed them.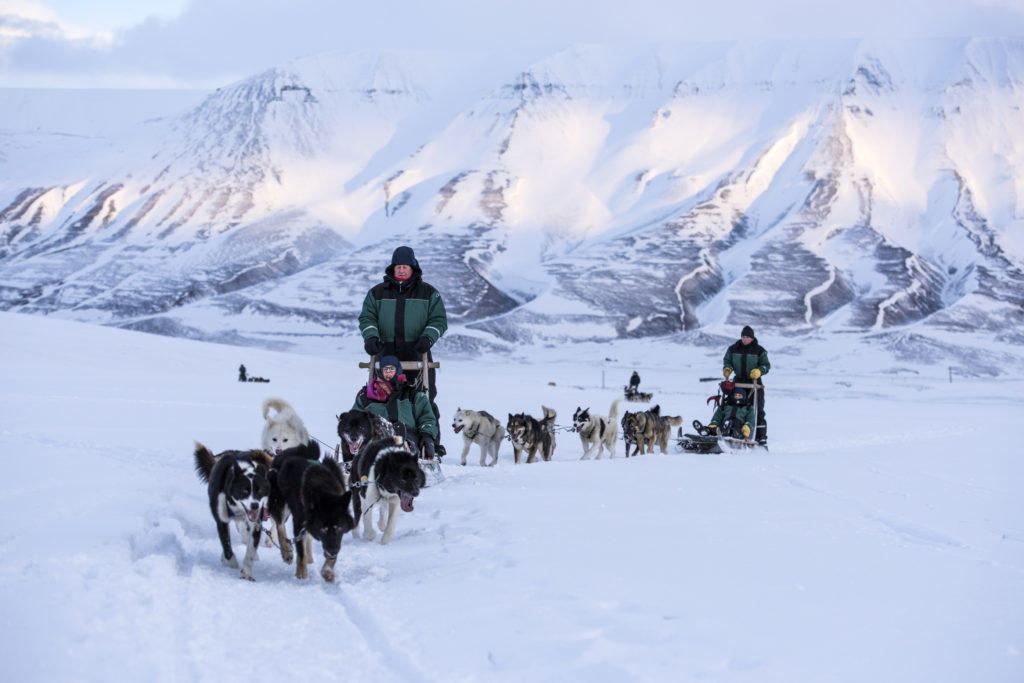 7 Snowmobile Safari
Enjoying the unique thrill of travelling by snowmobile over the snow-covered plateaus of the Adventdalen while admiring the magnificent views of the surrounding mountain ridges. As the technique is so easy to learn, there can be no greater pleasure than snowmobiling through a white winter wilderness in the light of the moon. In the middle of nowhere, the only thing you're likely to come across is the odd reindeer looking for a tuft of grass in the vast expanse of ice. Gore Tip IGP Snowmobile Rentals has over 300 Yamaha snowmobiles that can be rented by the day or for a whole week. As an alternative "Spitzbergen Travel" offers packages that include a guide, any equipment you require and a hotel pick-up service - so you don't need to worry about anything, not even food and drink. Another great idea: a snowmobile safari to Barentsburg, a Russian mining settlement to the south west of Longyearbyen where 200 people still live. Don't forget your driving licence!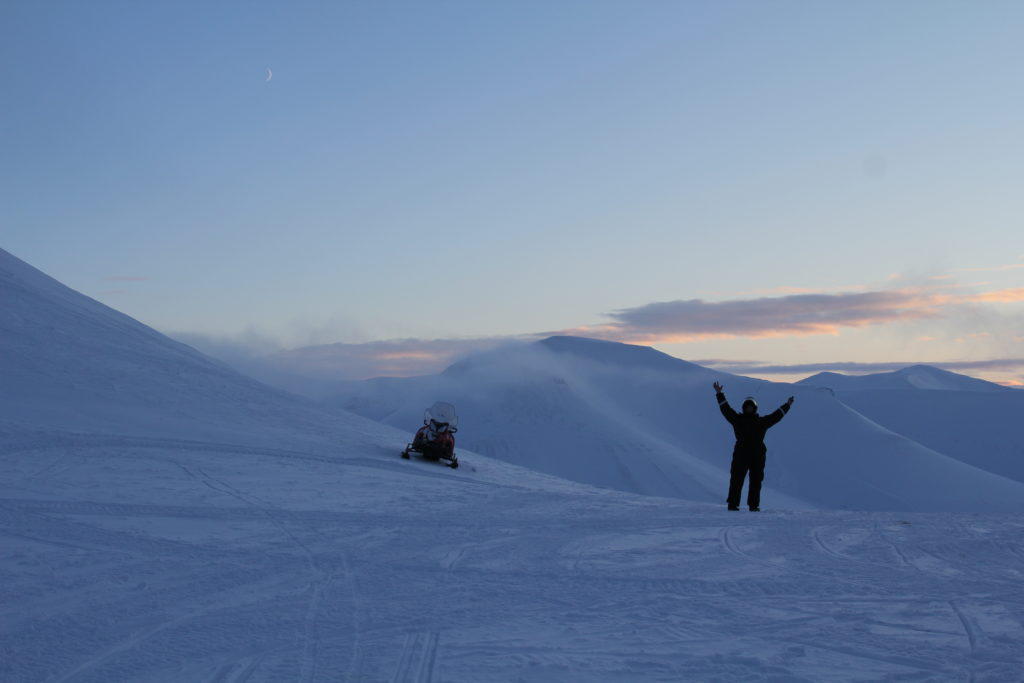 8 A stroll around town
Located on the 78th parallel north, Longyearbyen is the northernmost settlement on Earth. Because no work permits are needed and taxes are low, 53 different nationalities live here (including 60 Germans). This has resulted in a curiously easy-going, young, multicultural society living together at the end of the world. Visitors find themselves totting up superlatives: you drink coffee in the northernmost café, eat sushi in the northernmost sushi bar on Earth or stay the night in the world's northernmost hotel, the Funken Lodge. Tourists from Bavaria will enjoy the local beer (the hops are imported from the Hallertau region of Bavaria!), brewed in the Svalbard Bryggeri, the northernmost brewery on Earth. Incidentally, you can also go on a guided tour and do some beer tasting. Gore Tip Something sweet to take home: From Cafe Fruene, the world's northernmost chocolaterie, you can buy chocolate polar bears!
9 Accommodation
Longyearbyen has a total of 923 beds available for tourists. There are 7 hotels and a number of different guest houses. "Funken Lodge" has recently reopened as a boutique hotel and is a great place to stay (from €124 per person incl. breakfast). Should you choose to stay elsewhere you can still have a delicious meal at this beautifully renovated historic hotel, or just have a drink at the bar. Somewhat more simple, but extremely comfortable is the Coal Miners' Cabin where you only pay € 74 per person incl. breakfast. Gore Tip Sustainable: What is now known as the Radisson Blue Polar Hotel was originally erected in Lillehammer for the 1994 Olympic Games. In 1995 it was taken down and rebuilt in Longyearbyen (from €93 per person incl. breakfast).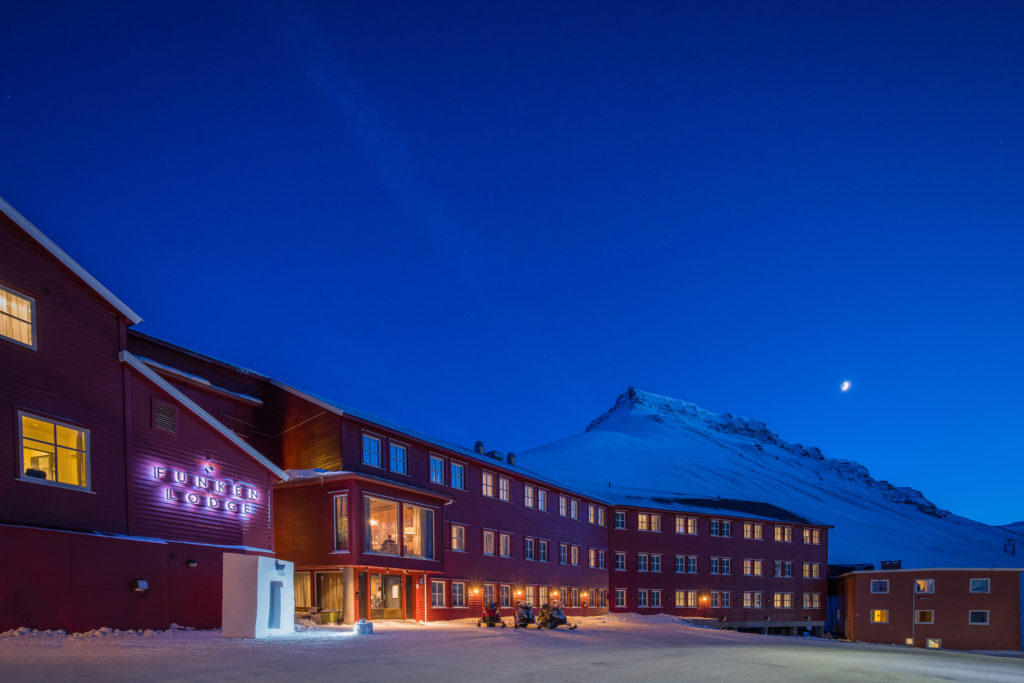 To find out more about Svalbard, Spitsbergen and Longyearbyen consult the following websites: www.visitsvalbard.com and www.spitsbergentravel.com