Top 10 shopping tips for athletic fashionistas from our fashion expert Inga Empt.
Munich, Thursday, the week before Christmas. I started my bargain hunting in the long-time Munich shop SPORT SCHUSTER. Despite temperatures that were seasonably very mild, the place was packed. Because of course we want to be well protected during winter sports activities. Protected from rain, wet snow and mountain squalls. We don't want to suffer any sweat build-up in our duds. Of course, breathability is also a must. But great performance isn't really enough. We fashionistas also want to look sensationally cool during our sports activities. And, with our carefully selected outfits, we want to set ourselves apart just a bit from all the other monotonous looks on the slopes. Here are my top 10 picks: totally subjective of course. But certainly still trendy a year from now too and, on top of that, naturally offering 100% performance thanks to GORE-TEX technology. A short note to start when it comes to colours: Everything is getting a little subtler. Colourful is still nice, just not so flashy as before.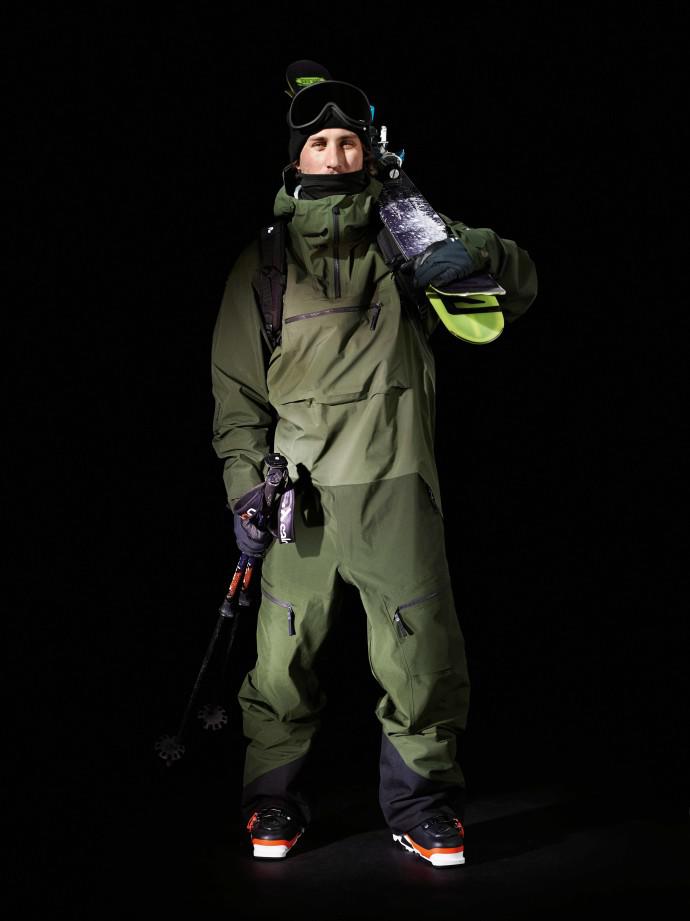 Unbeatable on the podium. Immediately picked out not only by me but also by Florian Meier, the young sales guy in the SCHUSTER freeride department, as the coolest piece of the season. The one-piece suit from Peak Performance. In khaki, THE new on-trend colour for wintersports. This kind of suit just screams: "Go ahead and stare – I don't care because I'm just the coolest of anybody out here." Available in unisex sizes, but according to Florian is cut a bit narrow in the hips for women. In other words, if you are male and a true free rider, between 15 and 30 years old, go get it! Peak Performance Heli Vertical GTX Suit. 1,149.95 €. Right on the heels of the one-piece suit named above, but just a touch more understated: the catsuit from Norrøna. Very beautiful, very cool. Unisex. Appropriate for any age. Didn't find it in the store, but the photos I checked out look amazing. Discovered during research at freeridershop.de. Lofoten Gore-Tex Pro One-Piece-Suit. Take note: Already marked down from 1,099.00 € to 934.15 €. Also very cool: all of the Lofoten outfits, also from Norrøna, for men and women. A large selection at SCHUSTER. Fresh colours, fantastic cuts, no unnecessary frills. Just amazing. Pants are buckled up with a belt and are cut pretty high, keeping the low back warm and fits well too. You do have to get a little practical sometimes. Price: jacket – the Lofoten GTX Pro Jacket for women, for example, 599.95 €. Pants: the Lofoten GTX Pro Pants Men, for example, 549.95 €.



Insider secret of the fashionable ski crowd
A new discovery for me! The E11 brand, i.e. State of Elevanate. Note: an insider secret of the fashionable ski crowd! New, super successful brand from Sweden. The designer, a woman, worked at Peak Performance prior and was also on the National Team for freeriding. Awesome quality and fit. But once you put on a pair of these pants, you won't want to take them off anymore. Also at SCHUSTER in the freeride area. Women's outfit: Jacket – Bec des Etagnes, Deep Forest, 699.95 €. Pants - Zermatt Pant, Violet Winter, 499.95 €. I am thrilled to have found so many chic ski duds just in the first store! A short break for a little refreshment with an Apple Glögg at the Christmas Market on Rosenstrasse, surrounded by predominantly shapeless black or grey jackets or coats. I am really looking forward to the PEAK PERFORMANCE store around the corner. Let's see if there is something new there. At the store, the real highlight is once again the Heli Vertical GTX Suit. There is actually one here too. Otherwise, many of the well-known and appropriately in demand PEAK classics.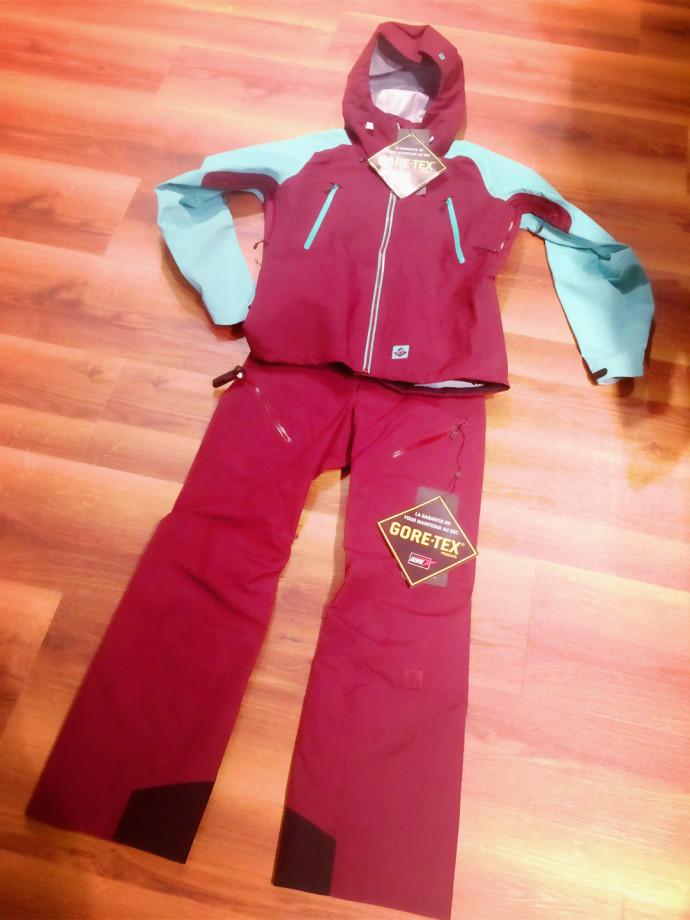 Trendy outfits for young skiers
Off to PLANET SPORTS, at Oberanger street 16, where my sons drag me constantly to ensure I stay in the poorhouse. Here, you find the coolest outfits for young guys: Burton Tarn Anorak AK 2L Velocity, akamoo/true, 299.95 €; cargo-style boarder pants Volcom Sphere Gore-Tex, olive, 309.95 €. And for the young women: Sweet Protection's outfit, Salvation jacket, ron red, 479.95 €; Salvation pant, mint green, 379.95 €. Hmm, somehow I'm lacking a couple of special tips. Although pretty exhausted already, back to SPORT SCHUSTER I go. There, all the way up top in the ski touring department, I happily discover what I need: Maloja Ski Touring Pant Nightfall: my favourite Nordic ski pants! I have had this very style since last winter, so I've personally tested it and find it first class. I wear them for jogging in the winter or ski touring. But also après ski. 189.95 €. Lastly, a real classic. But it's still really hot! Designed for ice climbing. But I see it more at fashion photo shoots. I will recommend it to Heidi Klum for her girls, for casting for the ice wall. The entire Eiger series by Mammut is huge and without question worth every penny. The suit: Mammut North Wall Pro Suit, 1,199.95 €. Well, dear sports fan, if you search around a bit, you can find a lot of style in performance wear. Ready, steady,…off you go to the sales! Happy hunting!
Author: Inga Empt