On skis up to the summit, on cloud nine back down to the valley: ski touring tips for novices and up-and-comers
There are numerous reasons why ski touring is becoming more and more popular. Nevertheless, novices should still not jump into this fascinating sport unprepared. We have put together a list of helpful and essential tips covering gear, and snow and avalanche training.
Skiing far away from the hustle and bustle of ski resorts. Sitting on a secluded peak and then floating back down to the valley on slopes of untouched powder. That is precisely what ski touring is all about. Also, though it's about exertion, cold, and risk of avalanches. Especially for novices, good preparation is essential. That means not only when it comes to gear but also in terms of concrete tour planning, and assessing the weather and risk of avalanche.
Tip 1: Avalanche training and snow conditions
The Avalanche Emergency Warning System in Alpine countries and on the websites of Alpine associations offers information about the avalanche levels of risk – for example,
www.lawinenwarndienst-bayern.de
or
www.lawine.at
, for information in German. For tours in Switzerland, best is to consult with the Swiss Avalanche Research Institute (SLF) at
www.slf.ch
(German, French, Italian, English). During the high season, a current avalanche risk bulletin is published each morning (also in the early evening from SLF). Take note: It takes a little practice and background knowledge to be able to properly interpret these reports. But you must at least know the current avalanche level of risk when you head off-piste onto ungroomed slopes.

Tip 2: Software – dressing à la the layering principle
Apparel has to be able to perform for ski touring to keep the body at its optimal operating temperature. In the valley, it is relatively warm, but it can be icy cold farther up, maybe even stormy and snowy. At the same time, one gets really warm and sweaty on the ascent. But when resting at the summit and on the descent, you can get chilled really fast too. That means you have to protect yourself from wind and cold. Best scenario, you are dressed using the layering principle: Against the skin is a snugly fitting performance underwear piece made of quick-drying materials (such as synthetics or merino). Over that is a second, insulating layer (for example, a fleece or perhaps a vest). And as the outer layer, there is a wind- and waterproof jacked and, if needed, pants.
GORE-TEX Active products were developed precisely for athletic ski touring enthusiasts: They are extremely breathable and ideal for high-aerobic activities such as fast-paced mountain climbing and other endurance sports with higher physical demands. For those where the descent is the focus, they best select hardshell jackets and pants made from GORE-TEX C-Knit laminates. These premiuim all-round pieces are durable and comfortably soft. For free riders and extreme ski alpinists, the superbly abrasion-resistant and extremely breathable GORE-TEX Pro technology offers the highest standard in performance.
Generally, there should also be a second pair of gloves in your packs, as well as perhaps an additional base layer for changing into and, in very cold temperatures, an extra insulation layer (e.g. a lightweight down jacket).

Tip 3: Hardware – A compromise for fun both going up and going down
The most obvious difference between ski touring and "normal" skiing is the hardware: Climbing with skis is made possible with "skins," which are attached to the base of the ski. Special touring bindings are set in a walk mode at the rear so you can almost "walk" normally (similar to Nordic skiing). For the descent, you lock down the bindings at the heel and then you are secured in the skis – like with on-piste skiing. Touring ski boots are much more flexible in walking mode than normal ski boots. In addition, they have a knobby tread on the sole so when you have to walk (for example over rock or on very steep sections), you have a secure footing. The boots too can be locked for the descent, and you are then secured to the ski just as well as with normal ski boots.

Tipp 4: Safety – no compromise
Deep powder – what's better than that? Indeed, where the snow is deep and the slopes steep is precisely where there is the risk of avalanche. To get into an avalanche is ALWAYS a matter of great life-threatening peril. Skiing in the backcountry can never 100 per cent exclude the chance of an avalanche, even with good planning. Even the lowest risk level of 1 means "low risk," not "no risk!" That means that emergency must-have gear always includes an avalanche probe, a sturdy avalanche shovel made of metal, and an avalanche transceiver (LVS) turned on in your pack. These tools can help to rescue a victim buried in an avalanche. Indeed, even with a transceiver and all of the other gear it still is a fight against the clock since chances of survival diminish rapidly as time progresses: After 30 minutes of being buried under snow the chance of survival is only 50 per cent. The best scenario is therefore to not ever be buried. This is only possible, if at all, with a so-called avalanche airbag, which is basically a large air pillow that inflates instantaneously in an avalanche flow to help you stay on the surface. Information about ski touring and emergency avalanche equipment is available at specialty retailers, at ski and outdoor education programs and in industry-relevant print and online magazines.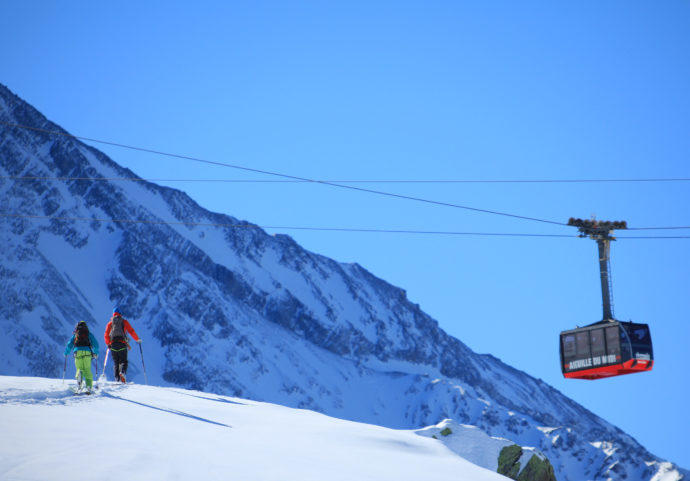 A mobile phone should also always be carried along with you to quickly make an emergency call. In Germany, 112 is the most common number, but even better is to have the regional emergency numbers saved in your phone. So b
e sure to look up the appropriate emergency number/s for your country or region. 
There have also been apps developed for smartphones covering avalanche education, weather, topography, etc. All are nice little gadgets that sometimes come in handy when planning a tour. But take note: Smartphones do NOT replace any other part of the emergency equipment and gear – not a topographic map (1:25.000) nor a transceiver, compass or expertise and knowledge about mountains, weather or snow. You cannot rely on a smartphone: First, you often do not have reception in the mountains. Second, batteries lose power far too quickly. Third, have you ever tried to use a smartphone in a snowstorm when it is -15°C (5°F)?
Tip 5: Practice on the slopes
In recent years, ski touring on piste has become very popular. On-piste touring is ideal for novices to get to know gear and how to move. To avoid conflict with skiers using lifts and skiers roaring down the slopes, it is important to find out in advance about area guidelines and to pay attention to on-site signs and instructions. It is prohibited to ski on slopes at night since the pistes are being prepared for the next day. It is in fact dangerous!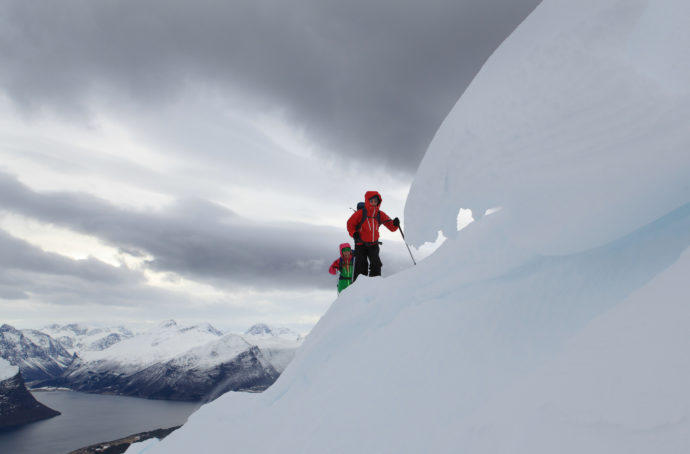 There are specific rules and regulations
in many locations, so it is important to check with your destination about its guidelines.
Sometimes, specific tracks are designated for climbing. Further information is available, for example, on the websites of each Alpine organization (alpenverein.it, .de, .at, .ch) and on the websites of each lift operator.
Tip 6: Where to go? All beginnings do not have to be difficult
If you are interested in trying out this sport, the best place at first is at a resort where you have all of the infrastructure to help you out. You should get started slowly, don't take on too much, and of course don't get into any risky situations. And whether it's a resort or in the wilds, please pay attention to wildlife sanctuary zones and nature conservancy guidelines. Best is to join a guided group and to take some ski touring and avalanche safety education courses offered by an Alpine association or a private outdoor school with state-certified mountain and ski guides and instructors.

Further links of interest:
https://www.gore-tex.de/produkte/herren/jacken/gore-tex-active-produkte/mammut/
https://www.gore-tex.de/technologie/handschuhe/gore-tex-handschuhe-plus-gore-active-technologie
https://www.gore-tex.de/technologie/bekleidung/gore-tex-pro-produkte