"And when the snow is powdery, and when the sun shines... I get that euphoric feeling." Although this loosely translated song-text might not be right about the sun always shining, ski tours should and can be enormous fun. Knee-deep powder, well-waxed skis, a good pair of boots and the right skiwear will definitely enhance your day on the mountain. Here we treat you to our pick of the best GORE® clothing technology options for a variety of ski tours.
"Because ski touring is the most awesome thing imaginable." Nobody can better describe the feeling you get when you're skiing than Wolfgang Ambros. Except perhaps for Mihály Csíkszentmihályi, but the problem with him is that you can't sing along and you need to have drunk three glasses of rum-laced tea before you can even pronounce his name. But it's not just the tea that makes the skiing such fun. As soon as you start heading up the mountain, whether your goal is a hut on the way or the summit itself, you'll be pleased that you put a bit of thought into choosing the right gear for your tour. Is it going to be a cold and sunny day? Is the ascent long and mostly in the shade? Are you going to be skiing down through snow that is crusty, dense and heavy, or gliding knee-deep through fluffy powder? Is the route steep or relatively flat? Is it going to be freezing cold or might you be in for a bit of spring warmth? Are the flowers beginning to come out in the valley while up top the wind is howling, or is sleet already blowing in your face as you put on your skins in the car park? Are you going to be back in your car on the way to work after a bit more than an hour's early morning sport, or will you be eating your first cereal bar after a couple of hours and heading on up to the top of Austria's fourth highest peak, the Großvenediger? Or might you, after more than three hours, be climbing yet another of the many ascents of the classic Rotwand-Reib'n tour, because the best powder fields just happen to be on both the north and the south-facing slopes?
The right gear for the tour and the skier– "fit for use"
Ski tours are as varied as the people who go on them, as the seasons and as the mountains themselves. Whatever the situation, your skis, clothing and accessories should enhance your fun on the slopes and ensure your safety. This applies as much to skis with wider waists for fast powder skiing and narrower, lighter skis for training sessions as to base layers and outerwear. However, skis are not our priority (even if the author's hallway is home to eight pairs of skis with measurements ranging from 130/ 98-70-90 to 180/ 134-102-121). Our focus here is on weatherproof outerwear options featuring GORE® technologies. Fortunately you don't need an extensive wardrobe to contend with the infinite variations in weather conditions mentioned above. Our five picks should enable you to make the most of any situation in the mountains.
Short and sweet: the early morning pre-work option
There's no way you're going to fit reaching the top of a towering peak into a two-hour slot in your dawn timetable. So, when it comes to the weather, you're unlikely to be in for a surprise. Out of necessity any daybreak tour will be short and planned down to the last minute, after all even flexi time has its limits. Whatever the situation, you'll still need something light to protect you from the weather. It could be snowing as you set off or you might just need good wind protection on your way down after having worked up a sweat on your fast ascent. A lightweight jacket is the best option.
Our tip: GORE-TEX Paclite®
Paclite has become a classic. Years ago Gore developed a very thin laminate. When it first made its appearance on the market, it was white with little black dots on the inside, later the membrane was covered by a protective black film. The whole thing seemed rather thin and fragile. Could it really be suitable for a day on the mountain? Sure! It wasn't a Pro Shell, but the fabric was much tougher than it looked. It was unbelievably light and incredibly packable. Whereas a trekking jacket with all the usual features almost added a kilo to your load, you could easily stuff the Paclite® jacket into the side pocket of your soft shell jacket while on the move. Super-lightweight 3-layer GORE-TEX Active fabrics that are almost just as light are now also available. But in many respects Paclite is still hard to beat – as you'll see from our picks.
Our recommendation: Arc'teryx Alpha SL jacket
[productlist ids=3153] At Arc'teryx SL stands for "super-lightweight". Made using GORE-TEX with Paclite® product technology, this jacket is so lightweight and easily packable (into its own stuff sack) that you can always take it along. Despite only weighing about 300 g, it offers perfect weather protection and incorporates all the major features that alpine athletes have come to expect. The N40r GORE TEX® with Paclite® product technology is the most tightly compressible GORE-TEX fabric. A mini-ripstop-structure makes it more resistance to tearing without adding weight.
The ultimate escape: the recreational skiers' day tour
The kind of ski tour where it's the overall experience that counts. Each tour constitutes one of the 10 or 15 highlights that the average ski tourer has in his calendar year. An ascent of between 1,000 and 1,600 m, taking three, or maybe even five hours. An hour's breather at the top, followed by a descent lasting about one hour. And ideally that euphoric feeling, mentioned in the song text, as you swoop down deserted slopes or, at the latest, while you're having a beer at the bottom. Including getting there and back, it's a full day. When you're out and about all day things are hard to predict. Even just the fact that the tour will take you to different altitudes and throughout the day the temperature and the weather will change. So, you need to be prepared for all eventualities. And have all sorts of things in your rucksack: avalanche safety equipment, something to eat and drink, a first aid bag, camera, clothes to change into, a map, a spare pair of gloves, a packet of sweets, crampons, a multi-tool, to name but a few. However, you're more likely to be setting out on a tour when the forecast is good. After all, you'll be wanting to enjoy your day out. That's why you should choose a robust, high-performing jacket that doesn't add any unnecessary weight. When you set off at around 8 am it'll still be cold, so you'll need a jacket that will protect you from the early morning breeze. After 20 minutes you'll have taken it off and put it in your not-so-light backpack, where it will remain for most of the ascent. Only once you are about three quarters of the way up are you likely to need it again. Up at the top and on the way down, you'll be glad you packed it.
Ski tour jackets made of 3-layer GORE-TEX Active fabrics are waterproof, windproof, super-light and extremely breathable. The right choice for strenuous activities that make you work up a sweat or as a "just in case" emergency layer. The new generation of GORE-TEX Active products, that are more robust than ever before, will be available in stores as of spring 2018. Featuring an innovative combination of face fabric, membrane construction and lining, these products are explicitly designed for the needs of athletes who enjoy high intensity, aerobic sports and ideal for "done-in-a-day" activities.
Our recommendation: Montura Magic Active
[productlist ids=3159] The Italians like their athletic fit. Made using an abrasion resistant nylon outer fabric, this 3-layer unisex hooded jacket has an ergonomic shape and fabric reinforcements in the areas exposed to particularly hardwear. The snug fit of the cuffs and hem, the helmet compatible adjustable hood with a semi-rigid visor and the elasticated neck area stop snow from sneaking in. It comes with its own little bag making it even easier to pack down to a small size and stow away in your backpack.
Outerwear products featuring GORE® WINDSTOPPER® technologies are extremely versatile! They may not be 100% waterproof, but for the majority of ski tours that actually isn't necessary. The main thing is that the jacket's climate comfort factor is high, that it delivers reliable protection from the wind, does a good job keeping rain and sleet out and stops feather-light powder getting inside your clothes GORE® WINDSTOPPER® fabrics are notable for their soft touch and fabric texture. Each brand and style incorporates its own distinctive features, specifically engineered to suit the needs of ski tourers – for instance, special material combinations targeting the back or shoulder areas, lightweight insulations or brushed inner linings for extra warmth. Paired with an Active or Paclite jacket stored in your backpack, this is probably one of the best options, also for multi-day traverses or day tours from a serviced mountain hut.
Our recommendation: Arc'teryx Procline Comp jacket
[productlist ids=3161] This offering from Canadian maker Arc'teryx is specifically designed for ascents and descents. The Procline Comp achieves this by combining the weather protection provided by GORE® WINDSTOPPER® in the hood, on the front, sleeve fronts and lower back and the extra stretch and breathability provided by soft shell materials under the arms and on the upper back. The helmet compatible hood offers full protection and the crossover chest pockets are easy to reach even if you're wearing a harness or rucksack.
Aiming high: the intensive one-day tour - one for all
The superlative – in terms of quantity, quality and emotions. Quantity meaning: longer ascents, more time spent carrying your skis, more intensive altogether. Quality meaning: people who spend a lot of time in the mountains, all year round, doing long but not excessive tours, often want an all-in-one solution, a jacket they can use for almost anything –for trekking, ski tours or on-piste cruising. The key thing to consider: is it suitable for most mountain environments? In other words, it needs to be sufficiently robust yet comfortable to wear, deliver optimal climate comfort and incorporate practical features such as large pockets, a good hood, a rapid ventilation system and a drawcord adjustable hem. Emotions meaning: that at the end of the day, as you cruise through the deep powder of a 600 m descent, you don't need to check out Mihály Csíkszentmihályi to find out exactly what he meant by "flow".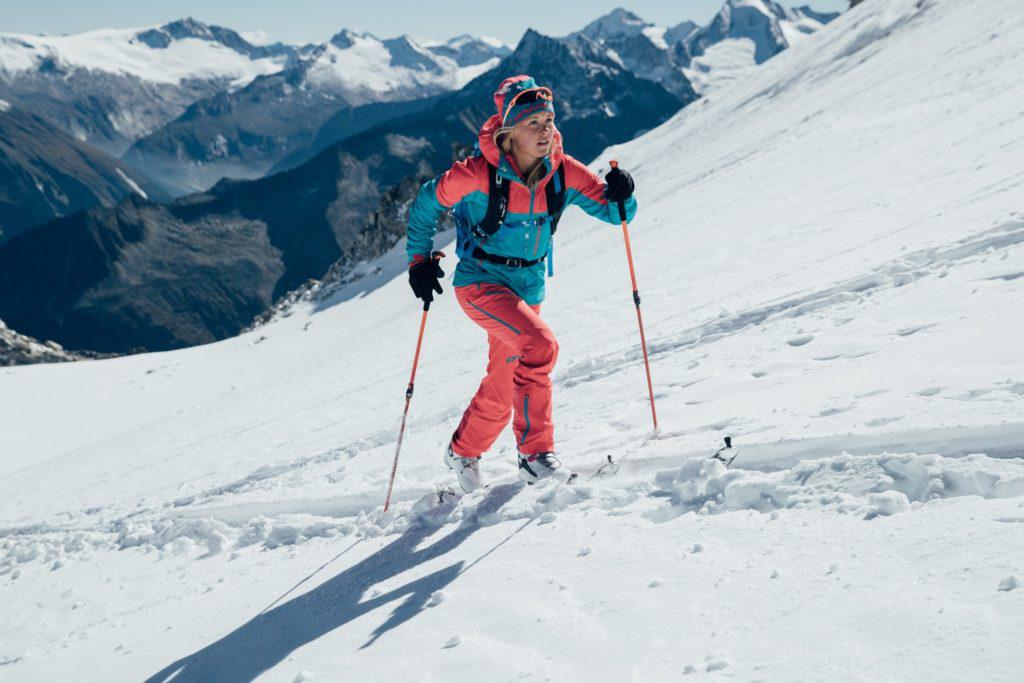 GORE-TEX products with C-KNITTM backer technology were developed to combine the robustness and ruggedness of a 3-layer fabric with the look and feel of a soft fabric. The outcome: extremely versatile protective outer garments for all outdoor enthusiasts looking for outstanding wear comfort and not wanting to compromise on functionality and durability. This was achieved by combining the smooth texture of robust nylon outer fabrics with the reliable, proven, and highly stable GORE-TEX membrane made of PU-coated ePTFE and the patent pending Gore® C-KNIT™ backer technology. This material mix makes these fabrics lighter, softer, more robust and even more breathable than comparable fabric technologies.
Our recommendation: Mountain Equipment Quarrel jacket
[productlist ids=3165] All the tech know-how you'd expect from the British. The Quarrel from Mountain Equipment is an extremely robust hard shell jacket (featuring a 40 denier polyamide face fabric) that offers uncompromising weather protection and ticks all the boxes for summer and winter alpine adventures. The great thing about this jacket is that it is not in the least bit stiff, achieving its soft touch feeling through the use of GORE® C-KNIT™ backer technology. This paved the way for a cut that was comfortable and form-fitting without restricting freedom of movement.
The tougher, the better: where the emphasis is on freeride tours and winter climbs
There are people who love climbing up a steep couloir full of snow, only to schuss all the way back to the bottom. Others will happily set off in sleet in the knowledge that 1,500 m higher up the mountain there's one of the best slopes for deep powder. Or those who'll go to the end of the world to spend the night in a snow shelter and be the first skier the next day to float through untouched powder. Whatever: these people need a jacket that can go that extra mile. And take it all. They need something that is hard-wearing, yet also exceptionally breathable. Their sport involves periods of high intensity activity (and a lot of sweat) alternating with periods of rest during which these athletes can quickly start to feel chilled and uncomfortable. That's why it's so important that the sweat produced by the body is quickly wicked away. Their choice of jacket may also incorporate other features such as a powder skirt or an extra high chin guard.
It's actually quite simple: if you're looking for reliable protection, the GORE-TEX Pro technology is the number one choice, full stop. Or, period, as the Americans would say. It's the best. That's a fact. Not fake news. The combination of robustness and breathability is unequalled. And yet, the fabric is still relatively light. Is that a downside? Not really. However, it is true to say that the fabric texture of the GORE® C-KNIT™ backer technology or the WINDSTOPPER® technologies do feel softer. But that's the sort of thing that people who go winter climbing, abseil down couloirs, and throw themselves down the steepest slopes they can find, don't much care about. Pure performance. Pure function. Pure adrenalin. Something Wolfgang and Mihály have never sung or even talked about.
Our recommendation: Norröna men's jacket Trollveggen GORE-TEX Pro
[productlist ids=3168] Durable, weatherproof, waterproof, breathable, relatively light – striking the perfect balance between weight and stability. Featuring under arm ventilation, two chest pockets and a helmet compatible hood. The Trollveggen GORE-TEX Pro is – as the name suggests – lighter (and more affordable) than the Norwegian apparel maker's original Trollveggen hardcore expedition jacket and so the ideal jacket for ski tourers. Wearing this jacket you'll also be well equipped for the classic Haute Route in the Western Alps or for any of the 5,000 m peaks in the Caucasus mountains.
The ultimate in snow sports: multi-day traverses
The longer you're out and about, the longer you have to keep going. This applies just as much to your gear. And the longer your tour, the more you're likely to experience: cold, heat, snow storms, fog, sludge, powder snow, dense and heavy snow, or a hard crust with soft snow underneath – plus the full range of weather conditions. You need to be prepared for anything and able to rely on both your equipment and everyone in your group – in all situations, at all times. And if you happen to be in the company of Ambros and Csíkszentmihályi, you'll find ultimate happiness doing the ultimate sport.
Even if the weight of your equipment needs to be given high priority on a multi-day tour, it is even more important that it's reliable and ensures your safety. With GORE-TEX products featuring C-KNITTM backer technology you will be well equipped. This technology offers outstanding wear comfort without having to compromise on functionality and durability. Pairing a ski tour jacket made of GORE® WINDSTOPPER® and a lightweight weatherproof jacket made of GORE-TEX Active or Paclite® technology can result in a highly functional clothing system. The majority of the time the GORE-TEX jacket stays stored in your backpack, as a "just-in-case" jacket, but one you'll be glad to have with you.
Our recommendation: Dynafit Radical GTX
[productlist ids=3170] Well known for never compromising on its equipment, Dynafit's main goals are speed and minimum weight. The Munich-based skiwear maker has hit the market with a jacket for the kind of seasoned skiers who will set off from home in any weather and may spend multiple days in the mountains. Considering what it can do, the Radical GTX is at the more lightweight end of the spectrum, weighing a mere 390 g. Featuring a helmet compatible hood and adjustable wrist closures, this hard shell jacket offers excellent protection on days when the weather is wet and miserable. It can also be worn as on outer layer on the descent with the GORE® C-KNITTM backer maximising your comfort.