"To see the sights of Petra…" – Trekking in Jordan
Walking long-distance trails has become quite a trend. Perhaps because there's so much truth in the statement that the journey itself is the reward. When the journey is anything but ordinary, and the reward at the end something you've always longed to do, the overall experience is all the more intense. A good enough reason for our author to set off for the city that shares her name.
Bizarre rock formations towering above you, massive multi-coloured rock faces patterned by time to resemble abstract compositions, palm trees, flowering oleander bushes, and a river that winds its way further and further down into the depths of the gorge until it finally disappears and the rock-strewn landscape is once again as dry as a bone. Yes, the intense visual experience of seeing just how spectacular Jordan is could be describe as an information overload. Only a four-and-a half hour flight away, this Middle-Eastern country is incredibly diverse and stunningly beautiful. Its wild canyons, magnificent mountains, ancient sites and fascinating desert landscapes leave nature-loving trekking and mountain sports enthusiasts with impressions and experiences they will never forget.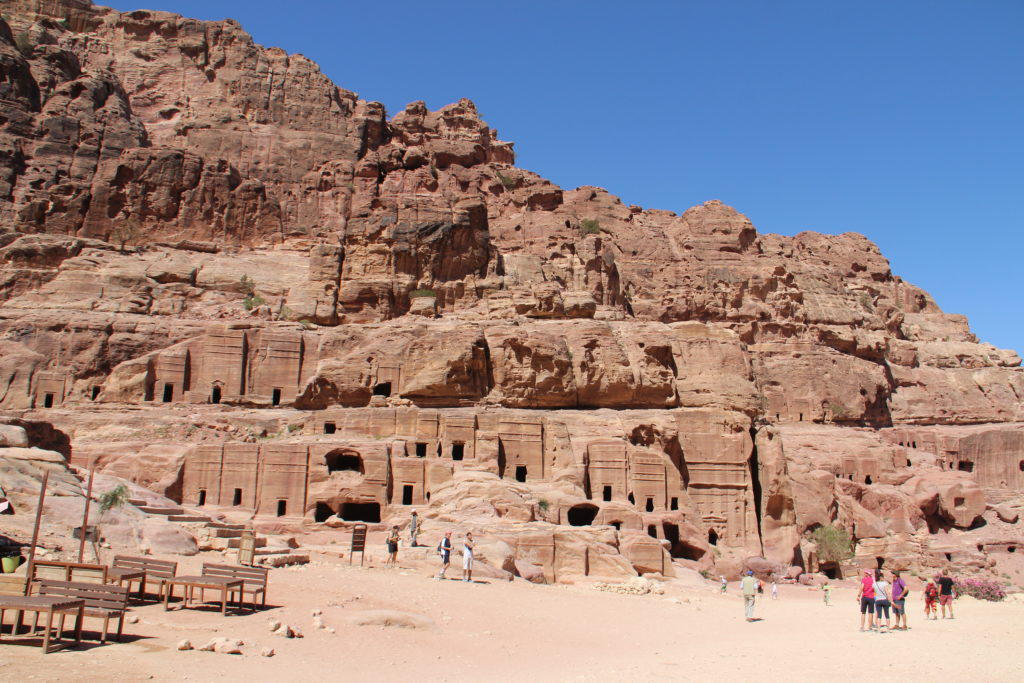 Since 1999, the Hashemite Kingdom of Jordan has been ruled by pro-Western King Abdullah II bin Al Hussein, who lists outdoor sports as one of his interests! Politically, over the past years the country has remained an oasis of relative calm in a region torn apart by war. A haven of peace with a long and fascinating history, although the political situation of its neighbours does have its spillover effects. "Tourism in Jordan has fallen dramatically since the start of the Syrian crisis," says Raed, our guide who speaks fluent German. "All three major world religions are represented in Jordan. There are a few codes of behaviour that you should respect, but otherwise you can move around freely and safely." This was confirmed by people we met who were travelling independently, and also by European women travelling alone.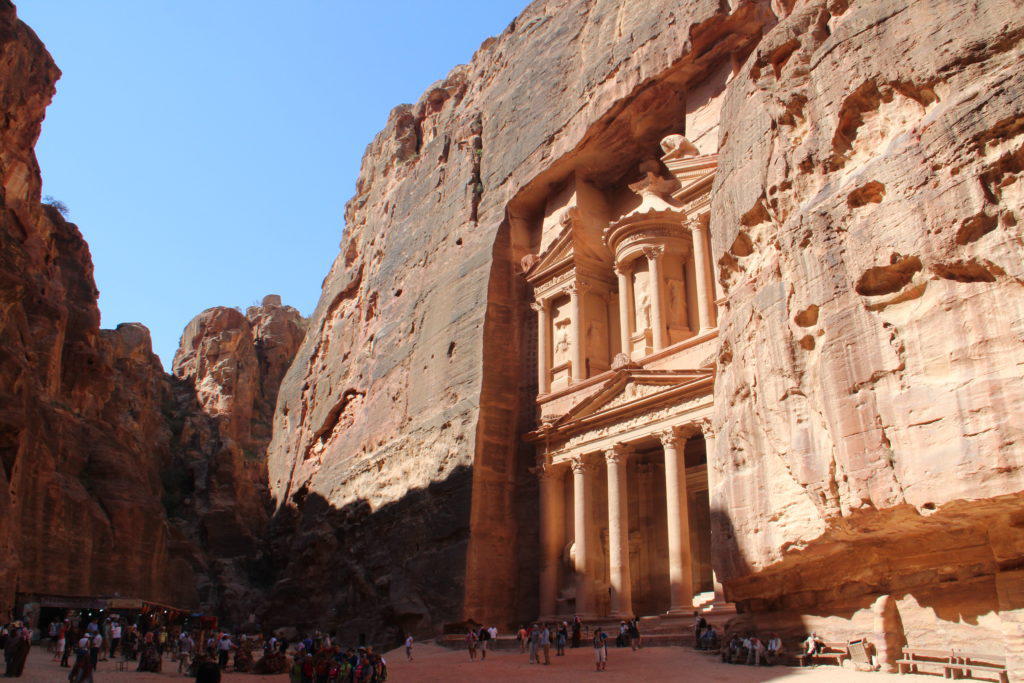 A young Bedouin with dreams
One of 28 year old Suleyman's dreams is to go to Europe. He is one of the ten children of a large Bedouin family that lives in the Feynan region of the Dana Nature Reserve, about a two hour drive from the Dead Sea and one of the lowest points on land in the world. The reserve encompasses four different climate zones, from desert to subtropical, and a vast natural diversity with more than 600 wild plant species and 250 animal species, including wolves, eagles and hyenas. "You can have everything from nature," Suleymann says on our six-hour hike through the stunningly beautiful and strikingly varied landscape of the Wadi Ghwayr. Between the short sections where we needed to clamber on all fours, he explains how the Bedouins make shampoo for their goats from oleander flowers, which leaves have antiseptic properties and can be used to heal wounds and which trees produce, often very small, edible and highly nutritious fruits, so that you could easily survive here for a few days on your own. You can tell by looking at him that he doesn't need much to survive. As a small boy he spent many a day and night out here looking after the goats. "You can see more stars here than anywhere else in the world," he says. But he'd still like to see the skylines of Paris or London one day!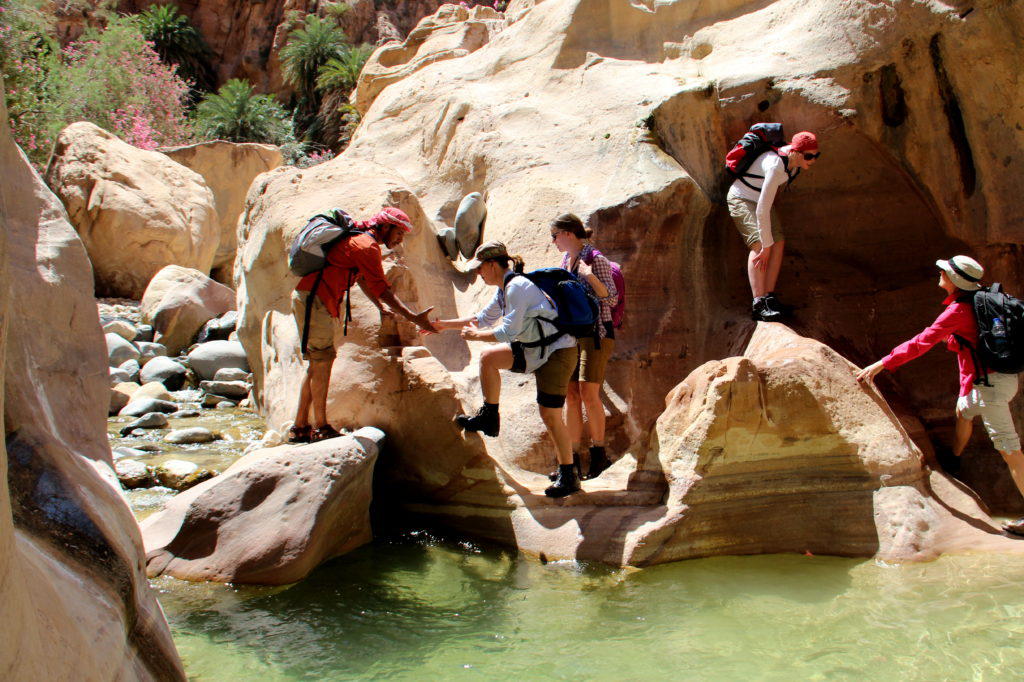 Petra – hiking through monumental rock art
Trekking enthusiasts can spend three days on a spectacular trail that runs from Feynan to Petra. Over 2,000 years old and once an important Nabataean trading centre, Petra is tucked away in southern Jordan and surrounded by high mountains. Carved into the rock, this magnificent city, which in Jesus' day had 40,000 inhabitants, sunk into oblivion for over 1,000 years until Swiss explorer Johann Ludwig Burckhardt rediscovered its ruins in 1812. Today Petra is one of the largest archaeological sites in the world and without a doubt Jordan's most popular tourist attraction. It is believed that so far only ten percent of the ancient city has been excavated – but not one percent of that is to be missed. A day's tour through the UNESCO World Heritage Site takes you past hundreds of rock-cut tombs, temple facades, caves and statues carved in the rock. Stretching for more than a kilometre through red sandstone rocks and leading to the famous Treasury building (featured in the "Indiana Jones" film), the spectacular gorge, also known as the Siq, is a unique, yet extremely fragile natural wonder. The Siq and all the other structures suffer severely from environmental influences and erosion, one of the main reasons why the UNESCO set up a project to promote its protection.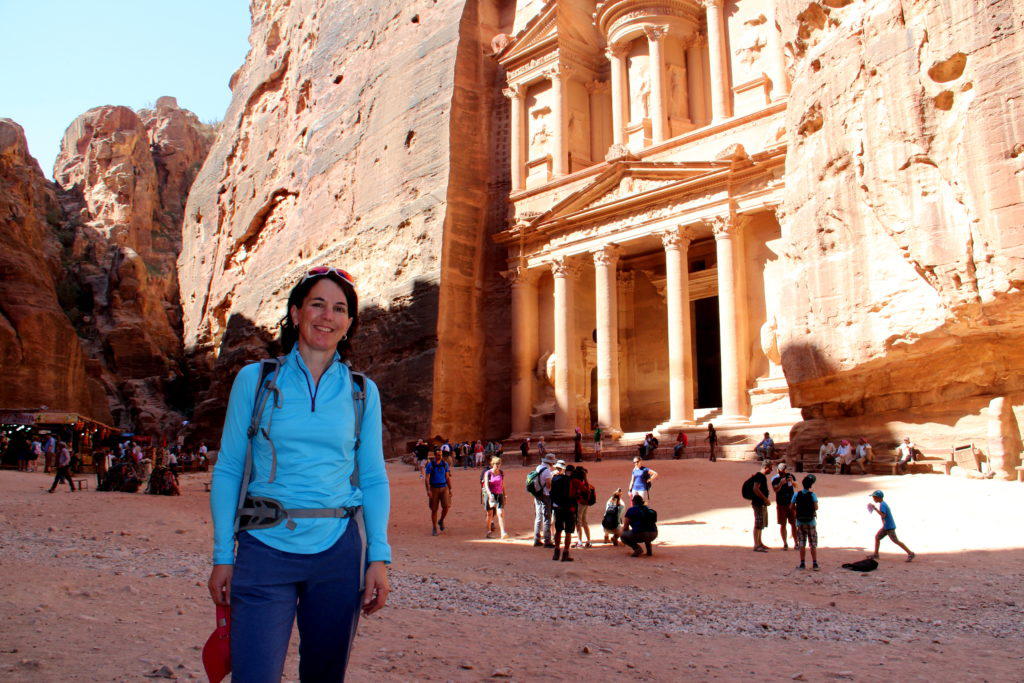 Quiet trails off the beaten track
Anyone who wants to escape from all the tourists and get to know Petra from a different, quieter perspective, should try walking one of the less well-known routes. You can choose from a 60 km network of stunning trails that wend their way around Petra and the surrounding countryside. One of these trails leads from Bab as-Sik Triklinium around the back of the main entrance up to the High Place of Sacrifice al-Madras. We walk up past wild pepper plants, ancient cave dwellings and water cisterns, and within no time at all we have the mountain to ourselves. Without a guide it would be easy to lose your way. The labyrinth of paths is difficult to navigate and the only markers are stones piled up at strategic points along the trails. As we continue on our way, gaps in the rocks suddenly reveal spectacular views of the ancient settlement down below. If you set off too late in the day, this is the point at which you're likely to start feeling hot and sweaty. Up here on the dry mountain plateau the sun beats down on you. You need good sun protection and plenty of water. Large obelisks point the way to the High Place of Sacrifice that towers high above Petra. At the side of the path local Bedouin families offer tea, cold drinks and souvenirs from their small makeshift shelters. On the way back down to Petra you pass all sorts of intriguing ancient relics. "This heart-shaped column on the ground originally depicted a person's backside and was the sign of the local brothel," Raed explains. A bit further down we see a rather strangely shaped bag hanging from the rock face. "That's hyena meat. The Bedouin hang it up to dry. They make a powder out of the dried meat and rub it into the coats of their sheep. The powder makes it more difficult for hyenas to pick up their scent." After a good ten kilometres and ascents of about 840 m, the trail brings us back to the Nabatean temple where we watch the sun slowly setting, its light changing the colour of the rock from one shade of red to another. As we take the historic route out of this magnificent ancient city we think about the magical moments and unforgettable experiences we have shared in this intensely spectacular country, and how much more there is still to discover. Ila - Aliqa'a, Goodbye Jordan, may peace be with you!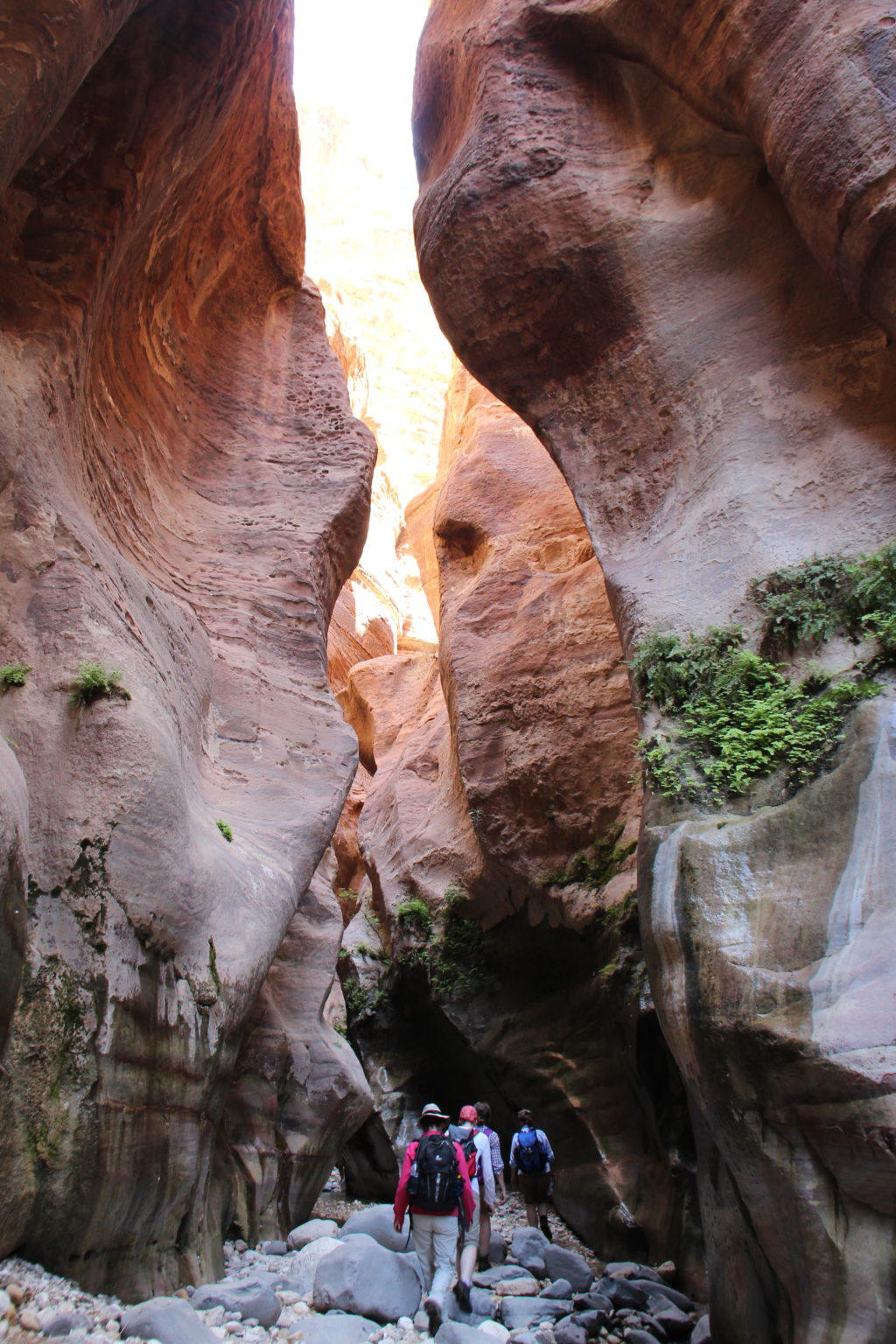 Gear recommendation: Trekking footwear with GORE-TEX SURROUND™
Alongside the usual trekking gear such as a breathable, long-sleeved trekking top (UV protection!), headgear and a warmer layer for colder nights, a really good pair of boots is essential to ensure that you enjoy the perfect Jordanian trekking experience. Whether you're walking through desert sand, wading through water, clambering over rocks, or clocking up the miles in the heat of the day, or sometimes even the cool of night, there's a new adventure waiting around every corner, making multi-day trails the ultimate test for what you wear on your feet. You need a good pair of ankle-high boots that fit well and will see you through every eventuality as you clock up the miles, while also promoting a healthy climate inside the boots. Built for the job: a pair of boots like the Meindl women's X-SO 70 Mid GTX® The integrated GORE-TEX SURROUND® product technology offers 360 degree climate comfort for your feet. The boots are highly breathable all-around without compromising on durable waterproof protection. Your feet stay dry and comfortable even in the kind of high temperatures you'll come across in Jordan. And even if you do have to wade through knee or even hip-high water in one of those canyons, they'll dry quickly again while you continue your walk. So make sure you also wear functional, quick-drying socks or tights! [productlist ids=3259]
Jordan is in the Middle East. Home to numerous Bedouin tribes, Jordan offers a wide variety of trekking and climbing opportunities between sand dunes, granite rock, ancient Wadis and bizarrely shaped sandstone rocks.
The trekking route from Dana to Petra is 50 miles (80 km) long
Time: 6 to 7 days
Best time to go: October to April
Other popular treks from around the world
There are lots of amazing hikes to do around the world. The Jordan hike is one of many. The trekking tours selected here have all been recommended by National Geographic, Condé Nast Traveler and the Travel Channel:
Located 100 miles (161 km) north of the Arctic Circle, the Kungsleden covers 275 miles (443 km) of Arctic terrain, crossing reindeer migration routes, glaciers and forests.
On average, one segment of the trail is 65 miles (105 km) long
Time: 3 to 5 days
Best time to go: August / September
Located in the Pyrenees and crossing over from France into Spain, the Camino follows a pilgrimage route that has been travelled since the Middle Ages.
Distance: 500 miles (805 km) in total
Time: 30 days, depending on the section that you decide to walk
Best time to go: June to October
Located in the Alps, this iconic high elevation trail runs from Chamonix to Zermatt, offering spectacular views of the Matterhorn and Mont Blanc.
Distance: 111 miles (179 km) from Chamonix to Zermatt
Time: 12 days
Best time to go: July to September
The GR 20 traverses the mountainous backbone of the island of Corsica running approximately north-south and is often billed as the toughest high mountain trail in Europe.
Distance: 112 Miles (180 km)
Time: 12 to 15 days, allowing for one or two extra days in case of bad weather
Best time to go: June to October
Running from Oslo to Trondheim, this ancient pilgrimage route is becoming more and more popular as a hiking destination. When you walk it, you get to choose between six different routes.
Distance: approx. 400 miles (640 km), depending on the route that you decide to do
Time: 15 to 20 days
Best time to go: June to August