Running 101 for business travellers
Are you a keen runner? Read our top tips for staying on track while you're travelling on Business.
Do you run while you're away on business? If not, now's the time to start. A good run focuses the mind and helps you channel your energy, but more importantly, running while away on business helps you feel more connected to the city around you.
Here's our top tips for running while you're travelling.  
1. Pack your gear
It may sound obvious, but you can't run if you don't have your running gear with you. Make sure you pack the essentials, such as:
Shoes, shirt, shorts. You can't run without them.
Two pairs of sports socks. The extra pair will help you avoid blisters.
A sports armband, so you have access to your phone.
Sun protection and a running bottle, especially for long runs.
A lightweight jacket, in case it rains.
GORE-TEX SHAKEDRY™ jackets are engineered to be light and packable, keeping you comfortable and dry on rainy days. Designed with the global traveller in mind, they're small enough to fit inside your carry on luggage.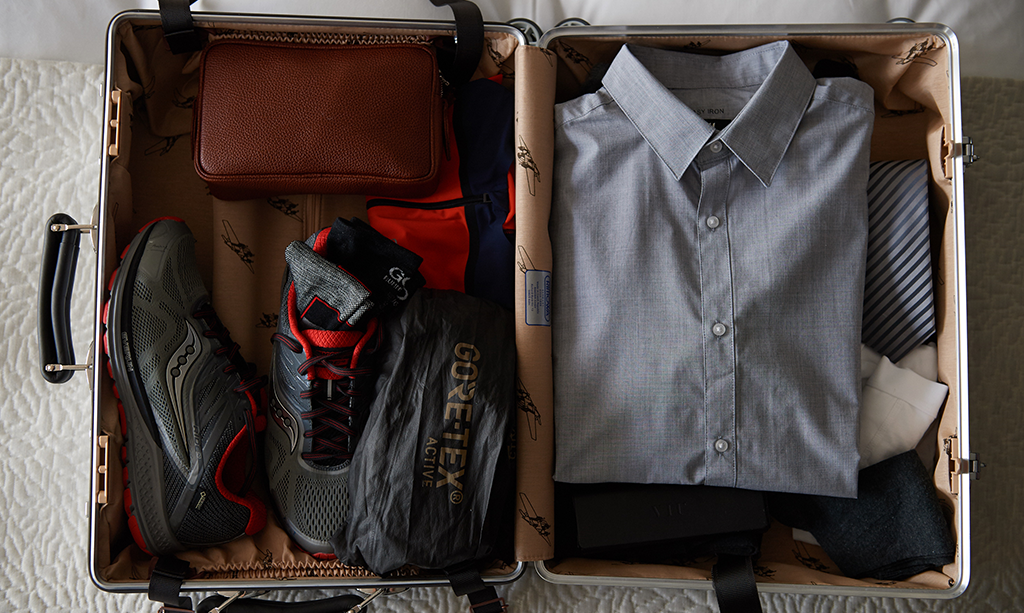 2. Run as soon as you wake up
As the day goes by, it's easy to get distracted. You never know how long the working day will be, or how you'll feel when it ends. So start your day the right way: with a run. If you're not a morning person, it can help to prepare the night before. Lay your kit out ready. Some people even sleep in their kit so they can jump straight out of bed and into their routine - whatever works for you! The trick is to run before you do anything else. That means catching up on your emails will have to wait.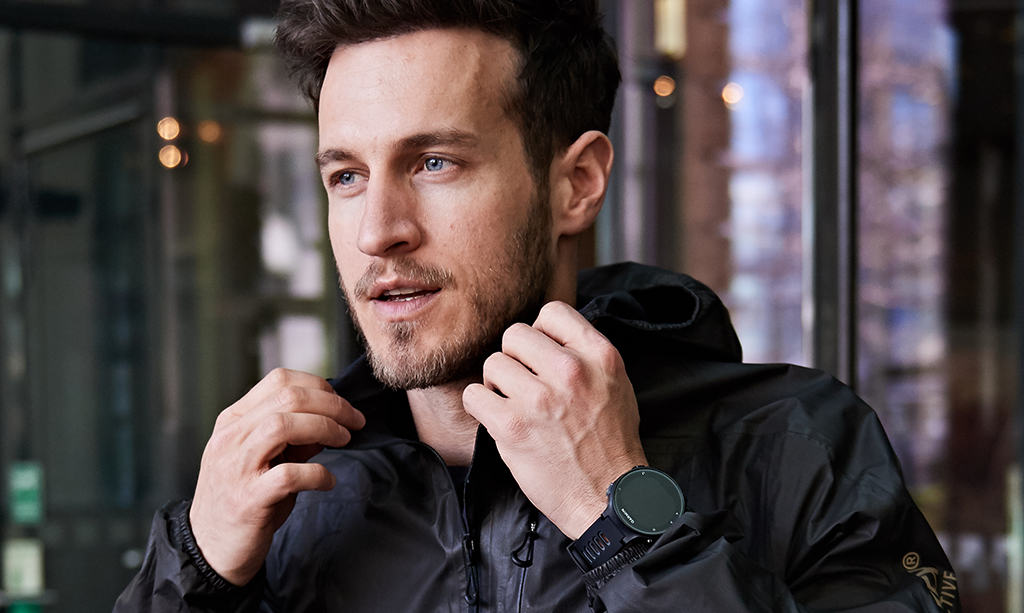 3. Don't wait for tomorrow
After a long flight, your whole body can ache. Sitting on an airplane for an extended period of time, carrying heavy bags across the terminal, even the time difference itself can contribute to stress. Going for a run as soon as you check in to your hotel can help you recover. If it's late, a little yoga or meditation will bring your pulse down and ensure a good night's rest.  
4. Avoid the gym
While there's nothing wrong with hitting the hotel gym for a workout, there's absolutely no reason to go for a run there. Runners know that fresh air is always better than a sterile environment. Plus, the benefits of running outdoors are magnified in a new city. Running on a treadmill soon gets repetitive - and is always the same wherever you go. But when you explore a new city with an early morning run, you get to know the city better and it challenges you to go even further. After all, you never know what's round the next corner.  
5. Train with a goal in mind
Most people don't have any specific goals in mind when they run while away on business. But keen runners always set themselves goals, whether that's running a little bit further, a little bit faster, or pushing themselves to achieve a new personal best. A new city is an opportunity to plan a new route that takes extends your run further. If you find yourself returning to a city regularly, return to an old route and set a new personal best. See how much you've achieved. Don't just run: run for a reason.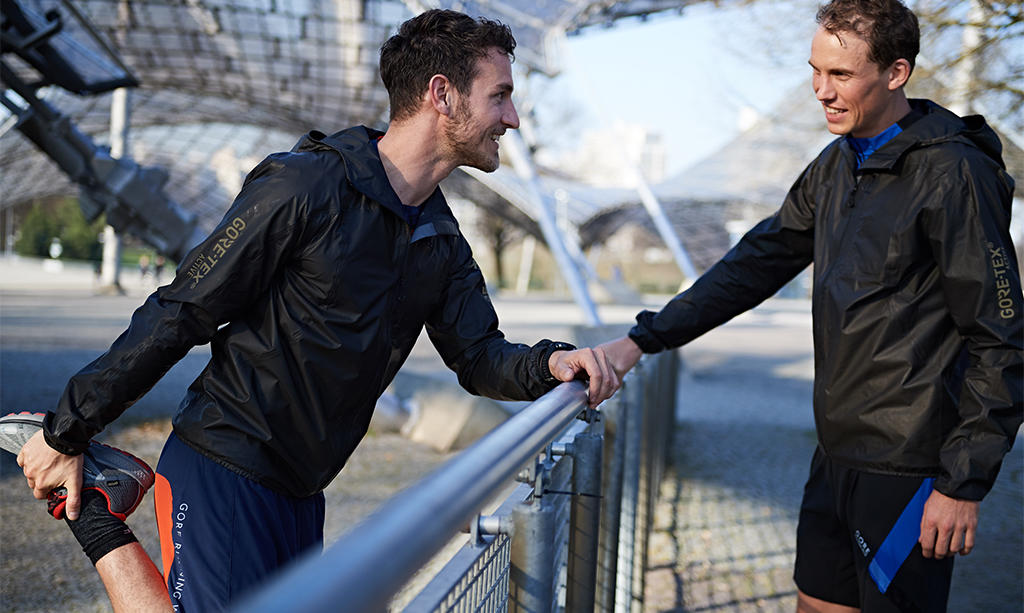 6. Make a running appointment
If you find yourself promising to run but not being able to find the time, schedule a running appointment with a colleague or another traveller. This will help you stay motivated and ensure there are no excuses. You can arrange to run before breakfast then catch up on work. Or even run to your meeting together, if there are changing facilities at your destination. If you're travelling solo, ask your hotel if they have a running club. It's a great way to meet new people.  
7. Be prepared
The weather while travelling can be unpredictable. But travelling with a
GORE-TEX SHAKEDRY™ jacket
 means you can run even when it rains. Lightweight and packable, Flap away the wet in seconds, allowing it to be packed away immediately. So if the weather changes, it won't slow you down.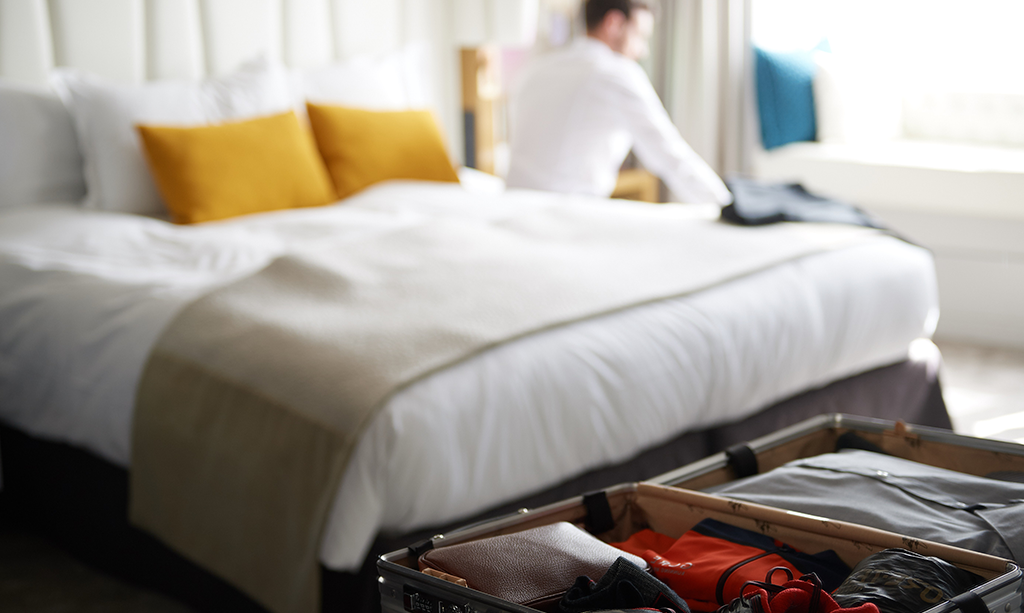 Whatever you pack, be sure to take your runner's mindset with you wherever you go. The same motivation and drive that makes you run will serve you well while away on business.  
Do you have any other tips to share with our community? Let us know in the comments below. We'd love to hear them.