At a book launch in Munich, we spoke to GORE-TEX team athlete Tamara Lunger. The 31-year-old, South Tyrolean climber told us what her plans were for 2018, how she found inner peace after a difficult expedition in 2017 and how much enjoyment she herself gets out of her recently published book.
Interview: Johanna Stöckl
In your recent book, whose title roughly translates as "Bliss on the verge of death", you write that when you get back from a big expedition, you sometimes find the media interest a bit too much. Are book launches like the one today also tiresome obligations?
Not at all! I love doing book launches and giving talks. I'm always really pleased that people are interested in what I have to say. It's also because at these events I get a chance to tell people what the mountains really mean to be.
I liked your book a lot. It's so honest.
From the start I wanted to write an emotional, intimate book, one that comes from the heart, to give the reader a real idea of what goes on inside me.
Why did you choose Francesco Casolo as your co-author?
Because the book was first published in Italian, in February 2017. Since Italian isn't my first language, I needed help.
How long did it take to write, from when you came up with the idea until the book was ready?
Before the Nanga Parbat expedition, I had started thinking about writing a book. About what it's like for a woman to be on an expedition in the middle of winter. So, during the expedition, I kept a diary. I suppose it was about a year before the Italian edition was actually published and printed.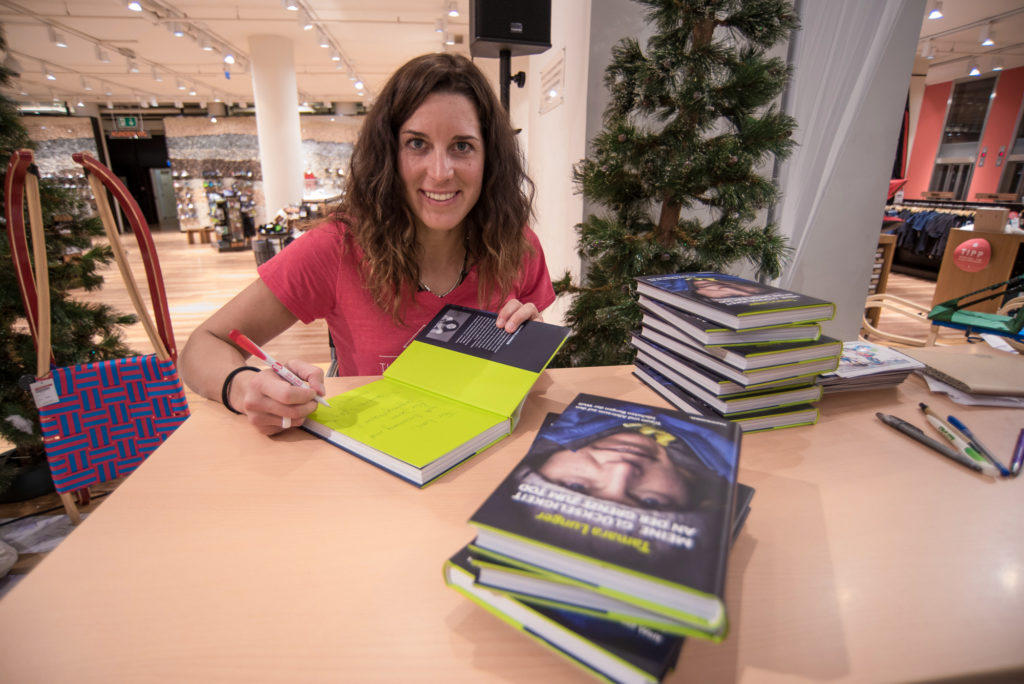 How did you go about finding a co-author for such a personal book?
The publishers Rizzoli suggested that I worked with Francesco because he had already written three books with someone else from South Tyrol. As soon as I met him, I knew that we would get on. Most of the book was based on my diary. Also, on something I had written earlier about my childhood, growing up and my life in general. That was once when I was in the hospital, it was about 70 pages. Francesco also interviewed me a few times, so all that went into the book, too. He's from Milan, but he came to my home in South Tyrol, in the Eggental Valley. From there we went on a multi-day tour of the Dolomites. It was important to me that we talked where I feel at home, in the mountains.
How did the townie get on in your world?
(laughs) On the first day, we walked 30 km, with ascents totalling 2,500 m! Although he doesn't have a good head for heights, Francesco did really well on his first ever climb up a fixed rope route. He was exhausted at the end of it all. We slept under the stars, so not even in a mountain hut. I think it was the intensity of the three days that we spent together that helped make the book so good. We had a great time together and got on very well. I get great enjoyment out of the book. It captures what I am and what I feel very well.
I've heard that you almost prefer the Italian edition to the German one. Why is that?
Because the Italian language is so much more emotional. (laughs) For example, Italian swear words don't translate very well into German! But then the design of the German edition is much nicer. The paper is better, there are more photographs and there's one more chapter. So, basically, I've had lots of fun with both editions.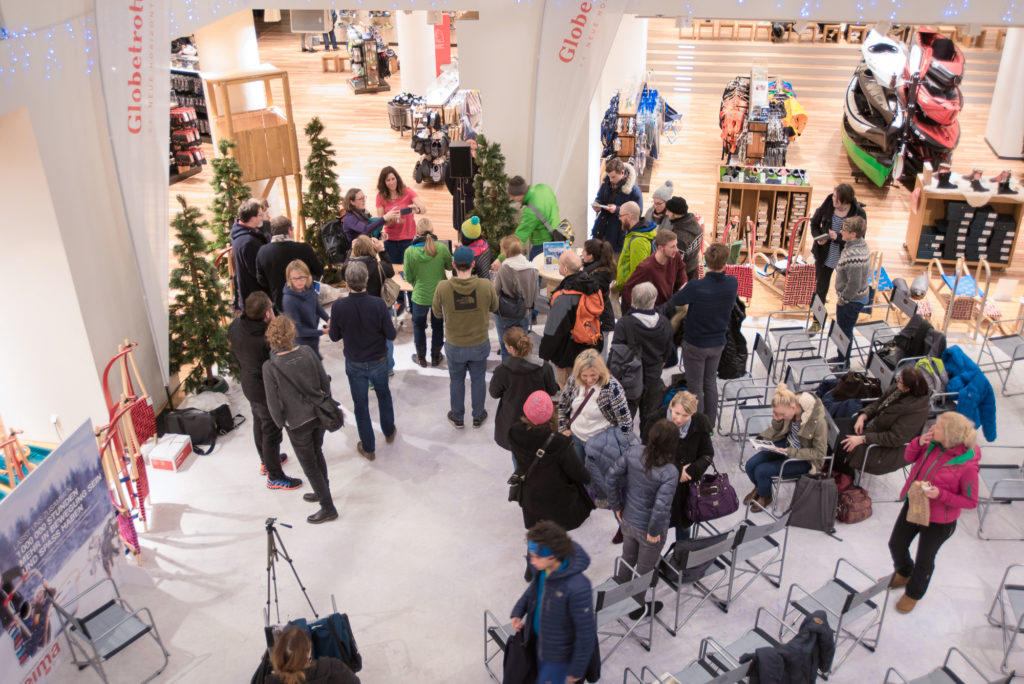 Simone Moro turned 50 recently. Did you celebrate together?
Yes, we did. On his birthday we were both at The North Face athletes meeting in the US. Because we were both so busy with other things, we didn't have time to do anything special. But we did find time to go on a bike tour.
December is always a good time to take a look back over the year. How do you feel about the things that happened in 2017?
I found things very difficult after our Kangchendzönga expedition. That expedition really took it out of me.
Physically?
No, more emotionally.
Because you didn't make it?
No, that wasn't the reason. If the weather isn't right, the conditions aren't right, there's nothing you can do about that. Also the fact that Simone wasn't well, there's no changing that. That wasn't the problem at all. I found the situation at base camp difficult. It made me realize that it wasn't the sort of thing I'd be doing a lot in the future. When I first got back home, I even said to myself: never again! At least for the time being, I had had more than enough of 8,000-metre peaks. I felt that I needed something different to find inner peace and freedom.
How and where did you find inner peace?
I found it with Aaron Durogati, a former paragliding world champion from Meran in South Tyrol. We went to India together for four weeks. We enjoyed every day to the full. He took me on a tandem paragliding flight every single day. We even flew alongside eagles! It was an incredible, quite unique experience. Exhilarating and so beautiful! Throughout the entire trip, I felt part of nature again. I felt that I was beginning to understand where I belonged and had found inner peace again.
Returning to the situation at the base camp. What was the problem?
Well, there were a lot of women there and there was quite a bit of tension. Because I helped to lay the fixed ropes, people were implying that I was only doing it because of the film that we were shooting. That was totally unfair because we weren't only doing it for us, but theoretically for all the climbers at base camp. The situation with the Sherpas was also different. Some of them had been telling lies and were only interested in the money. I find that sort of thing a real strain.
At one point in your book, you write: "One day I'd like to watch a herd of elephants, stroke the ears of a giraffe, become a helicopter pilot, make friends with indigenous
people so they can teach me how to hunt, escape into far-off lands..."
Yes, I think it's a great shame that we are distancing ourselves more and more from nature, that in our high-tech world we allow our natural instincts to become stunted. We could easily end up with young people feeling scared in the natural world, that nature is dangerous. I was once involved in a project for a school in South Tyrol. The idea that we had presented was that the children should get into teams and spend the night outdoors to get a taste of self-reliance: building a shelter for the night, finding their own food and eating it over a camp fire. Our suggestion was rejected as being far too dangerous. We are bringing up a generation of wimps. Sorry, that might be going a bit far, but I can get really angry about things like that. I, for one, love being outdoors and surrounded by nature. I would never want to live any other way.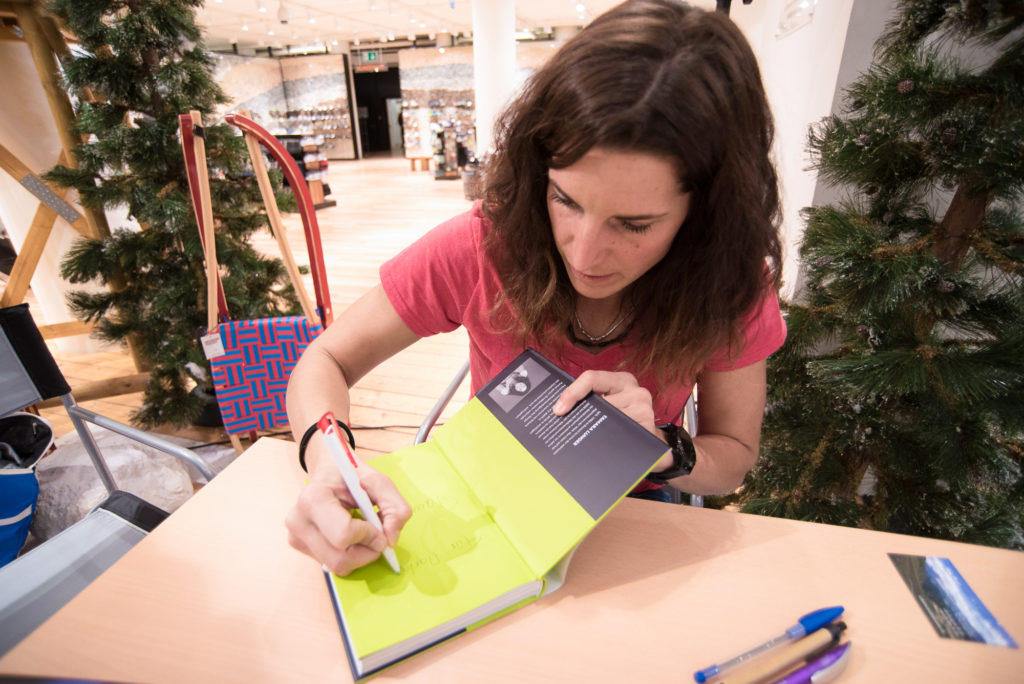 What plans do you have for 2018?
Mid-January 2018 I'll be setting off again with Simone Moro, this time for four weeks. But he specifically asked me not to say anything about our new expedition.
Aren't you even going to give us a tiny little hint?
(laughs) It's going to be very, very cold. When I get back from that I'll be spending the following few weeks getting into training to traverse the Alps on skis, starting in Vienna and finishing in Nice. That's something I'm really looking forward to. There'll be seven of us. We start on March 18 and aim to be in Nice by 20 April.
From Vienna to Nice on skis? How many kilometers will that be?
2,000 km and vertical ascents totalling 60,000 m. It's the sort of project I really like: I won't be far from home, it'll be tough, we're going to have to pace ourselves and work well as a team. Just what I love.
After that, on May 2, I'll be competing in the RedFox Elbrus Race, a ski mountaineering race over a distance of 42 km, totalling 5,000 m of vertical ascent. Although, as yet I don't have a partner to race with. Perhaps I can convince my father to come along.
How do you celebrate Christmas?
Nothing elaborate, just at home with my family. We always have soup followed by Christmas cookies.