One would have thought that the biggest challenge of the 7-day GORE-TEX Transalpine-Run at the beginning of September 2016 would be the 250 km course, or the 15,000 m elevation gain. Think again, for what's more important is selecting the right team partner. Has the GORE RUNNING WEAR® team found its running soulmates? Let's find out.
Having a partner is always a balancing act: sometimes you get on like a house on fire, while at other times you simply don't want to be in the same room as them; and, then again, sometimes even the best relationships come to an end. The GORE-TEX Transalpine-Run is no different from real life: 350 running duos will sprint together for seven days for many hours a day across mountains, share joy and sorrow on the trail, and at times even share the hotel bed; some teams come together right before the kick off of the event, while others are the result of a years-long (running) friendship, or dash across the start line as a couple. An idea which was originally developed during the premiere of the event back in 2005 for safety reasons, it then took on a life of its own over the course of the years, becoming one of the distinctive traits of the Transalpine-Runs. Think of all the drama, passions, and stories we would have missed out on had runners made their way across the mountains on their lonesome. Anyone who's already experienced a GORE-TEX Transalpine-Run finish line knows how even the toughest of trail runners have broken down into tears and embraced their partner in sheer exhaustion at the end of it all: one can only imagine what the two have been through that week. What's sure is that it's a lot, for running together across the Alps for seven days isn't only an incredibly demanding physical task, you also need to cope with your partner on and off the trail, motivate them, while at the same time trying not to burn the candle at both ends should they be having a better day than you are. Around one quarter of the starting teams doesn't reach the finish line – as an official team, that is – something I experienced myself twice.
12 years, 9 starts, 2 finish lines
In all the 12 years of the GORE-TEX Transalpine-Run I registered 9 times, and only finished twice with a team partner. 'People tend to gossip about this and that, as they innocently do at times, and many blamed me for our failure… BUT: what could I have done about it, if my partner tore his calf muscle and then still decided to compete? What could I have done about it if my partner decided to wear a new and, as it turned out, too big pair of shoes during the first stage of the run - with the consequence that he was hopping about on a blister the size of his sole from day two? Incidentally, it was the same partner.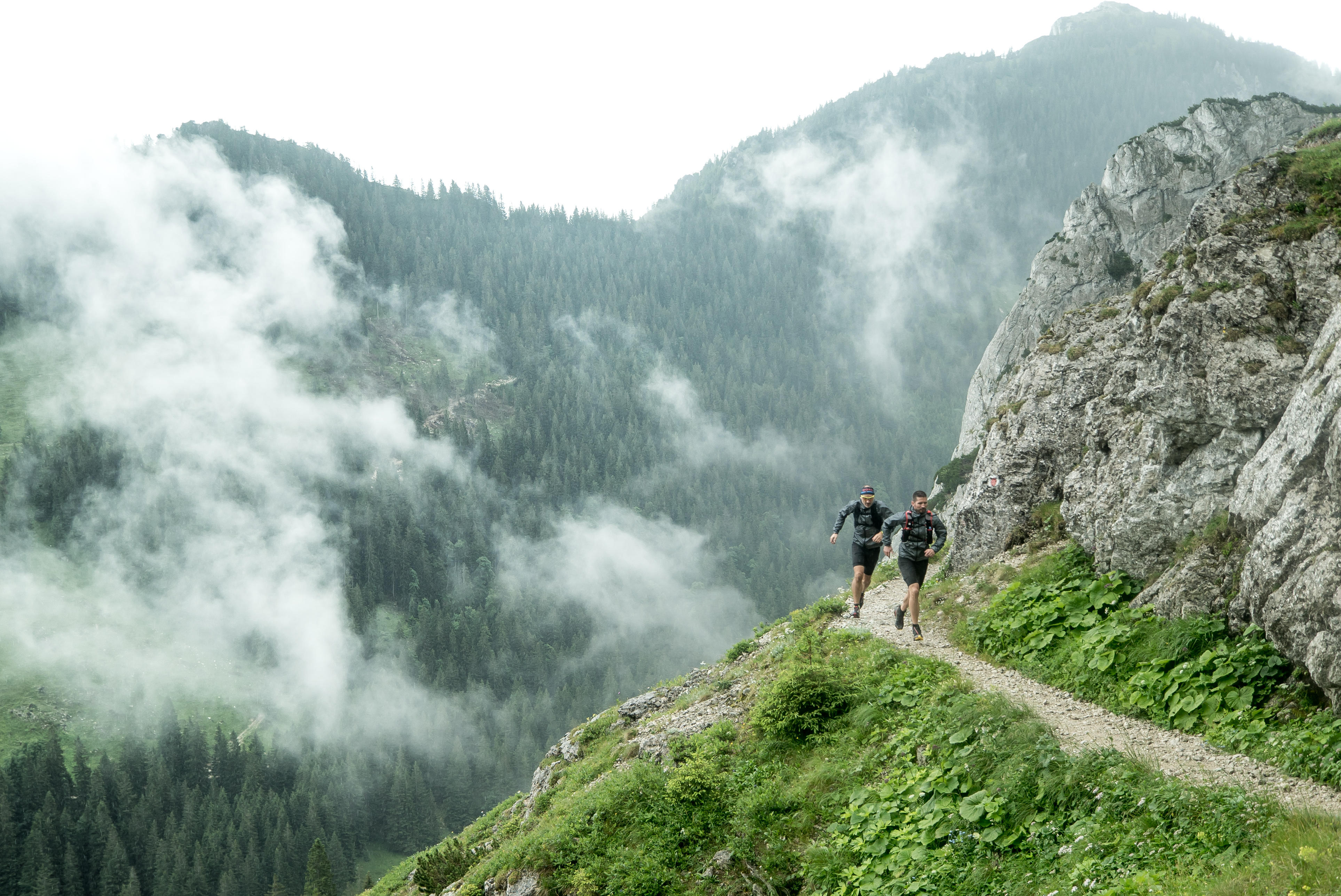 Let's move on to my colleague Patric, who works at Gore. He finished the Transalpine-Run twice, however, I believe he was running race at half throttle. With a personal best for a marathon run of under three hours, a great talent for downhills, driven by powerful thighs which he developed during his second passion, cycling, and to top it all the blessing of training on mountains stretching out in front of his doorstep in Rosenheim – that guy simply had to make it in the top quarter of the best runners, no doubt about that.
GORE-TEX Transrockies-Run: pushing prams versus lactic acid
Yet even with Patric it wasn't always smooth sailing: a couple of years ago he tore a ligament during a joint Transalpine-Run stage, and in 2015 he tore a calf muscle fibre. Guess who was with him? Yes, me again. So maybe the others were right, and I'm actually the one to blame? The outcome isn't always the same though, as proven by another experience: in 2012, Patrick and I ran as a team and finished the 6-day Colorado GORE-TEX Transrockies-Run with completely different starting positions, so to say, as Patric had just become a father. Denis described the following in his report for the TRAIL Magazin: 'Planning his life came before planning his training, and so Patrick changed nappies, pushed prams… while his running partner suffered the pains of lactic acid, training on the mountains.' Only a few weeks to go now until the 12th GORE-TEX Transalpine-Run in Garmisch-Partenkirchen. Sure, we both have to overcome some hurdles, but we also know that we get on both on and off the trail. And that's way more important than any spot on the podium. Getting to know the new route of the Transalpine-Run, Patric participated in one of the four GORE-TEX Trailscout weekends, exploring stage 6 and 7. Just watch and enjoy!
ONE GORE-TEX Jacket
Team GORE RUNNING WEAR®s choice for the Transalpine-Run. This jacket is made for performance runners. It stands up to extreme weather and is highly durable but ultra-lightweight for long runs with a backpack.
Author: Jürgen Kurapkat