A pinch of Gore, a dash of innovation and a touch of climbing enthusiasm: More from OutDoor 2017
It's about wining. Getting to the top. Being cooler. Being lighter. Being better. Being online. But before the digital appearance, there is the analogue research and we looked around, talked a bit and took some pictures at the trade show. This is the second part of our impressions from OutDoor 2017 – as always a pinch of Gore, a dash of innovation, a touch of climbing enthusiasm and a shot of irony.
It is relatively quiet in the car park and entrance area of the trade show. And it remains so until the legendary OutDoor party (sponsored by GORE-TEX) on the day before the last day of the trade show (where it is then anything but quiet). Where did they all go? The good part is: At the start of the trade show on Sunday, you have more room to manoeuvre in the halls and can go from one stand to the other without continually being jostled. Pleasant walkway conversations with those who didn't stay at home or requested time off for the holiday. This helps to get a quicker overview of all there is to see at the trade show. You encounter one of these must-see items right in the foyer: The winners of this year's OutDoor Industry Awards are presented there. Very pleasant (in contrast to many other awards, in which actually everything is awarded a prize and kind of loses its appeal a bit): Only 38 products were honoured and showcased with a very compact presentation. We picked up on several trends: "Light" is always good. "Green" is also always good.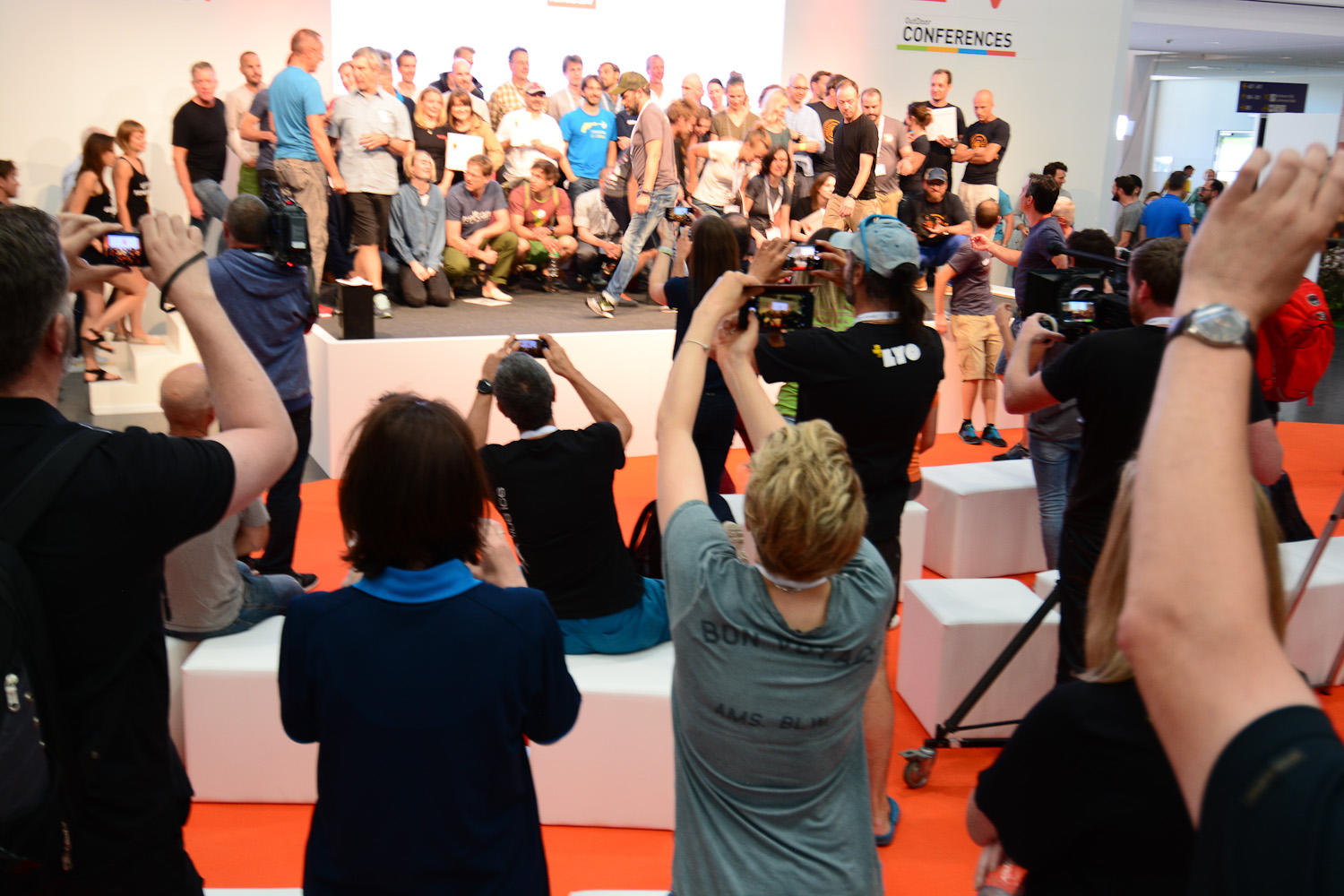 The awards ceremony is a nice show and everyone celebrates themselves. Even this blog has an excellent photo from the awards ceremony. The people responsible for the interesting, innovative and honoured products unfortunately disappear behind the hype and all the mobile phones.
Hand and foot have grip: Shoes and climbing gloves
OK, lets get back to the products: Surprisingly, a climbing shoe from Wild Country was on the podium for an award. Wow. To think that a hardware smithy is now making climbing shoes is surprising (OK, they also make clothing too). The shoe (model name: Meshuga) is soled with rubber from Michelin. This has also been a trend for some time: that a tyre manufacturer deals with shoe soles. For Adidas, several models were fitted by Continental, even the Terrex collection with the new GORE-TEX Surround® technology. Henrique Nigro, Product Manager for the Herzogenaurachers, presented the good bit and obviously enjoyed himself (with the presentation as well as with the product).
[gallery columns="2" size="full" ids="2506,2512"]
A climbing shoe innovation came from another (former exclusive) hardware brand: Black Diamond presented a small, but fine collection. The shaft consists of laminated elements and a textile material that ensures proper ventilation (and thus less smell) and is washable in contrast to leather. Hooray, finally less stench! This is what users of 5.10 shoes have wanted for a long time (pronounced five ten). Whether they were actually new or not, well, I couldn't verify by smell. However, the models of the entry-level class do stand out in their look. Hardcore Boulder legend Fred Nicole probably loves (apart from Mary) the high-end weapons of 5.10, which still have panther black stealth rubber that glues you to the rock.
[gallery columns="2" size="full" ids="2509,2513"]
One is certainly happy to have some rubber between you and the rock even on the back of the hand in nice cracks. Outdoor Research (OR) already has several legendary products in their portfolio, e.g. the GORE-TEX Gaiters, this year also in the popular retro look (or have they simply been in storage since the 80s?). The clamping power is a lot better than before with the Splitter Gloves from OR.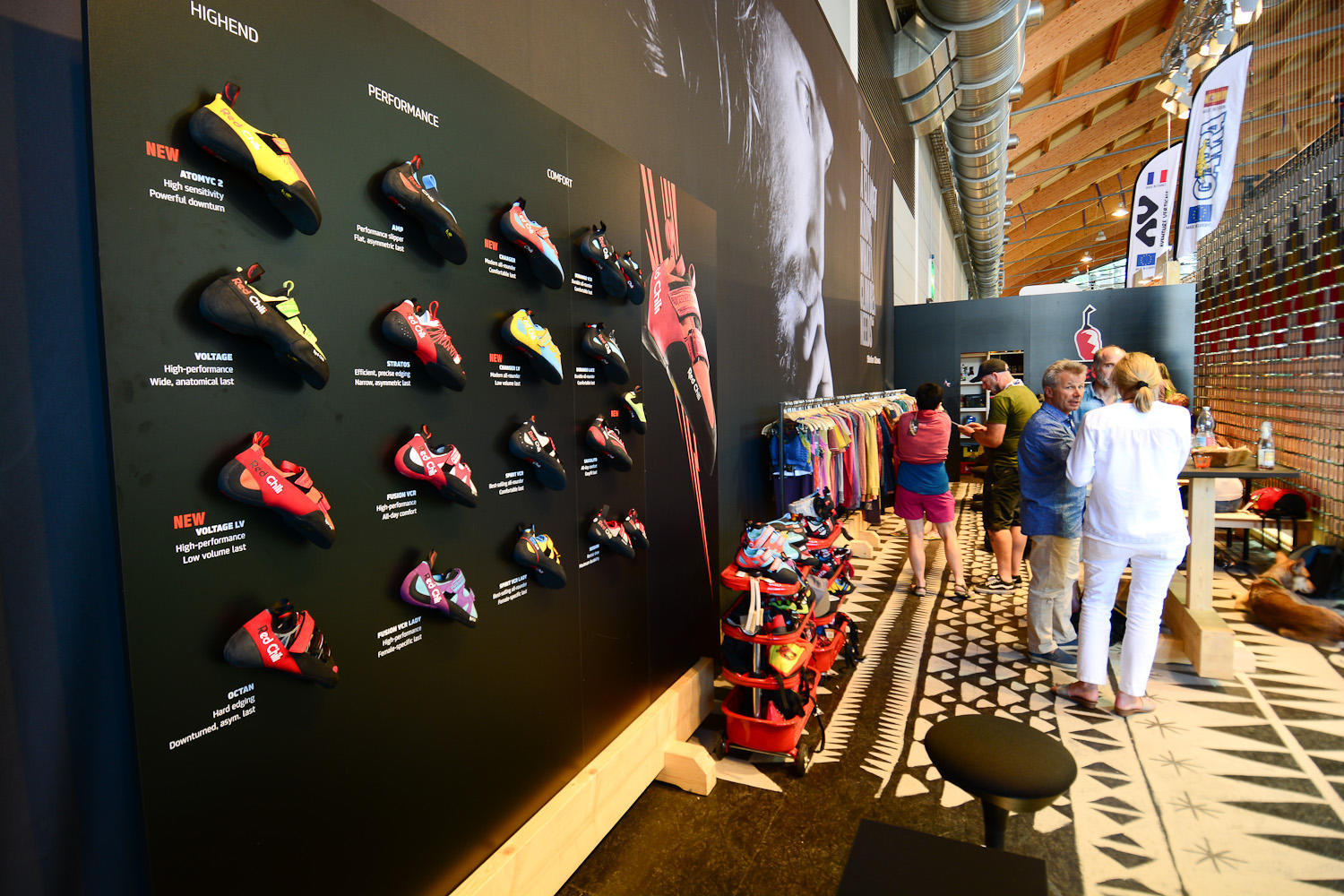 Edelrid, also a climbing goods company, is going to retire from the climbing shoe business. Instead, the Allgäuer took over Red Chili, the brand from GORE-TEX brand ambassador Stefan Glowacz.
Apropos GORE-TEX: On the stand, Gore's presentation was airy, relaxed and chill. Along with business partners and important VIPs, this also attracted friends and strangers alike to the stand where you could converse in a comfortable atmosphere.
Denis Wischniewski
from Trail Magazin is counted among the friends.
He runs, and everything else seems to be running smoothly too. 
On the surface, everything seems to be going swimmingly at the trade show and in the "bizniz". To be certain of this, you need to take a look behind the curtain. That's why I went behind the outside shine to take a look at the backoffice, finding organised cables and beer (even some children's chocolate sweets). In the back, everything is OK and thus the front is as well.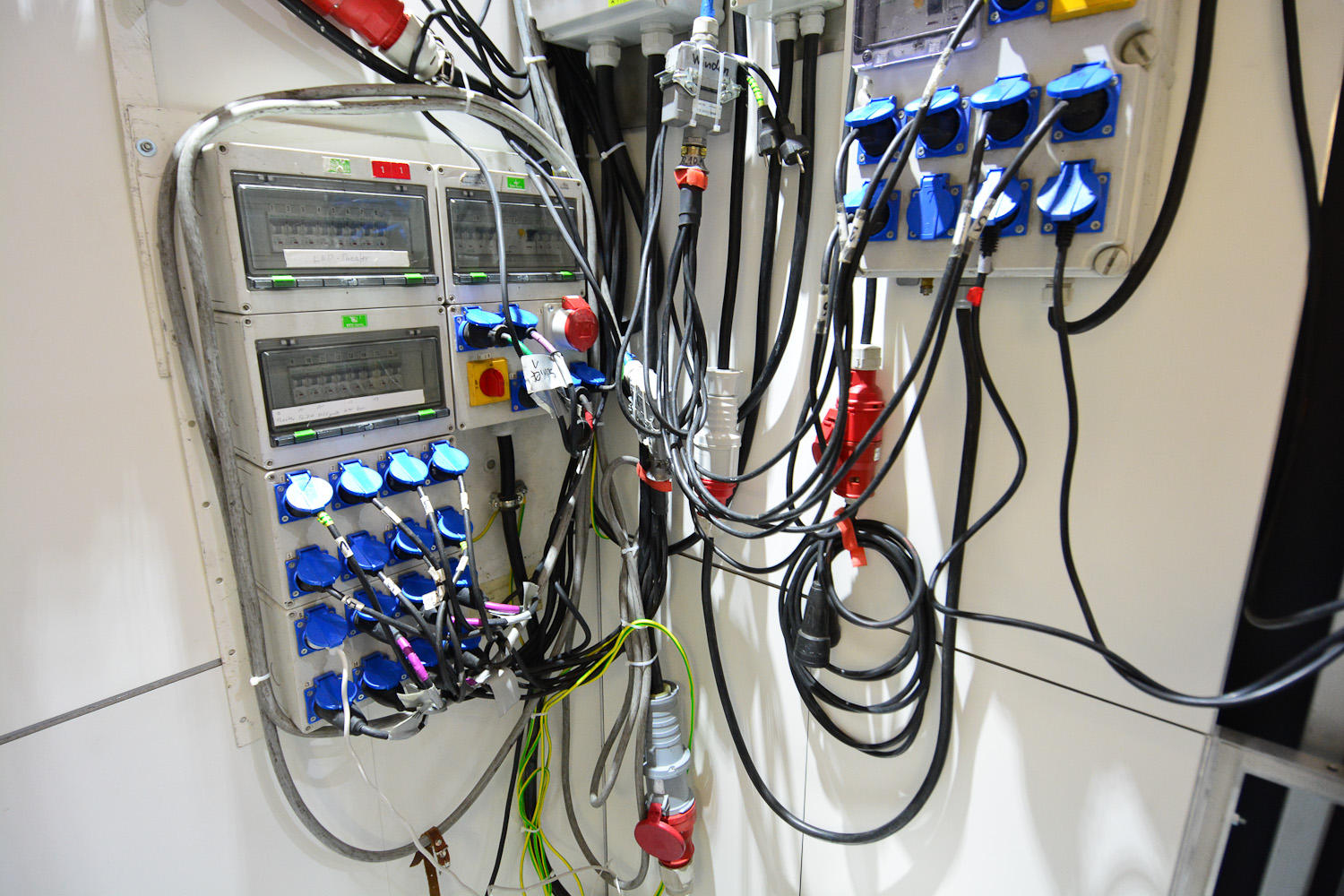 There are all kinds of things from Gore to see here (I mean in the exhibition area and with the brand partners): Breaking news: Gore is currently expanding its commitment to sustainability with its new dyeing technology "Solution Dyeing". Using recycled outer fabrics and the new dyeing process, water consumption and CO2 emissions can be reduced by up to 60 percent during the manufacturing of functional fabrics. Another product advantage is the improved colour fastness of the textiles. The highlight in the clothing area is the next generation of the GORE-TEX Active Laminate. Mountain Equipment presented a jacket made from an extremely thin, comfortably soft fabric. Understatement, grey, stylish. The opposite, but no less pretty from Haglöfs: The bright yellow piece for bad weather will satisfy any and all photographers.
An essential element so that a jacket functions like a jacket should, we are talking about the zippers. How important these things are, is really something no one thinks about until they stop going zzzip, but rather get caught. Therefore, most high-quality products have zippers from YKK. These things have really earned their esteem! There are also other supposed minor details that make things better: The Luci from mpowerd provides light, floats and has solar cells that can recharge the integrated battery, and it has various colourful light settings depending on your mood. Luci can provide light for up to 18 hours.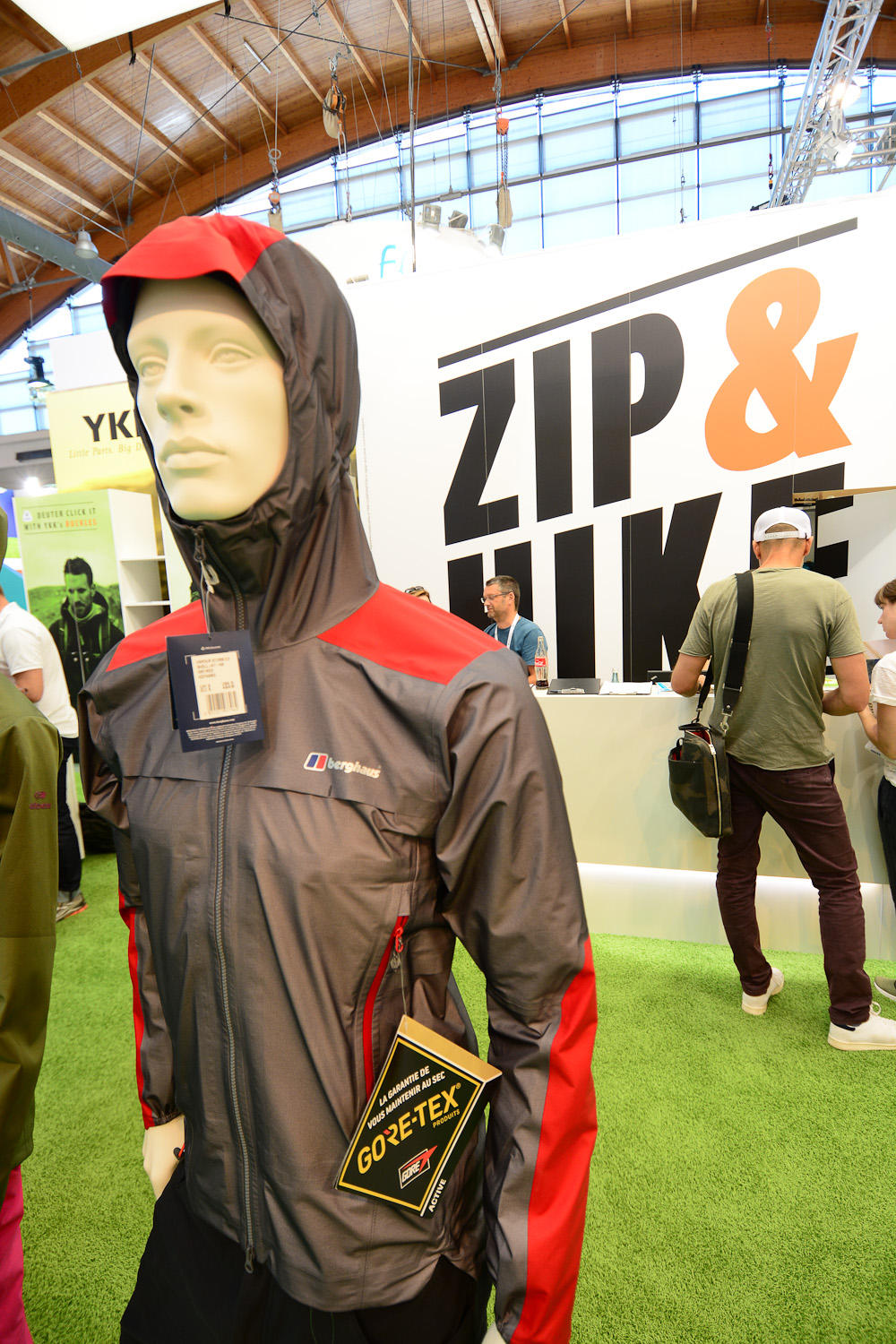 However, the lights went out at the trade show after four days. That's OK because we found out that there were again just as many people at this OutDoor show as last year. Another satisfying end to a satisfying show.