Outdoor 2018: showcasing products, capturing the spirit
The 2018 World Cup has started, the OutDoor trade show is over. At least, it's over at Lake Constance. It's been held for the last time in Friedrichshafen. In 2019 it's scheduled to continue in Munich. It's hardly surprising that, apart from showing awesome, cutting-edge products, this year's event was very emotional. We too were feeling slightly nostalgic as we headed for Lake Constance to walk through the trade show in search of new product innovations and that legendary outdoor spirit.
Wasn't the mission to defend the title? Germany's first match against Mexico didn't exactly get them off to a good start. Friedrichshafen's effort to defend its right to hold the trade show wasn't any more successful. For the 25th and last time the
OutDoor trade show was held at Lake Constance
. In 2019 it's scheduled to continue in Munich. So, it's going to continue? It has to! Nevertheless, the move is likely to cause a considerable reshuffle in the outdoor industry. Everyone's wondering what it's going to be like. What are the Munich event organisers going to do differently? What are they going to do better? Some are convinced that nothing will change. Others are hoping that the move will add fresh impetus and get things moving. Despite all the talk, the industry itself continues to make great strides. Companies continue to capitalise on their innovative strengths and last year the entire industry saw turnover rise significantly. But business isn't everything. Apart from the usual discussions about products and technologies, this year there was a lot of talk about the "spirit" of the outdoors as an "attitude to life". Over the years, the Lake Constance location has become very much a part of this attitude to life. Some visitors from the trade admitted to feeling rather sad, while others felt so nostalgic that they only felt better once they were able to drown their sorrows in a few beers at the OutDoor party on the final evening of the show. On the Sunday, the first day of the show, the trade fair grounds were unusually quiet. People only started gathering at the stands of the various exhibitors from about 5.00 pm onwards. It had nothing to do with the outdoor spirit. It was because of the football.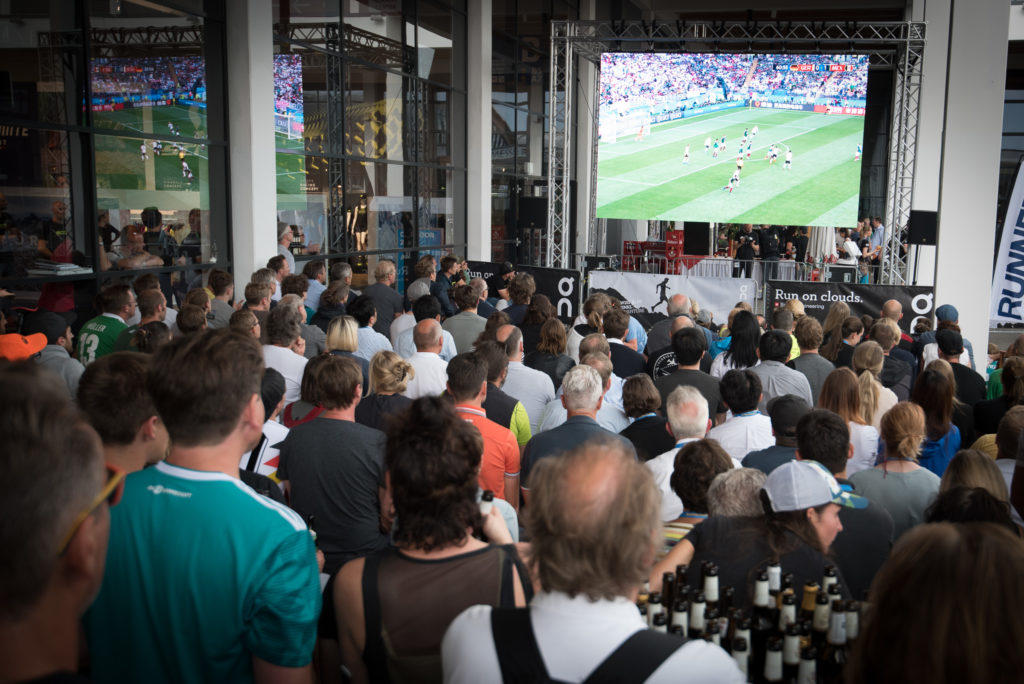 Adventures great and small – always outdoors
Little adventures, welcome escapes on your doorstep, or perhaps better still, in your own back yard: the outdoors has long been so much more than expeditions, loose rock, wild cannibals, sweat-sodden socks, foul-smelling camping stoves and tattered 80 litre rucksacks. Small can be just as beautiful. Distant horizons can be reached through horizon broadening experiences such as afternoon yoga and fixed rope route workshops. Not only can you sleep outside in a comfortable hammock with a mosquito net under the Southern Cross, you could just as easily do the same under Munich's own "southern cross", the motorway junction to the south of the city (which could end up being even more of an adventure).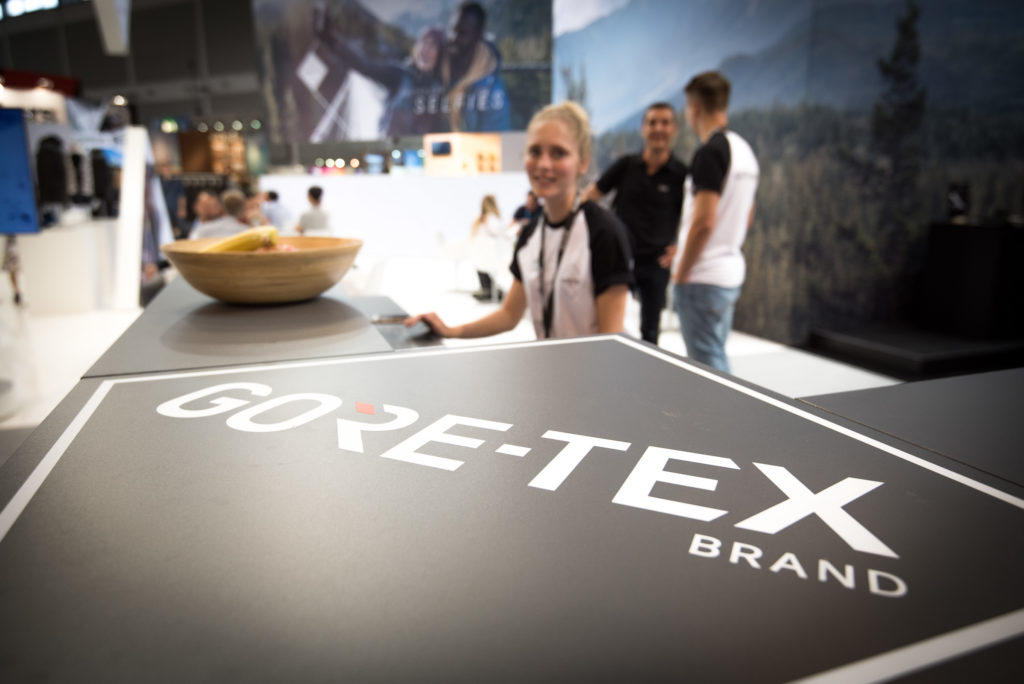 Since expanding its portfolio to include GORE-TEX INFINIUM® products, the
GORE-TEX brand
not only has you prepared for wet and windy weather with effective clothing and footwear solutions, it also offers products that tick all the boxes for every imaginable climate. The highly technical laminates specifically designed for unusual outdoor activities are sure to be a particular favourite - there's no question about that. At Gore and elsewhere, we are seeing a clear trend towards targeting a wider spectrum of interests, moving into the cities, to less intense activities, done purely for the enjoyment of being outside and getting fresh air.
Athleisure wear and urban fashion
In other words: sportswear and city fashion. At the Gore stand this development was very much in evidence in the way in which it was promoting its brand and expanded portfolio: white for the GORE-TEX INFINIUM® products, black for Gore's promise that its products will keep you dry. Unveiled to the world at OutDoor, Gore's newest notable addition goes by the name of GORE-TEX 3D fit footwear and is a new technology for shoes. A stretch laminate comprising a membrane and a thin inner and outer fabric is used by Gore to assemble a three-dimensional, seamless, sock-like insert for its brand partners. The advantage for footwear manufacturers is that they can easily integrate the technology into their footwear designs, especially shoes that feature lighter-weight, more flexible uppers. This technology will make it possible for manufacturers to come up with designs that were previously unknown – ranging from ultra-athletic performance running shoes to easy-going fabric sneakers. The advantage for consumers is that they get a sock-like fit in an ultralight, high-performing shoe.
For its 3D fit footwear technology the GORE-TEX brand won the
OutDoor Industry Award
. The jury based its decision on the high degree of innovation and functionality plus the choice of materials. We are only too happy to quote what they said: "In our view this material innovation is a significant advancement in footwear manufacturing. The 3D technology brings the Gore-Tex fabric closer to the foot, making a noticeable difference when it comes to breathability and wearer comfort." Mission accomplished! Adidas, Salomon and Under Armour all have shoes with this technology set to hit the market. Adidas product manager Jasmin Frank presents the Agravic Speed GTX, one of the lightest ever trail running shoes.
Microporous and as open as possible
Danish company Ecco is using a particularly interesting GORE-TEX footwear technology. Although it's not actually entirely new, what makes this technology so interesting is it's versatility. The company even went as far as to set up a small-scale tannery at the show where they displayed their Dyneema bonded leather. This ultrastrong, abrasion resistant material is used in the construction of models such as the Omnivent which is made waterproof and highly breathable by means of the GORE-TEX SURROUND® technology. Creative director Sean Tindale proudly points out an intriguing little gimmick that's likely to attract quite a bit of attention: the leather is thermochromic, which means that it changes colour when temperatures change, for example when the body temperature changes. These Danes come up with some crazy ideas!
Bavarian company Lowa
was exhibiting a great example of the third of the most recent and innovative footwear technologies. For some of their high-end shoe models, the company chose to adopt the GORE-TEX Invisible Fit technology, a construction in which the upper is directly bonded to the membrane. The outer material of the upper is, so to speak, the laminate. This is what makes these shoes so lightweight and ultra-breathable and because there's no separate inner lining there's also no bunching or wrinkling. Plus, this significantly streamlines the silhouette because the additional performance doesn't require additional space.
Old friends and new acquaintances
Alongside the new GORE-TEX Paclite Plus which, with its lightweight structure on the inside of the laminate, promises a comfortable fit and feel (particularly next to the skin), the real measure of things when the going gets tough is still the good old, eminently robust
GORE-TEX Pro
. Norrøna is using it in a downhill bike jacket which, for some unknown reason, they've decided to call skibotn! Teamed it up with a GORE-TEX 4-way stretch material, the jacket went on to win a Gold Award. The laminate sector's most important bit of news has less to do with sport than with the environment: Gore was showcasing two-layer jackets made of recycled fabrics manufactured with a durable water repellent (DWR) technology that contains no PFCs of environmental concern (PFCEC). Marmot, Haglöfs and a whole list of other brand partners all have these jackets in their latest collections. In the Craghoppers collection there are only two men's models and one women's model made with GORE-TEX fabric. You could say that the jackets of this traditional travel apparel specialist are a little bit boring. Or, you could put it differently and say that they're exactly what you need, they make a great "just in case" layer and always perform. The real news is invisible: these garments also feature Gore's PFCEC-free DWR.
Without new products a trade show couldn't exist. But that's only one side of the coin. A trade show only really comes to life with the people who visit it. In our case, the people who bring the spirit of the outdoors to the show. The kind of spirit that is to be found at Canadian company Arc'teryx. When it comes to the latest GORE-TEX technologies and innovative product solutions, it is always up front. Like Manu. Although, at the show she was behind, to be more precise, behind the bar. She and a colleague were the "stars behind the bar" of the Arc'teryx stand. But when she's on her snowboard, she's mostly up front. She may be calm and confident and have a charming Austrian accent, but she is also winner of the
Freeride World Tour
. Let's drink an espresso to that!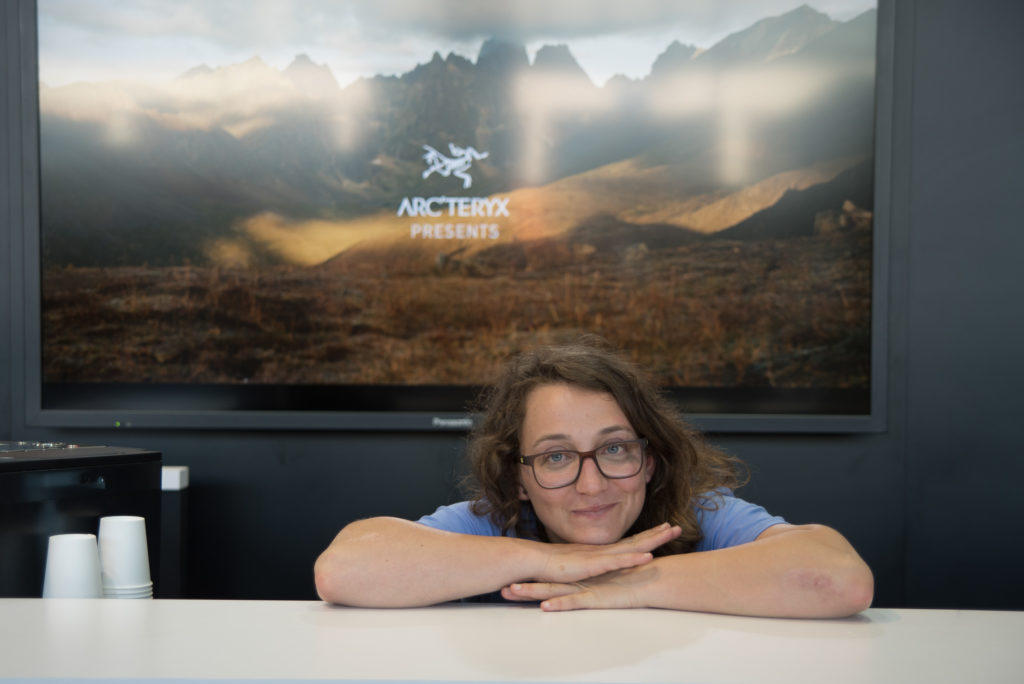 And finally: the strongest and the hardest
Hard meaning hard, not doing something that is hard, but being hard, which is the metier of hardware manufacturers. While Edelrid (where I'm quite sure most of the employees not only work hard but are equally capable of completing long hard climbs) was presenting a new, semi-automatic and very versatile belay device to prevent climbers from landing on hard ground, DAC has done everything it can to ensure that things don't ever leave the ground – even in the thick of a storm. Based in Korea, DAC is a leading manufacturer of high quality aluminium tent poles. Many of the legendary tents of the world's best manufacturers are given their shape and held together by DAC poles. The show coincided with the company's 30th anniversary: good reason for founder Jake Lah and his son to hold a special celebration. Congratulations!
Last but not least, I'd like to mention another new product that also won a Gold Award. It's a well known fact that Garmin knows all there is to know about GPS communication. The inReach Mini is certainly innovative: even without a mobile phone connection, thanks to the worldwide Iridium-satellite network, you can use this tiny device to make an emergency call from anywhere in the world to the GEOS emergency response coordination centre which is manned 24/7.
And what about the spirit?
It's still there. But flagging slightly. The Friedrichshafen trade show has always done a great job of capturing and embodying the outdoor spirit, always with the wholehearted support of GORE-TEX, who also sponsored the last and final party of the show. Lots of brands and lots of people will be making sure the spirit lives on, whether on their next micro adventure close to home, on an expedition to the Himalayas, or on a surfboard.