Lofoten – the countdown has begun!
68°11'35.9"N & 14°20'30.4"E – Coordinates that will make the dreams come true for the participants of the GORE-TEX Experience Tour 2016. Sebastian gives us a sneak peak at the coming Ride and Surf Lofoten!
It won't be long now until the participants of this year's GORE-TEX Experience Tour will rendezvous on Lofoten where they will have a unique experience indeed: freeriding and surfing on the same day! An expedition demanding a GPS certainly won't be needed to reach the Lofoten Ski Lodge. Nevertheless, a few new things and a little bit of wilderness will be a part of the tour: At 100-300 kilometres north of the Polar Circle, even at the end of April there will be plenty of snow on the ground. And with just 24,000 inhabitants spread out of 1,200 square kilometres one doesn't get around just by foot on Lofoten. (In comparison, 1.4 million people call Munich's 310 square kilometres home.)
Northern lights, professional athletes, surf and snow
Participants have been selected, flights are booked, and the local guides are just waiting to show them their favourite tours and most amazing descents. Plus, the waves are breaking on the lonely wintry beach of Unstad where they are begging to be conquered. Freeride legend Seb Michaud, ski mountaineer Greg Hill, freeskier Nico Zacek and professional surfer Simon Strangfeld, all of whom are excited about this concept, are champing at the bit. That's because this isn't just a unique chance for the selected participants; this is also a very special adventure for the widely travelled professionals.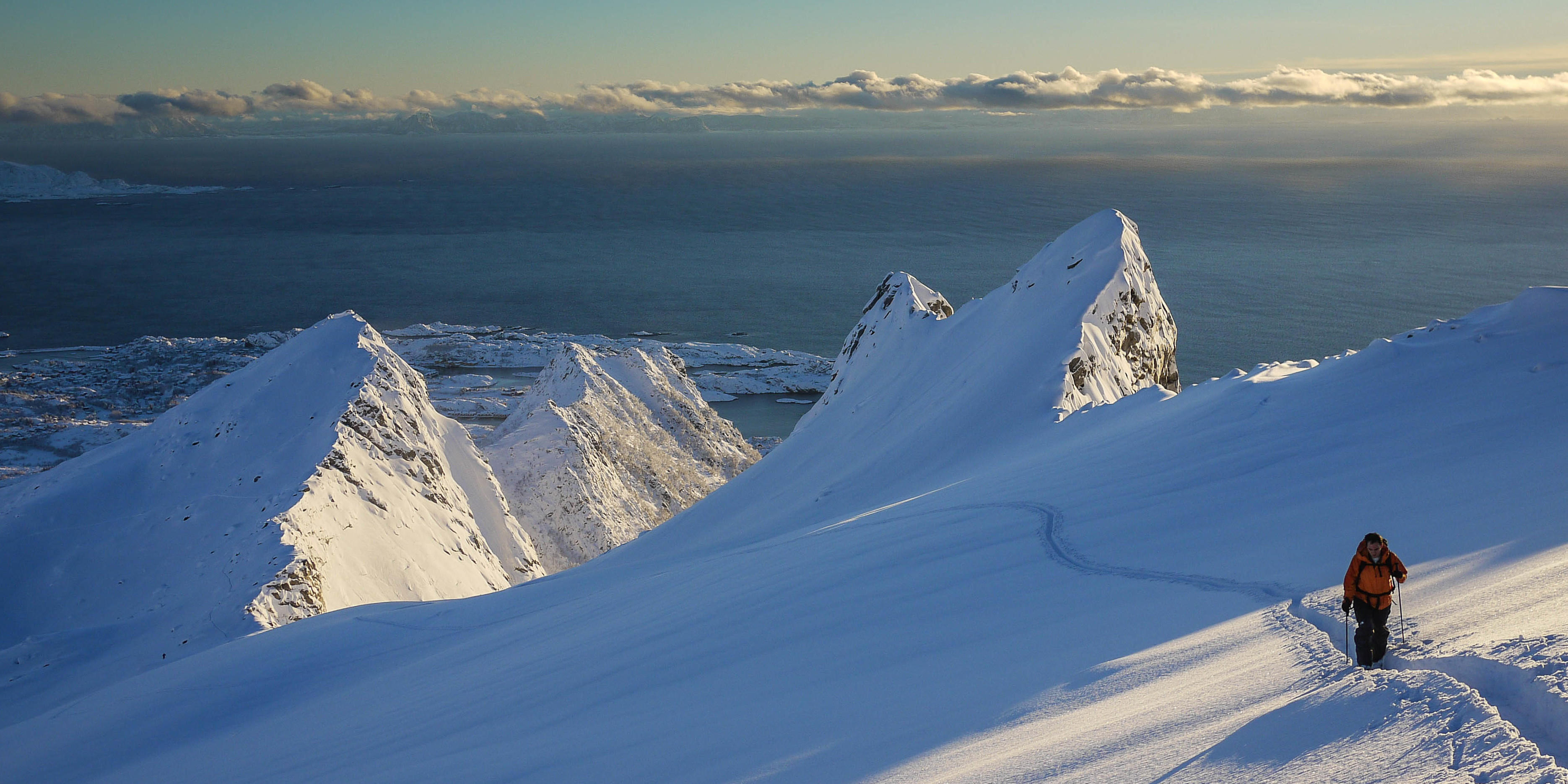 "In the winter I'm totally a snow person, no question", says freeskier Nico Zacek, "but in the summer, the ocean and the waves attract me. The possibilities that we have on Lofoten aren't available anywhere else on this planet. That's why this is fulfilling a long-time dream to be able to finally bring together both of my passions." Surfer Simon Strangfeld has a similar opinion: "To surf in Scandinavia – as far north as is humanly possible – has been on my bucket list forever. Finally, I get to do it!" And if we also get to see the Northern Lights at night the whole thing will be absolutely too perfect!
But wait: Ski touring and freeriding at the end of April?
Exactly. Ice cream shops have already opened across much of central Europe and without question in southern Europe, and the parks and cafés are full of people who likely pulled their bikes out of the garage and not their skis or snowboards to get there. Nevertheless, the Lofoten Islands are still covered with snow, and in fact right down to the amazing elevation of sea level. Yes, you heard that right. Down to sea level. 0 metres of altitude. The mountains that ring the Lofoten Ski Lodge will be explored in four groups, each accompanied by a pro athlete and a local guide from Northern Alpine Guides. A nonstop view of the sea is guaranteed. Indeed, the landscape of Lofoten means you can ski right down to the Norwegian Sea.
Surfing in the Norwegian Sea? Isn't that ice cold?!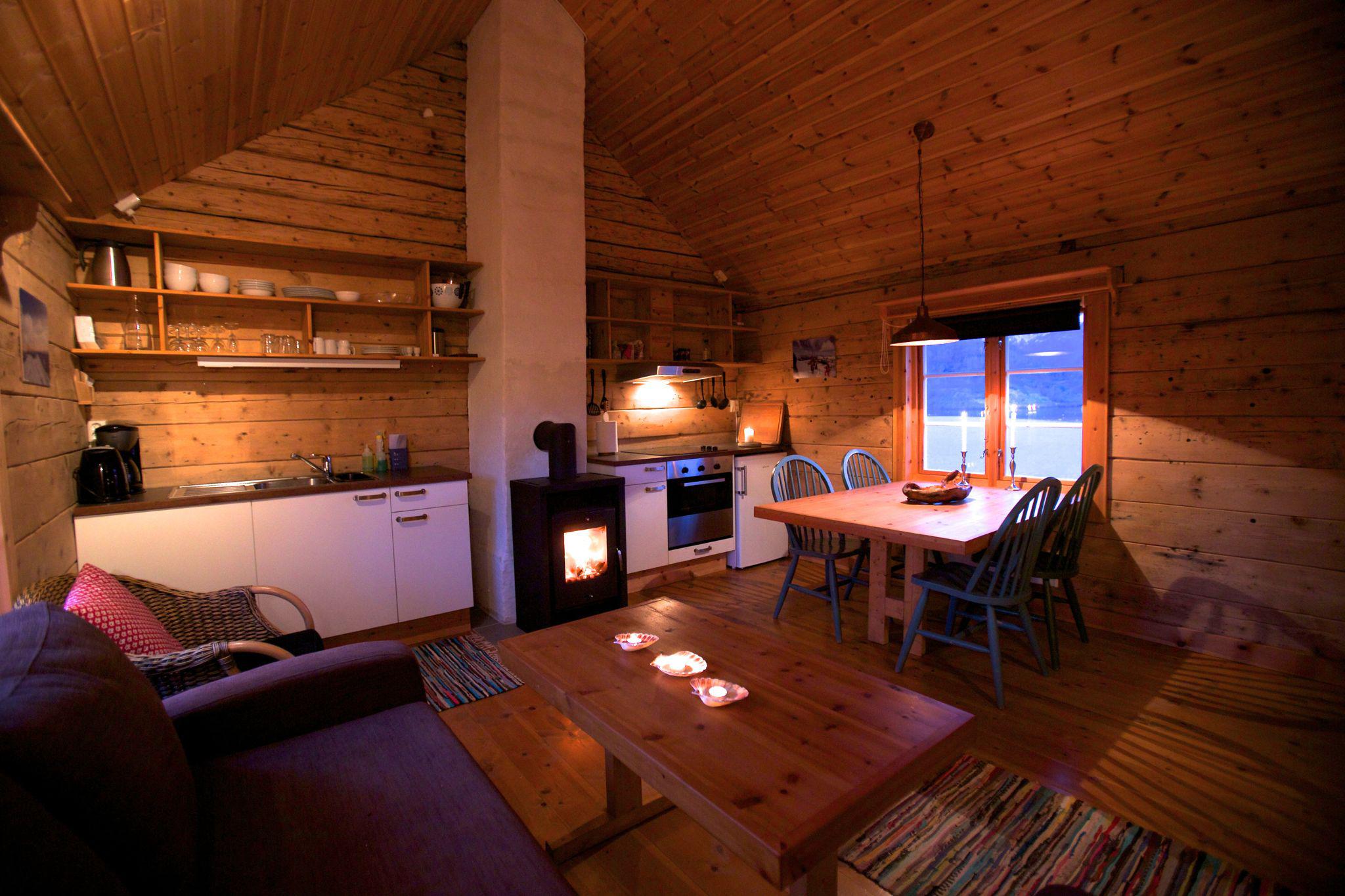 The Lofoten Islands stretch across the Norwegian Sea, a cold body of salt water that was explored early on by the Vikings. These days, you only meet up with the Vikings in a museum, so those who pack themselves fully into neoprene gear and dare to go into the water only have to worry about the cold. But that is the price everyone will gladly pay with the opportunity to ski or ride slopes with untouched powder in the morning, and then to plunge into the ocean waves in the afternoon! And then in the evenings everybody will gather in the Lofoten Ski Lodge lounge where the pros will tell stories – freeskiers, free riders and surfers who travel the world and experience what precisely the participants of the GORE-TEX Experience Tour 2016 are awaiting: gorgeous scenery, spectacular mountains and roaring waves! Click here to see more information about Lofoten from our partners for the Ride and Surf Experience: Lofoten Ski Lodge Alpine Guides