ISPO 2018 Product pearls, snow crystals and diamonds
We went to the ISPO in Munich. As exhibitors, observers and reporters. And made a point of going to see the brand partners of GORE-TEX. But also other well and lesser well-known brands. Among all the products that we saw, we discovered some real pearls. Here we treat you to our pick of the incredible range of products serving the needs of outdoor enthusiasts, an ever expanding range – going far beyond the limits of functionality, even reaching white diamond perfection!
It's where everyone, and everything, comes together: products, technologies, athletes, designers, managers and distributors. All piling up at Munich's exhibition centre like the snowfall of the past few weeks, gathering to exchange the latest news and stories in the sports industry. Something not to be missed by the GORE-TEX brand And certainly not by this blog, that despite focusing mainly on Gore's new releases, still very much enjoys looking elsewhere. The Ispo is always a great place see brand partners and find out about developments taking place in the industry. It's also a great opportunity for us to take a look beyond the walls of our own business of textile laminates and clothing technologies. After all, inspiration can be found everywhere. So, with eyes wide open, off we went into those halls to start interacting! But what was that about white diamonds? We didn't appear to be the only people wanting to know the answer to that question, making Gore's press conference at the Ispo a well attended event. Christian Langer (global sales & marketing leader) and Oliver Oppermann (global marketing leader) explained to members of the press from all over the world what it was all about.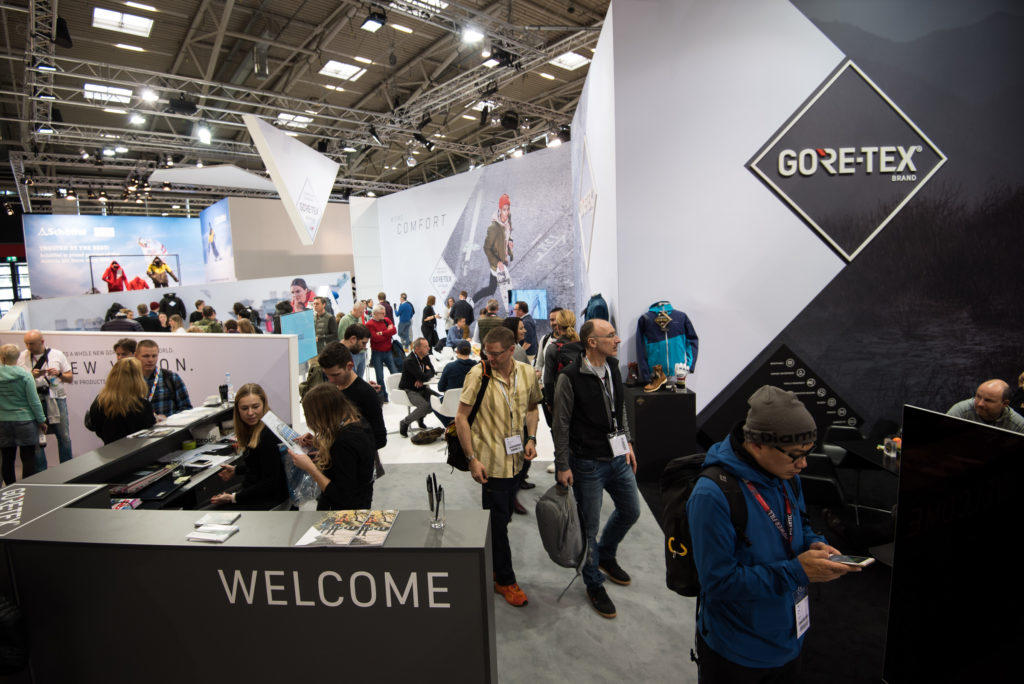 Black diamond: "GUARANTEED TO KEEP YOU DRY™", white diamond: GORE-TEX INFINIUMTM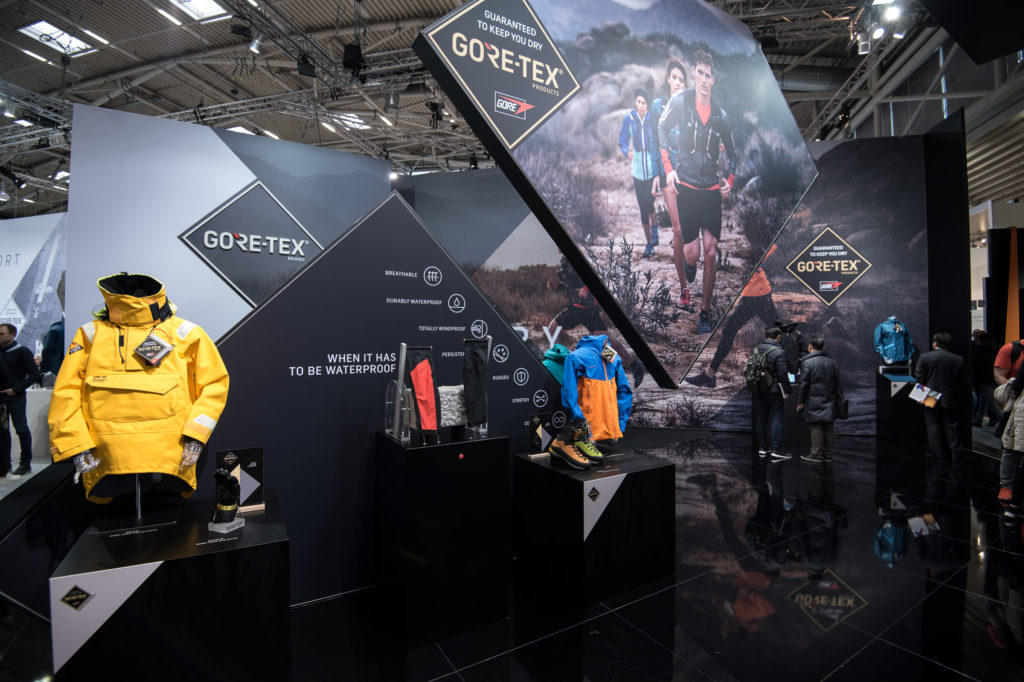 Alongside its world-renowned GORE-TEX brand with the black diamond shaped logo, Gore has positioned a new white logo. GORE-TEX INFINIUM™. With this new brand, Gore has created exciting possibilities for product technologies that go beyond its "waterproof, windproof and breathable" GORE-TEX fabrics. This is also about a completely new class of clothing, footwear and accessories. The new GORE-TEX INFINIUM™ products are intended for people with an active lifestyle who give high priority to functional gear. In other words: the focus of these products is still on performance and usability – in situations in which functionality is important, but waterproofness might not be the major priority. "The launch of our GORE-TEX INFINIUM™ brand is probably the most significant milestone on our company history since the 1980s when we introduced our 'GUARANTEED TO KEEP YOU DRY™' promise," Christian Langer said. GORE-TEX INFINIUM™ offers apparel makers a broad range of new and exciting product options. Over the years Gore has built up a wealth of knowledge about how the human body reacts to different climates and temperatures under vastly different activity situations. This expertise served as the foundation for the new products that don't necessarily have to be waterproof, yet still ensure optimum performance. Alongside the well-established GORE-TEX brand that revolutionised the outdoor market over 40 years ago with its waterproof yet breathable membrane, outdoor enthusiasts can now expect to see an even greater variety of products – whether you're a seasoned mountaineer setting off on an expedition to the Himalayas or a commuter who likes cycling to work.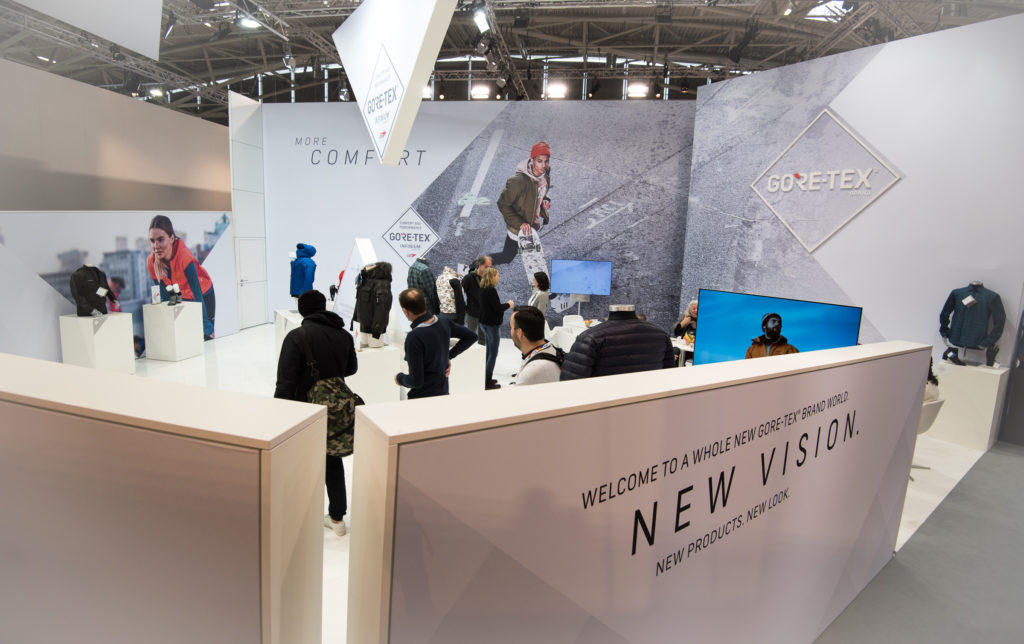 And "GUARANTEED TO KEEP YOU DRY™"?
This brand promise still applies to all GORE-TEX products with the black diamond logo. Nothing has changed there. To make it clear that the main focus at Ispo 2018 was these two different ranges, the GORE-TEX stand was divided in two. White on one side, black on the other. There's nothing new about having a white stand as such at a trade fair, it looks smart, it's light, and actually quite common. What's new is that the large diamond shaped logo is white and not black and has "INFINIUM" written on it. Commencing this autumn, a select circle of brand partners will be offering GORE-TEX INFINIUM™ products in four different categories: [gallery size="full" columns="1" ids="3195,3197,3196,3198"] This year's Ispo once again saw premium brands showcasing their latest offerings made with GORE-TEX fabrics, many of them winners of prestigious Ispo awards. We decided to go off in search of products with the new white "GORE-TEX INFINIUM™ Diamond".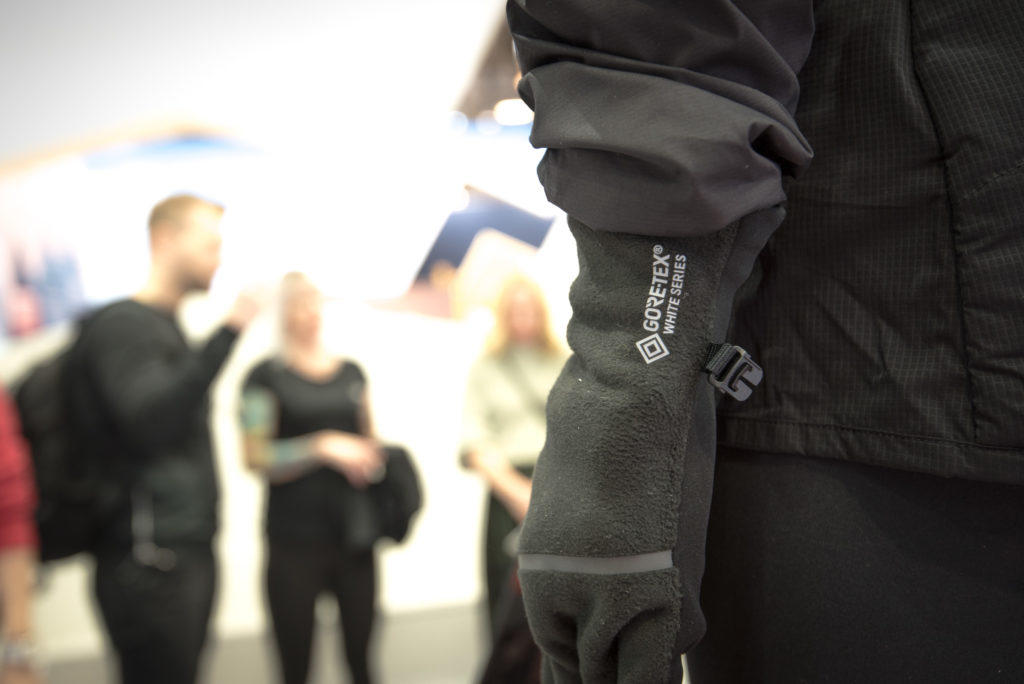 Products and titbits
The winner of Ispo's "Product of the Year" award 2018 was the hiking boot Tecnica Forge S, a boot that is equipped with GORE-TEX technology. However, we told you all about these heat mouldable boots that customise to the shape of your feet here about six months ago. That's why we're now moving straight on to the Gold Winner designed by Merrell. The Thermo Rogue 8 is a "winter boot that stands out from the crowd because of its light weight and soft fit" (jury statement from Prof. Prey, Bozen). Plus it's waterproof, thanks to GORE-TEX fabric. So now, back to garments: Mammut uses a variety of Gore technologies in its collection, depending on which one is best suited to the intended use. This year saw the Swiss apparel maker producing yet another winner: The Nordwand HS Flex Hooded Jacket picked up a Gold Award. The high-tech 3-layer hard shell jacket excels with unrivaled freedom of movement thanks to the new GORE-TEX stretch technology. Fits well, adapts well and responds well to the needs of climbers. [gallery size="full" columns="1" ids="3202,3203"] Another GORE-TEX garment manufacturer that gets more and more interesting every year is Black Yak. The Korean company has some very stylish, technical and beautifully crafted garments in its European collection. Commencing autumn 2018, it will also be offering the new GORE-TEX INFINIUM™ products. Marcus Ehlig was the proud presenter of an as-yet unbranded jacket and – like his colleagues – he can hardly wait until he gets a chance to wear it in the mountains.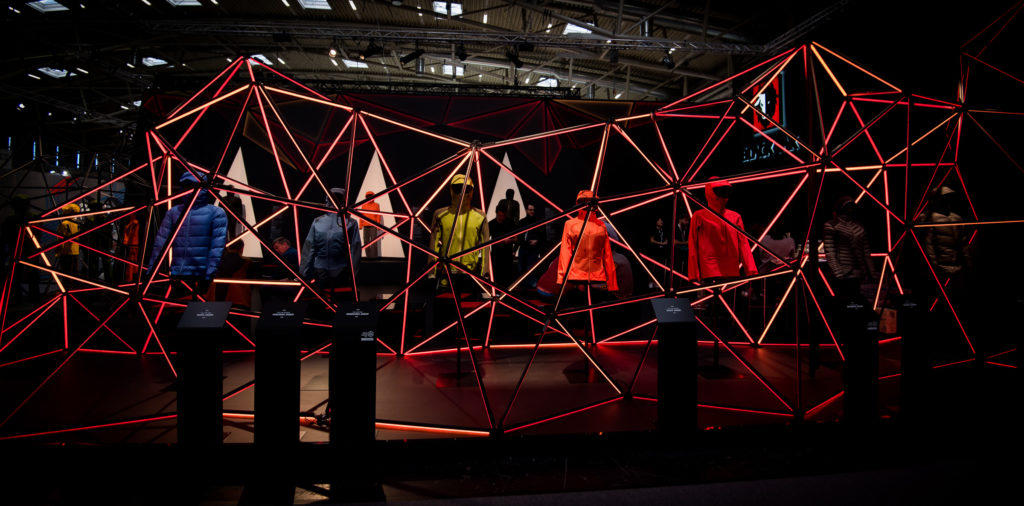 In much of Asia Black Yak is the leading provider of outdoor apparel and has now come up with something that marks a big step forward. Visitors to the GORE-TEX stand can marvel at a jacket that's not going to be available over here, but gives you a good idea of what's possible with GORE-TEX INFINIUM™. Blurring the line between function and fashion!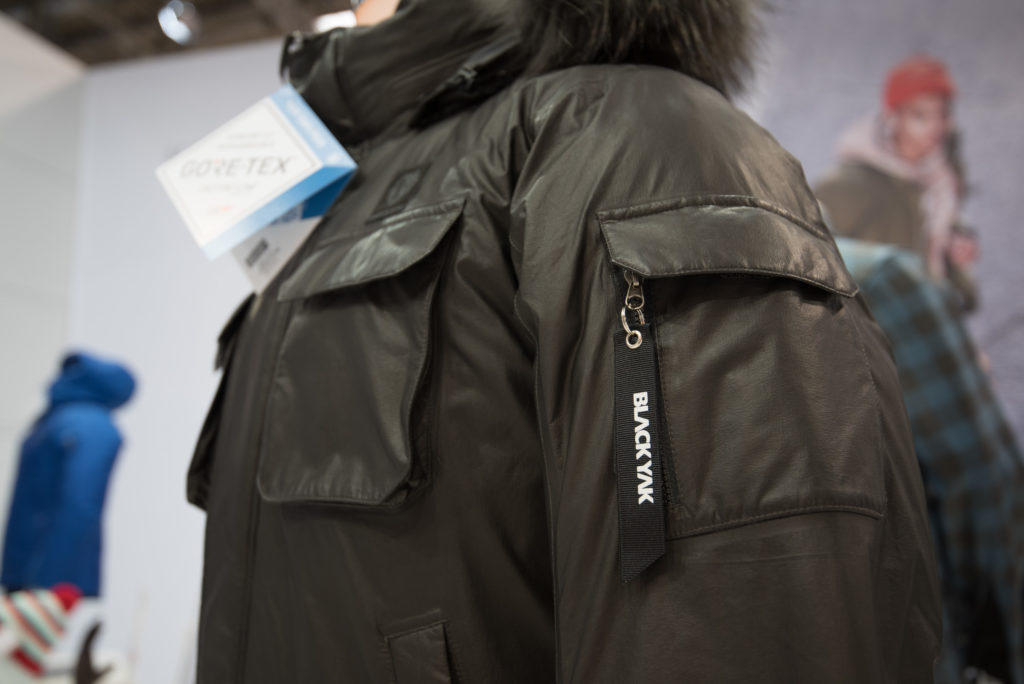 From Korea to Chiemsee: the large Bavarian lake that is home to Maloja, best known for its stylish, athletic and undeniably cool bike and skiwear. CEO Klaus Haas was delighted to unveil Maloja's reversible jacket with Gore Windstopper. Reversible jacket? Rather nineties, but why not! One side subdued functionality, the other ablaze with colour. A wonderful example of how you can't pigeonhole Gore textile laminates - anything goes, from fashion, function and outdoor, to urban, retro and vision. [gallery size="full" columns="1" ids="3207,3208"]
Beyond function, more than just clothing
Even expensive clothing can find all the climbing, hiking or skiing rather wearing. It might get torn on your crampons, have a hole burnt in it or get ripped in dense undergrowth - anything is possible when the going get tough. But not to worry: that's the sort of damage you can repair yourself. McNett is the only company that offers repair kits with original GORE-TEX fabric. Mark Gray from technical support was only too happy to explain how the kits work. Apparently, they might soon be marketed under the brand name "Gear Aid" and not "McNett". Whatever: it's the content that counts. For more information about making repairs yourself, check out the Blog.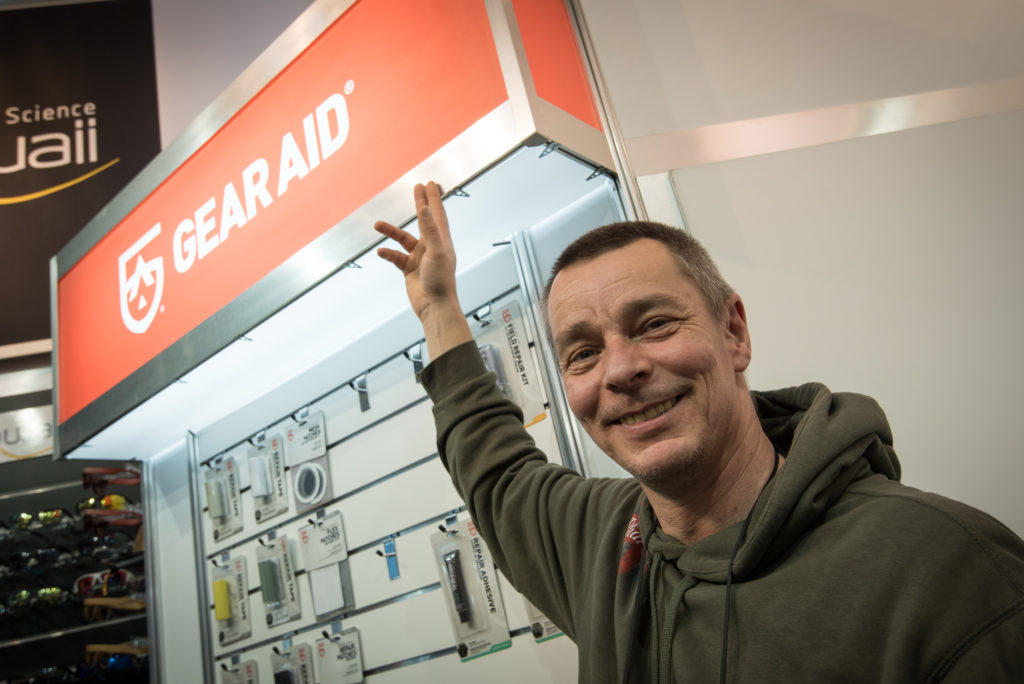 Ice-climbing is a highly material intensive sport. The sharper your crampons, ice tools and ice climbing screws, the faster and more safely you'll get to the top. With its ice-climbing heritage and cult status, Black Diamond has brought a new ice climbing screw to market. The teeth are made of steel while the main body is made of aluminium, making it much lighter than a pure steel screw. If you're getting second thoughts, just add a few more screws to your belt. It'll only be your wallet that will have to carry the additional burden!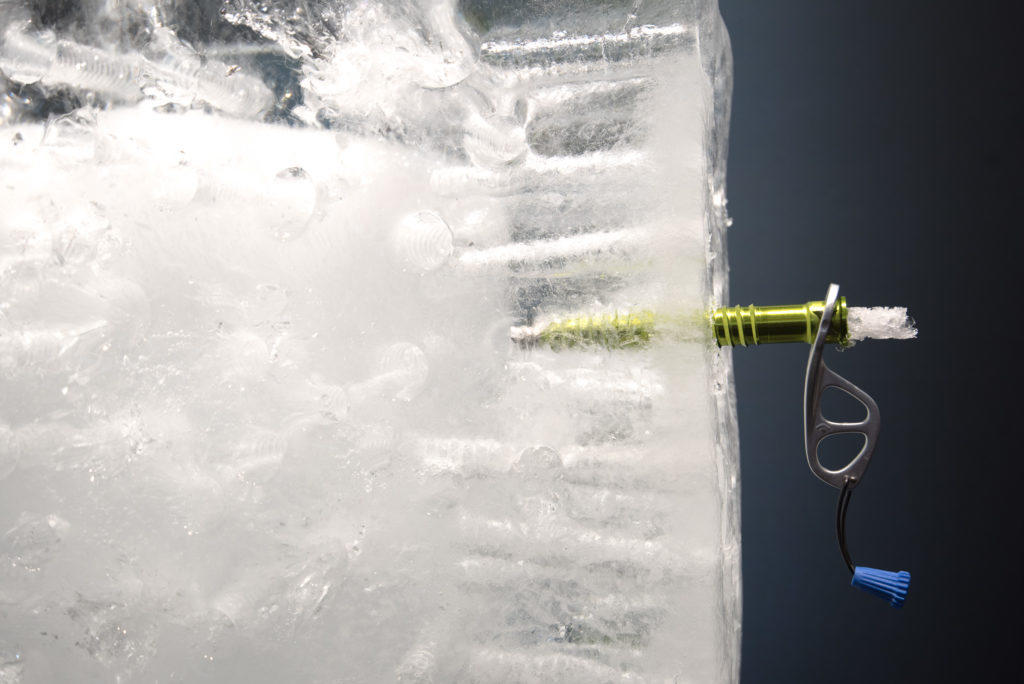 At Peak Design everything revolves around clipping, strapping and carrying. Its website says: "We are leaders in carry". They could well be right about that. Especially when it comes to carrying cameras. Although the San Francisco-based company is only a couple of years old, carry gear the likes of "Capture" or its click mechanism for belts can already be described as iconic. The focus of Peak Design's presentation at the Ispo was its new (camera) bags. They are cleverly designed and functional, yet there's nothing resembling a workhorse about them - very stylish everyday companions.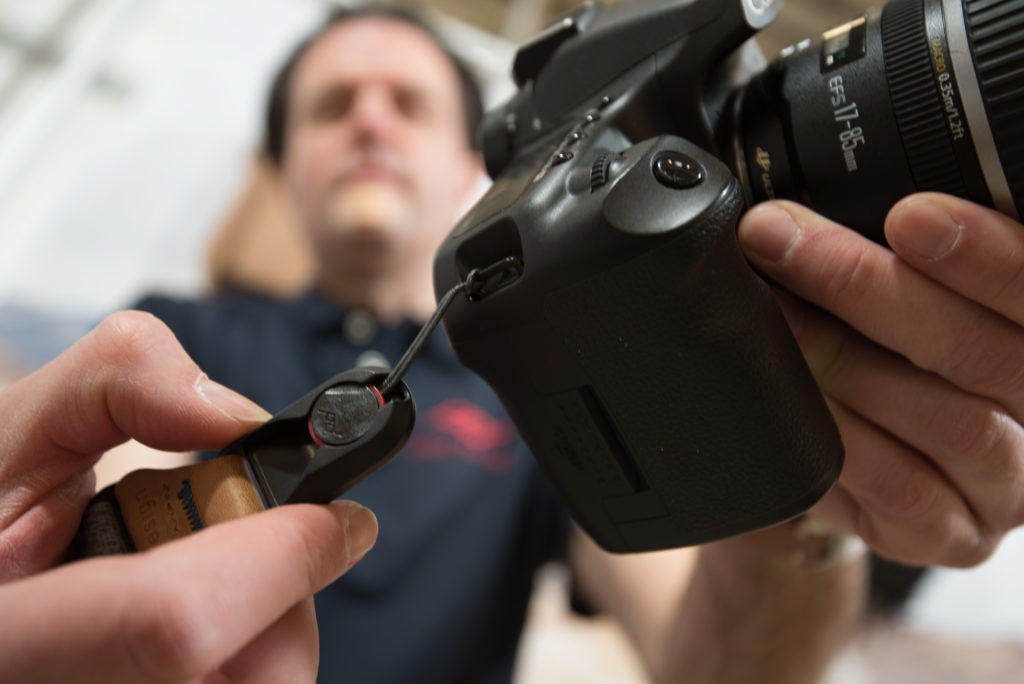 So, what do ice-climbing screws and camera bags have to do with Gore? The kind of people who use these products are always on the lookout for the best possible solution. They want things that work. When you're climbing a frozen waterfall, you need to be able to place your ice screws quickly, and have confidence in them, and when you're climbing a mountain, you don't want to be watching your expensive SLR camera falling down a precipice. Reliability. Confidence Durability. Characteristics that Gore also aspires to. [gallery size="full" columns="1" ids="3215,3214,3217"] Someone else who knows what's what in this respect is Florian von Smith. No, that's not some aristocratic title. Flo is marketing manager at Smith Optics and proud of the technological sophistication of the company's new goggles. The ChromaPop technology, for instance, uses a RGB filter to increase contrast and depth perception, sharpening your vision and ability to distinguishing contours in the snow. And if the lens isn't right for the conditions, you can change it within seconds.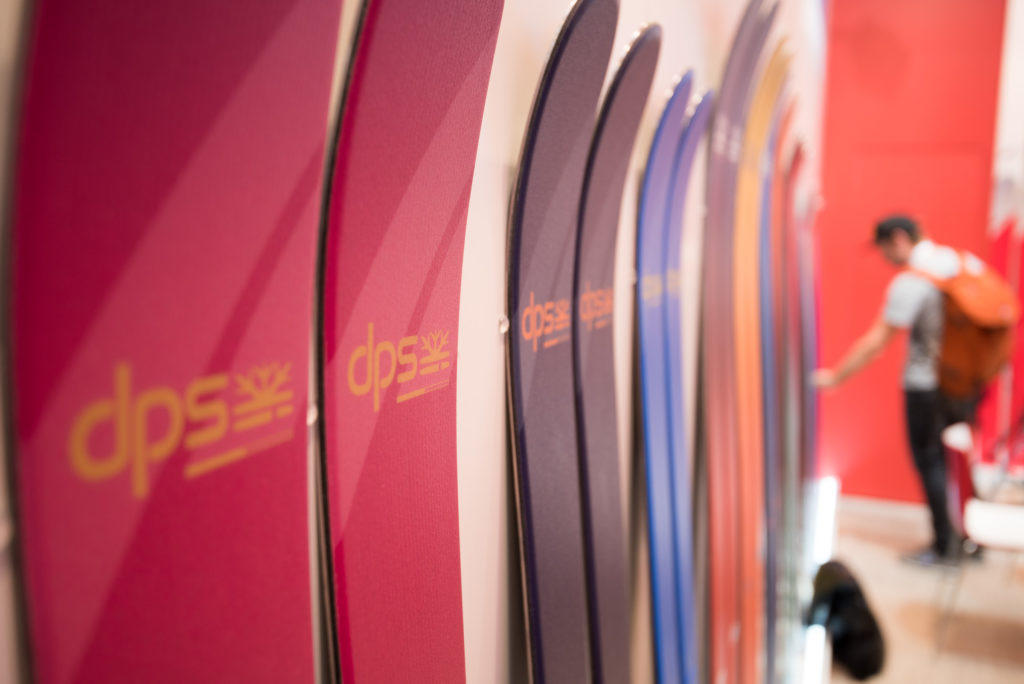 Oh! It's the winter Ispo, and we haven't yet said anything about skis. What was interesting this year at DPS's stand was not their rather gorgeous skis, but what you can put on them. DPS has mixed a cocktail of chemicals and called it Phantom. It's a wax. Actually no, it's not a wax, but you use it to wax your skis. Or thereabouts. Phantom develops an intimate and long-term relationship with the bottom of your skis, making any subsequent waxing totally unnecessary. Good news for skiers who prefer ripping through powder snow to spending hours stripping wax off their skis. Pelle from the sales team loves the stuff. Because of its performance. But more likely because, retailing at €120, Phantom is set to bring money pouring into the company coffers. However, it does sound like it might be worth it! [gallery size="full" columns="1" ids="3220,3219"] So that was part one of our Tour d'Ispo - most enjoyable. But perhaps outdoor activities, snow sports and adventure tours aren't everything. What's the first thing that comes into your mind when you hear the name Birkenstock? Jesus sandals? Ecofreaks? Long live the old clichés. You don't have to be a stereotyped lefty to think that health, sustainability and relaxation is important. Birkenstock's offerings include a wide range of sandals, closed-toed shoes and now even a cosmetics line. Some of the styles are ideal for business meetings, while others might be more suitable for a seminar on müsli making. What they all have in common is the Birkenstock footbed, famed for its comfortable fit. After your freeride tour, ice-climbing epic, or trek across Antarctica, you might just feel like getting those heavy boots off, pampering your tired feet with one of Birkenstock's foot care creams and spending a relaxing evening wearing orthopaedic and politically correct footwear. Something I'd definitely recommend doing!