Ispo 2018, Part 1 Between spikes, reflective details and survival
It's all about style, safety, sport and fun. But not necessarily in that order. At Ispo there's an abundance of everything. We've hand picked some clever survival solutions, one or two good ideas and a few products that you might find useful.
Style, sport, fun – snow, skies, Spyder and strategic partnerships. And so the list could continue. In its market segment, US snow sports company Spyder is an important partner for the GORE-TEX brand. Felix Burmann (key account manager Europe) presents their brand new jacket featuring GORE-TEX stretch technology, while a GORE-TEX employee uses test apparatus to demonstrate the laminate properties. [gallery size="full" columns="1" ids="3117,3115,3116"] For Nick Adcock, CEO of Spyder, the new partnership between Gore and Spyder made it worth posing for the cameras.
Gore has pulled off a real coup with its stretch materials. They extend the scope of the "classic" GORE-TEX products as regards fit and wearer comfort and allow for very techy designs. The North Face has always been in the vanguard in terms of technological sophistication. In addition to its outerwear collection incorporating a broad range of styles with a variety of GORE-TEX technologies, the US company has unveiled its "Ultra Fastpack Mid GTX", a bonded shoe in which the soft textile upper is directly bonded to the GORE-TEX membrane and the inner lining – in much the same way as the ground-breaking GORE-TEX invisible fit technology. This eliminates wrinkles and folds from the upper material, resulting in a perfect fit and feel. An additional appeal of the "Ultra Fastpack" lies in its outstanding climate comfort. Incidentally, the Ispo judges also thought it deserved an award.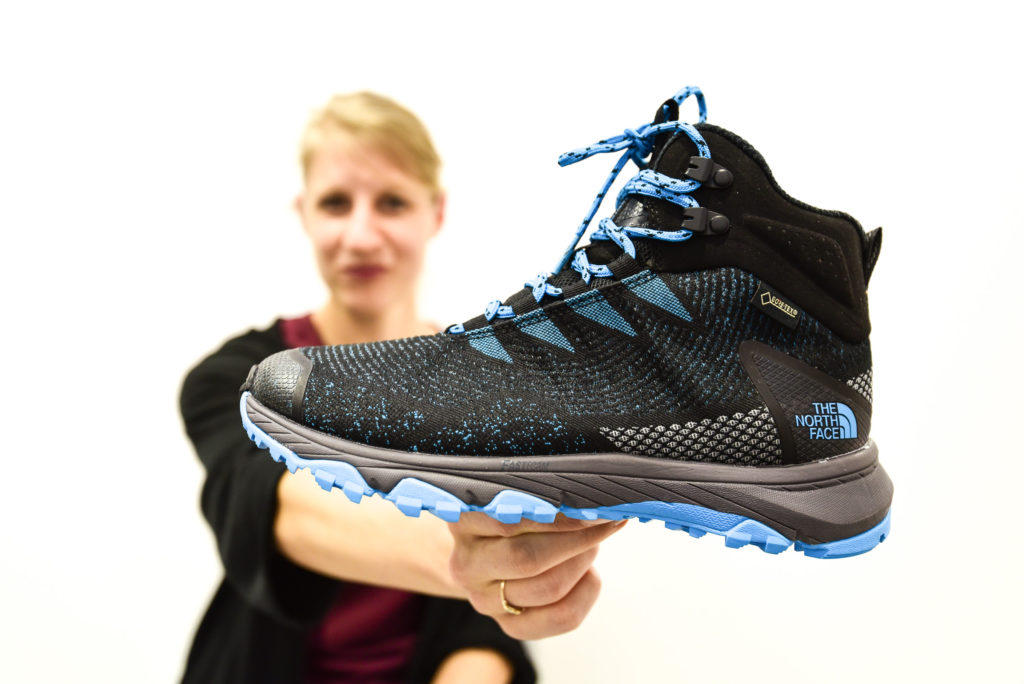 From a technical (and the athletes') point of view, an arguably even more interesting product is Gore's latest glove technology. A technology that The North Face is exclusively incorporating in its designs for next autumn: GORE-TEX INFINIUM™ stretch gloves. You can't help but buy into the enthusiasm of TNF category manager Mark Maffe – even if his comparison does seem rather strange at first: "Do you use dishwashing gloves? It feels similar. Well, with the difference that our gloves are not that sweaty!" At GORE-TEX, GORE-TEX INFINIUM™ stands for technologies that are not necessarily waterproof, but offer true added value in areas that are of far greater relevance to the intended use. In the case of these gloves from The North Face, these areas are undoubtedly fit, tactility and touchscreen compatibility. Mark sees this as a minor revolution in the glove sector. [gallery size="full" columns="1" ids="3121,3122"] But to get back to shoes: Viking is one of the most long-standing partners of GORE-TEX. For over 25 years the Norwegian company has trusted in the functional features of GTX footwear. What's new is that all of their children's styles are now also equipped with GORE-TEX. "A waterproof, windproof and breathable membrane is exactly what we need for our shoes, especially considering the topography and climate of where we live," Viking explains. Marketing specialist Berta Abschlag points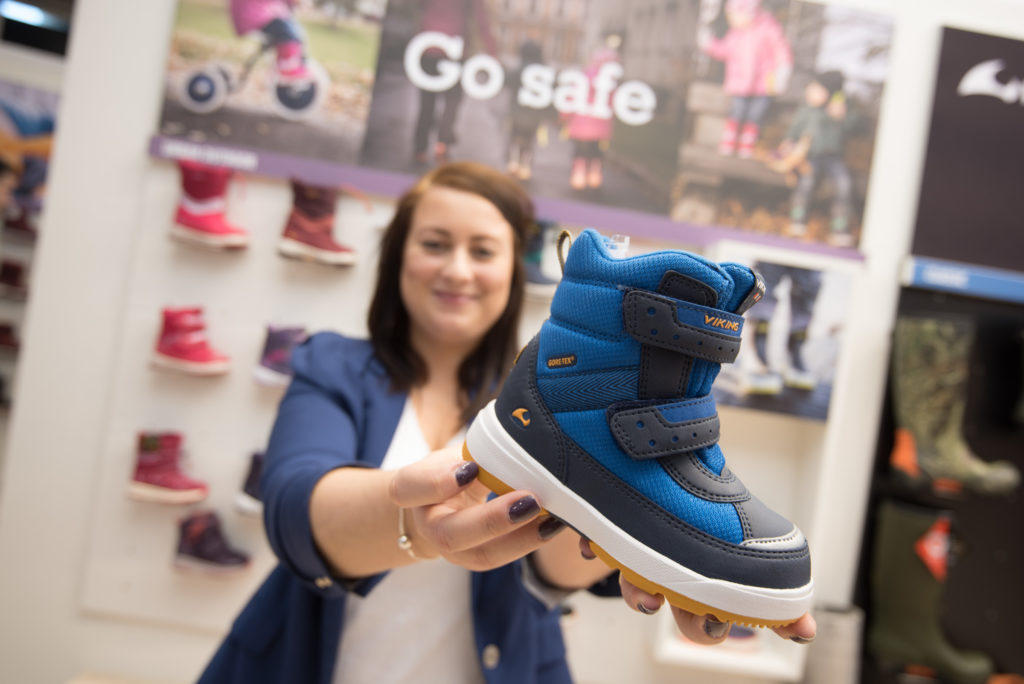 to another feature: the reflective details! Not only in Norway are the nights long, it gets dark early here, too. Reflective detailing contributes to the safety of the wearer. [gallery size="full" columns="1" ids="3128,3130"] Which is exactly what the people at Hey Sport must have been thinking when they came up with "Lightflex", a reflective spray for textiles. The spray is supposed to be relatively water resistant (during use), and yet easily washed out afterwards in the washing machine. And it's eco-friendly. I wonder if you could also use it to make your dog more visible in the dark? But whatever you do, don't put your dog in the washing machine!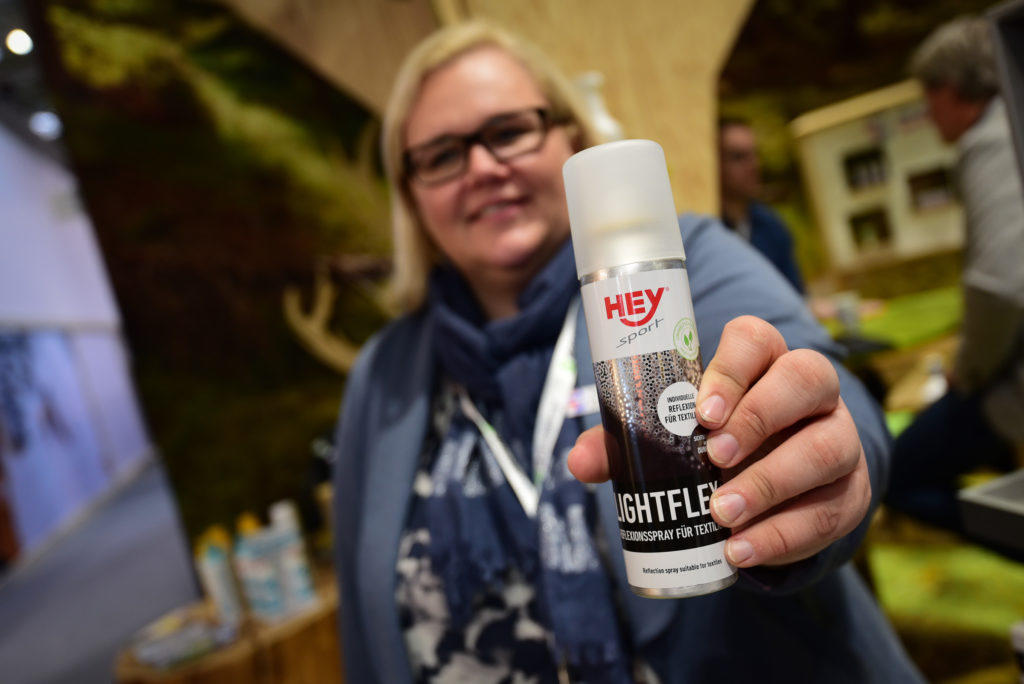 Safety on ice is the key focus at Icebug, another Scandinavian company. Where they come from it's perfectly normal to have car tires fitted with spikes. So, for them, the idea of applying the same principle to footwear wasn't so far removed. Aptly named "Walkabout" (and, needless to say, featuring GORE-TEX technology), the result is a "lightweight & sophisticated winter boot with the best ice traction in the world" (as quoted by the award jury). On an ice ramp, German director Mathias Basedow demonstrates just how firmly the Icebug shoe bites into the ice. For people living in areas of Europe where snow and ice is a fairly rare occurrence, Walkabout is also available with a "spikeless" Michelin sole. [gallery size="full" columns="1" ids="3132,3133,3134"] Icebug is not the only company that's concerned about security in one way or another. Scott has come up with a new avalanche airbag system. Using a capacitor technology, the Partol AP 30 is set to stir up the market. It also claims to be the lightest airbag system on the market. Aerosize is also an avalanche airbag. One with a very clever idea: the system relies on two small cartridges that simply inflate air channels while the remaining air is sucked in as these channels expand. It is worn as a vest and fits perfectly under any normal rucksack. [gallery size="full" columns="1" ids="3135,3136"] And yet another airbag: Advenate – welcome to a brand new age. Sounds like adventure teamed up with high-tech. The much-hyped brand is definitely out to impress: appearing cosmopolitan, mega cool, confident, typically American. But wait a moment, American? Doesn't Advenate come from St. Johann? So from Austria? Wrong again. This product's designers are at home in Germany's Swabian Alps. An area that appears to be conducive to coming up with innovations. For its avalanche emergency system "Surface IAS", that combines an airbag and a breathing system, Advenate won an Ispo Award and for its "Hybrid Pro", it even won a Gold Award. What I particularly like about this product is that there's something so logical about it, and yet nobody has ever thought of it before: a probe has been put inside the shaft of the avalanche shovel's telescope handle! There's also a little bivouac in which the shovel, probe and ski poles, which you'll be carrying with you anyway, function as tent poles! [gallery size="full" columns="1" ids="3138,3137,3139"] Only 50 km south of the Ispo winter has returned with heavy snowfall. So there's no leaving the trade fair without taking another look at those ski halls. Skiing with the old G3 "Reverend" skis was a defining moment for me and one that continued until they eventually fell apart. Now they decorate my office. My next pair of skis were much sleeker and the design much brighter, but still, (or perhaps that's why) they're extremely attractive. Come to think of it: they'd look rather good with my old red and white G3 climbing skins. But talking of white: Mountains, here I come! [gallery size="full" columns="1" ids="3142,3140,3141"]