Whether desert, rainforest or the North Pole, Gore can simulate just about every climate in the world. And that opens up a new dimension of comfort and protection. Here, all about a visit with Gore in the United States.
It is recognised around the world that GORE-TEX products protect from rain and at the same time remain breathable, offering with that a certain degree of comfort. But how is 'comfort' measured? How does Gore know that its jackets really protect you? And how does Gore for example assist mountaineers or firefighters so they can complete a project or can concentrate better on the job?
Our experts define comfort as the 'absence of discomfort'. Sounds a bit unusual, but if you have thought a bit about your clothing when it is not comfortable, then you can perhaps understand this statement. In other words: If your clothing feels good during wear, that is what is called 'comfort'. Performance apparel should also offer a few other things: Easily allow rain to bead up so you don't freeze, let sweat escape through its layers so the body doesn't overheat, not limit the body's movement during activity so you can do what the clothing is built for, and continue to do all that in a GORE-TEX jacket as long as possible. Bill Gore once used the analogy: "Our products do what we say they do -- the first time and every time."

Testing comfort in the Biophysics Lab
No matter if you are in the city, on an 8,000-meter summit, an active duty police officer or a firefighter, Gore has researched the ideal interplay between comfort and protection for more than 40 years. And since just recently that research has taken place in the newly constructed laboratory in the United States. Along with a group of journalists, I had the opportunity to visit and see the laboratory personally. The centrepiece of it is the 'Biophysics Lab'. It consists of a an 'Environmental Chamber' and a 'Rain Room', as well as all kinds of technical testing devices. Here, you can create wind up to 10 m/s (22.4 mph), raise or lower humidity artificially, regulate temperatures between -50 and +50 degrees Celsius (-58 to 122 degrees Fahrenheit), and even change the angle of the sun from sunrise to sundown. There are also two treadmills for walking to test different jackets or footwear in wind or higher humidity. In the end, they want to find out how the body behaves in various environmental conditions.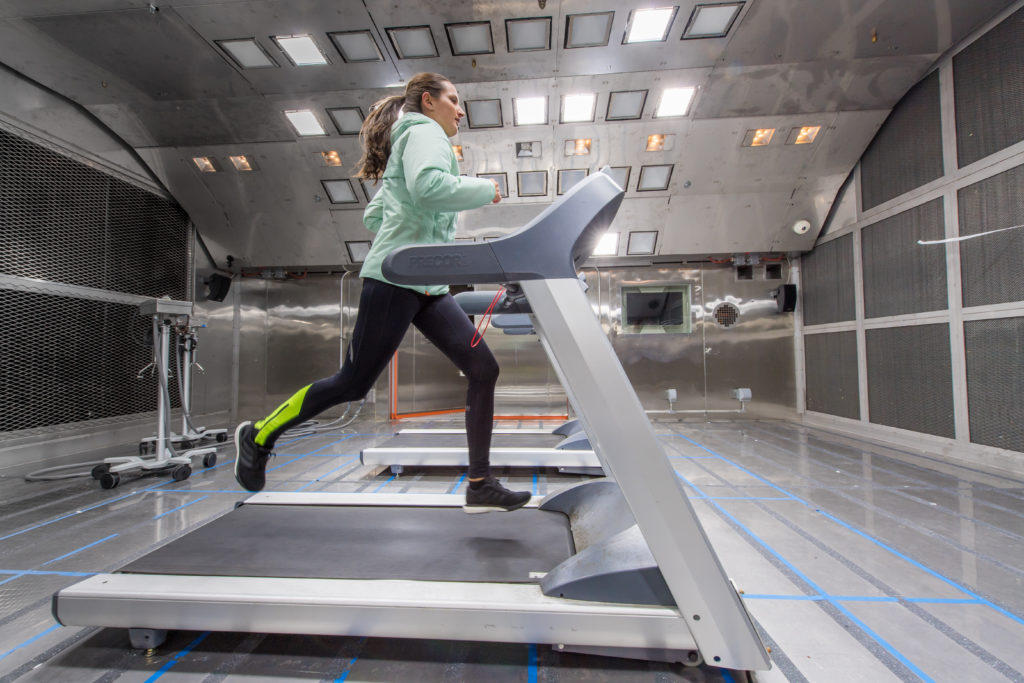 In the Rain Room, technicians can set the conditions to various rain situations, from drizzle to 'standard' steady rain to heavy downpours. Next to the chamber are technical measurement devices that can run thorough fabric and materials tests. Matt Decker, director of the Comfort Group at Gore, says this Biophysics Lab can simulate more than 95 % of the prevalent climates on the earth.

Heat & Flame Lab
But as if that's not enough: Likewise newly opened is the 'Heat and Flame Lab'. Many perhaps aren't aware of this, but firefighters and police officers also use products from Gore for their protection. Of course, firefighters are less concerned about protection from rain and more concerned when it comes to heat and flames. And, to that end, Gore has put together a lab to test the heat resistance of the fabrics and materials. Here, associates can simulate flash fires or smouldering fires and predict how the fabrics will react -- for the fire departments an important matter of survival. In addition, fire-fighting suits can be tested in the Environmental Chamber, because that material should not only be heat resistant but also breathable. Otherwise, firefighters would never be able to focus as needed on their fire-fighting work.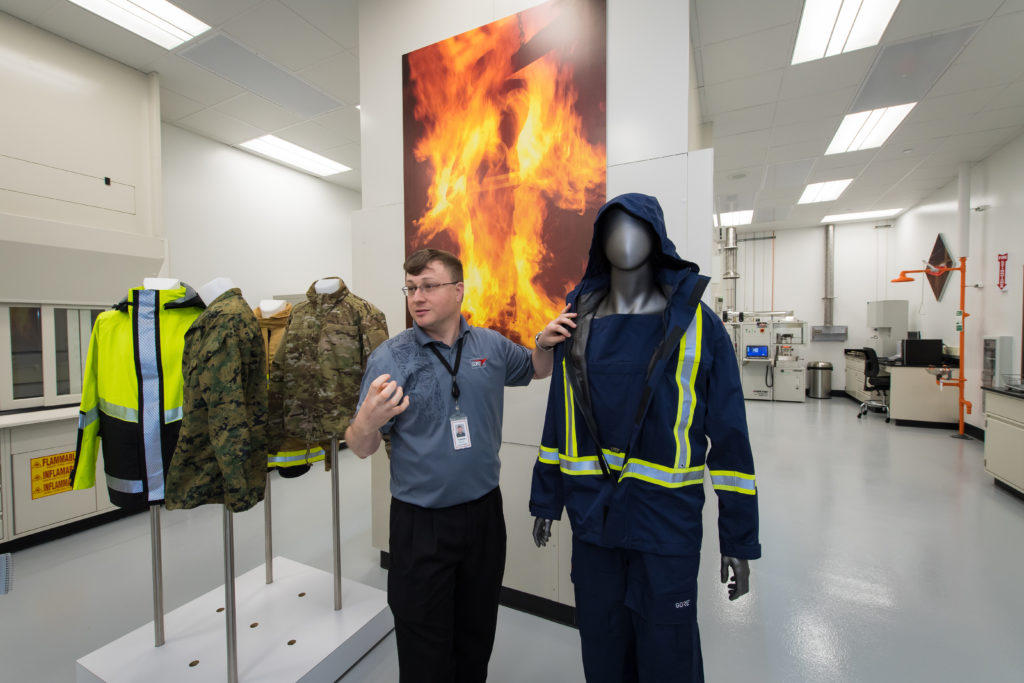 Only products that offer optimum protection and comfort during the demanding tests eventually make it to market. Because only if you can trust in the protection and performance of your clothing, can you keep your head clear to focus on the really important stuff.