High-Altitude Trekking through Nepal (Part 2)
Trekking through the Annapurna region of Nepal in the middle of the winter may seem like a bold choice. Believe us: it was worth it. The views were stunning and we had the trails all to ourselves. The second part of our two-week trek leads us from Muldai to the Annapurna Base Camp and then onward to Pothana.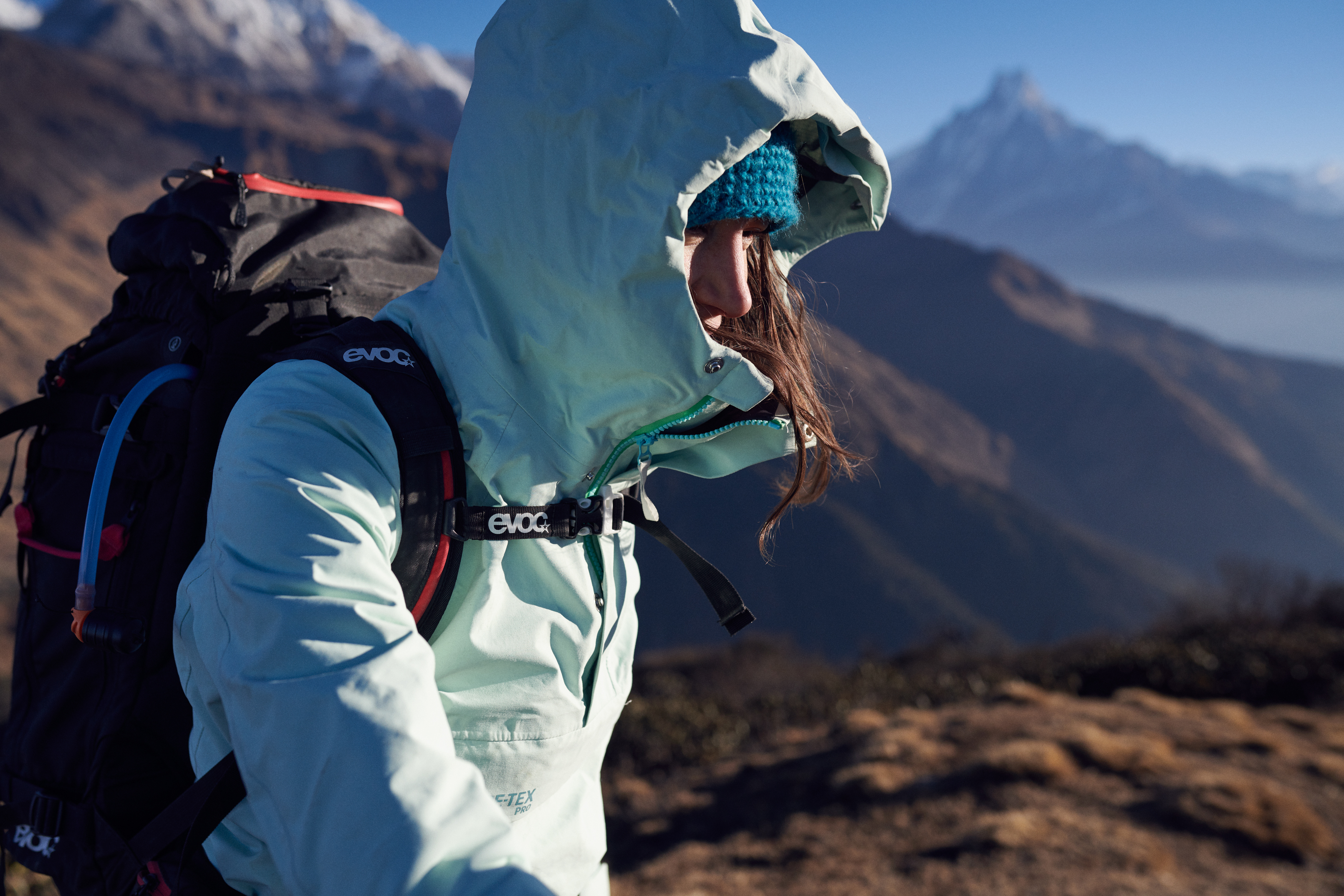 After a short but unforgettable night alone in the tent on the ridge of the Muldai Viewpoint, we begin the grueling climb to Wellblechcamp Hidden Paradise at 4,100 meters above sea level. The seven-hour stretch across the face of the cliff is physically demanding but affords stunning views across the sprawling valley. Few places are more remote than Hidden Paradise, perched above a sea of clouds. We have the huts all to ourselves. They are furnished with straw, and there is a simple kitchen with an open fireplace. It somehow feels like we've arrived in paradise. We end up spending two days at the camp to enjoy it. Then we hike to Hidden Lake, a sacred body of water for Buddhists. Our guide Podrom, a devout Buddhist, invites us to join him - barefoot - on a walk around the lake. We try our best to keep up with Podrom as we stumble across the ice-cold, jagged stones. It's a humbling moment we spend in awe of the sheer power of nature.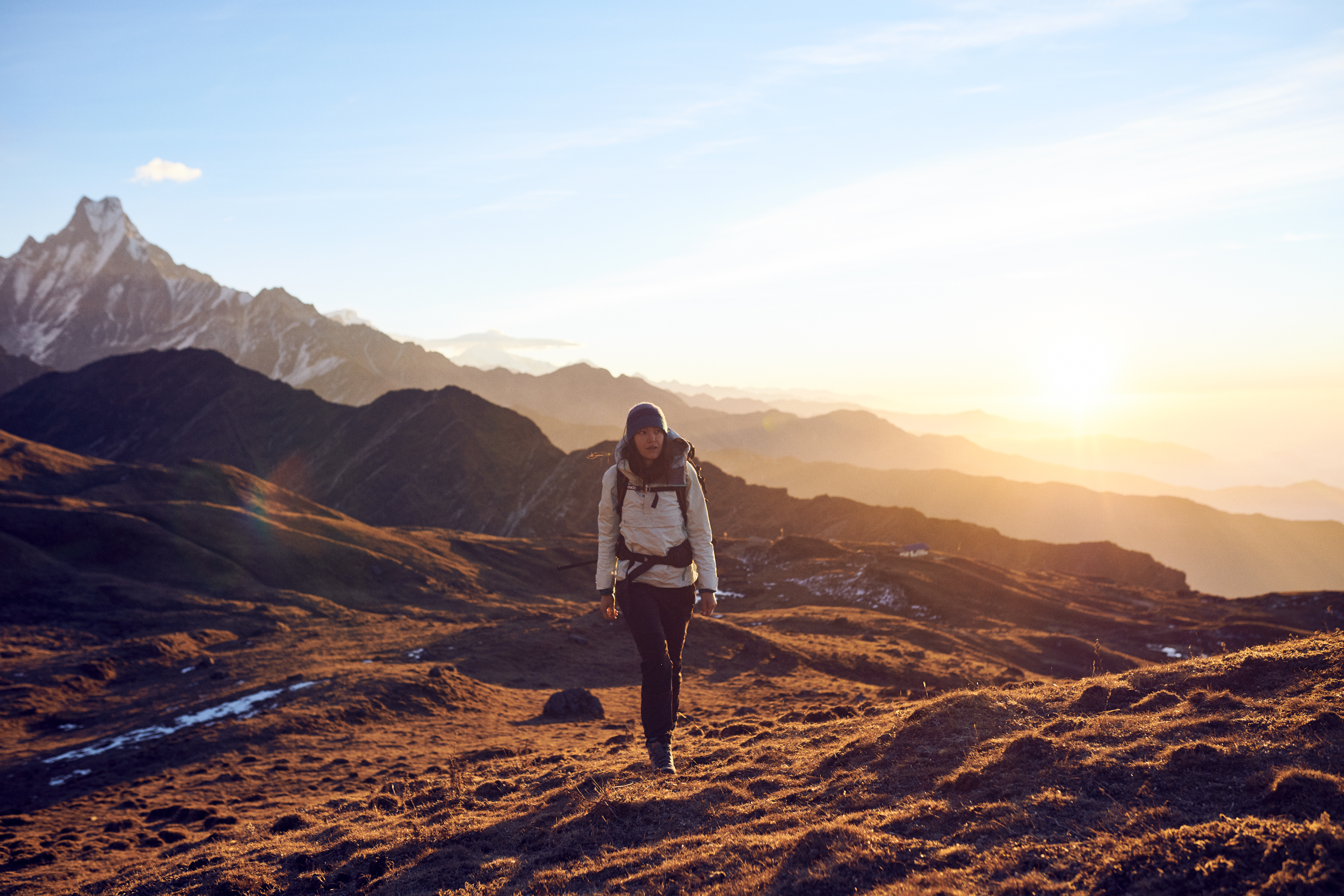 During the next stage of our trek, we'll be crossing two more ridges before descending to Chomrong. The weather on the ridges is so stormy that we can barely push on. We take refuge in the warmth of our windproof jackets. We can hardly believe what happens next. We stumble along what feels like a never-ending jumble of stone steps, climbing two thousand meters downward. By the time we reach Chomrong nearly eight hours later, we're nearly at our breaking point. But we're in for a treat after this treacherous descent: the first hot shower we've had in a week!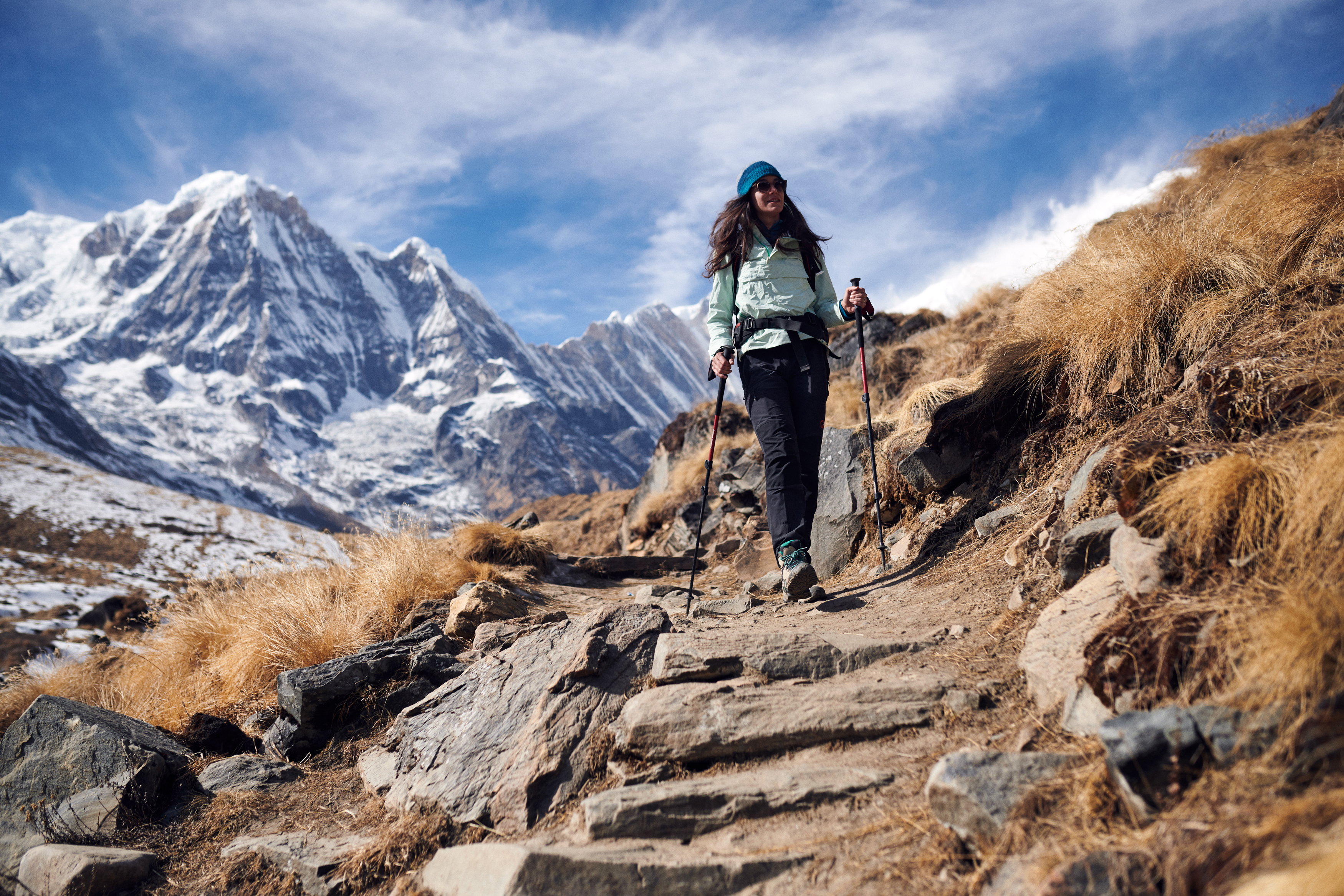 Now, we're ready to tackle the highest peaks. We take the path to Annapurna Base Camp in two stages, spending the night in the mountains. The trail leads us through a narrow, densely overgrown valley. For the first time, we encounter a legion of other tourists even though it's winter. Thankfully, there's still room for everyone in the lodge. During peak season, guests often have to sleep on the benches in the dining hall. The view from Annapurna Base Camp is absolutely spectacular. The camp is located in a massive cirque. Taking in the view, you see the base camp is surrounded by a ring of mountains over 7,000 meters high. Somehow they seem close enough to reach out and touch. We take pictures until our fingers go stiff from the cold, then retreat to our sleeping bags in the icy camp. We can hardly wait to leave the cold behind us when we set off the next morning. The water in our water bags freezes as we walk. We spend the night in Bamboo before continuing on to warm up in the hot springs at Jhinu Danda. The soak is our first moment of pure relaxation in weeks - without layer after layer of warm clothing or our trusty down sleeping bags.
In Pothana, our guide's family is waiting to greet us. We're in for a cooking lesson: we learn how to cook Nepal's national dishes, daal bhat and momos, before enjoying our guides' singing around the fire. To round out our journey, we feel it's time to give something back to this spectacular country. Since deforestation is a growing ecological crisis in Nepal, we help our guide plant saplings in their family's garden. At the foot of Machapuchare, a holy mountain where climbing is forbidden, we say goodbye to Annapurna. What have we taken away from it all? Trekking in the Annapurna region is definitely worthwhile, even in December and January. As long as you have the right clothing, you can easily protect yourself from the cold. Views of the mountains as clear as these are rare during peak season. It's just one of winter's gifts we're grateful for.