GORE-TEX Transalpine-Run –Stages 6 & 7
The last two stages of this year's Transalpine-Run: both body and mind have given plenty of hints as to why this run across the Alps packs something more than 'regular' ultra-marathons. Would our blogger Sebastian do it all again? The final sprint.
Stage 6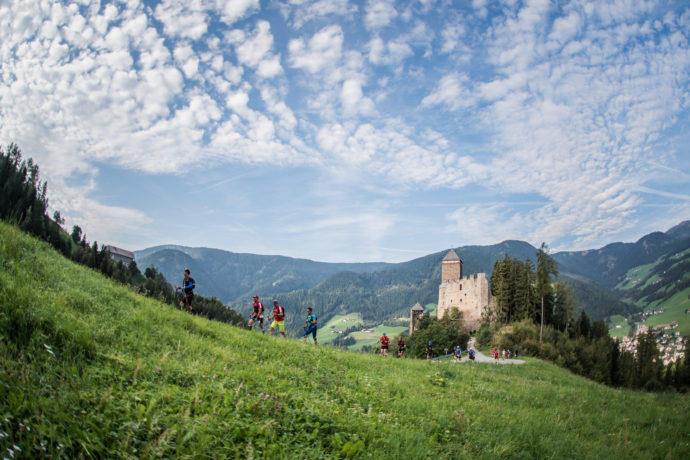 Surely you've heard of tunnel vision before, and that's what we seem to be stuck in right now, instead of giving it our all during one day and then crash, treating the body to a well-deserved restorative sleep. Looked at from the outside, the week-long Transalpine-Run is difficult to describe to others. When I phone my wife back in the 'real' world I don't really have that much to say. Compared to our everyday life back at home, our waking (and running!) hours don't amount to much, so here goes a brief peek into a typical Transalpine-Run day: The morning kicks off without fail with the alarm at the crack of dawn, we pack our running rucksack and travelling bag, have breakfast at a time when I normally can't literally stomach anything, head to the starting line, freeze in the predawn light, fill our water flasks, tinker about with various blisters, go through checking the equipment, and run off into the rising sun from our current location. The following hours are run against the backdrop of a wonderful Alpine landscape, and it takes us between 5 and 8 hours to cover a distance which, under normal circumstances, would fit nicely into an excursion of many days. Once we get to our destination, routine kicks in: shoes off, eat and drink, congratulate each other, and head into the shower. A pasta party is a recurring element in the evenings and we eat as much as we can, then comes the briefing on the following day's route, awarding the day's winning duo, and off to bed. I feel it's way too early to be in bed but I really need to sleep, for it's the same thing all over again come morning. I memorise the profile of the route of the following stage for what seems like the umpteenth time.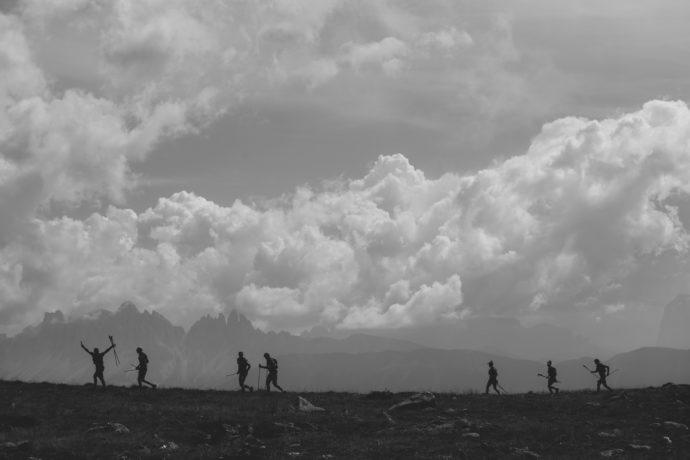 The sixth and penultimate day took us from St. Leonhard im Passeier to Sarntheim. One of the most beautiful routes of the whole week opened up in front of us, but a climb just short of 34 km and 2,440 metres elevation gain after five days are no walk in the park, no siree! Xiao Bin's eyes had threatened to pop out of their sockets upon seeing the picture of the final climb to the Hirzer Scharte (2,683 m) during the briefing. 'Oh, I will need my hands, hm?' To be honest, I was surprised at how easily he covered those 600 metres elevation gain of rubble – albeit with a cheeky bit of hand climbing during the last metres. He took on those Alpine conditions a lot better than he did during the third stage. South Tyrol is bursting with incredibly beautiful alte vie and the path wended its way across the mountains overlooking Meran to spit us unceremoniously out into the Sarntal. One day to go, just one day left! Team Bingo would really be able to count itself as a finisher – and as a randomly-cobbled team, to boot, in which both participants were first-time GORE-TEX Transalpine-Runners! (As an aside: we finally made it and landed a sweet spot in the overall top 100 ranking, while around 70 teams withdrew.) Stage 7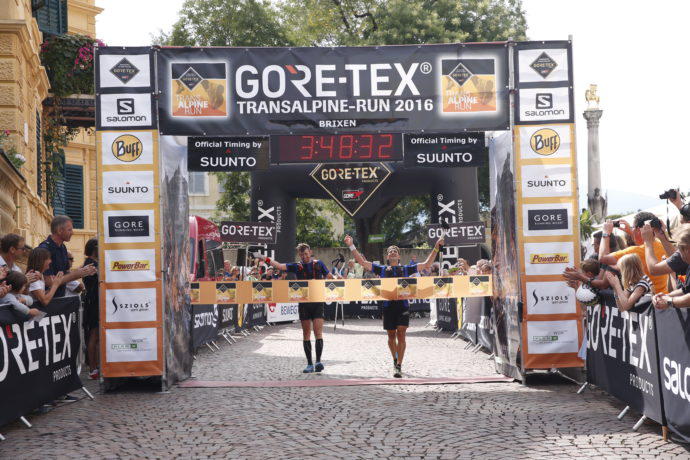 We woke up to good news: we'd 'avoid' 100 metres elevation gain as the route had been slightly changed for the afternoon due to storm warnings. So, instead of running right on the ridge of the trail, we'd be keeping a bit lower. Safety first. The 37 km stage from Sarntheim to Brixen had now been reduced to a 'pitiful' 1,800 metre elevation gain climb and a long and technical downhill of 2,300 metres elevation loss. The whole trail would have been – in theory! – feasible to run. In theory. But the mix of euphoria ('Nearly over!') and exhaustion ('What? Running? Again?') meant that it took us a while until our bodies got back into the swing of things. We tramped our way silently uphill with the help of our walking sticks and we only started enjoying it again after the second food and beverage stop at kilometre 16. The alta via with its view across the Dolomites was simply too beautiful for us to wallow in self-pity.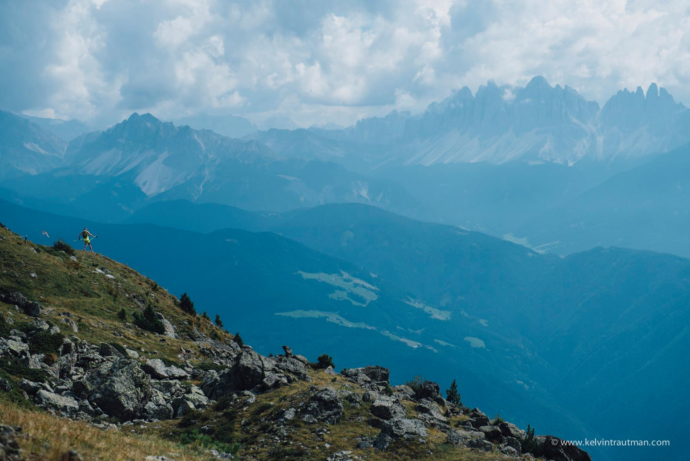 Speaking of self-pity: after forgetting to tape my feet against blisters, I was rewarded – Sod's law – by having to run with the blas- I mean blessed things for the whole TAR. I selected a pair of shoes that were a half-size larger than mine for the last day to spare my feet some agony. Which also meant they were a fraction longer, too. That half-centimetre difference was more than enough to trip me up after six days with relatively no problems, throwing me to the ground. I hadn't lifted my foot high enough, bumped into a rock and, unable to stop myself, crashed down: a bloodied shin bone, an only slightly bloodied chin thanks to the protective action of my beard, a broken stick, and a grazed stomach and thigh.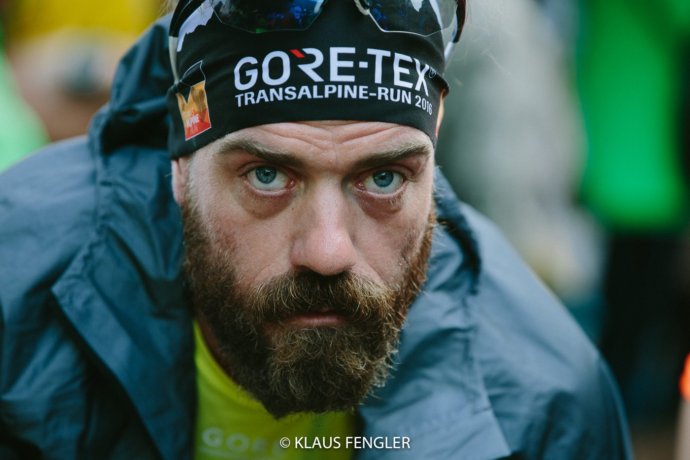 I should count my lucky stars, as a runner had banged his face on the rocks the day before, while mine hit the mud. I got away with a knocked-up stick and a bruised pride. The last downhill loomed, 1,800 m elevation loss, 10 km down the mountain. I gritted my teeth ignoring the throbbing thigh to reach the finish line safe and sound. The countdown started flashing on the screens from the last 5 km: 5 km to go, 4 km to go, 3 km... Xiao Bin and I finally acknowledged that we'd made it! Farms, churches, houses, we were in Brixen and actually mustered enough energy to sprint to the finish line – no clue how we actually did it, mind you.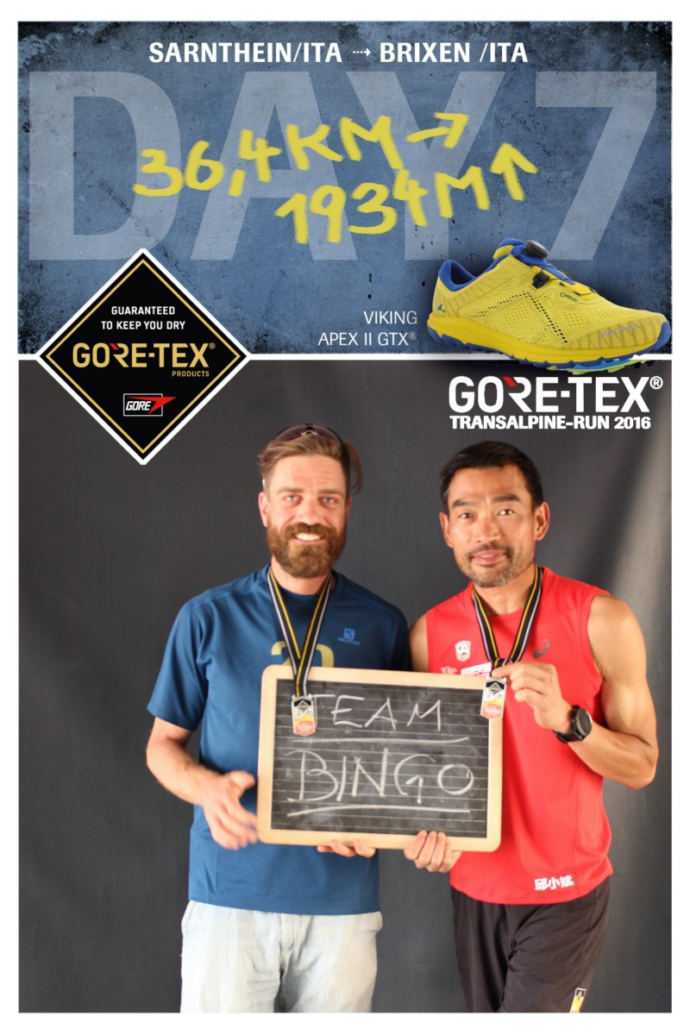 The end, finally over, a finisher medal around our necks, an actual beer, ice cream, embraces, happiness, congratulations, high fives, get those scratches disinfected, time to enjoy the Dolce Vita in Brixen. Oh, wait. Hold on. Does this mean I don't have to run tomorrow? Get the party started! Thanks, Xiao Bin! Thanks for this week, for this experience. All the best for your upcoming marathons all over the world and safe travels! PS: Would I do it all over again if I could? I really don't want to think about running at all right now, sitting at the desk, my swollen feet greeting me from the flip-flops I'm wearing (incidentally, the only shoes that will fit right now). Taking the dog out for a walk is more than enough, now and for the foreseeable future. Yet blisters heal quickly, and I'm starting to feel the first pangs of longing for my training round, just at the back of my home. A small voice at the back of my mind keeps whispering that maybe I should give it another go, with a well-oiled, trained team next time, to complete the run in the quickest possible time…