GORE-TEX Transalpine-Run –Stages 4 & 5
The GORE-TEX Transalpine Run leads trail running duos from all corners of the world across the Alps, from Garmisch-Partenkirchen in Germany to Brixen in Italy. Originally, blogger Sebastian Huber was meant to sprint off as a solo runner and not be part of the official ranking, yet he sprang in to support the now Sino-German 'Team Bingo' across the mountains as an actual competitor. We hope you enjoy his report on stages 4 and 5.
Stage 4 By car, the journey between Mandarfen in the Pitztal valley and Sölden in the Ötztal valley is just short of 83 km; on foot, however, the fourth stage of the Transalpine-Run is a mere 27 km! With 2,000 metres elevation gain. And a maximum altitude just shy of 3,000 m. Oh, and did I mention the glacier? A dastardly glacier hiding en route, ready to pounce on us. A walk in the park, am I right?
All these factors made the shortest stage of this year's GORE-TEX Transalpine-Run one of the hardest. We woke up to a chilly morning in Mandarfen at 1,700 m but soon enough the climb to the Rifflsee Lake at 600 m altitude presented us with some sunshine and a perfect running day: clear, blue skies, barely windy, blazing sun, and incomparable landscapes between the gigantic glaciers of the Pitztal and Ötztal.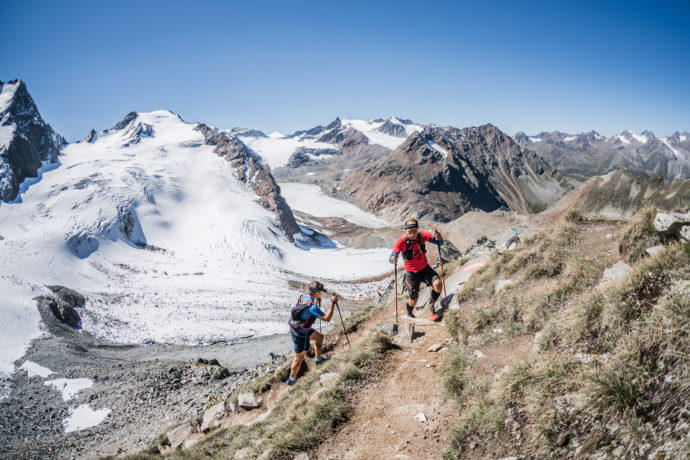 We circled the lake and enjoyed a downhill offering the most flow we'd come across in the last days, to then face the bitter pill of reality: a climb amounting to 1,300 metres elevation gain right up to Rettenbach Jöchl pass above the skiing carousel of Sölden. On that day, Xiao Bin didn't have to tackle any rope-secured challenges like in the previous day, yet the whole Alpine experience was a bit dodgy. Similarly to the previous days, I had a head start on the climb and waited for him at the Braunschweig Hut. I felt a bit out of place on this trail, traditionally reserved for hikers: picture me with my running shoes, shorts, T-shirt, and a small rucksack versus people walking past with mountain boots, trekking trousers, chequered shirts and 60L-rucksacks. One of the older gents insisted he share his beer with me until my partner arrived – not quite sure if it was meant to be a 'pity beer', due to my meagre equipment, or his gesture stemmed from genuine admiration.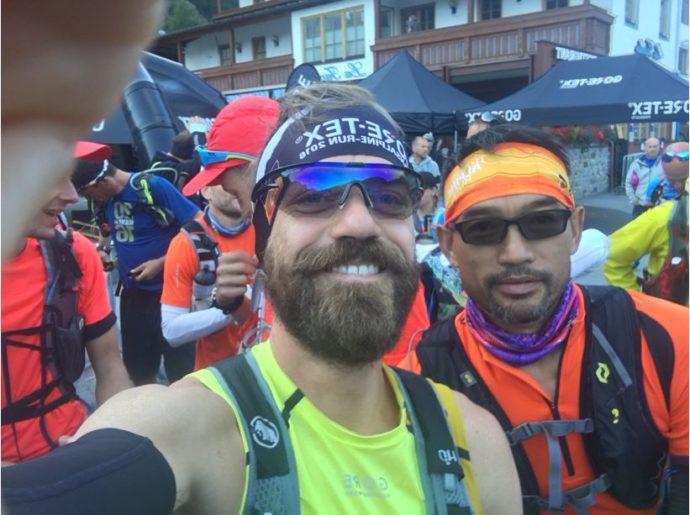 The hop ambrosia put a swing in my step (I mean, come on: every self-respecting athlete knows how many important minerals and vitamins the beverage contains!) and Xiao Bin and I tackled the last metres together until we reached 3,000 m, right before dipping down on the long trail to Sölden. The route partly winded its way across glaciers, a slippery situation if there ever was one, as the mats placed by the mountain rescue service were extremely slippery due to the previous night's fresh snowfall. We ran by the abandoned ski stadium of the World Cup Opening and then continued climbing on the 1,400 m elevation gain to Sölden. A whooping 24°C, welcome back, summer! No Après-Ski for us as we had to get ready for stage 5 the following day, taking us across the Timmelsjoch pass to Italy. PS: ski mountaineer and GORE® athlete Greg Hill had the honour of running a stage with us, albeit only part of it. Greg 'I'm no runner' Hill got a taste of the massive endeavour pretty quickly yet ran at a pace which would have placed him in the top 20 percentile (remember, he had not specifically trained for this)! Greg, see you in 2017! Stage 5 The last day in Austria started well and, before you know it, a shattered group of colourful athletes made their way to the starting line in Sölden and bounded towards Italy. Finally, a trail which ensured Team Bingo could keep a harmonious pace: never too steep for Xiao Bin, and it never became so flat on the 21-km-trail between Timmelsjoch and St. Leonhard im Passeier that I couldn't keep up with the Chinese marathon runner. We ran the last kilometres with a big grin plastered onto our faces, dashing across the South Tyrolean valleys, forests, and ravines until we reached our destination, greeted by a summery 30°C.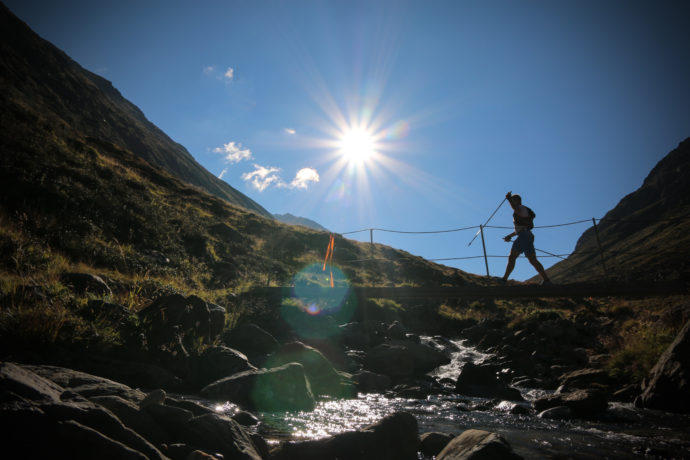 And even though ranking and timing are secondary when taking part in a race for the first time, we're really proud to have improved by 12 places in the overall ranking! 2 days, 70 km and just short of 4,400 metres elevation gain to go: finishing as a team is becoming more and more likely with every kilometre we conquer on the trail!