On July 5, 2018 the GORE-TEX #Athletecouch event took place for the third time in cooperation with ALPIN and Marmot.
On July 5, 2018 the GORE-TEX #Athletecouch event took place for the third time in cooperation with ALPIN and Marmot. The venue this time was the Volcanic Eifel, a mountainous region in Germany defined by its volcanic geological history. To be more precise, it was Kottenheim, a delightful small town 85 km south of Cologne where our winner, 24 year-old Jannik F., lives with his partner and climbing companion Christina, and their dog Costa. Their sofa is large, comfortable and yellow. It was GORE-TEX athlete Stefan Glowacz, a 53 year-old outdoor adventurer and long-time prominent figure in the international climbing scene, who was to take a seat on it. Early that same morning he had left Munich to set off on his longest ever expedition. On his way to Scotland, the first port of call on his expedition, Glowacz stopped off in Kottenheim to spend 4 hours with Jannik & Christina and their climbing friends Florian, Larissa, Simon and Bea.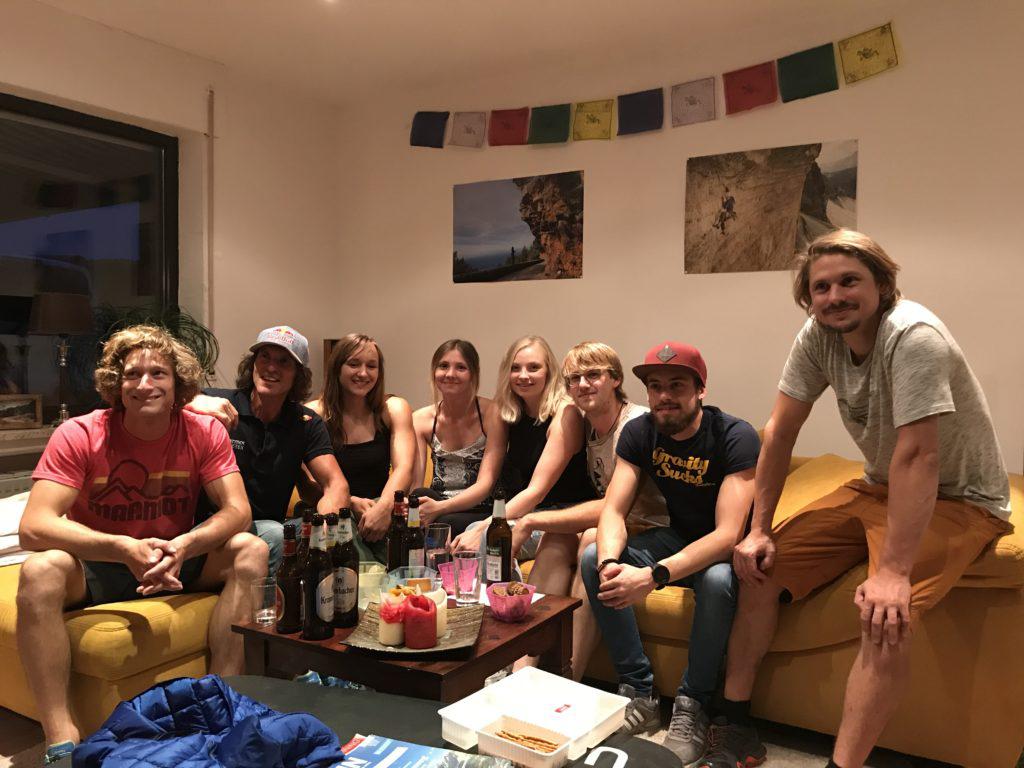 Jannik had just finished bouldering in a nearby indoor climbing centre when he read on Instagram about the #Athletecouch event with Glowacz and decided to put in an application. "It was all very spontaneous. I didn't for a moment think that I had a chance of winning, especially because I knew that Glowacz lives in Bavaria." So it came as a great surprise when he heard that he had won. "We were almost out of our minds with excitement. It meant that one of the legendary figures of climbing, Stefan Glowacz himself, was going to take a seat on our sofa!" Although Jannik only took up climbing four years ago, you can immediately see that he's passionate about his new sport and a most worthy winner: The tattoo on the calf of his left leg is of a climber hanging off the side of a rock face. Jannik has also had a figure-eight knot tattooed on the top of his right arm, as he says: "So that I never forget." To suit the occasion he's wearing a T-shirt printed with a cartoon drawn by German climber and cartoonist Eberhard Köpf, otherwise known as "Erbse", which incongruously translates as "pea". The living room walls are decorated with framed photographs: Jannik and Christina rock climbing, backcountry skiing, mountaineering, hiking, and on holiday. There's even a certificate congratulating them on their successful ascent of the famous Großglockner. While Christina sets about making sure there are enough cold drinks on the small terrace for everyone to help themselves, Jannik takes the opportunity to show everyone his pride and joy: a white VW T5! He converted it into a camper van himself because he "loves the simple life and his freedom."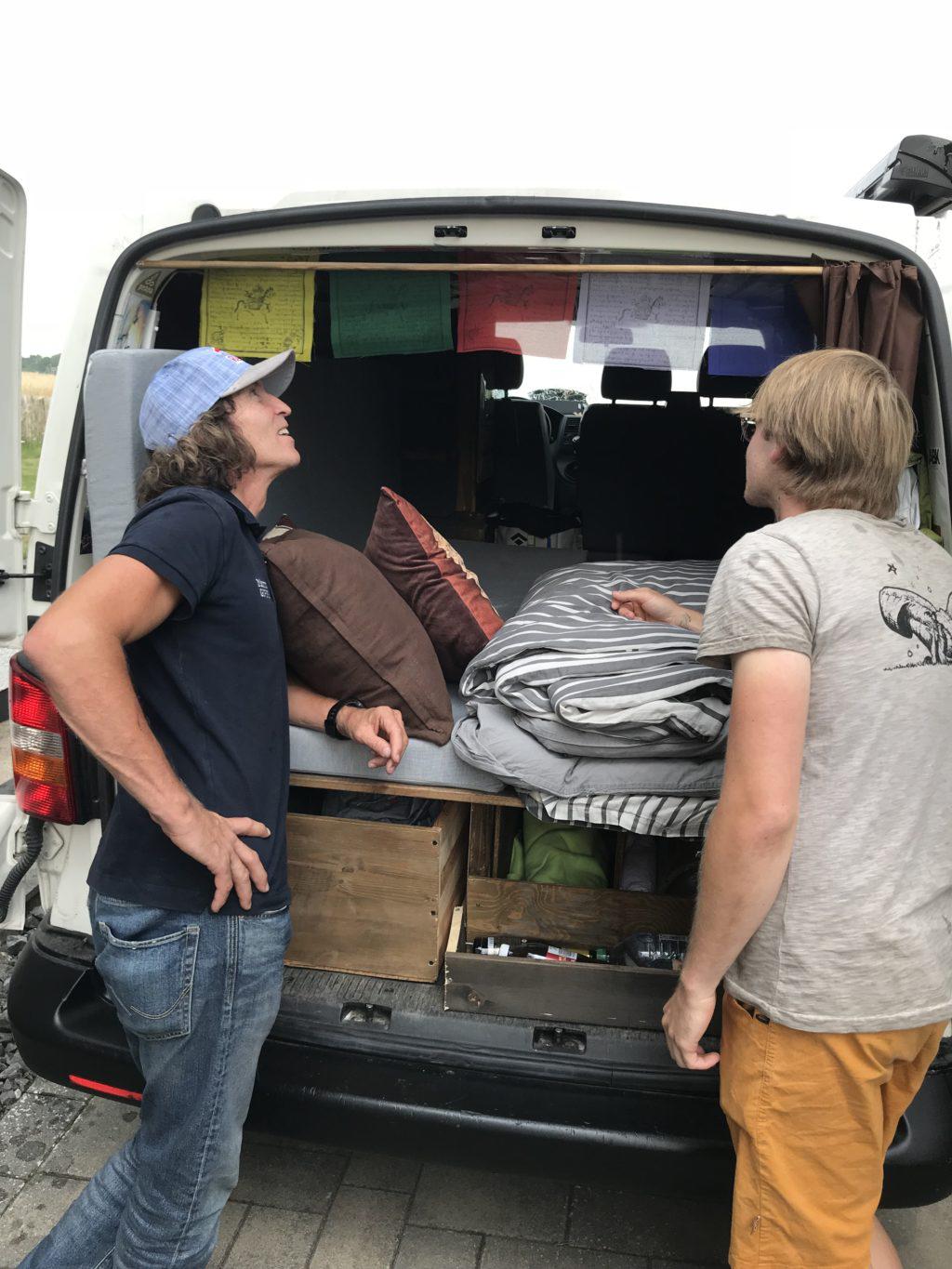 Before the "star" of the evening was due to arrive, there was still just enough time for the five minute drive to Kottenheim's local climbing area. The setting is almost mystical: sheltered woodland and a series of spectacular columns and other rock formations hidden away in a disused basalt quarry. It almost feels like you're in some kind of fairy-tale labyrinth. In Kottenheim and nearby Ettringen there are more than 2,500 routes graded 5 to 11 on the UIAA scale, making it one of the largest climbing areas outside the Alps. Jannik and his friends go to one or other of these climbing areas as often as they can: "Here, you can climb rock cracks, fissures and edges until your fingers are covered in blood."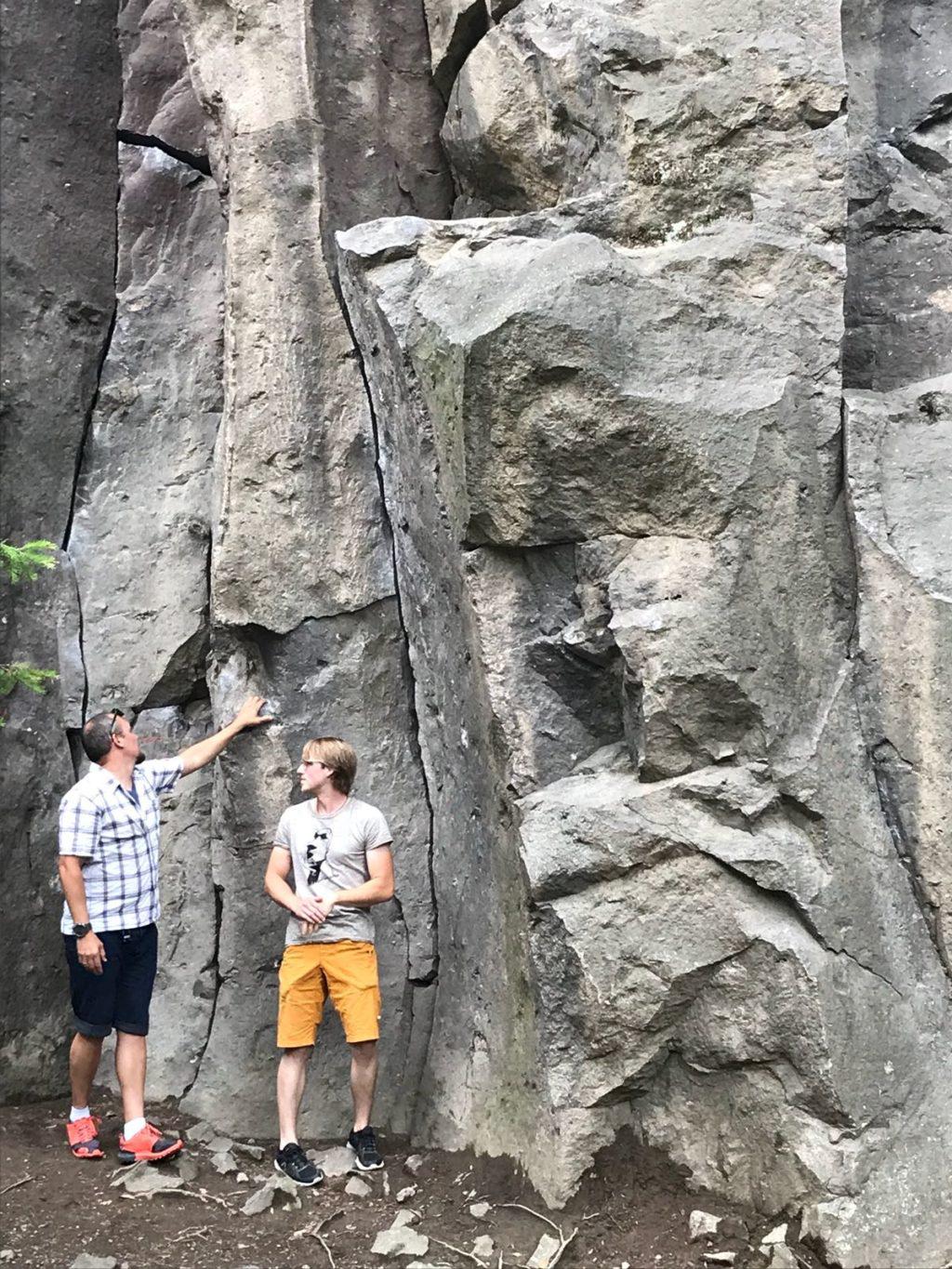 At about 6.30 pm Glowacz turns up in a relaxed and cheerful mood, despite the fact that, strictly speaking, he's in the middle of an expedition to Greenland. Straight away, he's bombarded with questions about it. However, by the time he has a beer in his hand, the conversation has moved on to how he manages to remain so incredibly motivated. After all, Stefan Glowacz has been a prominent figure in the international climbing scene for more than 30 years and over all these years the professional athlete's passion for the sport has continued undiminished. "My life is still very much dictated by climbing." Although, as he admits in this intimate atmosphere, at his age there's no way he can compete with today's top climbers: "When I was 40 that was something I didn't really want to admit. For a while, I trained even more obsessively. I'm now better able to accept that I'm getting older and my training regime is aimed more at maintaining my level of performance." He now also does yoga and gives his body far more time to regenerate after tough climbing sessions. Bea wants to know whether Glowacz ever feels homesick when he's away on a long expedition, whether he misses his adult children, born as triplets, from his first marriage, and how he and his wife Tanja cope with being apart for so long. "When the children were younger, being away from them was obviously far more difficult. As a family, we're now much more professional about the whole thing. Strictly speaking, climbing is my job. Tanja travels a lot for work, too. She's very independent and self-confident. We enjoy the considerable time that we do spend together and, although we are very close, we still give each other the freedom we need to do our own thing." Listening to Glowacz talking about the prospect of feeling seasick is actually rather amusing - for the rest of us. Glowacz will soon be leaving Scotland with skipper Wolf Kloss, and Thomas Ulrich and Philipp Hans, the other two members of the expedition team, on board the "Santa Maria", a 14-metre long steel yacht. The party will set sail for the west coast of Greenland and from there, without any external assistance, cross the Greenland ice sheet to the east coast where they will climb some of the finest big-wall rock routes. "I'm not looking forward to the long crossing at all. I speak from experience! In 1999 I went on a sailing expedition in Antarctica, also with Wolf Kloss. A ride on a roller coaster is nothing in comparison. I felt sick for days!" This time he'll be taking plenty of acupressure wristbands and whiskey on board with him. Who knows which is the best remedy!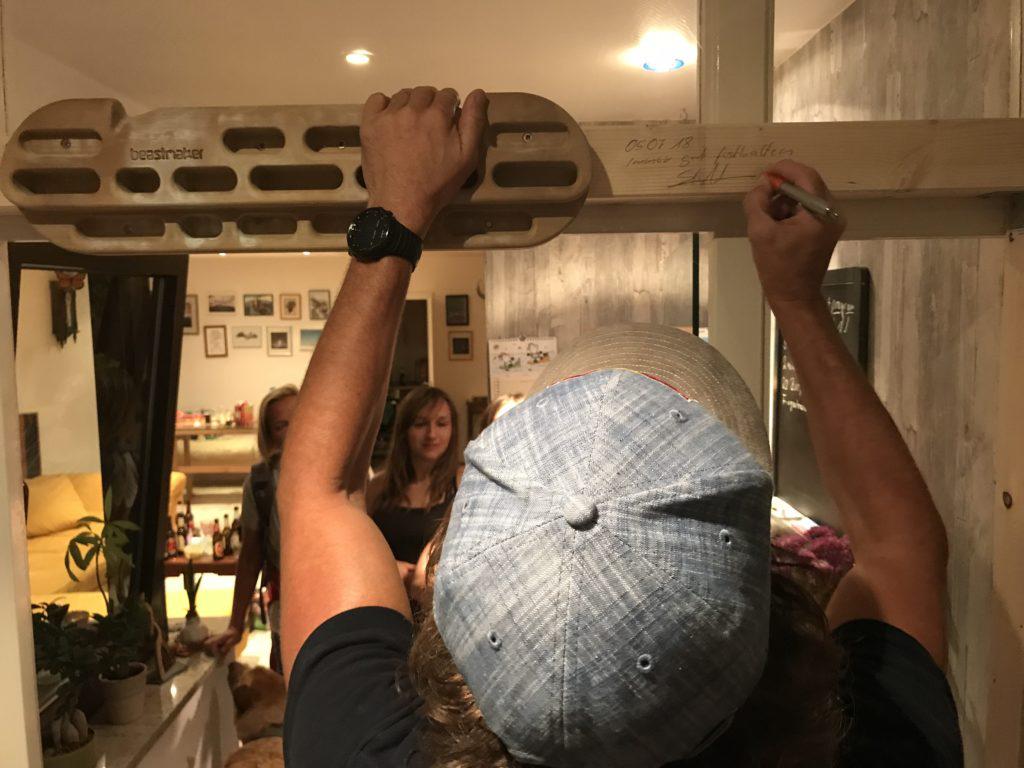 Jannik's climbing friends want to know who Glowacz' role models were in the early days. He needs no time to think about that answer: Wolfgang Güllich and Kurt Albert! Albert and Glowacz later became good friends. They even ended up going on various expeditions together. When Kurt Albert tragically died in 2010, Glowacz lost a close friend. He couldn't have had a better climbing partner. During the course of the evening it became clear that everyone was enjoying getting to know Glowacz as a very emotional, open and amiable person. At times it was even Glowacz who asked the questions. Who are your role models? What projects do you have lined up? Do you have any climbing holidays in the pipeline? But then, of course, the conversation returned to the Greenland expedition and its ultimate goal: Glowacz has not been able to resist the magnetic pull of a 1,300 m wall in a place called Scoresbysund, on the east coast of Greenland. The highlight of the expedition is to complete a first ascent of the wall with his Stuttgart-based climbing partner Philipp Hans. They've planned 10 days to perform the feat. What Jannik really wants to know is why Glowacz and his team choose to make it so difficult to get to their final destination: using an electric car, a sailing boat, crossing the ice sheet on foot, or with snowkites: "Doesn't that mean that when you get there, you're completely exhausted, totally drained of energy?" It might be a bit of a cliché, but the answer does in fact ring true for someone who has experienced so many adventures and done so much multitasking: "Because it really is the journey itself that is the reward. For us, it's about more than just the climbing, it's about the overall experience. Integrating different sports, sailing, snowkiting, ski touring, climbing, and different methods of transport, into one big adventure, that's what our adventures are all about." Simon says that when he thinks about how restless he gets when he doesn't find the time to go climbing for a couple of days, he wonders how Glowacz manages to stay fit for the big-wall ascent after spending all that time on the boat? "We take along a few simple but extremely effective pieces of equipment so that we can keep in training. One of these is a rope ladder. I can always find somewhere to hang that up, even on the Santa Maria." At about 11.00 pm Philipp Hans turns up in Jannik's living room. He's come to pick up Glowacz: the two expedition team members need to continue on their way to Calais. German television viewers will know the Hans brothers from the RTL sports entertainment show Ninja Warrior Germany. Like his brother Moritz, Philipp Hans is an exceptional climbing talent and, at the age of 24, about to set off on his first real expedition: "To tell you the truth, I've been secretly hoping for some time that Stefan might take me along with him on one of his expeditions. I'm really excited about what the next three months have in store for us."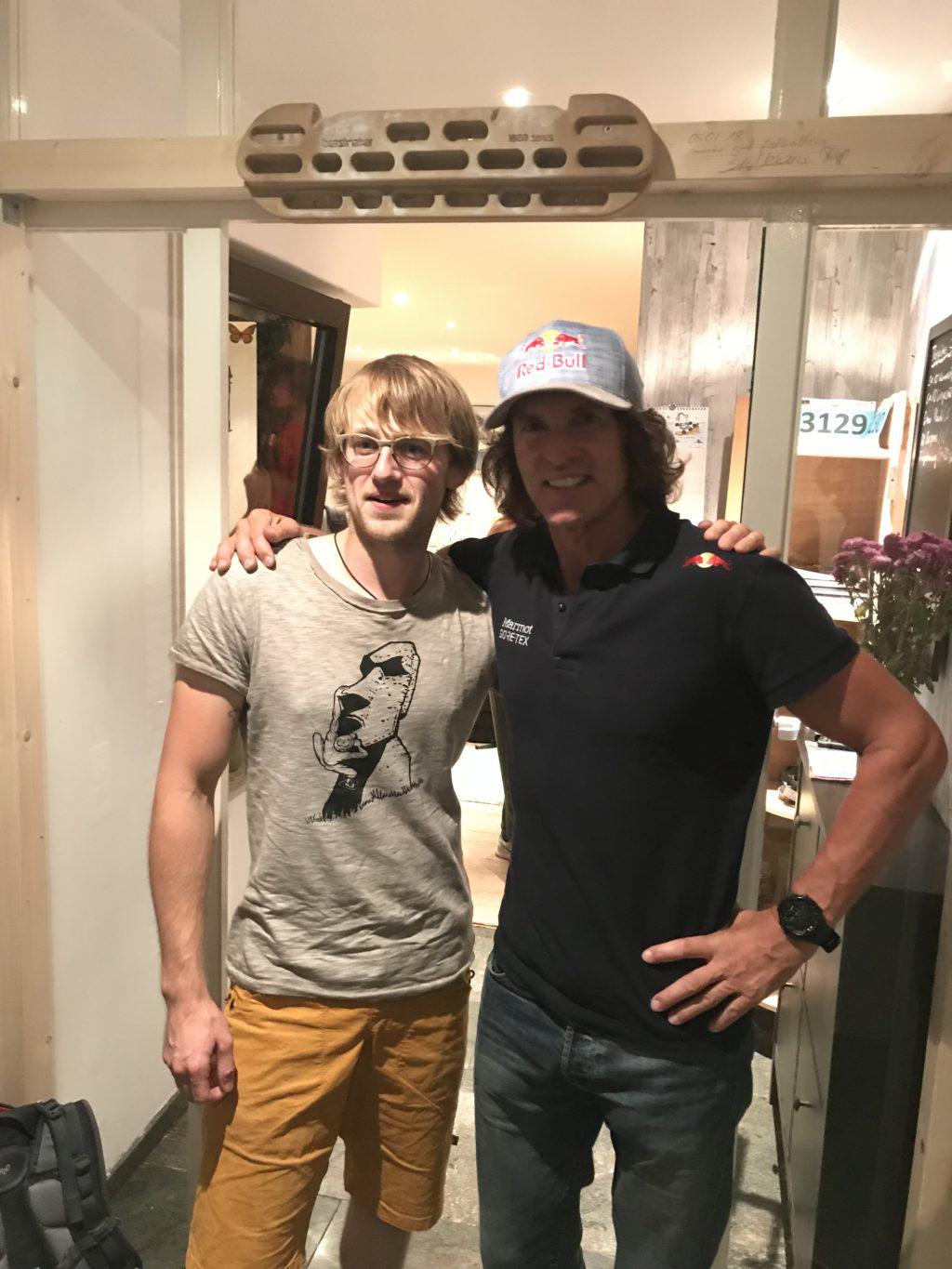 PS: The first 20 minutes of the four hour GORE-TEX Athlete's Couch event with Stefan Glowacz and Jannik was moderated by Andreas Erkens from the editorial team of German alpine sports magazine ALPIN and can still be viewed on the GORE-TEX Facebook page. Needless to say, the "GORE-TEX #Athletecouch" series is set to continue. Sports enthusiasts can look forward to an interesting evening in September 2018 with South Tyrolean trail runner Daniel Jung. More information to follow here soon. You can read more about the GORE-TEX #Athletecouch event with Stefan Glowacz on the website of our partner, German alpine sports magazine ALPIN, at http://www.alpin.de/home/news/25032/artikel_wirklich_da.html