The Eiger Nordwand products are the most recent outcome of this long-standing partnership – and state-of-the-art as always.
Extreme is always relative. However, climbing the Heckmair Route on the Eiger's North Face in 2h 28m, which Dani Arnold has done, can definitely be described as extreme. The Swiss-born athlete is an extreme climber and, like his climbing colleagues David Lama and Stephan Siegrist, extremely critical when it comes to his choice of equipment. Not because of his ego, but because only with top-quality, fully functional equipment can you achieve maximum performance. Also, in the kind of extreme situations that the three climbing athletes repeatedly encounter during their climbs, it can also be essential to their survival. For many years the three alpinists have placed their trust in Swiss mountain sports specialist Mammut, a company that is known for achieving notable milestones in the outdoor clothing sector. The latest Mammut Extreme Nordwand products are a prime example of one of these milestones. They are a direct result of the trust that Mammut places in its athletes and cooperation partners, collaborating closely with them during the development process. One of its most successful partnerships is probably the relationship it has built with Gore, the world's leading manufacturer of functional fabrics.
A long-standing relationship based on mutual trust
Founded as a rope making company in 1862 in Dintikon in Switzerland, mountain sports specialist Mammut has been working with Gore in the outerwear sector since 1988 and in the footwear sector for around ten years. "Both brands represent reliability, responsibility and quality. We have been working together for nearly 30 years. During this time we have built an open and constructive relationship and established a high level of trust between us. We have similar values which have been further reinforced by our success together in the outdoor segment," says Andreas Frei from Gore. "Gore is one of Mammut's most important partners. Especially when it comes to high performance products. In the areas of development and innovation we work very closely together," says Alfred Stoppacher, senior product manager apparel at Mammut Sports Group AG.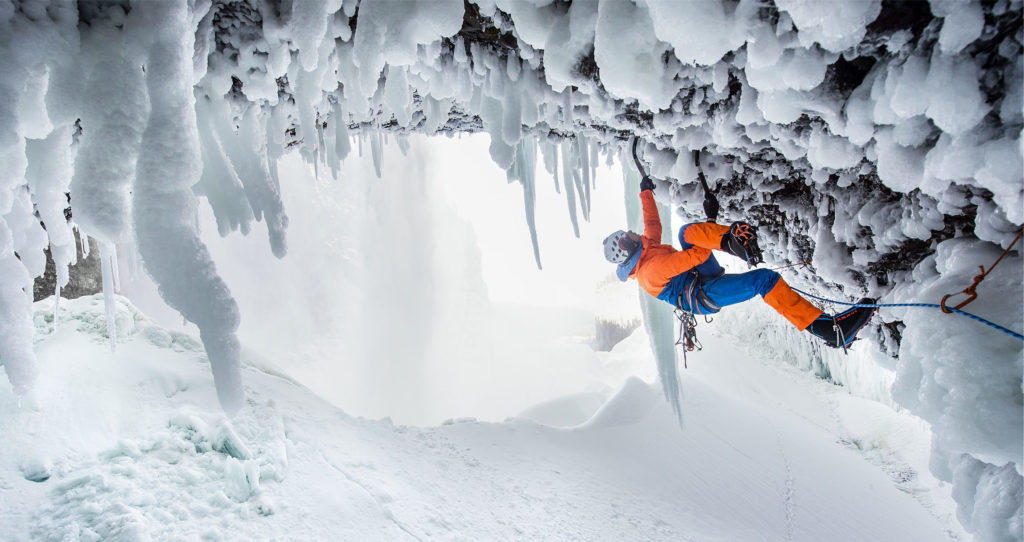 Technological advances
"Altitude" was the start of it all. That was the name that Mammut gave the first jackets and trousers made of GORE-TEX that it introduced to the marketplace. Since then many advances have been made in the field of functional fabrics. "Constant improvements have been made to the fabric components. The performance characteristics of the woven nylon fabrics used in today's garments are quite different to conventional knitted fabrics. The membranes have also gone through a transformation. Specifically built for use in GORE-TEX Pro garments, the ePTFE multilayer membrane delivers the best possible combination of exceptional breathability and extreme durability. The outer shell fabrics have become lighter while remaining just as rugged. At the same time, the cut, fit, production techniques, adhesives, zippers, etc. have also changed dramatically", Frei says. State of the art in terms of functionality and lightness, the most recent outcome of this extremely successful partnership is the fourth generation the Eiger Extreme Collection. Highlights of this alpine collection include the Nordwand Pro HS Suit, a one-piece construction ensuring uncompromising weather protection on ice and mixed routes, the extremely lightweight, fully crampon-compatible Nordwand Light Mid GTX Men and the Nordwand Pro HS Hooded Jacket Men.
Athletes who know what they want and need
What's the major challenge? "To redesign and enhance the already highly sophisticated products from the previous collection in terms of ergonomics, lightness and freedom of movement without ever neglecting weather protection, the core function. The entire collection was developed in close cooperation with the alpine athletes from our Mammut Pro Team and tested by them in extreme conditions until the products had been fully aligned to their needs with respect to weather protection, lightness, small pack size, ease of movement and breathability. Athletes assume that they can rely on their products for the full duration of their multiple week expeditions, expecting them to provide an optimum fit and protection from wind and rain so that they can concentrate fully on their activities and their alpine goals. Our development process results in exclusive technologies such as the sophisticated underarm gusset construction of the Mammut High Reach Technology. It prevents the jacket from riding up during climbing movements or when the wearer stretches upwards," explains Alfred Stoppacher. An additional high-tech feature of the Nordwand jackets is the "high visibility backer" developed exclusively by Gore for Mammut: The lining of the jacket is bright orange, so in the event of an emergency, and in poor visibility, the wearer will stand out in any alpine environment. Even if the outer shell of your jacket is a dark or neutral colour, it can quickly be reversed so that you can be found more easily. A great safety feature that you will hopefully never have to use.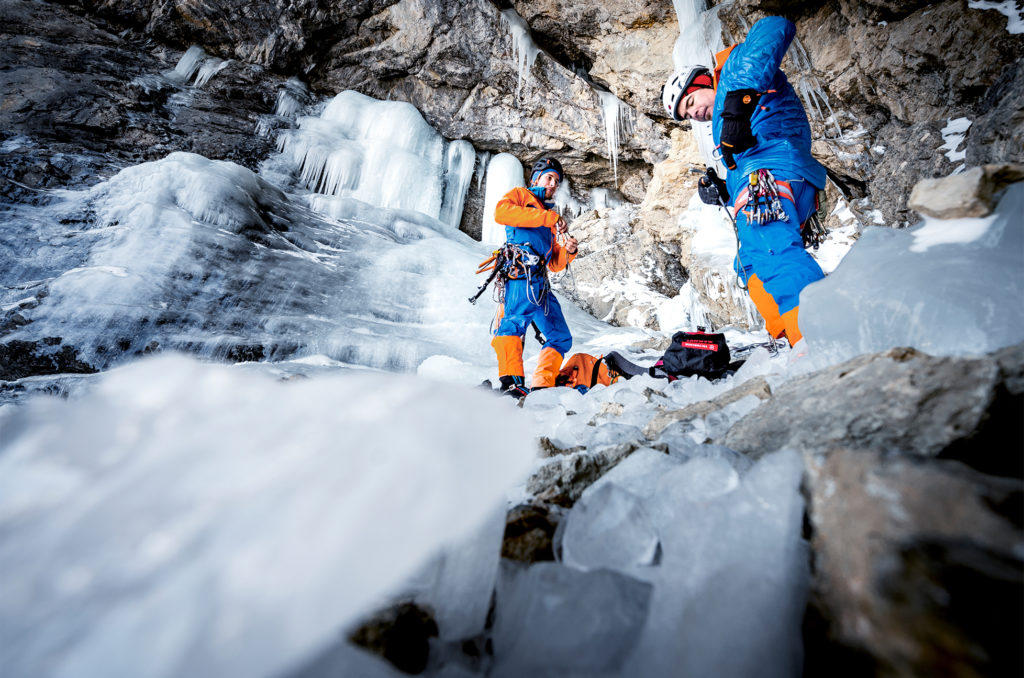 Essential details of the featured Mammut Nordwand products:
Mammut Nordwand Pro HS Suit Men The Nordwand Pro HS Suit is designed for the extreme alpine athlete: its one-piece construction eliminates the weak spot between jacket and trousers, making it the only product on the market to offer uncompromising weather protection from head to toe. Sizes: S-XL Weight: 790 g Colour: sunrise-ice RRP: €1,300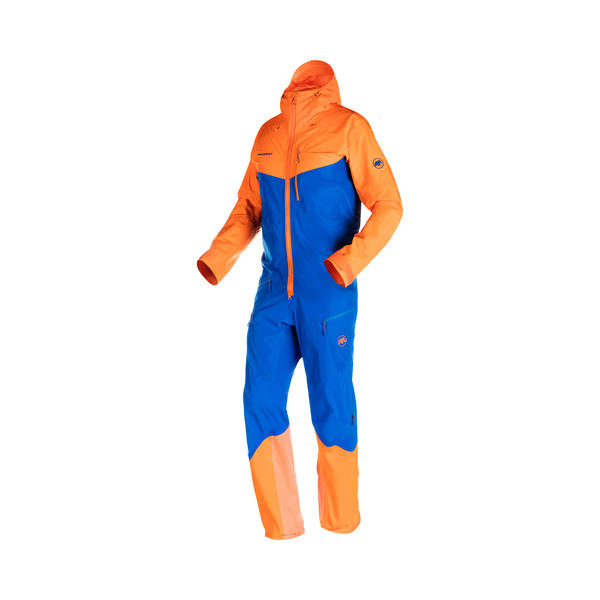 Mammut Nordwand Light Mid GTX Men The Nordwand Light Mid GTX Men features a board lasting construction and is the lightest fully crampon-compatible shoe in the Mammut range. Sizes: UK 6-11 Weight: 645 g (UK 8.5, per shoe) Colour: ice-black RRP: €390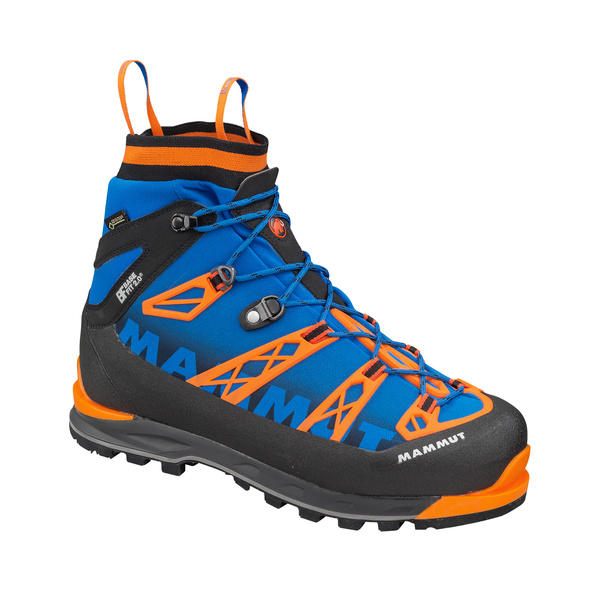 Nordwand Pro HS Hooded Jacket Men Made from GORE-TEX Pro material, this hard shell jacket for extreme alpinists is not only notable for its optimum fit, but also for its technical features The Nordwand Pro has a stormproof, vertically and horizontally adjustable, helmet-compatible hood that can also quickly and easily be adjusted with gloves. A clever material combination of robust, lightweight and elastic GORE TEX® Pro materials strikes the perfect balance between weather protection, freedom of movement and weight. Sizes: S - XXL Weight: 595 g Colour: ice, night, sunrise-ice RRP: €750