Every run is a mental journey
Interview with ultrarunner, book author and journalist Harald Bajohr
Harald, you just wrote a running book about what you call the "30 most spectacular runs in the world." How many of these 30 ultra trail events have you yourself run?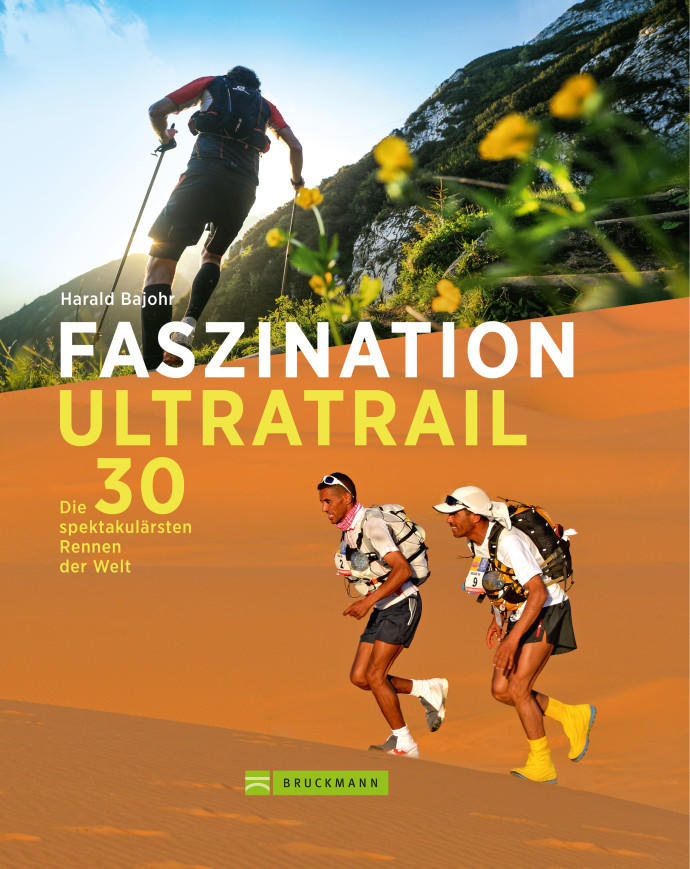 I have participated in nearly half of the events I describe – in fact, in some several times, such as the "Ultra Trail du Mont Blanc" (UTMB), the "Gore-Tex Transalpine Run" and the "Zugspitz Ultratrail". Until now, I have lacked the pocket change needed for the other events. That means in-depth research was demanded to be able to describe these events in detail. The in-depth descriptions were taken care of by talking to other ultrarunners and participants as well as with event organizers – and that also served to fire up my own personal fascination for ultra runs! I believe you are the only runner who has done both the UTMB and the GORE-TEX Transalpine Run in one year. There are in fact only eight days between the two. How did this come about? I was lucky enough to land a starting spot for the UTMB. Since these are so limited you simply don't ever give one up once you have it! At the same time, my partner Gritt and I firmed up our own wish to take on the GORE-TEX Transalpine Run one time together as a team. No sooner said than done. I of course couldn't really determine if a week of recover would actually be enough to be even halfway able to stand at the starting line again. The first two days were really a struggle. Then I "warmed up" again, and we found our rhythm. Of course, we hardly spoke to each other during the eight stages except such utterances like "gel", "drink", or "careful." Perhaps this nearly silent mutual understanding was the secret of our successful finish – an indescribable experience that also gives you more strength in emergency situations that occur in everyday life. You competed in your first GORE-TEX Transalpine Run in 2006 – and since then have run it five more times. What makes this event so special to you? The GORE-TEX Transalpine Run is simply a fascinating experience. When Uta Albrecht from the event agency Plan B convinced me to run in 2006, I had only a glimmer of an idea about running in the mountains. I also was a bit misfortunate with my then-running partner who was faster than I was and wasn't really a team player. I wanted to try it a second time with a more appropriate partner – and with more experience to have more fun. Then I was looking to do it with Gritt as well as with my best friend and my fascination with it just wouldn't let go of its grip on me. The intimate atmosphere during the entire run, the pain and pleasure on faces, the feeling of solidarity no matter what your religion or nationality, and of course also the concept of crossing the Alps on foot – you can only step away from it with difficulty. How would you describe yourself as a runner? Running is for me is an attitude toward life because every run is a mental journey. Other people do yoga for example. I however go running to reflect on myself. It's not about PBs or podium finishes. For me, it's about the experience outdoors, about experiences, about existential necessities. During a run – even more so on an ultra run – you get to know yourself best, you're reduced to the essentials of eating and drinking and of course walking. It's the most natural forward motion of humans. Of course I am motivated to reach the finish line, but it's the experiences along the way that make up life and imprint themselves on your soul. You have unforgettable moments that enrich your life. Before you became an ultra trail runner, you were a roadrunner. Do you also have a marathon PB? My marathon PB was run umpteen years ago in Frankfurt. I trained hard for it and did all the this and that you're supposed to, driving toward a 3-hour finish. But along the way I started asking myself why I was in fact torturing myself so much and I slowed down the pace. At the end, I hit 3 hours 17 minutes, which today would be a totally foreign dimension for me. As my real successes I count my team championship at the 24-hour run with USC Marburg, or my third AG finish in the German 24-hour championship. What was your best trail run? What in fact makes a good trail run?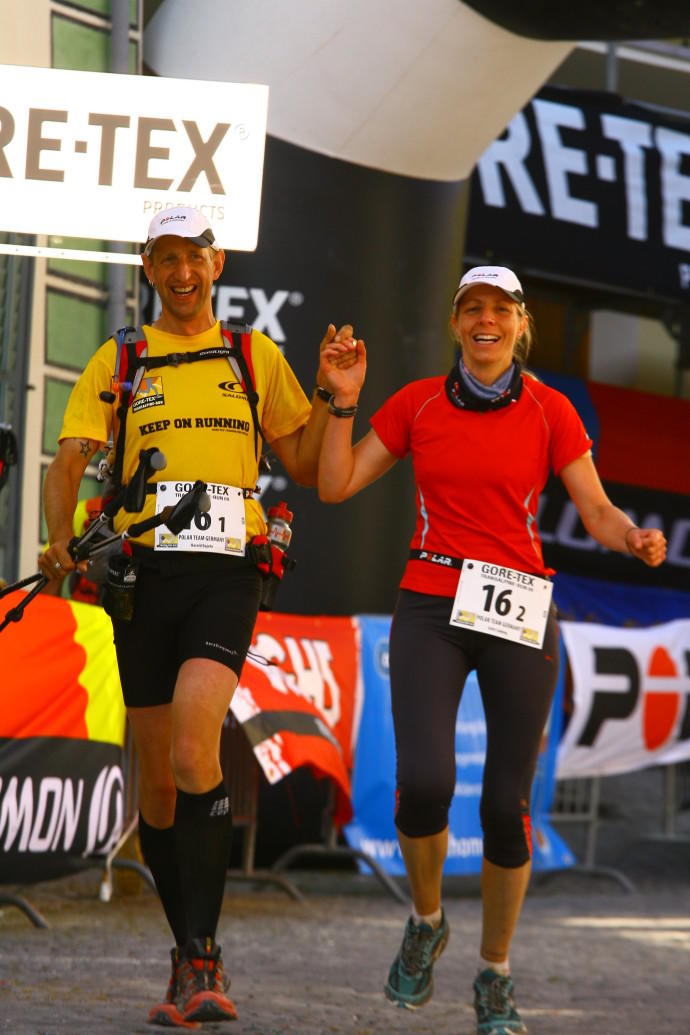 There isn't really a best trail run for me because every one is a very special experience. Of course, you can call out three runs: the GORE-TEX Transalpine Run because it is a team competition and that alone makes it very special, the UTMB with its unique atmosphere – at the start as well as at the finish in Chamonix and also during the race – and the "Tor des Geants" (Tour of Giants, in Italy) because with 300 kilometres in the mountains it counts among the longest and most difficult journey of self-discovery. What the three have in common is perfect organisation, an incomparable atmosphere, unique experiences in nature, as well as a feeling of solidarity among runners and all of the volunteers. You like to run very long and tough races. Is there a limit? Is this "longer, harder" thinking dangerous? It is about each person taking responsibility for him- or herself – regardless of the length of a route. Many people underestimate the demands of extreme ultra trail runs. Imagery in social media with running teddy bears or half-naked teams, like last year during reports about the GORE-TEX Transalpine Run, convey an innocent image that doesn't show what participants must actually accomplish. Most people are pushing the very limits of their physical and psychological beings. When you run 100 or more kilometres, and you add solitude, freezing nights, or sudden changes in weather, it's not about the running, but more about yourself and how you deal with occurrences outside of yourself. Most ultra trail runs assume experience in big mountains, and runners have to develop this over time. Every single person must be aware of the risks. Every one must be able to assess their strengths reasonably. One cannot take any shortcuts with gear and has to toe the starting line with thoughts of solidarity. And, instead of delusions of grandeur, one must have great humility and total respect of the vast open spaces, as well as recognise the power of Mother Nature. Only then can risks be properly assessed and only then are they more predictable. In the end, every sport lives in emotions, images and stories. Ultra trail running offers the complete and grand package when participants are aware of their responsibility.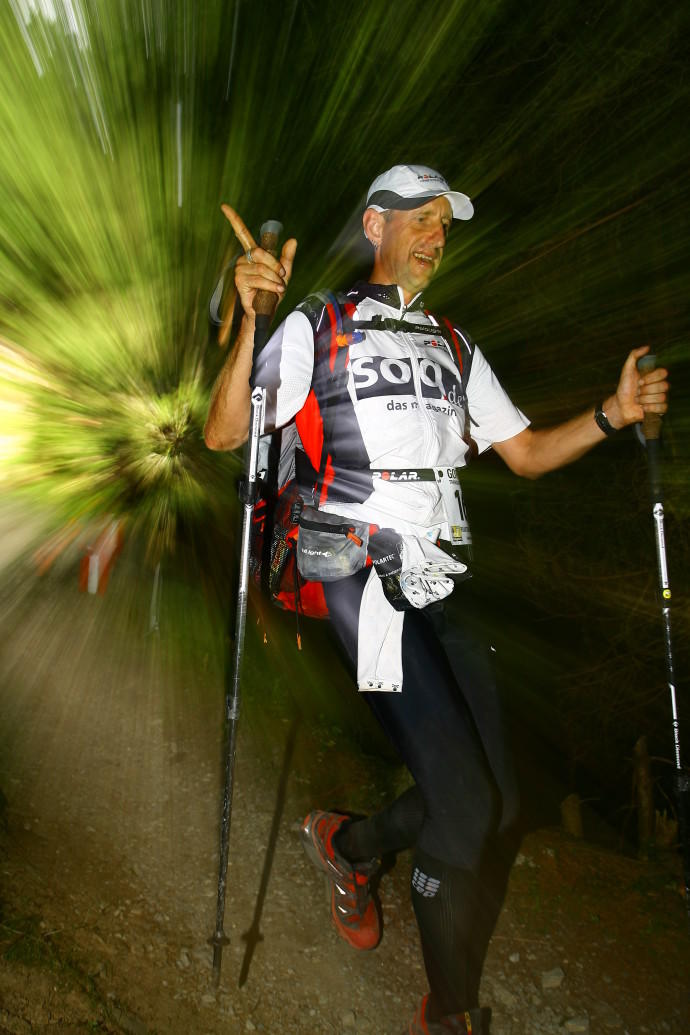 You aren't just a runner. In fact, you are also, and in fact perhaps primarily, a journalist with soq.de. Is trail running a sustainable trend – or more so just talked about in the industry and the media? Trail running re-infused the running world with energy and lent it a new vibrancy. The German road running world is very conservative, and it has hardly had any new developments in years. With trail running, you suddenly have colourful running shoes and flashy apparel dotting the running landscape. At the same time, many runners discovered new terrain and, with that, new goals and reinvigorated motivation. Trail running is not just a trend; it's an attitude toward life. The French and the Italians show us this par excellence. In Germany, there are a lot of triathlons and running clubs organizing road races and fun runs in order to make money, but the road to organising a trail run in Germany has a lot of hurdles – for example, from the management of protected lands and forests, or because of rights regulating private use. That means that professional event management organisation like perhaps Plan B deserve kudos for taking into account the needs of runners off-pavement. I also find it fantastic when the people involved tackle these hurdles and find the appropriate sponsorship that makes events such as the "Ultra Trail Lamer Winkel", the Keufelskopf Ultratrail", or the "Chiemgau 100" possible. I think trail running has slowly established itself in Germany and is attracting many runners, male and female. Media doesn't just have to talk about how great it is anymore. Trail running is great. What is your favourite trail running gear? I am a bit of a shoe and pack geek. In my opinion, there is not a perfect trail running shoe, nor is there a perfect trail running pack. At least I haven't found them. When it comes to the choice of shoes, it comes down to the length of the route and its condition. But it also depends on the weather and perhaps also on how you feel that day. Same thing is true of the ideal pack. In regard to these things, I don't think much of minimalism. That applies to clothing too. Of course, all of those secondary characteristics must be correct, but in first order it's all about safety when it comes to gear. Even on shorter excursions in the mountains, waterproof apparel is an absolute must-have. Gore is launching a new "Active Shell"…. Maybe that has the stuff to become a favourite piece.