The Arc'teryx Alpine Academy is rather like a vintage French red wine: it's rare and improves with age. Once again supported by GORE-TEX, the Canadian company invited eager-to-learn, aspirational mountaineering fans to join them in Chamonix at the beginning of July. Dozens of mountain guides and respected climbing professionals such as Robert Jasper showed the participants how to use a hammer, insert a cam and place their tools.
French red wine: legend has it that it is "superb". Nevertheless, if all you do is grab the first thing that catches your eye on the supermarket shelf, it might well be a little too tart and make you feel somewhat the worse for wear the next morning. To tell the difference between a bottle of plonk and a quality wine, it seems that you need to know what you're doing. Arc'teryx certainly knew what it was doing when it came to the latest edition of its now legendary Alpine Academy. The weather wasn't that great on the first day. However, by "beer o'clock" on the Friday afternoon, the participants were able to catch their first glimpse of what has made Chamonix so famous throughout the world: the magnificent mountain peaks that, covered in a golden glow, tower above the town, the Bossons Glacier that looks like a river of lava flowing towards the valley and, standing higher than anything else, the radiant summit of Mont Blanc.
Surrounded by this breathtaking scenery, that we were able to admire from the "Alpine Village" right in the middle of the town, not even a bottle of plonk could have spoilt the atmosphere. However, with the blonde and pale ales from local brewery MBC, Arc'teryx was leaving nothing to chance, not even the choice of drinks. These Canadians know what they're doing. Could it be because marketing manager Stéphane is French and knows only too well how difficult it is to pick a good local wine? Or perhaps it's just that he prefers beer. Whatever! But, one thing was for certain: the local beers brewed by MBC made sure that the relaxed and friendly atmosphere continued on into the night. "Tchin-tchin" or "à vôtre santé!"
GORE-TEX moments and trad climbing
In recent years we've talked a lot about the weather. The general rule was that it always rained during the Academy. It was forty years ago that Gore revolutionised the mountaineering scene with its waterproof and breathable laminates. At GORE-TEX events since then, people have sometimes been tempted to say that even the weather was "tailored" by Gore. The membrane specialist might be influential, but not that influential! So, it was more of a coincidence that the first day of the Academy was so very wet.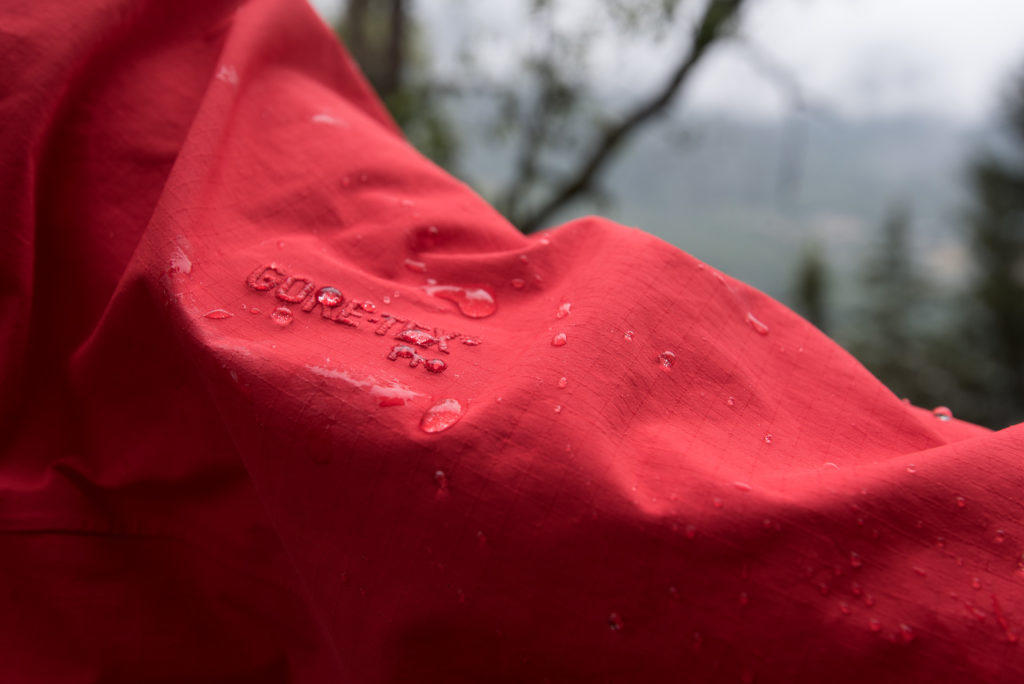 In the end, that was the only "GORE-TEX moment": From the Saturday on, the weather remained stable and the event took place in glorious sunshine. Although even on the Friday, the "Trad Climbing Clinic" hosted by GORE-TEX athlete Robert Jasper was lucky with the weather. The workshop seems to have been conducted in what happened to be the driest place in this part of the Alps. The participants were given the opportunity to do crack climbs up excellent routes through best quality gneiss using self-belay techniques. This workshop had been fully booked within ten minutes - as had all the others. After that, only two spots remained: to be raffled by GORE-TEX. Olena was one of the lucky winners. Demonstrating one of the most common mistakes climbers make when they insert a camming device into a crack, Robert said: "Don't push the cam too far into the crack." To settle their nerves, a lot of trad beginners (trad meaning "traditional climbing") jam their cams, or friends, too firmly and too deeply into the crack, making them virtually impossible to remove.
Even more experienced climbers will admit that trusting a piece of protection equipment that you have placed yourself is something quite different to clipping a quickdraw, or extender, onto a bolt anchor. The group was also able to watch professional climber Nina Caprez place "bomber" camming devices to nimbly scale a 6b grade crack. For the majority of the participants, this was a virtually impossible task, but they still had great fun giving it all they could.
Extensive alpine expertise
Robert also passed on his expertise at a well-attended seminar. Instead of having to struggle up a steep rock face, his audience was able to listen to his "Insights on modern expedition planning by fair means" in the comfortable surroundings of a seminar room. Perhaps that's the great appeal and value of the AAA: the way in which it combines theory with practice. In what other sport do you get the chance not only to meet the major international personalities but also to see them in action and listen to them passing on their tips? Robert Jasper is one of the world's best ice and mixed climbers. As a prominent figure in the scene, he has consistently set new standards. His pioneering performances include many extreme routes and first successful ascents in places like Patagonia, Baffin Island and, repeatedly, the Eiger. He has also taken mixed climbing to a whole new level. The first thing "Dr Eiger", as he is otherwise known, did after leaving the AAA was to set off on a solo expedition to Greenland. His "insights" may be a theory, but they also have to stand up to real-life situations. We wish him all the best in his kayak, as he crosses the ice sheet and on all his rock faces ascents - and look forward to him returning safe and sound.
Dry-tooling*: climbing rock with ice tools
Robert gently places the tip of the steel axe into a small pocket in an overhang. The forward pointing spike of the mono-point crampon makes scratching noises until it gets a placement on a narrow ledge. "This rock face is no good for sport climbing, the surface is too crumbly. That's why holes have been drilled into the rock face and marked. So actually, that's what makes it such a great place to practise dry-tooling," says Robert, as he demonstrates how to pull up on ice tools when climbing a wall. Change your grip, place your screw, bring up your foot, place the point in the next hole, hang your ice tool over your shoulder, clip your rope into the quickdraw, transfer your weight and watch out for your nose: you can easily smashed it if your tool slips.
The Saturday workshop audience also included two people who had struck lucky in the raffle. Jürgen and Daniel from Kärnten, Germany, had been a couple of minutes late in signing up for the AAA. So, they were all the more thrilled to discover that they had got a place through the GORE-TEX raffle. Although they are both experienced climbers, they found that the unfamiliar movements and continual strain on very specific muscles made their arms ache. Climbing a marked wall wearing a T-shirt, with a helmet on your head, crampons on your feet and holding ice tools in your hands certainly takes some getting used to. But, wasn't that exactly what all the participants wanted to experience: something new, something special. It was also rather fun to watch as participant after participant didn't have the strength to hang on any longer. Whereas their ice tool remained firmly in place, they fell exhausted into the safety of the rope. In addition to all the new information, these participants will certainly have gone home with sore muscles from the dry-tooling clinic.
Big days at the epicentre of mountain sports
While Chamonix is the undisputed capital of the mountaineering world, the Arc'teryx Alpine Academy is quite simply the best event of its kind, and for a few days at the beginning of July the epicentre of mountain sports. 410 participants from 28 different countries attended a total of 34 workshops where they were given guidance and instruction by 110 mountain guides and 33 professional athletes. GORE-TEX has good reason to be proud of having partnered this event for many years. The town of Chamonix and the local infrastructure are also an integral part of the Academy. Considering Chamonix' significance as a climbing and mountaineering centre, it was only fitting that almost as soon as the Academy had finished, a Climbing World Cup event took place there. Here too, we had reason to be pleased (and proud): GORE-TEX athlete Alex Megos took third place. We'd like to take this opportunity to congratulate Alex on his success and the Arc'teryx Team and all its supporters and participants on a great AAA 2018. We look forward to seeing everyone again next year! Incidentally, we never did answer that question about the best red wine. But what I do now know is that Kronenbourg isn't the only French beer!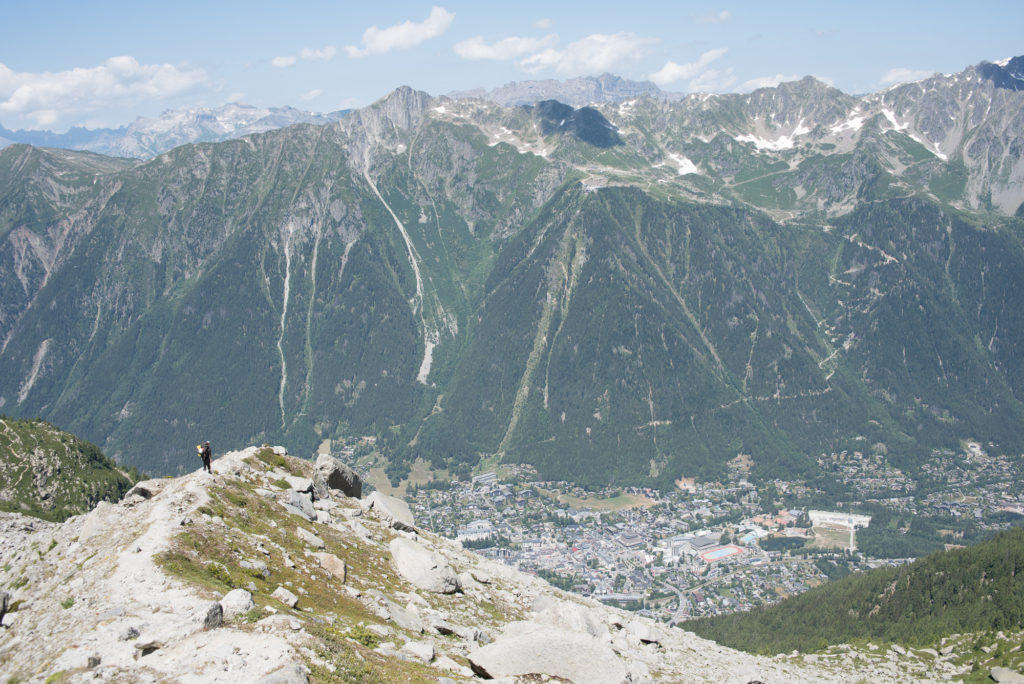 * Dry-tooling: climbing rock with ice tools, on a "dry" surface rather than on ice. "Tool" being short for "ice tool".↩