Tuition on top of Europe's highest peak: Tamara Lunger passes on lots of useful advice at the Arc'teryx Alpine Academy. Plus she learns a lot herself.
What a great place to learn: with a view of Mont Blanc, Mer de Glace, Aiguille du Midi and Brévent. This view was one of the main reasons why Arc'teryx decided to hold its Alpine Academy in Chamonix again. Their "pupils" couldn't want for more! The equivalent of the school playground and staff room were situated right in the centre of Chamonix, the capital of the mountaineering world, while classes took place some 3,000 metres higher up. We had asked GORE-TEX athlete Tamara Lunger to join us at the Academy to give our avid pupils a bit of extra help. She was also able to learn a lot for herself. "Art of Emotions" is all about a very different type of help: something that Tamara was to talk about at her presentation in Chamonix.
The new Academy looked quite the part. Located right in the middle of Chamonix in Place Balmat, it boasted a covered stage, information booths for its sponsors and partners, a Zlagboard contest, a bouldering wall and a Gore repair centre. The whole thing made quite an impression, having taken a decisive step away from a niche mountaineering event for committed alpine athletes towards being an event with broad appeal for anyone who happened to be in Chamonix and had an interest in mountain sports. So actually for everyone. This meant that the event was well attended with the stands attracting lots of interest. There was never a dull moment. The workshop held at the Gore stand (where participants were given the opportunity to sew small bags made of GORE-TEX laminates) was fully booked from beginning to end. More than 70 unique handmade bags left the stand with their proud owners.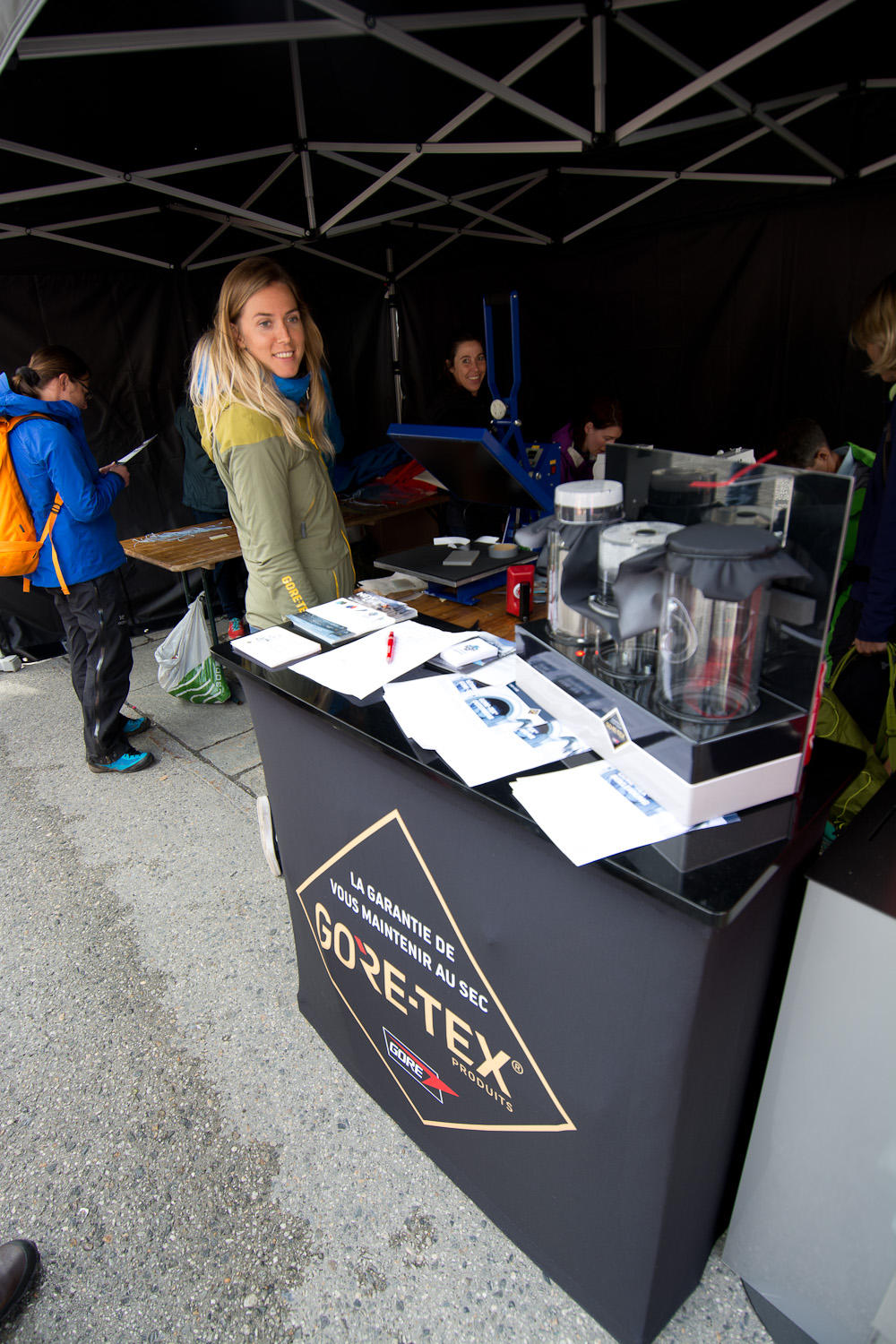 Let's talk about the weather
After a long period of good weather rain was forecast – as usual – for the Academy weekend. Merde! Zut! Mince alors! (We hope the author will be forgiven for choosing to practise his French). Not rain again! We had enough of that in 2016. This time it all turned out differently, which was a good thing. After several weeks of high temperatures, conditions on the glacier were not the best. August conditions in June, temperatures well above zero at an altitude of 4,500 metres and temperatures below freezing only to be found in the depths of outer space. In other words: rock fall, crevasses, areas of ice with no snow cover. So, not the best conditions for clinics and ski tours. In this respect, a spell of bad weather was exactly what was needed, bringing with it 20 cm of new snow.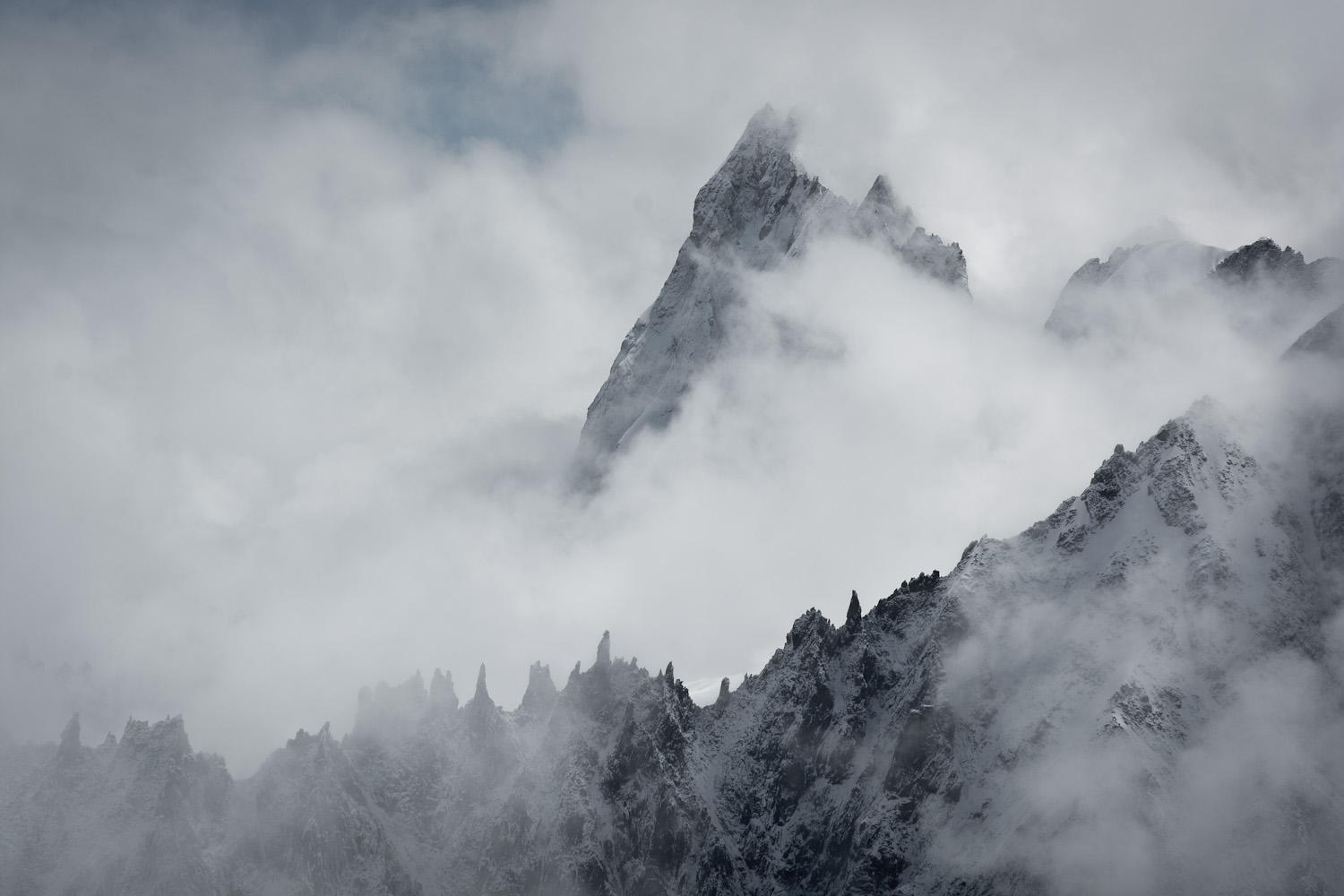 So much for the weather conditions during the Alpine Academy 2017. On each of the three event days some 70 clinics were held, all of which were conducted by mountain guides and world class athletes, including Tamara Lunger. The extremely amiable GORE-TEX athlete, who speaks German with a strong South Tyrol dialect, had been invited by Gore to attend the event to teach glacier skills. As the main sponsor of the event, Gore had been able to give away eight tickets for the AAA which, in fact, had long been sold out. In no time at all takers were found for all eight tickets. Alpine enthusiasts from Italy, Germany, Switzerland and Spain plus a lady from Hungary were given the opportunity to advance their alpine skills in clinics held by mountain guides and Tamara Lunger.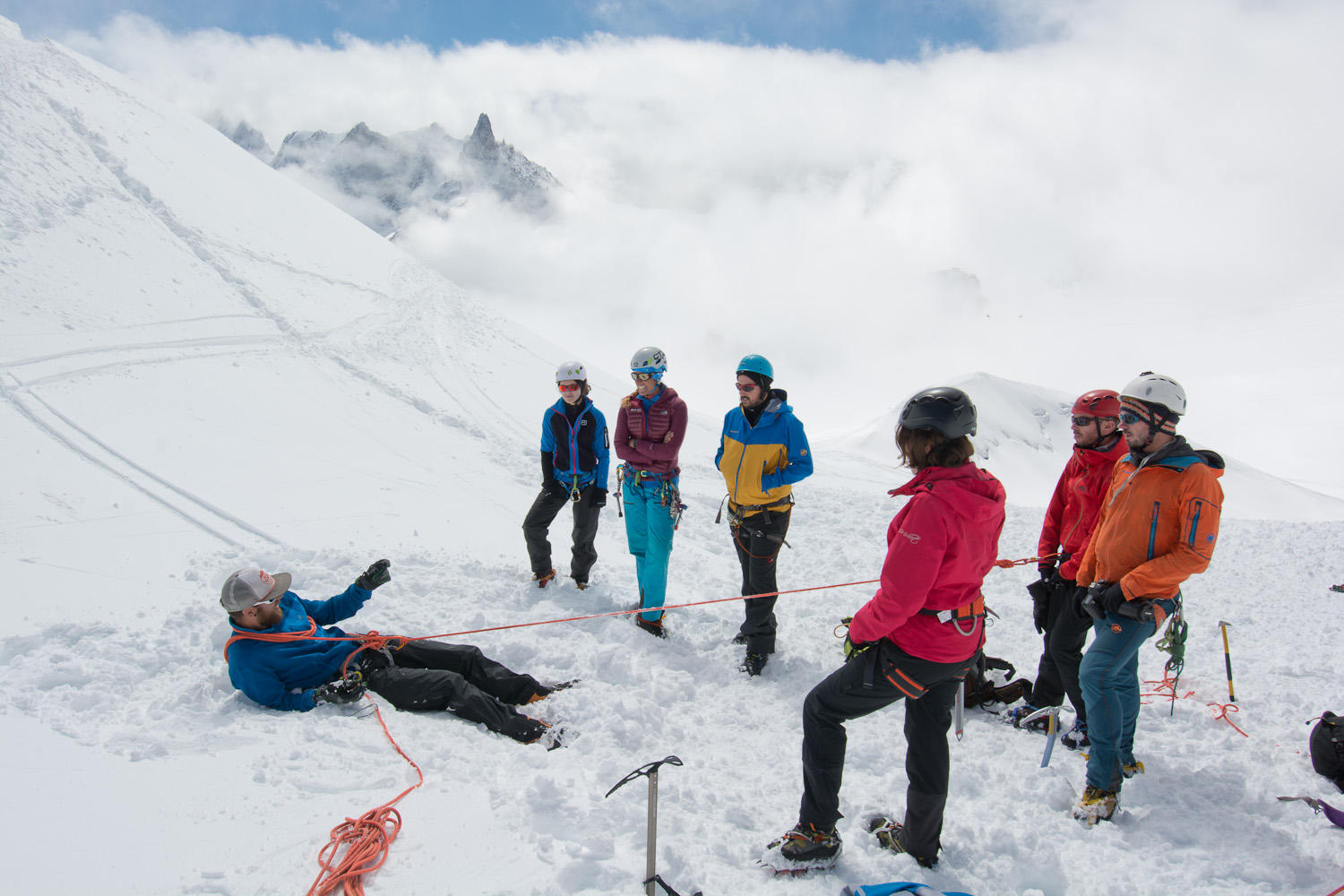 Advance your mountain skills
For alpine novices getting from the ladders of Montenvers down to the Mer de Glace (Sea of Ice) is a considerable challenge. The route is impressive and it is steep. The roped team was tied in by mountain guide Maël. They descended the 130 metre route to the glacier, down carved steps, cables and ladders. Every year this route becomes a few metres longer. Nevertheless, the Mer de Glace is ideal for beginners wanting to learn more about climbing on ice. Watching the clinic participants wielding their ice axes, it seemed surprising that there was anything left of the glacier at all. High up on the Aiguille du Midi things got more serious. "Oops, perhaps we should be putting the Prusik hitch under the "tie-in" to release the tension." Learning by doing: Max and Enrico were busy working on knots and a makeshift pulley in their attempt to "free" Tamara, who had thrown her full weight onto the rope, simulating falling into a crevasse. Sébastien, one of the more laid-back mountain guides, had all sorts of knots at the ready, all of which seem to be called "bowlines" yet looked different and were used for different things. "I really like that knot. I'll have to remember that one." It's never too late to learn, not even for someone as experienced as Tamara. "Old habits die hard: I always just use the ones I know. But it's still always interesting to learn something new," Tamara said. [gallery columns="5" size="full" ids="2582,2566,2567,2568,2569"] Then it was time for the descent: the woman who is otherwise used to climbing 8,000 metre peaks had to get back down from an altitude of 3,800 metres to Chamonix where she was scheduled to give a talk in the Alpine Village. From the plateau of the glacier to the cable car there is a 200 metre climb. When she gets into her stride Tamara is so fast that you can easily imagine the speed at which she competes in trail and ski touring races. I had to try as hard as I could to prevent her from pulling me along behind her with the rope. We strode purposely along the length of the ridge, passing the usual "traffic jam" of roped teams. Soon afterwards we were floating effortlessly through the clouds, down into the valley. [gallery columns="4" size="full" ids="2572,2573,2575,2574"]
"Help me to help them"
A month ago Tamara was on an expedition to Kangchenjunga, the world's third highest peak. Alpine Academy participants were the first to see her images of "Kantsch". They were also able to see the drawings that artist Roberto Meli had done based on telephone calls from base camp. At 5.00 pm the majority of the Academy participants were back from their day in the mountains and the Alpine Village full of happy faces. Tamara's talk and the drawings are all part of a charity project that she is passionate about: "There are so many people in Nepal who in an emergency have no access to help because they can't afford a helicopter. We can do something to improve this situation. [gallery columns="2" size="full" ids="2577,2583"] I have known Friends of Nepal for a long time and I know that the money we donate really is used for the people in need." There's even a good incentive to donate, even small amounts of money: every euro donated will be entered into a virtual raffle. The prizes are Roberto Meli's 14 original drawings. The campaign will run for the next few weeks. Afterwards, Gore will double the total amount collected – so that we mountaineers can give something back to Nepal, the country that means so much to Tamara and many other travellers. Arc'teryx, GORE-TEX, Tamara Lunger: a fun combination – especially when they meet in Chamonix. Hopefully, they'll meet again next year!