Alpine ski tours in the spring: gear tips from a pro
Have a hankering to head out into the high mountains? Then get going! In the spring is when you find some of the best times to dare to take on higher-altitude destinations and to enjoy a few sweeping turns in the white stuff..
An Alpine tour demands good preparation that takes time. Physical fitness as well as technical ability on rock, ice and snow must all be in place just as a detailed tour plan also must be. When it comes to gear, this is nothing like what's needed for a normal Sunday outdoor outing. In addition to functional hardware (take a look at our checklist, below), proper apparel is also essential for an enjoyable Alpine ski tour. Mountain guide Patrick Jost offers a few tips so you are geared up for anything on an Alpine ski tour: The tried-and-trusted layering principle will take care of you on any Alpine tour. To do it right, think about having four functional apparel layers that can be taken off or pulled on as needed: 1. Base layer: The first layer directly on your skin plays a particularly key role during intense, sweaty, physical activity such as on an ascent. It must be able to quickly wick away sweat from your body so as to protect you from dangerous evaporative cooling. Functional base layers are available in many varieties. Simply choose what suits your tastes best. 2. Mid-layer: There is a wide variety here to choose from including WINDSTOPPER® or any number of fleece, merino wool or fibre blend pullovers or jackets. Many may think that a base layer and mid-layer is plenty when it's cold or you're in a hut. That could be true as long as you're moving and your own body is producing heat. During tours, especially up in the cold on mountains such as Mont Blanc where your tempo may mean you don't sweat or get heated up, it can get very cold very fast. Being cold makes you expend extra energy. 3. Insulating layer: If you aren't sweating, the body doesn't heat up – e.g. on the summit, in a hut, in a bivy sack, or simply when it's very cold and you're moving more slowly. In these cases, an additional warm, insulating layer is a must. The first choice here is a jacket with down or synthetic fibres. Both are available in different weights and styles for various temperature ranges. Synthetic fibres have an advantage here in that they continue to insulate when it's wet. Down often clumps up and then doesn't provide the proper insulation. For winter ski tours or for high Alpine tours, you should have a good synthetic fibre jacket with you. If you get cold, at some point then everything just stops working.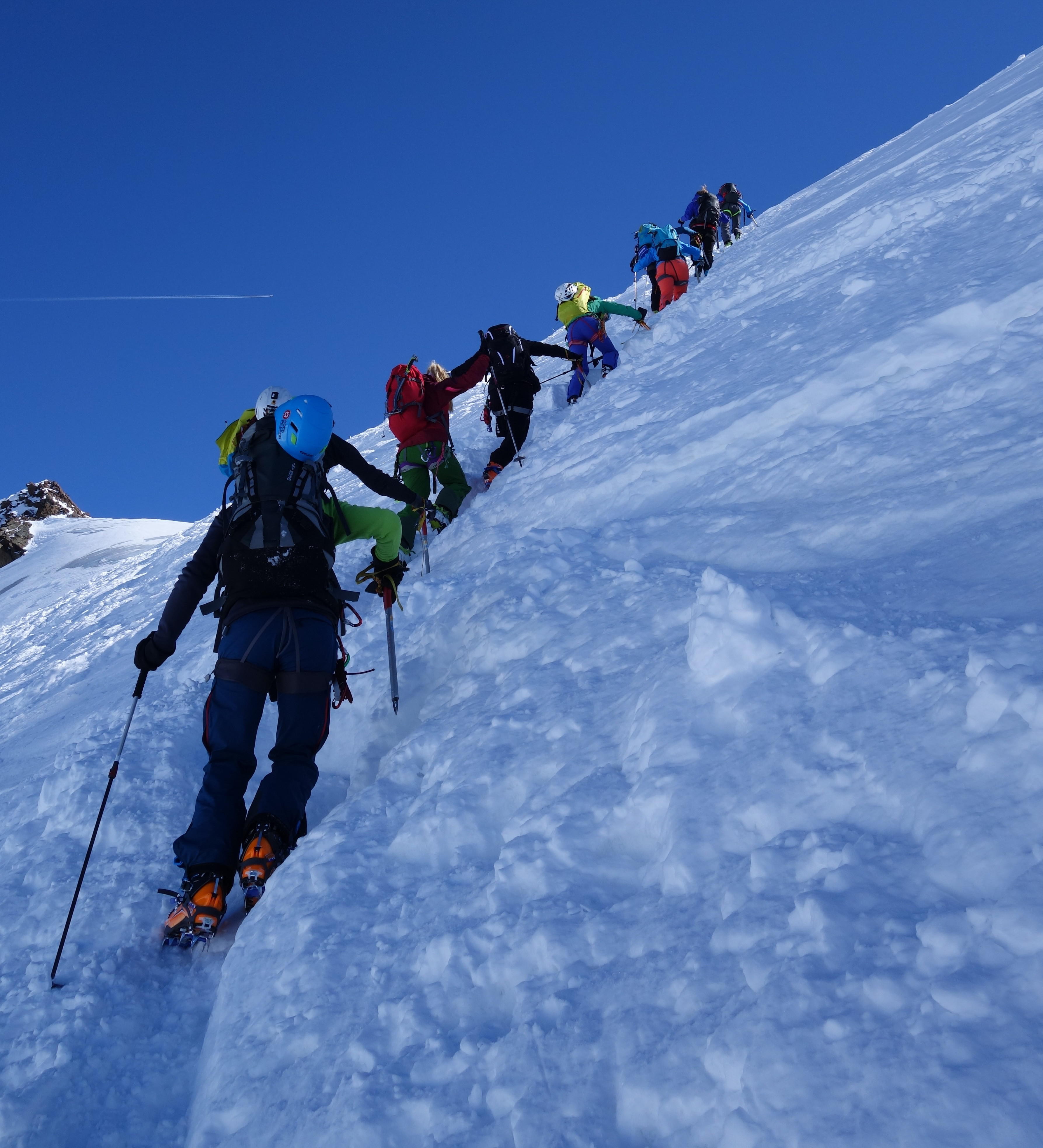 4. Weather-protective layer: An absolute necessity for any winter Alpine tour is a highly functional weather-protective layer, including jacket and pants, meaning breathable and wind- and waterproof, such as products with GORE-TEX technology. On the summit, there is often a strong wind blowing, and you have to prepare for wet conditions such as snow or, at lower altitudes in the spring, for rain even. This layer must however be breathable so sweat on the inside can escape and you stay dry inside. The most typical apparel error that I see again and again from my customers: They dress too warmly with too many layers and then wonder why they are so quickly so wet from sweat. Do not leave the hut and sweat to death all the way to the summit or get there feeling like a huge frozen icicle. After about 10 or 20 minutes on the way and once you've warmed up and hit your pace, it's better to stop and either put on or take off a layer. Staying overheated or freezing cold demands energy. If you suffer from cold hands and fingers? The sleeves of your jacket or pullover should extend over your wrist and your pulse point. Backcountry ski tourers are often bundled up to their ears and beyond, but their wrist is peeking out between their gloves and the end of their sleeves. When the pulse point stays warm, there are also fewer problems with cold fingers and overall body warmth. When it comes to the right apparel, you shouldn't chintz. Premium, high-quality, performance apparel can last a long time and then you only spend the money once. Once you have the right gear, your tour will be no trouble at all and will be a lot more fun too. My favourite GORE-TEX apparel for a tour: For the descent and to always have on hand just in case: Dynafit Yotei GORE-TEX Jacket Gear Checklist for an Alpine ski tour
Apparel suitable for the high mountains, including a second base layer set
Climbing harness with adjustable leg loops
Ski or ski touring helmet
Crampons
Ski touring boots (e.g. the new GORE-TEX touring models Scott Superguide Carbon or Scott Orbit II Carbon), skis, skins, avalanche transceiver, shovel, probe
Pack, at least 35L, perhaps with an avalanche airbag safety system depending on the type of tour intended
Ice axe
Touring or telescoping poles
Rope
Ice screws
Carabiners, cords, slings
Head torch
Map
 Compass, altimeter, perhaps a GPS
For sleeping in huts: hut sleeping bag and (optional) ear plugs, sunscreen, eye protection
First aid kit
Water bottle or reservoir, sufficient food and nutrition
ID, mobile phone with emergency photo numbers