A one-of-a-kind Alpine tour
This spring, ski touring brand and GORE-TEX partner Dynafit held the first-ever "Dynafit Peak Series." Our author Petra joined the group as participants gathered to head out from Sulden.
Blue skies were aglitter with the sun on Friday afternoon at the meeting point in the parking place of the cable car station in Sulden, South Tyrol, Italy, where participants in the first Dynafit Peak Series rendezvoused. Test gear was also distributed there, giving participants a good look at it for the first time. From the start, it was a relaxed and easy-going group with 12 very personable skiers. The chemistry seemed to be spot-on, which is rather essential for a multi-day Alpine tour, especially when somebody reaches his or her limits or some other unpredictable event happens. Crampons, ice axes, harnesses, extra base layers, hut sleeping bags … There are indeed a number of things to bring along so packing must be smart. Otherwise, the saying "every gram counts" will come home to haunt with every energy-sucking step at altitude.
Learning about risks in Alpine terrain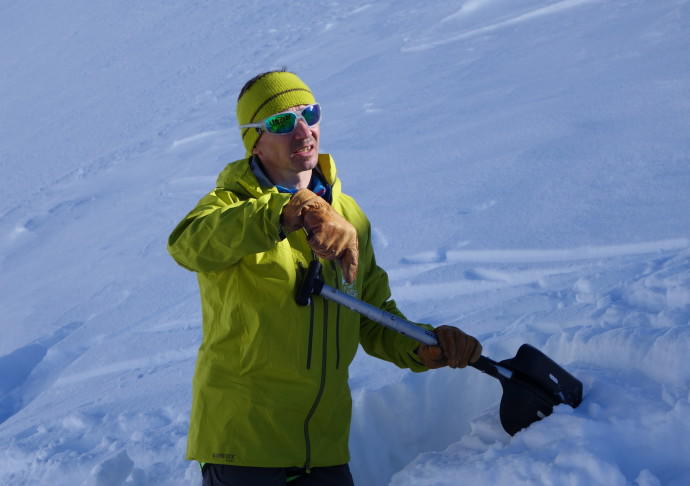 Up we go with the cable car. At the summit station, skins are pulled on and the troop stamps out its first few vertical meters in the thin air in the backcountry far from any piste. Getting familiar with test gear, briefings from mountain guide Patrick Jost about risks in Alpine terrain and the correct way to use different types of avalanche rescue gear. Education about snow and this year's thin snowpack during the Rutschblock snow compression test for avalanche risk, then the first turns in soft, knee-deep powder down to Schaubach Hut (2,581m / 5,187 ft) for the first night.
First destination: Sulden Summit
It's rather cold the next morning for the early ascent to the summit (3,376m / 11,076 ft). Long shadows still cover the route, but the cloudless sky and the first rays of the sun lighting up Ortler promise another sunny day. The group proves to be quite athletic, with the pace on the ascent pretty quick. Participants showed they indeed fulfilled the prerequisites in the application and not just on paper -- ability to easily climb up to 1,200 vertical meters; confidence in descents in Alpine terrain through fresh, untouched snow; self-assured ski touring technique (including switchbacks) even on steep terrain; and solid physical fitness. It's windy, so just a fast summit peek. A quick transition, and a descent to the Casati Hut and points farther south. Patrick checks the slopes, has skiers progress one-by-one at critical points, and demonstrates the proper downhill sliding technique on particularly steep spots. Weather is beautiful, conditions couldn't be better, so a little extra climbing at the Königsspitze is a must before enjoying the rest of the day on the sundeck of the fantastic Pizzini Hut (2,700m / 8,858 ft).
A sunny summit with a grandiose view over Cevedale.
The ascent over the glacier to Monte Cevedale (3,796m / 12,454 ft) the next morning starts leisurely. The route is iced over, but there isn't a fragile snow crust to break through. It quickly gets steeper and the snow ever more powdery. A few steep switchbacks before skis are attached to our packs. The climb – a real thigh crusher -- has rocky patches to take a rest on the way to the Casati Hut (3,254m / 10,676 ft) .… Every gram counts…. With boards back on our feet, the long stretch is all that much more beautiful as it heads over expansive snowfields toward the summit approach. Transitioning at our ski storage spot, crampons on, ice axe in hand, up the ridge we go. There, an unbelievable panorama at the summit awaits everybody. Climb down and the descent to Casati Hut. A fortifying snack for the last vertical meters, and again up to Sulden Summit, and then down 1,900 meters (6,234 ft): pure pleasure in the powder, in the zone, and energised from a grand weekend in the mountains with an unbelievably great group. An Alpine tour demands good preparation that takes time. Physical fitness as well as technical ability on rock, ice and snow must all be in place just as a detailed tour plan also must be. When it comes to gear, this is nothing like what's needed for a normal Sunday outdoor outing. In addition to functional hardware, proper apparel is also essential for an enjoyable Alpine ski tour. Mountain guide Patrick Jost offers a few tips here so you are geared up for anything on an Alpine ski tour.