Holger Schulze is the only runner who, along with a team partner, has completed all 88 stages in 11 years of the GORE-TEX Transalpine Run. And there is no end in sight.
The stats are impressive, those numbers that Holger Schulze can reel off as a part of his track record. And they are literally one of a kind: No other runner has participated in every GORE-TEX Transalpine Run (11), finished every single stage with his team partner (88) and conquered a total of 2,926 kilometres (1,818 miles) and 163,485 meters of vertical (536,368 feet). Flashback, Spring 2005: In September, the GORE-TEX brand celebrates the premiere of the Transalpine Run. Cross the Alps in eight days as a part of a two-person team – such an event had never before taken place . Optimism and anticipation abound, although there are a few lingering doubts: Is this asking too much of participants? Are there really enough "crazies" who want to do this to themselves? Registration moves slowly at first, so I try to motivate a few runners I know to take on this adventure. Among them is Holger Schulze, chief accountant for our then-PR agency. I only knew that Holger was a dedicated road runner and I asked him if the GORE-TEX Transalpine Run wouldn't perhaps be something for him other than all those tempo dashes pounded out on surfaced roads and paths. Holger didn't want to hear a word of it. "I was a hiker and marathon runner," he recalls today, "and the GORE-TEX Transalpine Run seemed as distant as the moon." I wouldn't let up, though, and the second time around I actually was able to convince him. Still, Holger, the marathon man, tread carefully – he started the race with his partner Lothar Schiller in the Nordic Walker category. Yes, that indeed existed back then! With clunky trekking shoes on and poles in hand, he hoofed it over the Alps at a walking pace. "Running" was not part of the equation. Holger called it his "experiment". Still, he finished. And he had tasted blood. Since then, the Transalpine Run is a fixed date in his calendar. Holger has had different partners, and he's run in the men's, mixed and master categories. But one thing remained consistent year to year: he just got faster and faster.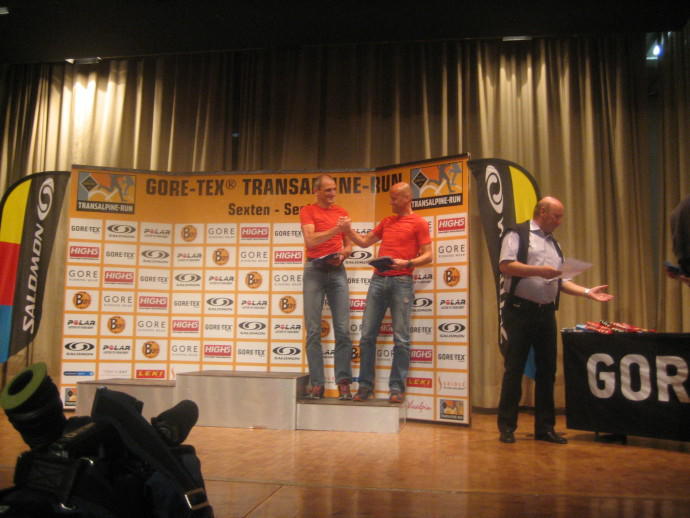 A Sensational Third Place Finish
6 September 2010, 3rd stage from Kitzbühel to Neukirchen on the Großvenediger: Holger started the 45-kilometre (28-mile) stage with his partner Roland Schindele sitting in 4th place in the master's category. I ran that day, too, but not as a competitor since I was a sponsor. I had managed to pick a great day, and a few kilometres from the finish I caught up with them. In short order, we decided to finish the stage together. After crossing the finish line, announcer Sven came over to us, beaming, and congratulated the two on their third-place finish in the master's category that day! Most certainly the distance behind the winners was in fact large, but climbing up the ladder from a Nordic Walker with sticks to this? The two didn't relinquish the third place and finished the GORE-TEX Transalpine Run 2010 with a sensational overall third place . The story of Roland from his running partner: When you ask Holger, he speaks about Roland most highly. "Roland is most simply as a person an unbelievably fine lad." And thus a running partnership developed that was to last six years. "There was never any friction. Our performance level was similar, with myself being stronger one year, and him being stronger the next." And so the duo managed to finish every Transalpine Run, year after year. Although they did not repeat a podium finish, they were normally in the top 10. Roland had now amassed nine starts and, with those, had a total of 72 stages under his belt. But Holger is still today the only runner who has started every single stage of all 88 and finished each one with his team partner – a performance that you just can't value highly enough. Myself, I could only finish two GORE-TEX Transalpine Runs with a partner, for example. Four times my partner had to drop out due to injuries.



The Transalpine Run is another world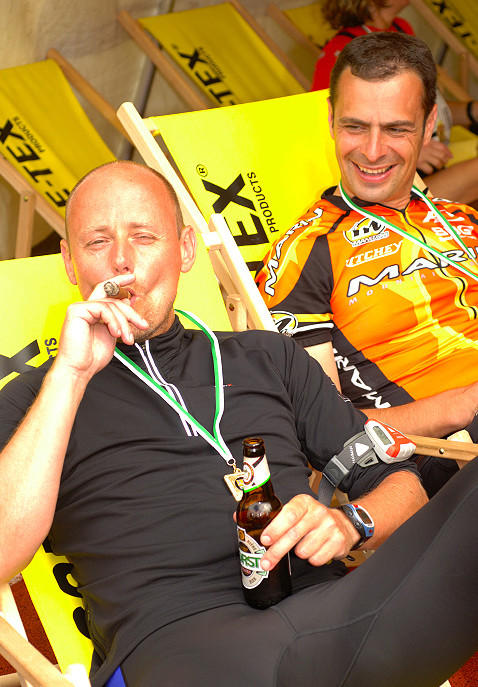 Perhaps the secret of Holger's consistent success is that he has very few events on his competition schedule. Whilst many other trail runners and Transalpine runners pack their season schedules full with umpteen different events, Holger holds true to his personal rhythm: Work on base miles over the winter to be able to do 1-2 marathons each year plus the GORE-TEX Transalpine Run in the autumn. And he just took a shine to the event: "It's just another world. You never think once about your work or world events. Rather, you focus mostly on running, the fantastic outdoors, and recovering physically." What I didn't realize at the start of Holger's Transalpine career was that he was quite a strong marathon runner. Of his 18 marathons, he has finished every one since 2007 in less than 3 hours, with a PB of 2 hours, 44 minutes. In 2015, he even tacked on the Berlin and Munich marathons after the GORE-TEX Transalpine Run – both taking place within two weeks of each other just two weeks afterward ! So it's no wonder that with 57.4 kilometres (35.7 miles) he was also the third best German runner in the "Wings for Life Run" in 2015 and had an overall ranking of 68th globally – of more than 70,000 participants! But runs like this are the exception. His habits are relatively structured, even when it comes to his annual holidays: Every year, backpacking for four weeks in faraway countries, with just a small pack, no defined plan or any bookings. "I'm quickly edging toward 50, but this kind of holiday continues to fascinate me. Getting to know new countries, new cultures, new languages, that's what the attraction of travel is for me." Recent holidays took him to distant countries like Laos and Cambodia, India, Nepal, Australia, Costa Rica and Thailand. The Azores sound nearly like a staycation when you hear that! Note: He doesn't normally run during these four weeks.



I´ve never had a training plan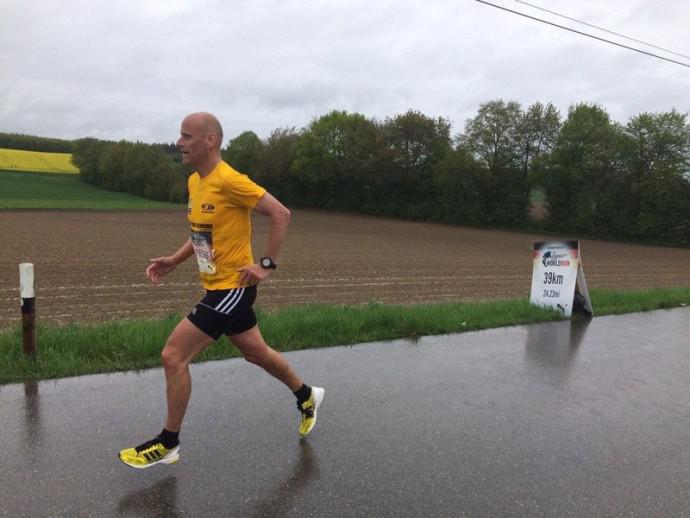 And whilst many runners meticulously work out their winter training plans, Holger relies simply on his running routine. In first order, that means no training plan ("I've never had one"). Second, that means consistency is more important than volume ("at least 50 kilometres {31 miles} a week"). And third: "Training for a spring marathon in the winter is the best foundation for the Transalpine Run in the autumn." He'll run the 2016 edition for the first time in six years without Roland. "Roland is so busy professionally that he can't train as much for 2016 as he would like to. And that too is so Roland: He doesn't think he'll be able to run as fast as I and doesn't want to hold me back." Holger is therefore hunting for a suitable team partner. His direct training is in any case taken care of: As one of five participants who have participated in at least 10 GORE-TEX Transalpine Runs, he wins a free trip to the TransRockies Run, a six-day stage race in the Rocky Mountains in the United States. "And I'm already really looking forward to that!"
Author: Jürgen Kurapkat