"Help is the way" – trekking in Ladakh
Relishing those special moments that will remain with you forever. That's what was at the back of the mind of our author as she set off with her family on a trekking trip to Ladakh, a high altitude desert in the Himalayan region of India.
A trip anywhere in the Himalayas will always be an unforgettable experience. Each area has its own appeal. Yet, as someone on an earlier trip to Nepal once said: "Ladakh really is very special!" That was something I had never forgotten. I'd also heard similar comments from other people who had been there. Dry and barren, Ladakh is in the Western Himalayas, positioned between Pakistan in the north-west and China/Tibet in the north-east. It's important to live your dreams, best of all, with your nearest and dearest. So, off we flew to Delhi where we caught a connecting flight to Leh, some 1,000 km further north and capital of the ancient Kingdom of Ladakh, which has been part of India since the 1940s.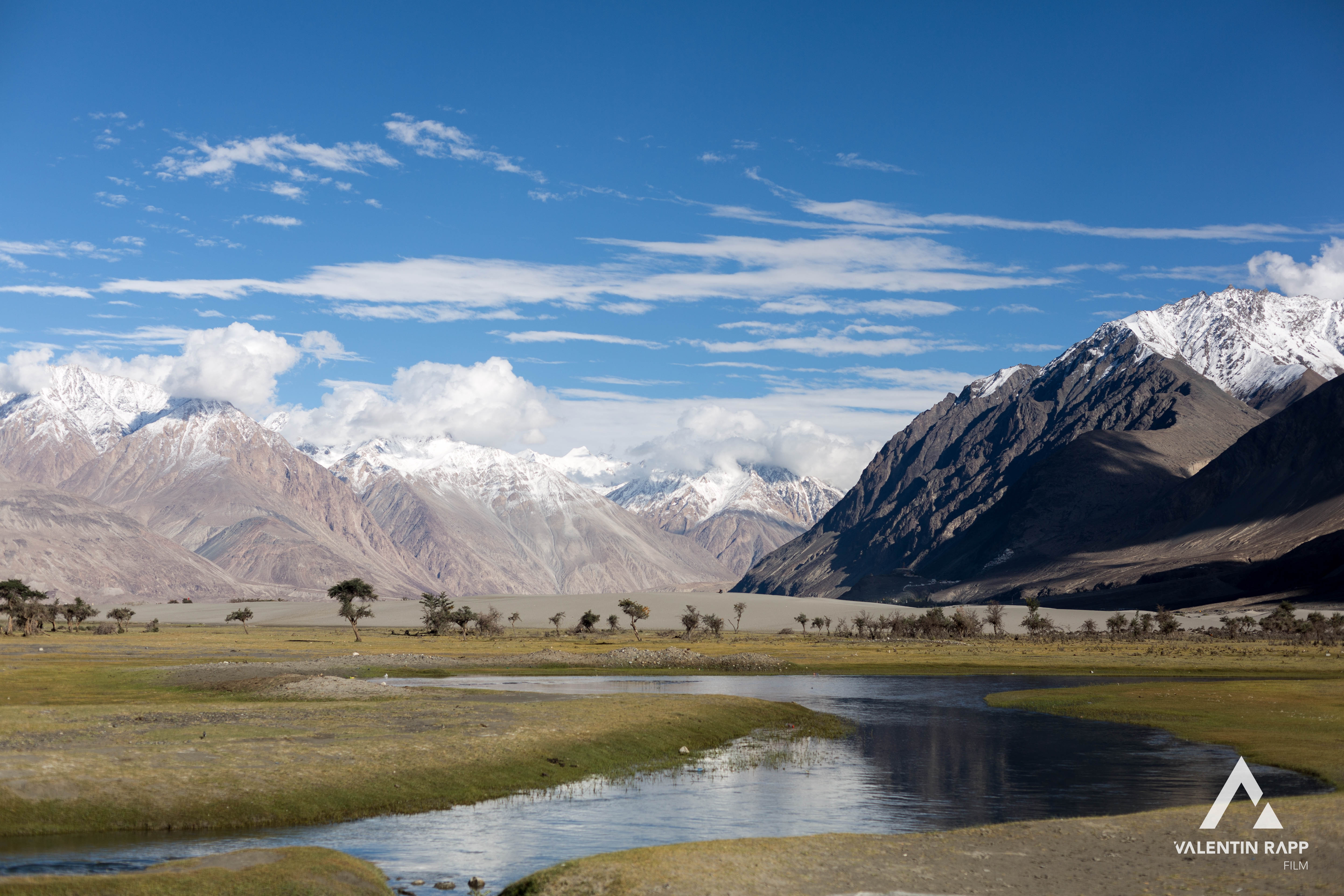 Norbu (28) also has his dreams. For quite a few years now, he's been working as a mountain guide for Tsering's trekking agency. Norbu's greatest dreams are to get married, have a family and set up his own trekking agency so that he can support a family. As a guide, he doesn't yet earn enough to do that. When he was 16, he started working as a kitchen boy on trekking tours: "to earn money, but even more because I was so fascinated by all the foreign tourists. They looked so different and talked so much about faraway countries, about places that I'd love to go to one day." Later he studied in Leh and Jammu. Unfortunately, that hasn't really improved his career prospects. Nonetheless, he gets a lot of enjoyment out of showing trekking tourists just how beautiful his home is. "Best of all, I like taking them off the beaten track, along paths that not many people know, like the ones we'll be walking along," he says. However, before we can set off into the ochre shades of the mountainous landscape with our team and packhorses, we're going to have to acclimatise. Most people need time to get used to the high altitudes found here: trekking in Ladakh will typically take you to heights of between 3,500 m and 5,000 m.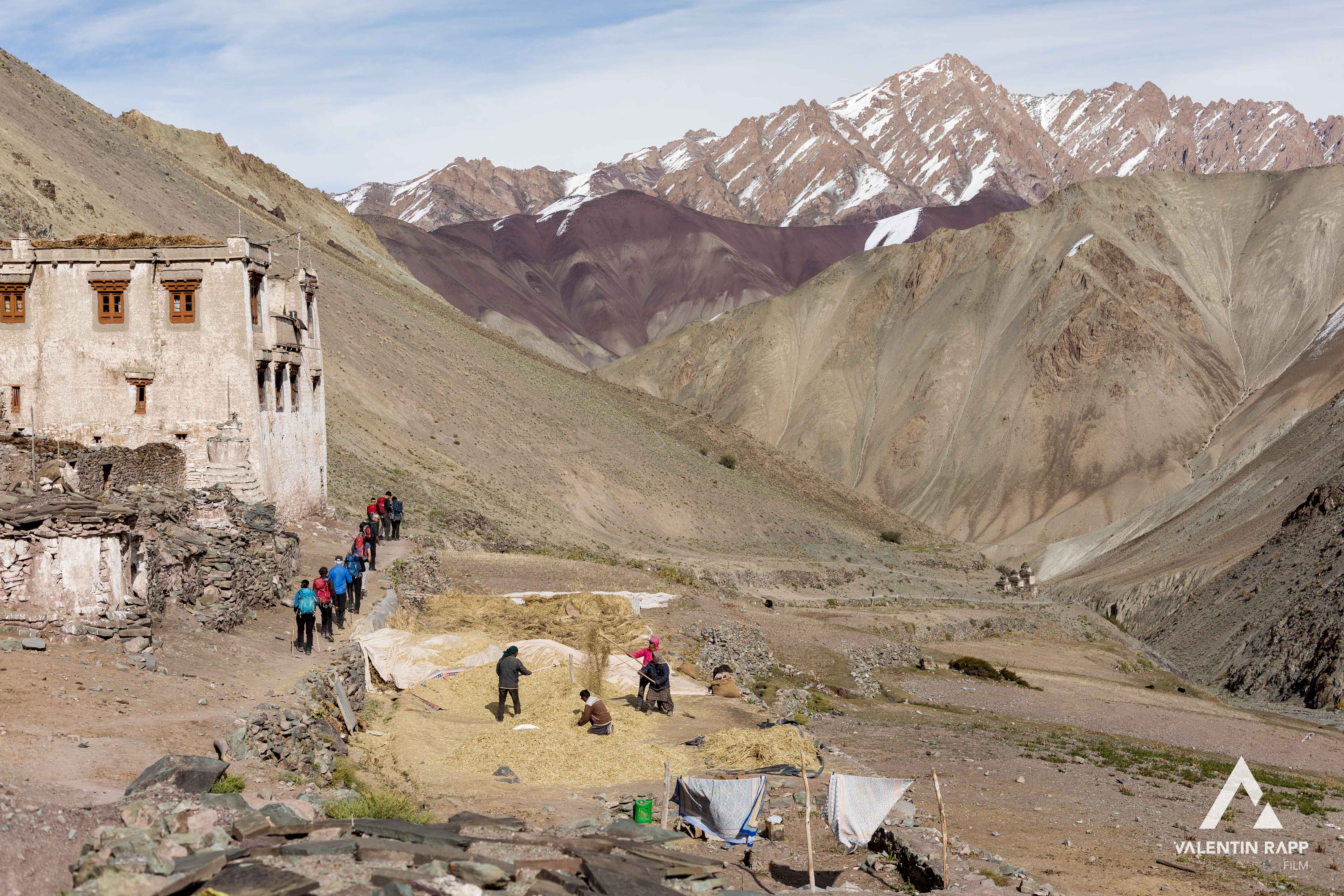 Taking time to acclimatise
The best way of making yourself less vulnerable to altitude sickness – apart from drinking all the ginger tea and garlic soup that you're constantly offered – is to walk to some of the many fascinating monasteries in and around Leh. The cultural aspects of Ladakhi life and society have been strongly influenced by Tibetan Buddhism, which explains why Ladakh is often referred to as "Little Tibet". Norbu is a practising Buddhist. "My faith helps me find my way in life," he says. Always calm and ready to help, he and the rest of the team do everything they can to make sure everyone on the trek is OK.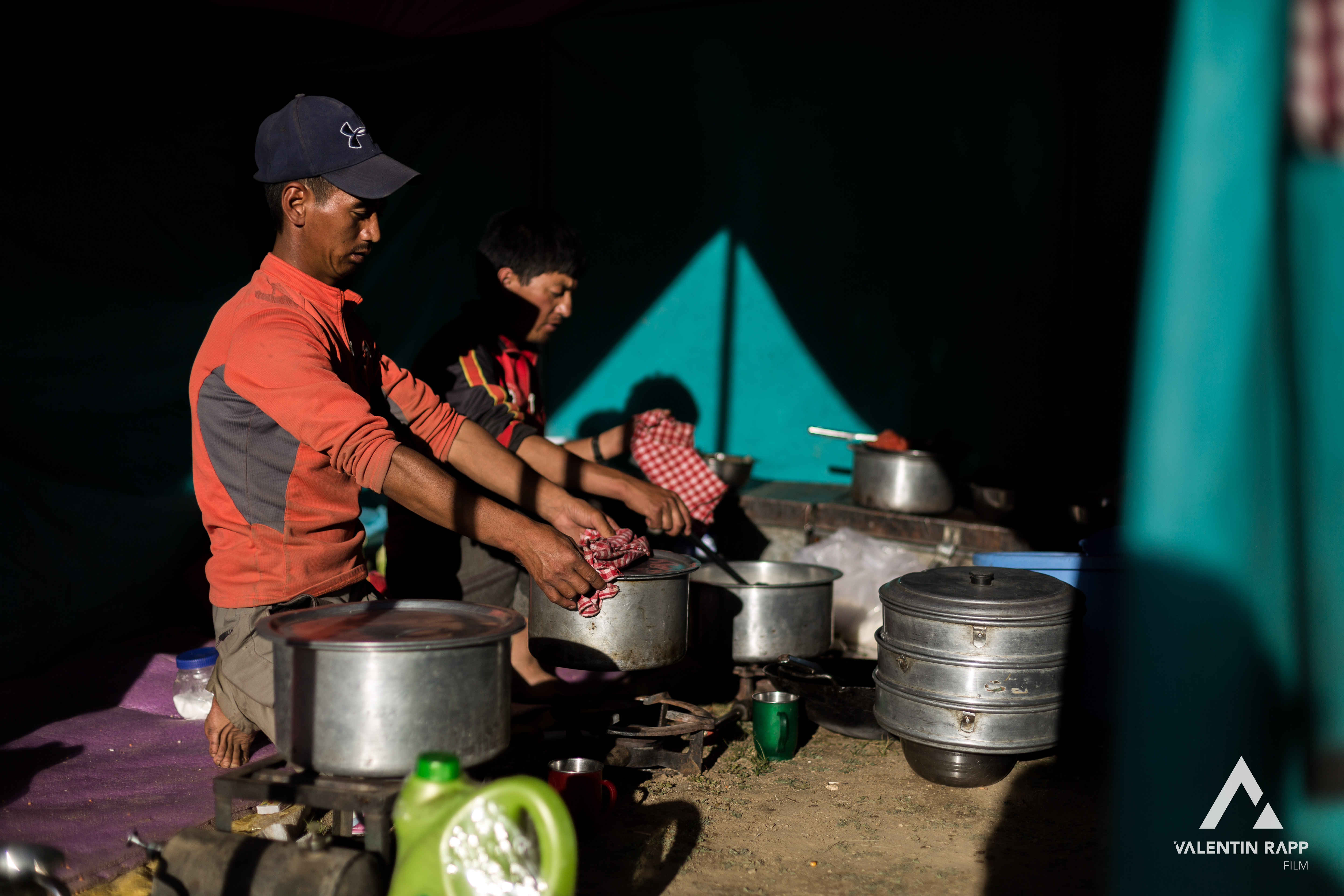 His boss, Tsering, has been running his agency in Leh for 20 years. His family belongs to a nomadic tribe and there probably aren't that many people who know the Ladakh mountains better than he does. He and our German guide, Benedikt, did all the planning for our trek. This was to take us further north, up to the border with Tibet, to the Karakoram, and back across the 5,400 m high Lasermo La Pass to Leh. Before we can do that, we make use of the opportunities offered by Leh to acclimatise and set off on a two-day trek along the Indus Valley. We leave the small village of Arzu behind us, turning into the mountain valley of one of the tributaries of the Indus River to walk along a solitary path covered in small loose stones. Probably only frequented by goatherds and certainly almost never by tourists, it leads up to Nang Village. From there, we cross the Kilirma La Pass (4,700 m) and make the descent to Sakti (3,700 m).
At Pangong Lake the weather suddenly turns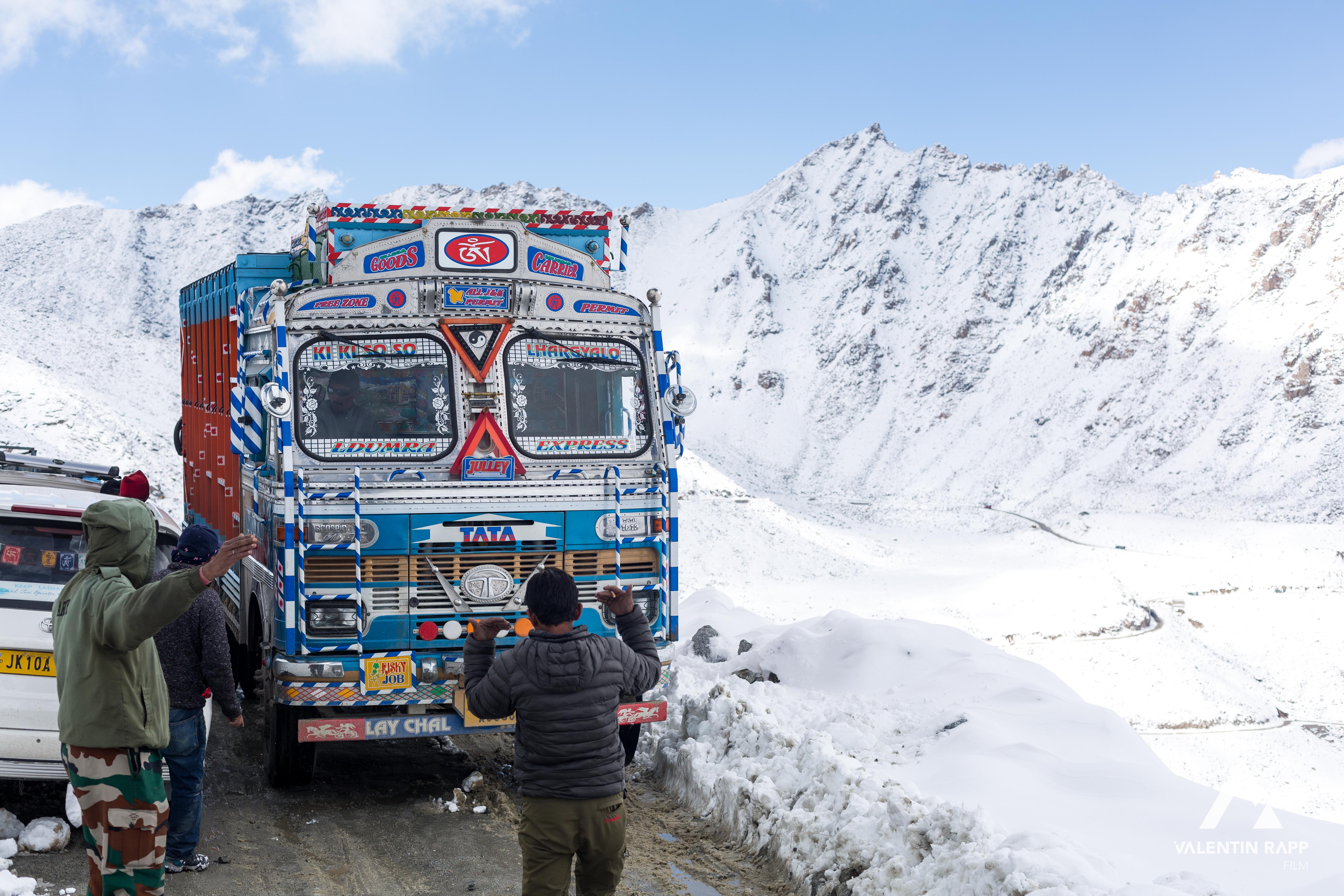 To cover the long distance from Sakti up to the Tibetan Plateau and Pangong Lake, we are taken by bus. As huge as it is spectacular, Pangong Lake is situated at a height of 4,200 m above sea level. The road traverses the Chang La Pass which, at 5,200 m, is the second highest motorable road in the world. The highest motorable road would soon follow. The tiny village of Marak is right at the back of the lake. You can hardly believe that anyone can live here permanently. In addition to the rather miserable looking tourist accommodation for people on package tours wanting to get away from the smog and heat of the Indian cities, farming families also rent out rooms in their small houses as village homestays – during one such stay, two little girls forget their initial shyness and "break the ice". Overnight everything changes. We wake up to find heavy cloud and a sprinkling of snow on the sides of the mountains – as we trek eastwards, it almost feels as though we are in a Norwegian fjord. There isn't a soul in sight, opposite us, towards the eastern end of the lake, is the Tibetan/Chinese border. Normally very dry at this time of year, the weather can only be described as awful, making good functional garments all the more important. Later, the drive across to the Nubra Valley isn't much nicer, along the icy waters of the Shyok River, that originates in the Karakoram. The bad weather means that driving over the passes is either totally impossible or only possible at certain times, making the long journey extremely difficult.
Flexibility is the name of the game
Situated close to the border with Pakistani, the Nubra Valley was a military out-of-bounds area for many years, as was Pangong Lake. It has only been open for tourists since 1994. There is still a strong military presence, but this shouldn't deter anyone from coming here. With its palm trees, sand dunes, mountain landscapes and camels, reminding one of the caravans that used to traverse this route, the Nubra Valley is an experience not to be missed. The same applies to Diskit, home to a dramatically positioned ancient monastery. We notice that Norbu and Benedikt have been doing a lot of talking. At last they tell us why: we won't be able to make the trek up to the 5,400 m high Lasermo La Pass, despite the fact that the start of the climb is currently enticingly visible from our lodge. Although the sky is now a brilliant blue, so much snow has fallen in the mountains that the packhorses haven't been able to get to us. One alternative would be to wait it out, spending a couple of days going on 1-day treks in this stunningly beautiful valley. But that isn't what we set out to do. We had wanted to be as independent as possible and spend several nights camping out. On the other hand, we also need to be back in Leh in good time. With heavy hearts, we climb back into the bus and embark on what turns out to be an equally hair-raising adventure: driving over the 5,400 high, snow-covered Khardung La Pass, the highest motorable road in the world. Although, from a European perspective, the term motorable is highly debatable!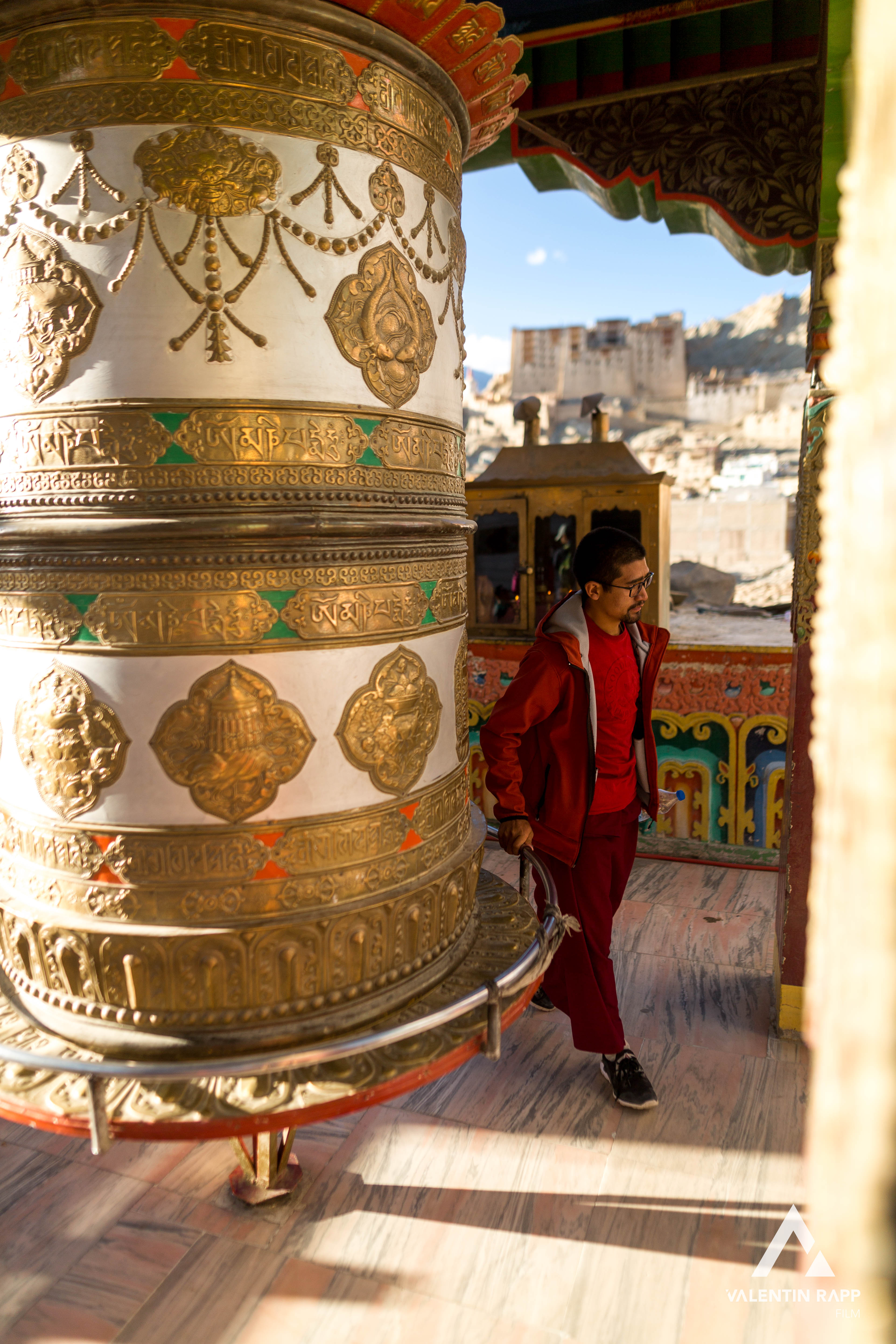 Following in the footprints of snow leopards
"No problem", says Tsering, explaining to us that he's reorganised everything and we are now setting off to Hemis High Altitude National Park. Roughly 10 km after Chilling, the packhorses are loaded up and we start out on the popular Markha Valley trek. It's the end of September, so there aren't many tourists. After spending the first night in Skyu, we learn that the pass we're aiming for at the end of the trek is currently impassable. We change direction and head for the Ganda La Pass (4,900 m). The route is spectacularly beautiful, passing through a gorge, crossing the river at various points and rewarding us with fascinating rock formations on our way up to Shingo (4,150 m). In the distance we see Himalayan blue sheep roaming the hills, while marmots and tiny rabbits seem to be everywhere. Further up, we find cat-like footprints in the snow, only they're far bigger. Later, it turns out we should have given them more attention. The next morning, the ascent towards Ganda La is relatively easy. After a three hour climb, a Tibetan prayer wall and colourful prayer flags fluttering in the breeze, marking the top of the pass, are a welcome sight. A Ladakhi will always pass these walls on the left. In the thin air conditions up here, you might be forgiven for forgetting. Some of the members of our group are keen to make it up to 5,000 m and make the ascent to the plateau at the top of Ganda Ri (5,080 m). From here you get a magnificent view of Stok Kangri in the background. The descent down the other side of the pass to Rumbuk seems to go on forever as we wade through deep snow that gets slushier the lower we get. We meet others trudging upwards in the opposite direction. Further down, we spot fascinating red or green banded rocks that get their colour from manganese. Eagles and other birds of prey circle above us, while chukar partridges are all over the place. Later on, down in Rumbuk, we learn from one of the teams using high powered telescopes to observe snow leopards that there are between 80 and 100 of these large cats prowling around the area. How stupid of us not to have taken a photograph of the cat-like footprints we saw in the snow earlier.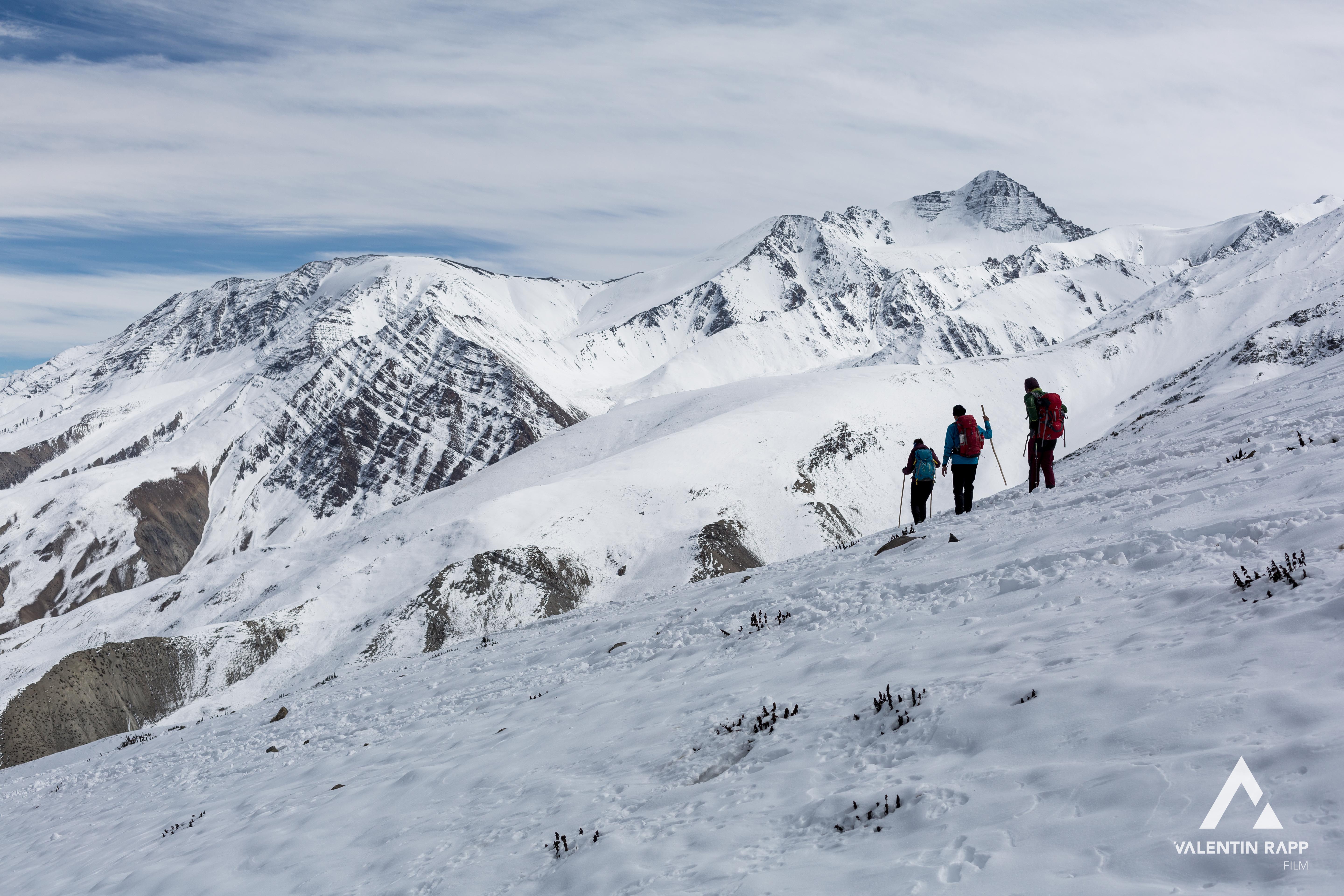 Up above Rumbuk, we camp out for the last time before returning to Leh. We savour the final moments surrounded by a land blessed by nature, a land that has both fascinated and captivated us, bringing us so much inner peace and harmony. The last few minutes we spend with the young men in the team will always remain in our memories. Despite having so little themselves, they give us a cake as a farewell present. "Help is the way in Ladakh," as Tsering says. We felt it every single day of our trek. Julley, Ladak. It's a wonderful place. We hope to be back soon!
Information about Ladakh
Ladakh is in the Indian state of Jammu and Kaschmir. It shares a border with China in the north-east and Pakistan in the north-west. Kaschmir is to the west and the Indian states of Himachal Pradesh and Punjab are to the south. Two roads connect Manali and Srinagar with Leh. They can usually only be used between June and the middle of October.
The best time of year for trekking: May to mid October
Useful addresses:
GORE-TEX was also on tour in Ladakh:
Petra's statement: The Haglöfs L.I.M. This jacket is very soft, comfortably light and relatively quiet. The fit is excellent - snug enough around the body without restricting movement. The hood is easy to adjust, so it stays put and doesn't flap around – not even in strong wind or heavy rain. This jacket gives you a comfortable wearing experience: a real feel-good garment that you can wear for all kinds of sports. As we all know, quality comes at a price, but for your money you get a high quality, lightweight and extremely breathable waterproof jacket that packs down small and, with proper care, can be worn for years.
Valentin's statement: As a photographer, I'm a very visual person, so the overall appearance of a garment is important to me. In this respect, the Axion jacket from Outdoor Research scores well. It also wowed me with its functionality. Wind, cold weather, rain: it has all the answers. It offers uncompromising weather protection. At the same time, it reconciles low weight with ruggedness, also making it a good choice if you want to do a bit of climbing.
Tecnica Forge, the first outdoor boot featuring a custom fit and GORE-TEX
Petra's statement: Launched in 2017 and with the ability to conform to the anatomy of the foot, the Forge is the first customisable outdoor boot on the market. In as little as 20 minutes, the footbed can be moulded to your individual foot for a unique custom fit. Although, to be honest, I didn't fall in love with these boots immediately. As usual, I found it difficult getting used to wearing boots with high-cut ankles, and all boots – even ones with a custom adaptive shape – need breaking in. Before we set off for Ladakh, we went on a couple of longer hikes "to get used to each other". Out in Ladakh, the Forge accompanied me through thick and thin: for three long weeks these boots performed perfectly, on rock, scree or sand, through water, snow and slush. Because the boots had been conformed to the anatomy of my feet, I felt that my feet had plenty of support and got less tired. And thanks to the GORE-TEX lining, my feet were always warm and dry. The grip performance of the outsole was also highly impressive! The only issue I had was that they weren't that easy to take off and put on again. In Ladakh, you're always having to take off your boots - every time you go inside a monastery or into someone's home. As far as I can tell from looking at these boots after wearing them on a couple of hikes before our trip and for three full weeks spent trekking in Ladakh, they seem to be robust and extremely well made. It looks like I'll be wearing them for some time to come.